AMD Unveils Radeon Pro 500 Series for iMac
---
---
---
Samuel Wan / 6 years ago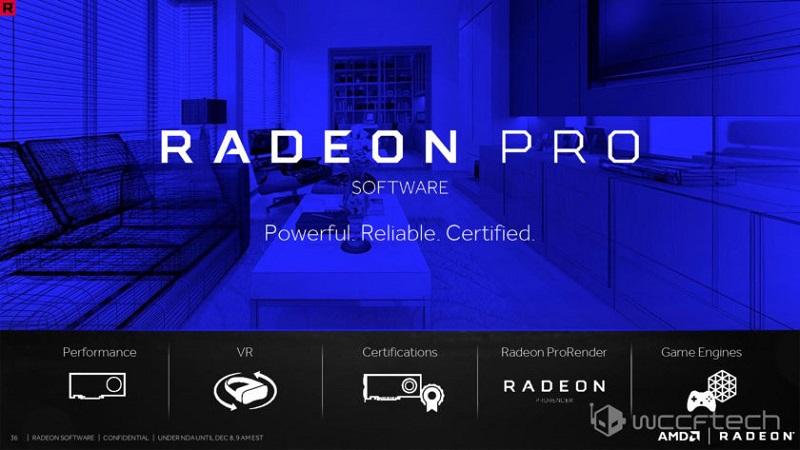 During WWDC, Apple unveiled their new iMac lineup. Along with a processor refresh, the new all-in-one PCs feature new graphics cards. After over a year between updates, the new graphics cards offer improvements for both the 21.5-inch and 27-inch iMac. As the iMac Pro won't arrive until the end of the year, the iMac will continue to carry the torch. For this generation, Apple has chosen to continue to use AMD, opting for the new Radeon Pro 500 series.
The previous 2015 iMacs used mobile AMD graphics cards but this time we have the Radeon Pro series. Radeon Pro is a stepping stone between the full-on professional lineup and the Radeon consumer lineup. This improved developer and software support is important to sustain traditional content creation roles but now also helps drive VR. Radeon Pro offers more support, certification and stability testing.
At the top of the stack, we have the Radeon Pro 580 based off of the RX 580 Polaris 20. With 5.5 TFLOPs of performance, this is enough to drive VR. Moving down, we have the 570 with 4.5 TFLOPs based off of the 570, the bare minimum for VR. Further down, we have the 570 with a cut-down Polaris 20 GPU and the 560 and 550 based off of Polaris 11 and 21 respectively.
For now, the only products with Radeon Pro 500 are the new iMacs. However, we may see more Radeon Pro graphics cards out in the wild later on. This is especially true of the Radeon pro 575 which is not used for the iMac but exists anyway. The prosumer market is a growing one and we will likely see more Radeon Pro cards released in the future.