AMD Zen 4 CPUs Expected to Top Out at 16-Cores
---
---
---
Mike Sanders / 1 year ago
With the only likely exception set to be the Ryzen 5000 XT revisions, probably due for release later this year, it seems pretty clear that AMD doesn't have anything big planned in the world of processors until the launch of their Zen 4 'Raphael' CPUs late 2022. With many anticipating that Team Red might've looked to improve the core count with the assistance of the smaller node design, however, following a leak from a highly reliable source (courtesy of Videocardz), it is now being claimed that for their top-spec desktop Ryzen '7000' processors, AMD may be sticking with the current 16-core configuration.
AMD Ryzen Zen 4 'Raphael' Processors
Now admittedly, with it currently being Summer 2021, and these processors not expected to release until late 2022, there is clearly quite a lot of time between those points. So, in other words, take this with a grain of salt. If proven correct, however, then this will undoubtedly represent quite a surprise for the AMD Ryzen-loving community who were perhaps anticipating that the transition to a smaller node platform might've seen the addition of a lot more cores. With 24 and 32 being mentioned more than once, however, this source is claiming that the presumable flagship Ryzen 7950X (because we're probably skipping the 6000 series to keep the CPUs in line with the GPUs) will still only(?) come in a 16-core configuration.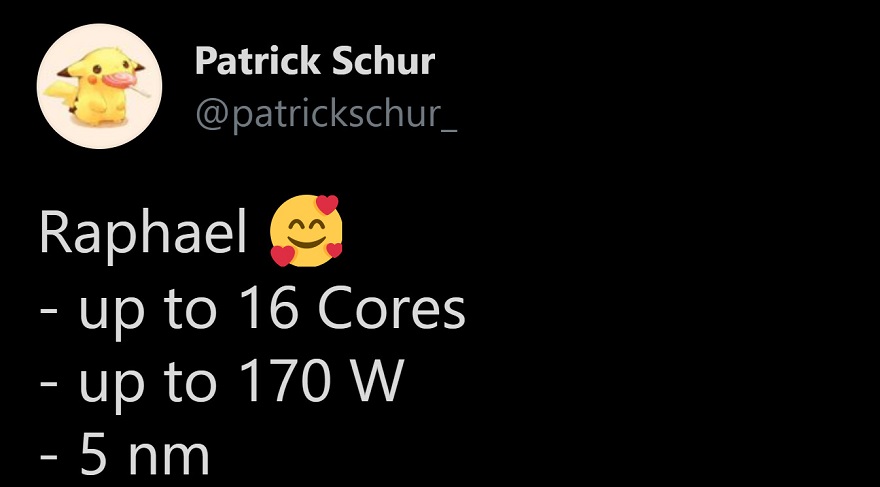 It's Not All Bad News!
Despite the seeming lack of any newer higher core count desktop models, it does appear that AMD may be compensating for this by offering their new Zen 4 processors with a significantly higher TDP than seen in the Ryzen 5000 series. This would, therefore, suggest that base and boost clock speeds might be set to improve quite dramatically. And if this is true, it is perhaps the smartest move.
For too many years, AMD made the mistake of presuming that more cores were better than efficient/powerful cores and this undoubtedly represented itself best (or worst) in the pre-Ryzen FX 8350. Let's be honest though, more cores will always be a sexier marketing term with consumers. On the other hand, though, let's just hope that this isn't the beginning of a stagnation period for AMD because Lord knows that Intel has paid the price for that!
What do you think? – Let us know in the comments!