Amputee Monkeys Use Thoughts to Control Robotic Arm
---
---
---
Ashley Allen / 4 years ago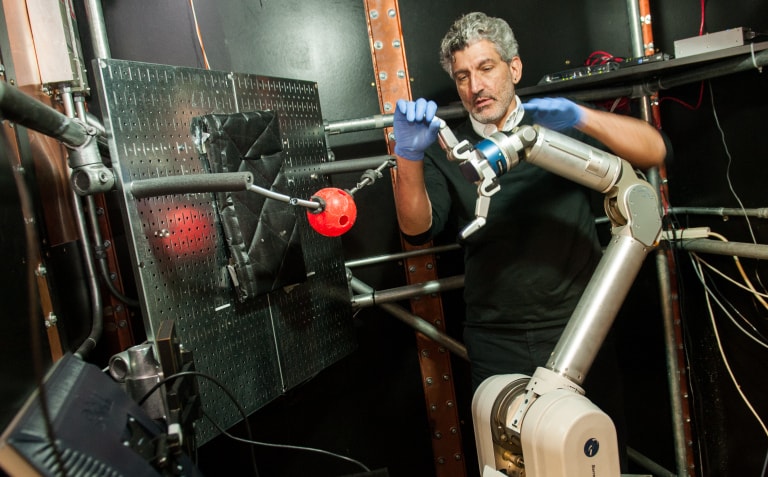 A remarkable new study demonstrates how a trio of monkeys – all amputees – controlled a robotic arm using only their minds. University of Chicago researchers implanted the rhesus monkeys with electrodes close to their brains, which connected to the mechanical appendage. The monkeys – who all lost limbs between four and ten years ago – learned to grasp a ball using the arm. In fact, the small primates mastered use of the robotic limb in just forty days. Beyond the cool headline, though, the study demonstrates great advances in developing technology to help amputees, both rhesus and human; it contradicts previous studies, however, which connects prosthesis use to muscle activity. Of course, this contradiction is good news, and could be a great benefit to those who lost limbs decades ago.
Using Thoughts to Control a Robotic Arm
The most amazing piece of data the study provided the researchers is regarding the plasticity of the brain; specifically, the study suggests that even long-term amputees can master remote brain control over a robotic prosthetic limb. Study author Nicho Hatsopoulos, PhD, professor of organismal biology and anatomy at UChicago, said:
"That's the novel aspect to this study, seeing that chronic, long-term amputees can learn to control a robotic limb. But what was also interesting was the brain's plasticity over long-term exposure, and seeing what happened to the connectivity of the network as they learned to control the device."
Study leader Karthikeyan Balasubramanian, PhD, a postdoctoral researcher, added:
"That means connections were shedding off as the animal was trying to learn a new task, because there is already a network controlling some other behavior. But after a few days it started rebuilding into a new network that can control both the intact limb and the neuroprosthetic."
The study – published this week by Nature Communications – makes for an interesting read. Since the study is DARPA-funded, it may lead to further research on soldiers with missing limbs.