Analysis: Were EA Right About SimCity? The Evidence Says That They Were!
---
---
---
Peter Donnell / 10 years ago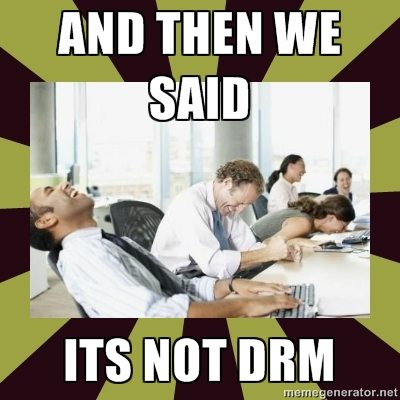 It's been two months now since the release of the latest Sim City, and it sure has been an adventure in terms of PR for both consumers and EA alike. Yet two months is a long time in the gaming world and people are quick to move onto the next farce and start yelling at that, forgetting whatever was wrong with Sim City in the first place.
For those of you who don't know, when Sim City launched it caused a huge uproar from the public, most notably because people who had gone out and bought the game with their hard-earned cash couldn't play it due to what is believed to be DRM.
EA's defense was that they didn't have enough bandwidth on their servers, which prevented people from playing because the game is so inherently dependent on online access for its social features. EA says it's just like an MMO, it needs the internet to live and breathe as it should, as this way their vision of how the game would operate and it couldn't do it without the internet. This has been widely debated to be a cover story for DRM, although personally I don't think it is DRM, but I do believe its a system that acts like DRM, either directly, or indirectly.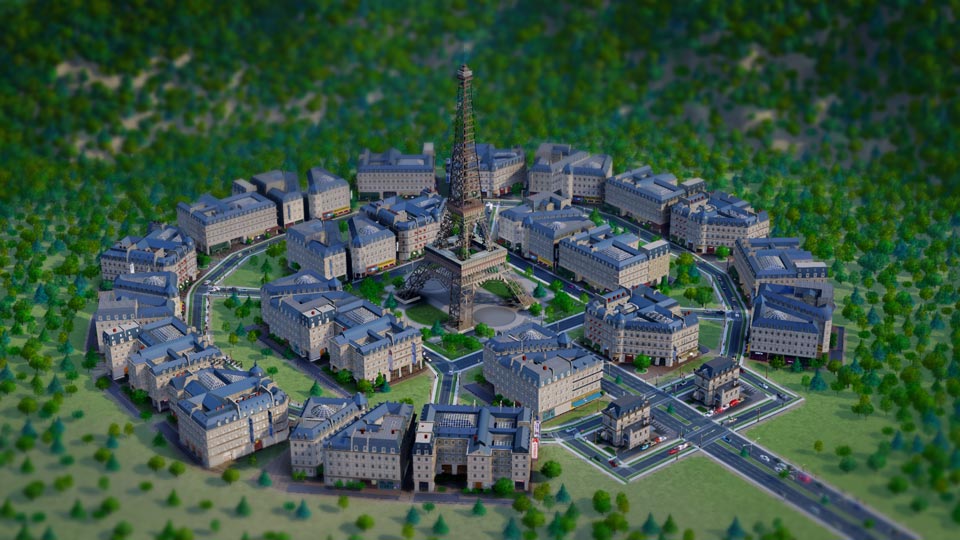 Yet with all that fuss, the rage of the consumer seems to have dwindled and what was once a riot has reduced to a dull roar, even EA's Facebook page is no longer endlessly trolled with hundred of comments about "you should fix you f***ing game" on every status they post.
Yet was it worth it, after all this fuss about DRM, piracy, always online gaming and gamers that can't play their game due to server issues, has the system settled into place and does it work? Apparently, yes! Or should that be annoyingly yes? I'll let you decide that one.
A quick search on Google shows that there are seemingly illegal downloads for the new Sim City, but on close inspection, all of them appear to be fake, or a virus disguised as an "offline play" patch. Some players have hacked the game to play offline, but not without draw backs and it seems some extensive re-coding would be required to fully obtain such a system and I doubt EA will rush to do that anytime soon.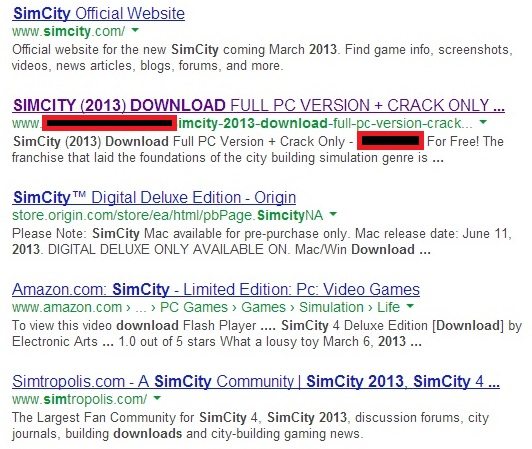 Next stop, torrent websites, if you've never heard of them, you've had your head stuck in a box for the last few years! The Pirate Bay and countless others provide a source for illegal downloads and just about any game you can think of ends up here pretty quickly… except Sim City, or at least not the new one. A quick search of several of the big sites turns up nothing, I did find a few false positives that were already voted as fake, but that's it, I couldn't see any legit torrents for this game.
So what ever EA has done, they seem to be fixing it, there are less and less, or maybe even no reports that people can't play the game anymore and while some may complain it's not that great a game compared to other Sim City titles, that  isn't the subject I want to discuss. DRM or no DRM, it doesn't matter, EA has pretty much stamped out piracy of this game and if I'm honest, I'm not sure if this is a sign of good things to come, or a sign of a dark future for PC gaming.
EA may have been successful in stopping piracy for this game, but that doesn't mean the game has been successful. The game would likely have done better without the online features or DRM and overall I think this is a scar that will take a long time to heal in gamers hearts, if it ever does heal that is. Stopping piracy is one thing, but it could have more negative side effects than it does positive ones, most likely in the form of end-user feedback, or worse, a drop in sales due to protest.
It's been suggested that no one has cracked the game yet because no one likes it, and while I'm sure there are plenty of haters out there, ok a LOT of haters, there will be a lot of fans too. I expect that someone somewhere will crack this game soon enough, it will be pirated, but for now, EA's security is holding, the question is, for how long. Either way, stripping the DRM like features of Sim City is likely too little too late to save this game.
Are you still playing Sim City? Or have you chosen to never play it at all, sound off in the comments section below as I'd love to know how you still feel about the game.
Of course, there is still a cure for those effect by Sim City 2013 and you can find it here.