Angelbird SSD2go Pocket USB3 Solid State Drive Released
---
---
---
Bohs Hansen / 7 years ago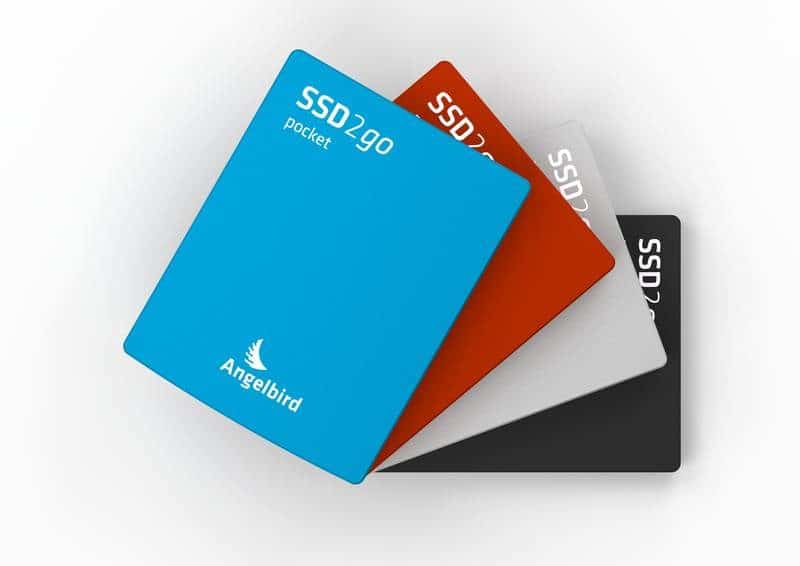 Angelbird have released their brand new SSD2go Pocket today; a durable USB3 powered Solid State Drive for the person on the go. The newest member of the Angelbird family delivers everything you would expect from a premium brand, including first-class components, superb craftsmanship and breathtaking read/write-speeds.
The SSD2go Pocket is a small drive, but only in terms of physical size; measuring 89.0 x 69.9 x 10.4 mm and weighing just 90 grams. The case is made of CNC-machined aluminium, with a stylish pearl blasted and hard-anodised finish. At the time of launch there are four colour options for the SSD2go pocket: Silver, Blue, Red and Black. The power consumption is equally low with just 0.8W at idle and 2.4W under full load, making sure the drive doesn't drain your battery unnecessary.
With it being an extremely durable 

and portable drive, you'd want it to work under extreme condtions as well, and it does. It works flawlessly from -20°C to 70°C and has a guaranteed data integrity from -40°C to 85°C. Angelbird have also put some extra thought into the connection type, and used an extremely robust type-A USB 3.0 port on the drive itself. Not only is it more durable than the micro versions, it also allows them to move the port further into the drive.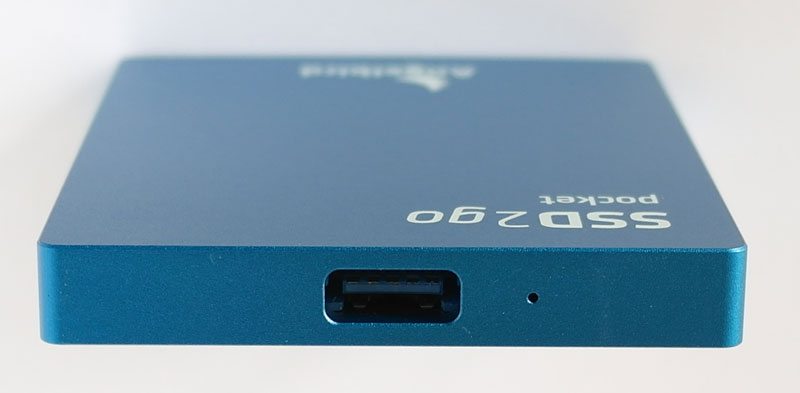 The SSD2go pocket is rated with transfer speeds of 450 MB/s read and 390 MB/s write. Those transfer speeds are possible through the native implementation of UASP (USB Attached SCSI Protocol), which makes optimal use of the Silicon Motion 2246EN-controller and custom packed original micron NAND (16nm/L95B).
Angelbird is so sure of the quality they deliver here, that they offer a 5-year warranty on the drive, and rate it to a MTBF of over 2 million hours.

 It's not just robust and fast, it's also user-friendly and will work straight from the box with computers, TV sets and a huge range of multimedia devices in your car and home. Even USB On-The-Go (OTG) is supported, so you could attach it directly to your smartphone or tablet.
 The SSD2go pocket has surge and overload protection built in (ESD, EMS, ECC), as well as TRIM and SMART. It's actually the worlds first USB drive to support TRIM and SMART on Mac devices.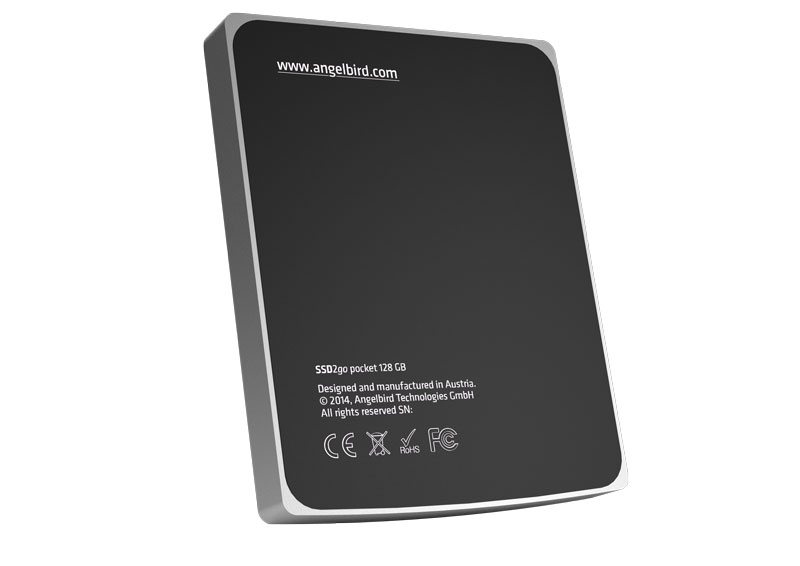 Each SSD2go pocket has a unique serial number which can be used to register the device online with Angelbird's PSP (Personal Support Portal), giving you access to useful information. This one-stop-shop will let you know how much time remains on your warranty etc., as well as giving you access to exclusive software downloads. It is worth noting that the software is already loaded onto the drive when you buy it. Full versions of Parallels 10 (limited to 6 months), Bitwig Studio 1.0 (limited to 3 months), System Reflection back-up tool (unlimited) and PureMix instructional videos are all available at your disposal. In addition, renowned musicians like Marshall Jefferson, CeCe Rogers and Trash Junk offer exclusive music and samples for remix purposes too.
The SSD2go pocket is currently available in capacities of 128, 256 and 512 GB. Customers who choose to order directly from Angelbird's own website, can now order special personalized units, with a bespoke two-line engraved message. Considering what you get here, the drive is more then reasonable priced at £119.99 for 128GB, £159,99 for 256GB and £269,99 for the 512GB model.
[youtube width="800″ height="500″]https://www.youtube.com/watch?v=UVjvGhhyA88[/youtube]
If you'd like to convince yourself just how durable this drive is, then I'll encourage you to watch the video above. Angelbird's CEO, Roman Rabitsch, gives the drive an extreme test in an uncut video. The test starts around 2:50, if the entire video is to long for you. We'll also have a review of the drive ready for you soon.
Thank you Angelbird for providing us with this information
Images and video courtesy of Angelbird