Antec Eleven Hundred Mid Tower Chassis Review
---
---
---
Peter Donnell / 10 years ago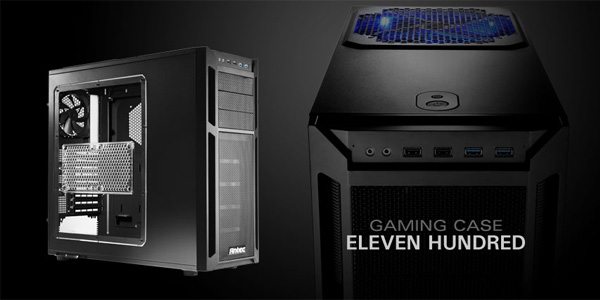 Building a computer from the ground up can be a time consuming process, selecting the relevant components and designing a system that works for you. With a wide variety of products on offer you are sure to find everything you want, whether you are looking for data processing or that ultimate gaming experience.  As an avid gamer myself I find this process an exciting time with lots of decisions to make about performance, GPU's and case designs.
The latter of these three is what I am going to be looking at today as we introduce the Antec Eleven Hundred case. This mid-chassis gaming tower is packed with clever design features and fits in seamlessly as the flagship model, heading up their exiting gaming case series. Over the past few years Antec have been releasing smaller, more affordable tower designs such as the "Antec One Hundred". With a gap in the market as GPU'S and motherboards are becoming more elaborate, Antec have decided the time is right to launch a Mid-Chassis tower design in to the market.
With nine expansion slots and seven optional fan locations, the Eleven Hundred can accommodate elite GPU configurations including 3 way Nvidia or 4 way AMD CrossFireX setups, making it ideal for gamers looking to get the most out of their tower. This is enhanced by the 200mm top and 160mm rear exhaust fans that give the tower impressive air flow credentials. With enough room to fit an XL-ATX motherboard on its tray fixings, the Eleven Hundred also offers the versatility often found in larger cases, all packaged in a mid-chassis tower design.
Antec have put a lot of thought into this inconspicuous case with key features such as the front I/O bay and grill design that gives the Eleven Hundred a stylish elegance with a hint of flair.