Antec Kuhler H20 H1200 Pro & H600 Pro AIO Review
---
---
---
Peter Donnell / 6 years ago
Introduction
---
Antec is one of the biggest names in the PC component market, with many years of experience in creating chassis, cooler, power supplies and more. With Antec having created so many products over the years, it's more than likely you've owned a few of their components over the years, so it's great to see them continue to push the limits. Antec has been a little behind in the cooling market recently, as their last range of Kuhler H20 products didn't exactly capture the imaginations of the market, but their latest versions, the H1200 Pro and the H600 Pro look set to change that.
Maximum cooling thanks to large copper base plate and high-performance radiator
"To achieve the best results when used with overclocked processors, both Kühler H2O H600 PRO and H1200 PRO are equipped with a large copper base plate that efficiently transfers heat from any AMD or Intel processor to the radiator. For maximum performance, H600 PRO and H1200 PRO feature a precisely constructed radiator with a 0.2 mm fin interval. The dimensions of the radiator are 275 mm x 120 mm x 27 mm for the H1200 and 155 mm x 120 mm x 27 mm for the H600." – Antec
The new range features a 120mm and a 240mm slim radiator design, with an AIO (all in one) water cooling setup that aims to deliver high-end performance, flawless designs and best of all, wallet-friendly prices. Spec for spec, the latest Antec products are often half the price of their next big competitor, so it'll be interesting to see if they can keep up with some of the more established AIO coolers on the market, especially at such competitive prices. If they can, then Antec are about to win over a huge part of the PC system building market.
Extremely quiet operation meets tremendous power
"Despite their excellent cooling performance, H600 PRO and H1200 PRO operate extremely quiet. This is due to the high-quality blue LED 120 mm fans that can reach up to 2,400 revolutions per minute. In addition, the enclosed pump impeller is near completely silent while delivering a pressure of 2.3 meters of water. The pump achieves this exceptional pressure thanks to the higher rotational speed of the winding type three-phase motor, maximising cooling performance for any PC system. For clean cable management, the pump is powered by a SATA interface." – Antec
High build quality for exceptional durability
All components used for the Kühler H2O H600 PRO and H1200 PRO systems impress with their outstanding build quality and durability. The oil-free lubrication graphite bearing has a service life of up to 150,000 hours. The service life of the carbon metal crystalline ceramic axis is also 50 times longer than that of common models." – Antec
We've got both models in the eTeknix office today and will be putting them head to head with each other, as well as a wide range of aftermarket coolers from many other brands, so it'll be exciting to see how they perform. As you can see, both coolers come in a stylishly designed box, with a nice image of the product on the front and the main specifications, although I don't think that lightning effect on the H600 is a feature, obviously.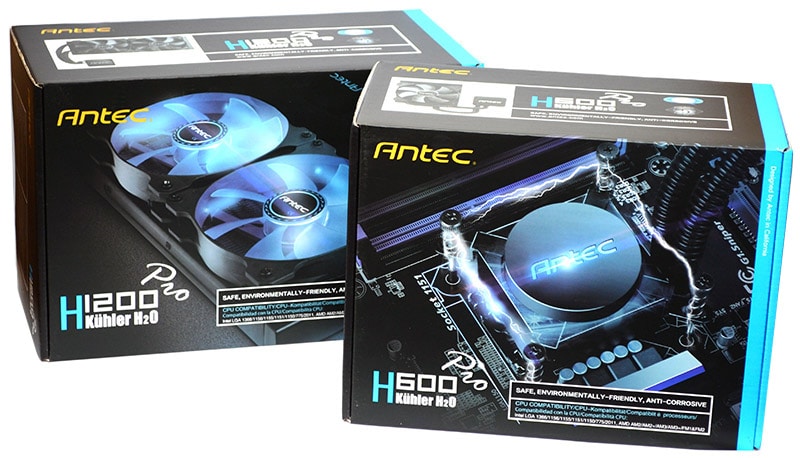 The H1200 comes bundled with two lovely 120mm blue LED fans, each fitted with a standard PWM connector, anti-vibration screw holes and clear fan blades. It also comes bundled with a Y-splitter, so you only need a single motherboard header to connect them. The H600 comes with just one of these fans, which also means it doesn't include the Y-splitter.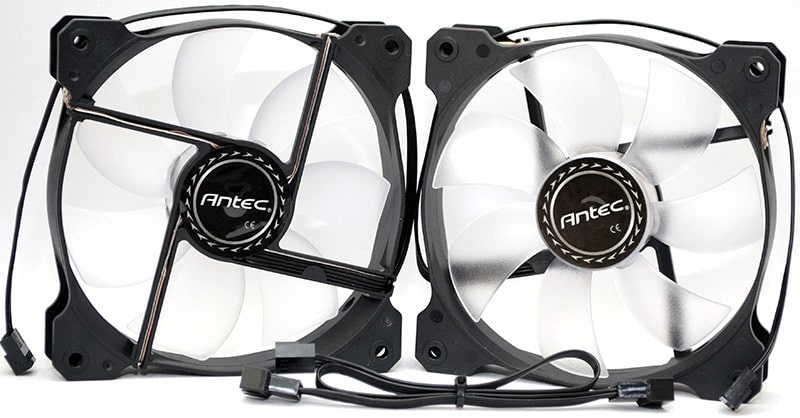 The fans are certainly of a nice quality and they're Antec's own design; having personally used a lot of Antec fans in the past, I have high hopes for their performance.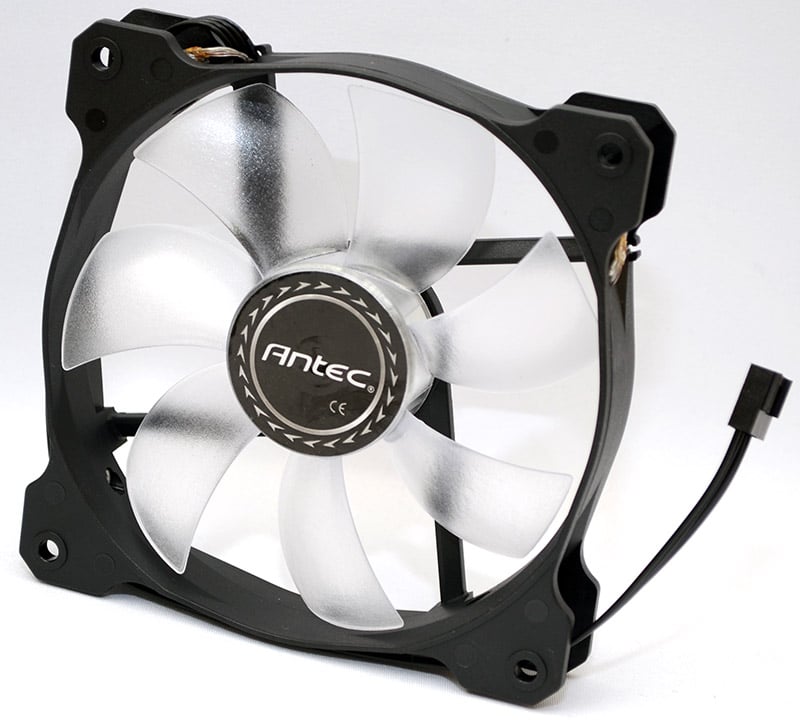 Both the H600 and the H1200 come with the same set of components, with the exception of the extra fan and Y-splitter for the H1200. You'll find a universal backplate, AMD and Intel mounting brackets, a small tube of thermal paste, and all black fittings for the screws and other mounting hardware.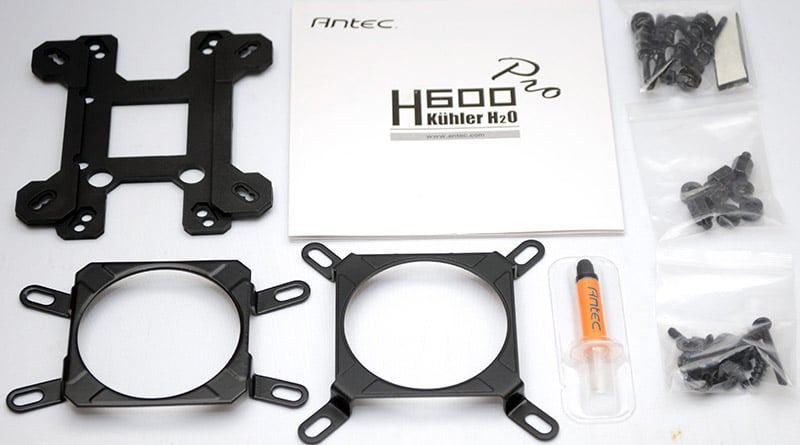 Both coolers come nicely packaged in protective cardboard, with durable plastic bag coverings on all major hardware, as well as some thick air pockets to help prevent any of it moving around in transit.