Antec KUHLER H2O 920 CPU Cooler Review
---
---
---
Andy Ruffell / 12 years ago

Cooling your CPU is one of the most important parts of any computer system. Without it you would very quickly make your computer redundant as the CPU would be a bit too toasty for its own liking! Most of the time we rely on air cooling as it is the most readily available heat transfer medium available to us in a case.

Some extreme gamers several years back started looking at ways of cooling a CPU using different transfer mediums such as water or even the extremes of liquid helium and liquid nitrogen (do not try this at home!). It was found, not surprisingly, that they had more cooling potential and were generally more efficient as they could remove more heat from the CPU for the same amount of energy or work done on the physical system. That said, there are a few obvious problems of having water or any other liquid in close contact to electrical components.

For those of you who are not wanting to create an extreme gamer liquid cooled system there have been a various number of liquid cooling systems that are 'self-contained'. Recently we saw the release of the Antec Kuhler 620 and how this proved to be a fairly popular and certainly a powerful cooler. Today we have its newer big brother, the 920, which is meant to be even better and designed more at the more serious computer user as it is priced at a fair bit higher than its younger brother.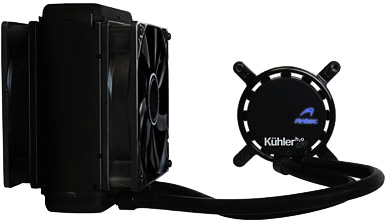 Specifications
​CPU Socket Compatibility:
[LIST]
Intel LGA 775 / 1155 / 1156 / 1366
AMD AM2 / AM3 / AM2+ / AM3+
[*]Included software provides essential tools to control and monitor the KÜHLER H₂O 920
[*]Non-corrugated easy-bend tubes for maximum flexibility in radiator positioning
[*]Pulse Width Modulation (PWM) radiator fans generate the quietest high performance cooling
[*]Customizable RGB LED creates brilliant illumination
[*]Cooling Liquid – Safe, environmentally-friendly, anti-corrosive
[*]Fan Speed: 700 – 2400 RPM (PWM controlled)
[*]Tubing Length: 13.0″ / 330 mm
[*]Radiator Dimensions:
5.6″ (H) x 4.7″ (W) x 1.9″ (D) /
151 mm (H) x 120 mm (W) x 49 mm (D)
[*]Fan Dimensions:
4.7″ x 1.0″ / 120 mm x 25 mm
[*]Air Flow:
[*]Noise Level:
[*]Cold Plate + Pump Height:
[*]Net weight:
[*]Gross weight:
[*]AQ3 – Antec Quality 3 year limited warranty on parts and labor
[/LIST]