Antec Mercury 360 AIO CPU Cooler Review
---
---
---
Mike Sanders / 4 years ago
---
Antec Mercury 360 AIO CPU Cooler
As we have said before, Antec is a brand not particularly well known. More accurately, they are not particularly well known in terms of coolers. This is, of course, a reason for that. This largely being that the Mercury range is the only that the company is currently producing.
Despite a somewhat limited stock level though, that shouldn't fool you into thinking that they don't make a quality product. You only have to look at their range to see that they are a major player in terms of PC parts and components.
When it comes to AIO liquid coolers, you are a little spoilt for choice at the moment. It can, therefore, be hard finding one that meets your needs while at the same time being capable of operating to a level that meets your performance requirements. It is not uncommon for people to see AIO coolers, particularly the 360 models, as the perfect solution for overclocking cooling. While we here at eTeknix would say that such a conclusion is a yes and no matter, Antec has released their latest cooler.
We, therefore, put the Antec Mercury 360 AIO CPU Cooler to the test and see if despite Antec's reasonable limited range in coolers, if they are worth your attention.
Features
Supports Intel Socket 775, 1150, 1151, 1155, 1156, 1366, 2011 and AMD AM2, AM3, AM2+, AM3+ and FM2 – Our sample did have an AM4 socket provided in the box, this is likely included, but the boxed packaging has not been updated accordingly.
Super Cooling head.
LED PWM fans.
Extra large pump.
Temperature controlled LED
Graphite Bearing.
Teflon reinforced coolant hose.
Specifications
For in-depth specifications, please visit the official Antec product page here.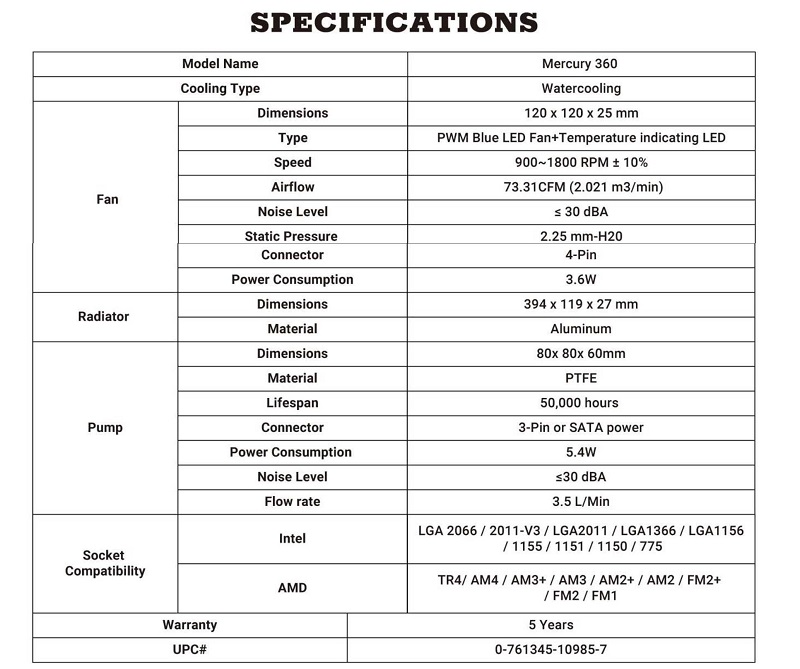 What Antec Had to Say
"The new generation of Mercury line of all-in-one liquid CPU coolers. All Mercury models are built around a new sealed and silent pump, which consists of a three-phase motor promoting a rapid liquid circulation, helping the CPU to keep cool while it is being pushed to its limits" – Antec
Packaging and Accessories
As with all 360 coolers, the packaging for this one is pretty huge. That being said though, Antec has put the space to good use. One of my biggest criticisms of box work with companies is that they fail to give you all the main 'bang' information on the front of the box. Antec, however, has made sure that you have everything you could want to know at a glance. This includes a nice image of the cooler and pump block as well as the key features on display. Out of all the company brands available at the moment, I think Antec is possibly the best for front box presentation and information. I do also quite like their blue color coding as it picks up the highlights on the cooler itself.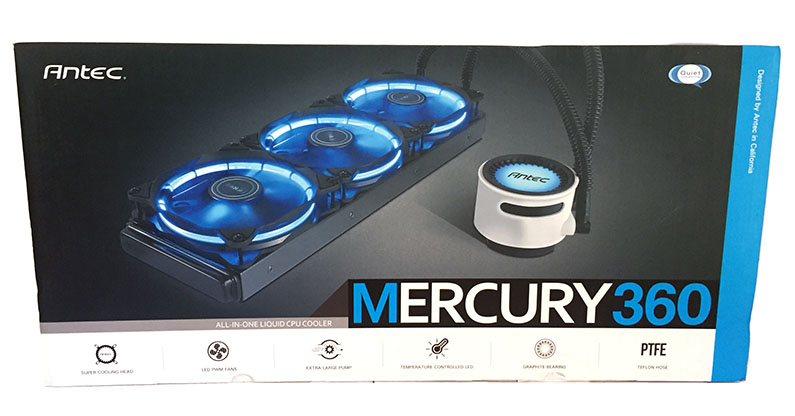 Unfortunately, things get a little more boring on the back. Here, you will find all the key product specification in 8 different languages, but I can't help but feel that this is a missed opportunity. You will find no technical drawing of the product with dimensions. In addition, with all that open space available, it just seems like a massively missed opportunity here. We would show you pictures of the sides of the box, but alas, there is nothing much interesting there to showcase. I would note, however, that this design is somewhat indicative of their website which overall isn't the best we have been for product display.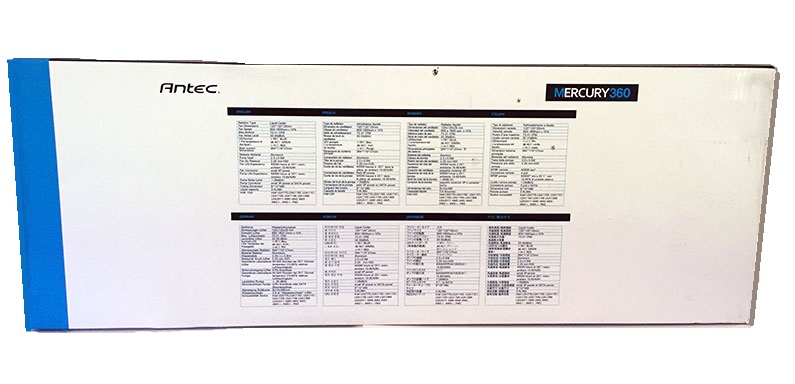 Inside the box!
I'd like to say that things look a whole lot more impressive when you open the box, but it's very much more of the same. The packaging is decent in terms of fans, the cooler, radiator etc. all having individual compartments, there is, however, a lot of moment within the box. Therefore, while everything is in place and shouldn't fall out, in transit this will see a bit of jiggling. Fortunately, everything is within labeled bags which provides full coverage of all components and even a double bagging system to ensure the pipes are covered. It's a minor point, but I just wish everything was fitted in a little more snugly.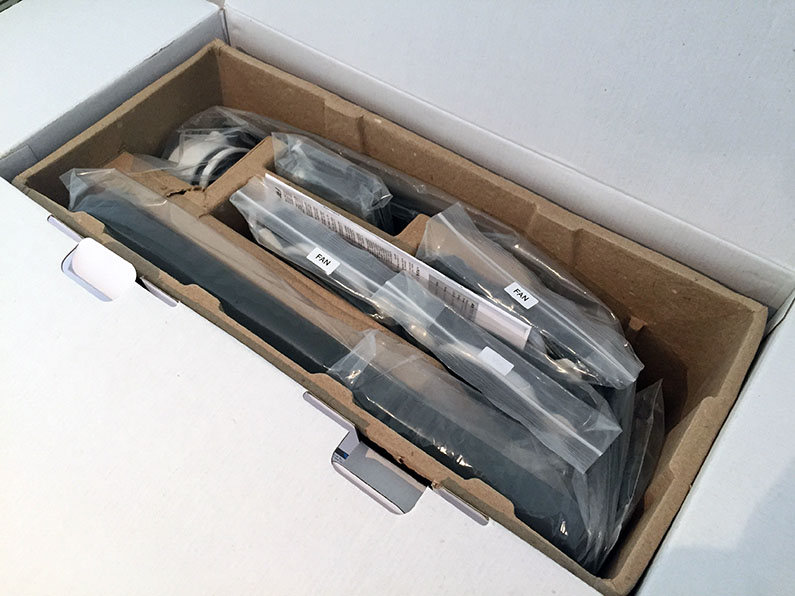 Quality of the packaging parts
In terms of the separate parts, we really must commend Antec for the simplicity of it. Everything has it's own individual each bag is labeled accordingly. Yes, perhaps 'fan' isn't necessary, but then within that bag is a separate container holding all of the specific screws, washers, and fixtures for that individual fan. Coolers can be a nightmare to put together with a ridiculous number of screws and parts. Antec has effectively made this as simple as possible, at least in terms of your organization.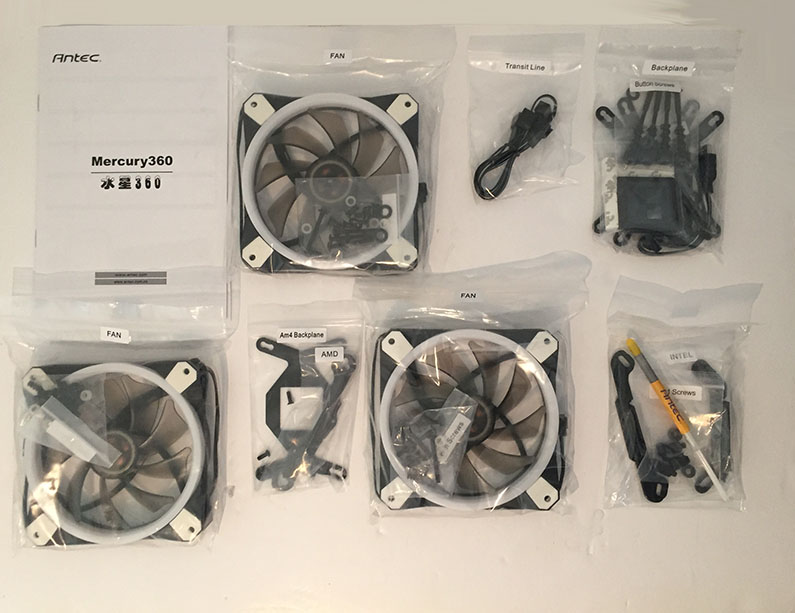 So with everything clearly laid out, you might be hoping that everything is easy to put together. Unfortunately, however, with this cooler, Antec has produced what I consider to be one of the worst manuals I have encountered to date. Not only is the information and diagrams difficult to understand, but they are also printed in exceptionally poor quality. Just to give an example of this, I have posted an image below of the actual manual. Any loss of quality is not due to the photography as they were directly screen grabbed from their own website. As such, particularly when it comes to the variance in Intel brackets, this makes the installation highly difficult.
Unfortunately, too much emphasis is placed on the diagrams actually being useful. As such, there is no real written or visual assistance to this. While it is certainly not impossible to figure out, the manual is not user-friendly at all and this is something that Antec should look to address in future models. This is particularly highlighted as 2 of the fixture types are very similar, but the manual doesn't clearly differentiate between them. At least, not enough to make a clear definite distinction at first glance.