Antec Neptune 240 AIO Liquid Cooler Review
---
---
---
Mike Sanders / 3 years ago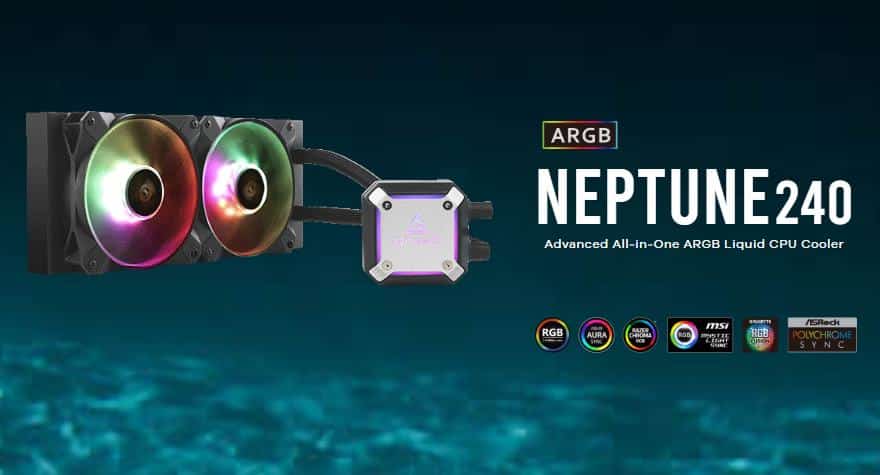 Antec is undoubtedly one of the biggest and best-known names in PC components and, between their coolers and power supplies, buying anything under their brand is always a guarantee of getting a quality product. With the recent launch of the Neptune 240 AIO liquid cooler, however, things have certainly taken a bit step forward not only in terms of its overall design but also in its fantastically eye-catching aesthetic!

Antec Neptune 240
With it's amazingly sleek and stylish design, the Antec Neptune 240 certainly looks like a brilliant AIO cooler. The overall 'looks', however, only just scratch the surface as to what this offers. One of the biggest new features in this design is the removal of the water pump from the water block.
The Antec Neptune instead looks to move it to the top of the radiator. A factor that is not only helpful in terms of cable management but one that should also help increase the cooler's exceptionally long-term lifespan by reducing vibrations in (arguably) the most sensitive area.

Technical Information
For more in-depth specifications, please visit the official product page via the link here!
Socket Compatibility

What Does Antec Have To Say?
The new generation of Antec all-in-one liquid CPU cooler, Neptune 240 ARGB, brings your build to next level. The integration of the water pump and radiator prevents the CPU from being damaged by vibration. The ultra-thin pump head reduces the volume when installing it on the CPU. Besides the aesthetics, the efficiency of thermal control is also improved.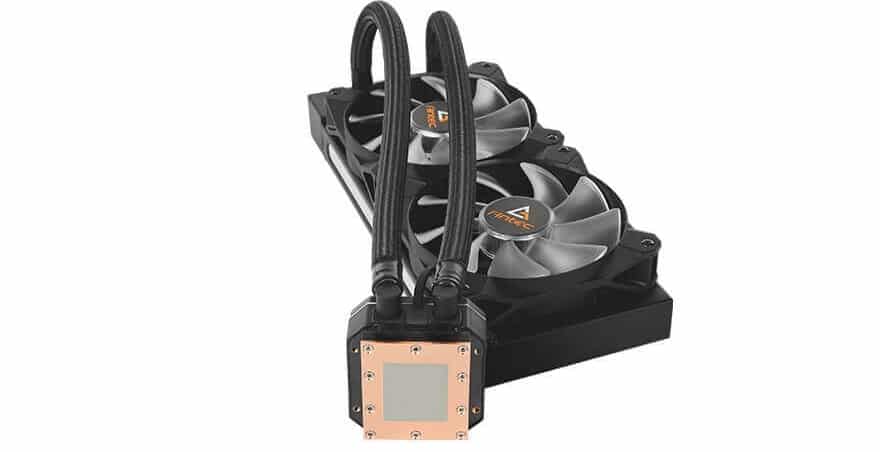 ———————–

Exterior Packaging
The front of the packaging goes big and bold with a nice clear image of the cooler front and center. Also providing you with a number of the key features (albeit, in rather small writing/icons) it does quickly tell you at a glance everything you would want to know.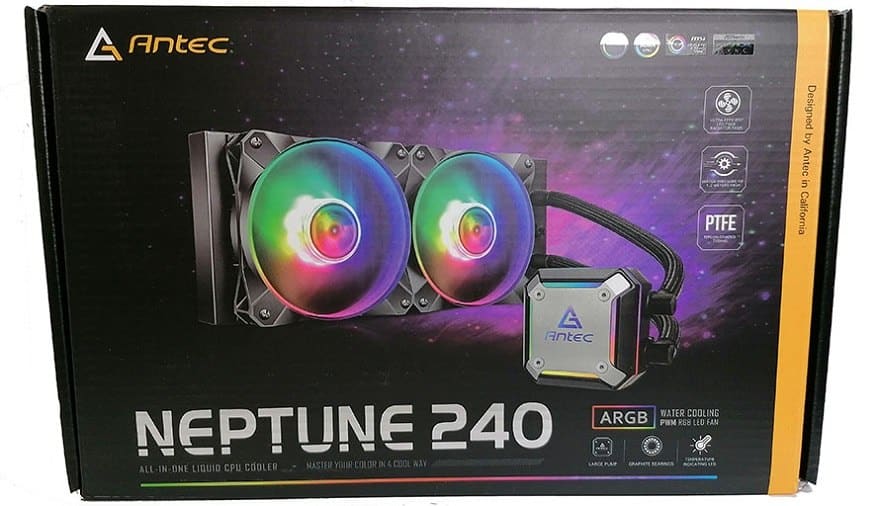 Perhaps surprisingly, the rear packaging isn't overly heavy on details either, but it does at least provide you with plenty of images of the various aspects of this AIO cooler design. If anything, unlike many manufacturers that go overload on small print worthy of a credit card application, you could argue that the Antec Neptune 240 could use a little bit more here! That is, however, perhaps to keep localization (in terms of various languages for various markets) an easier factor.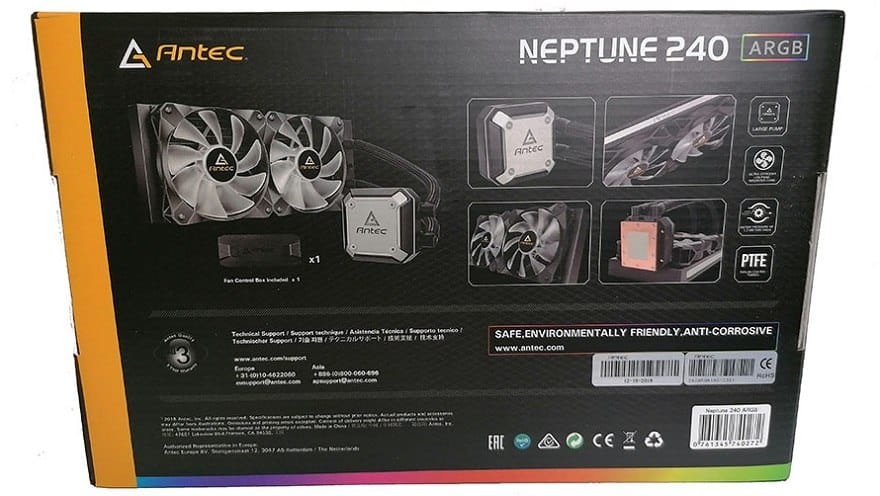 Accessories!
As this is a 240mm AIO liquid cooler, you are clearly provided with a fair few parts and accessories in the packaging. Fortunately, this is generally well organized, and, as such, you shouldn't have any difficulties finding the right bits you need to get started.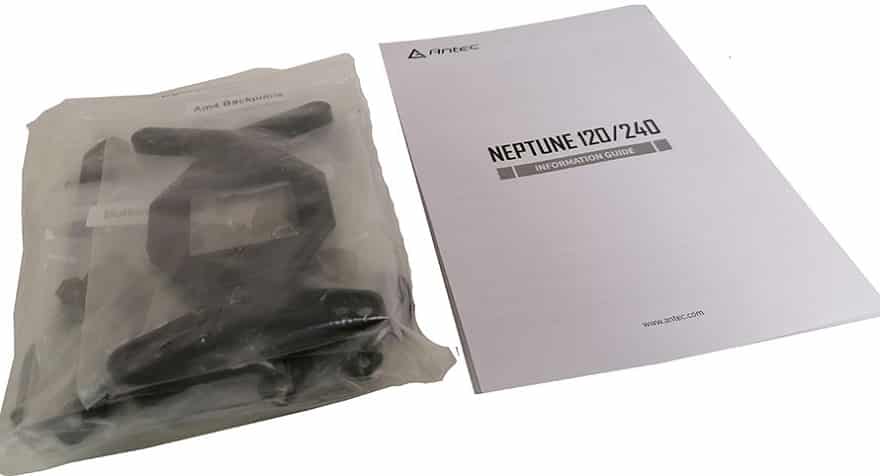 Although we shall look at this further in the 'installation' section of the review, despite the seemingly clear aspect of the packaging, there are still parts of it that can get a little confusing. If you take your time, however, you should avoid any obvious mistakes. The labeling (as well as the manual), however, could be better!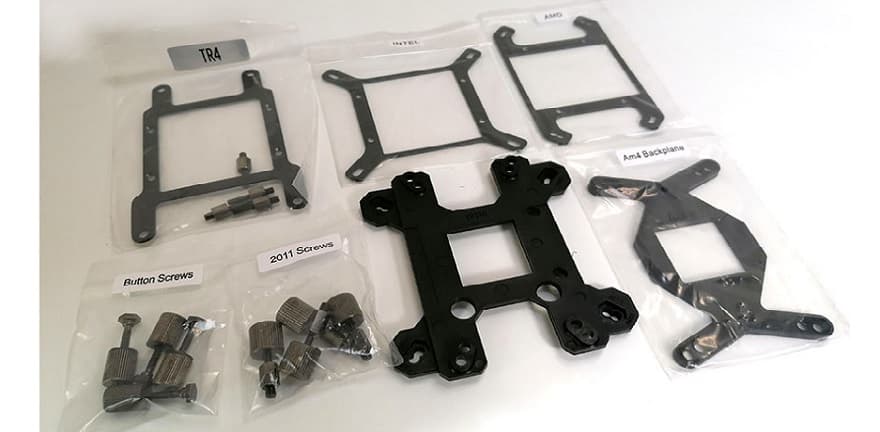 One of the nicest added bonuses to the Antec Neptune 240 is that you are supplied with a hub that can power both the RGB features as well as the fans. In addition, you are also provided with necessary cabling for ARGB compatible motherboards as well as 2 velcro straps which you can use to attach the hub within your chassis.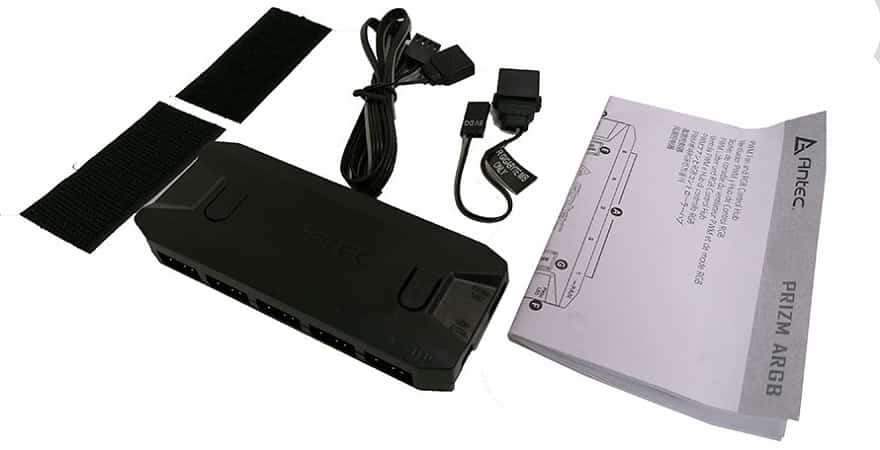 The hub controller is of excellent quality which is always a pleasant surprise as often (in many other alternative AIO models) these can be quite cheap. Worse, some manufacturers don't provide them at all giving those without ARGB motherboards problems in getting the full potential out of their cooler. The hub model provided by Antec, however, is excellent both in terms of aesthetics and 'feel'. As above though, check the 'installation' part of this review for more information on how this works.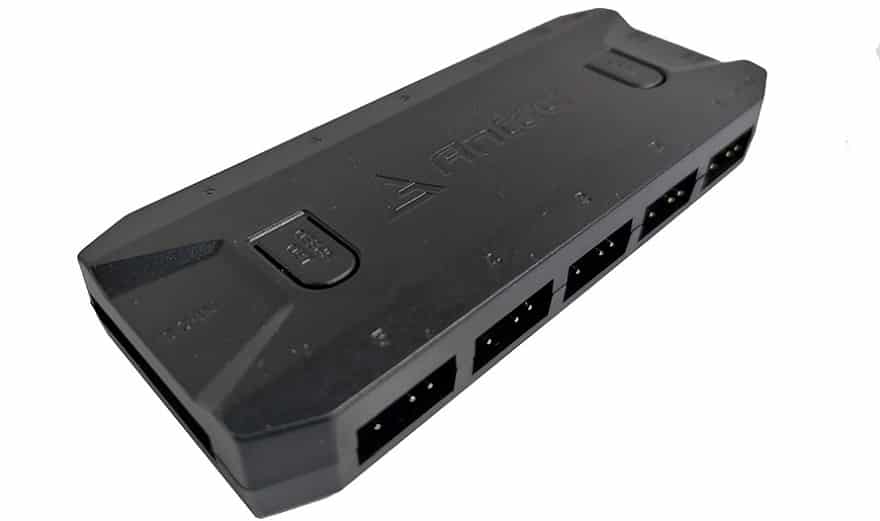 ———————–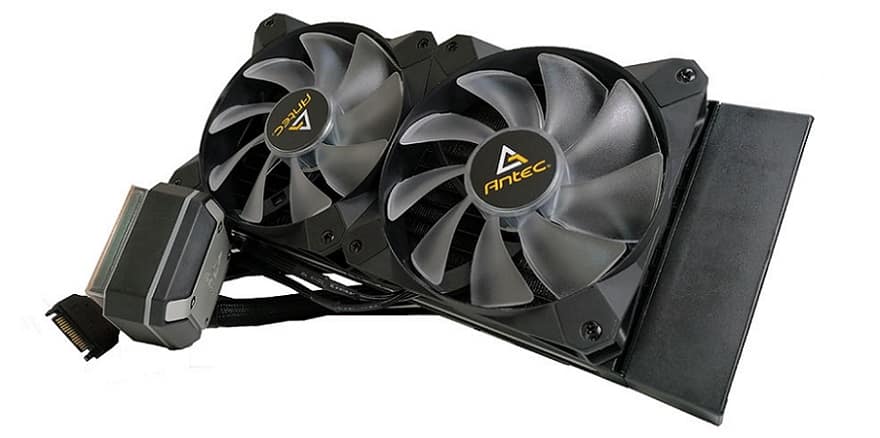 A Closer Look
Out of the box, the Antec Neptune 240 is immediately quite eye-catching with its dark black coloring contrasted well against the silver highlights that can be found on both the radiator and the pump head.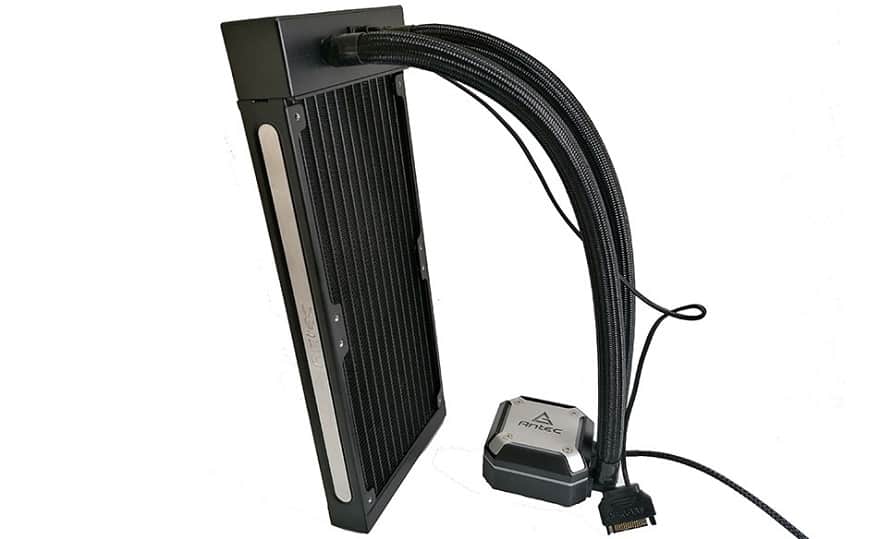 The sleek style looks very professional and, even with the lights off, it ticks all the right boxes in terms of the aesthetics. Let us, therefore, take a closer look at some of the individual components in this design.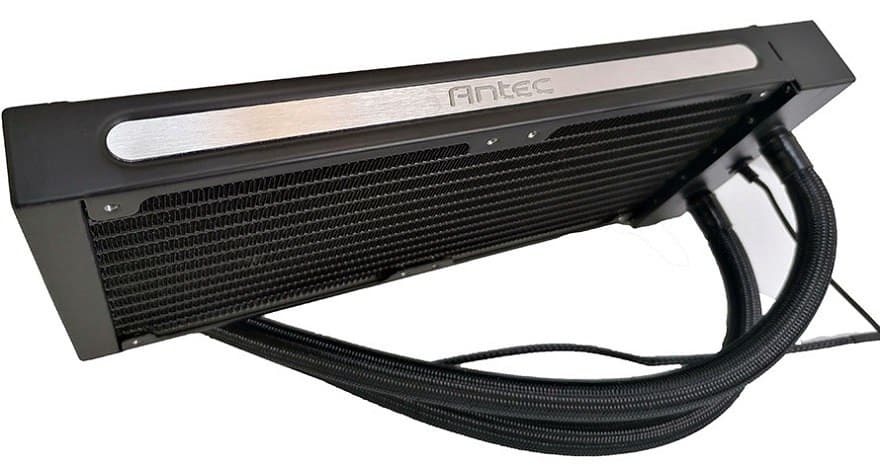 Contact Plate
The contact plate is fantastically large and the fact that this cooler is TR4 compatible is probably one of the main reasons for that. With pre-applied thermal paste as well, this is ready to go right out of the box. The only minor downside is that the protective covering did allow for some light contact with the thermal paste. As such, having your own tube (which isn't supplied) might be a good idea just in case this happens during your 'handling' of the cooler.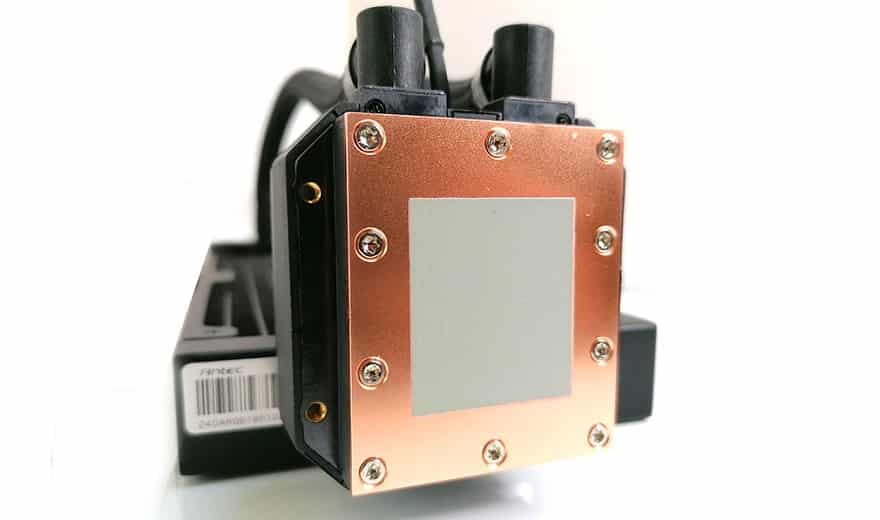 Radiator
A closer look at the radiator finds that it is a surprisingly thin design, with the exception of the top area which is larger than usual. As we noted earlier in the review, however, this aspect of the radiator incorporates the water pump and has been specifically designed to remove any potential 'vibration' aspect away from the pump head.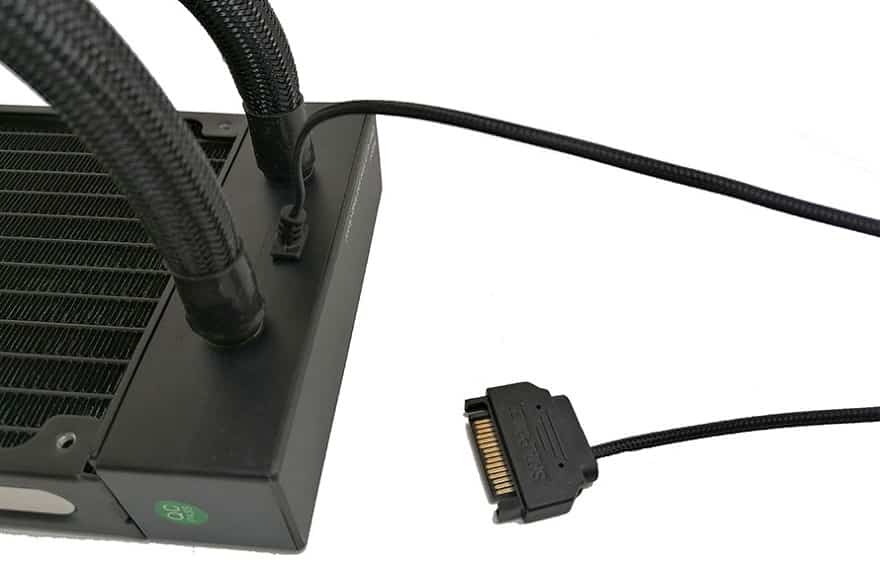 With the logo etched into the side through the silver trim, it really does look excellent and, if you install this in your system, you're going to want to try (as best as possible) to keep this aspect on show. It genuinely looks fantastic!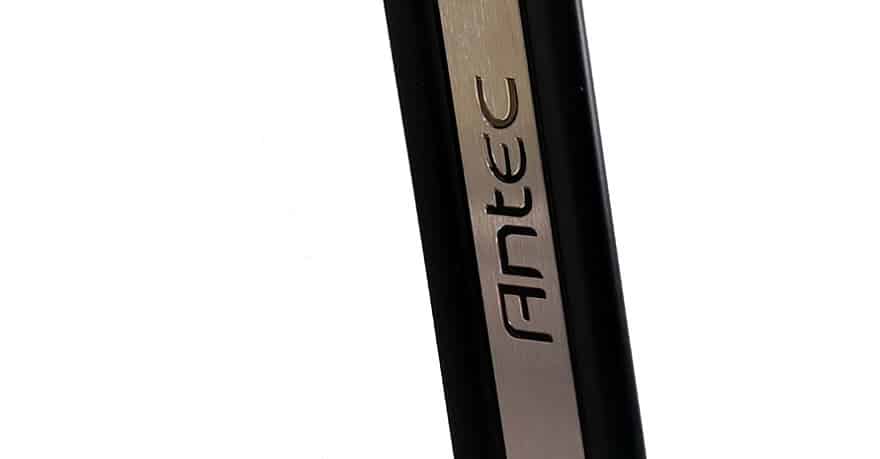 The most stand-out aspect of the radiator for me, however, is the visual aspect. It simply looks fantastic and Antec has really hit the ball out of the park in making what is usually the most boring aspect of an AIO's design (usually just a black square) surprisingly nice to both look at and handle!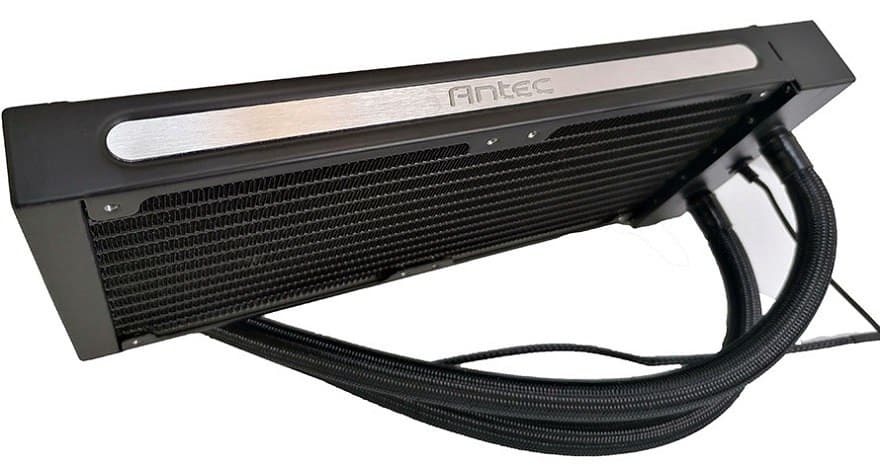 Pump Head
With the Antec Neptune 240 again carrying that silver and black styling to the pump head, this again looks excellent. Regardless of, we should add, whether the lights are on or off. With the pump not being a part of this design as well, it's notably smaller than most other designs and, as such, should easily complement any system build.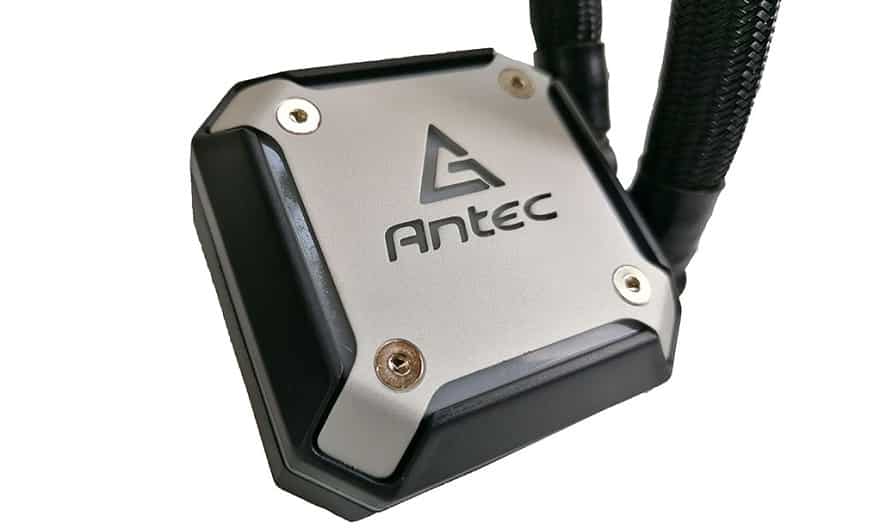 Fan
As this is a 240 cooler, you are (at the risk of sounding obvious) provided with two 120mm cooling fans. While there are some nice little touches to the design (such as the angular corners) the real fun begins with these when you see the RGB lighting in action. More on that shortly.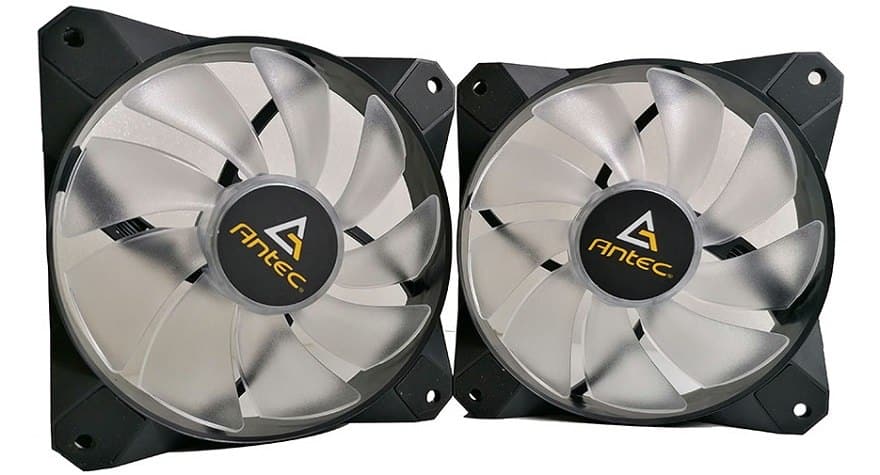 As can be seen in the picture below, the only mild matter of curiosity is that when installed to the radiator, the fan blades seem to have a couple of centimeters worth of clearance which is, quite frankly, unusual but nothing to be overly concerned about. Particularly if Antec has found a method of making this design operate more efficiently.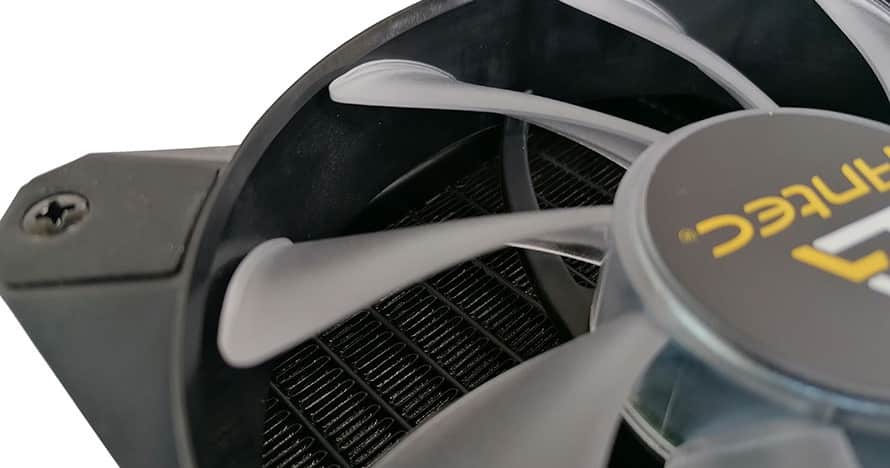 As for the exact models, well, sadly Antec hasn't provided us with any label suggesting what make these fans are (beyond the fact that the branding would suggest that these are Antec's own design). The 'exhaust' side is, however, notable plainer and, as such, it's not exactly going to take a genius to figure out which is the correct way around to install these.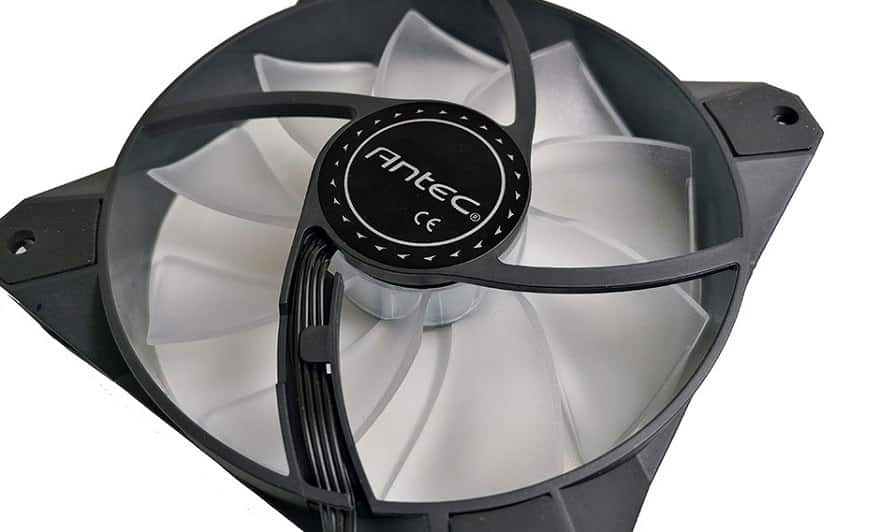 Overall
As a complete assembled (but not yet installed) unit, the Antec Neptune 240 looks to be an excellent AIO. While there are a number of curiosities in the individual aspects, there is nothing that looks cheap or poorly designed and, as such, we have every confidence that this will translate into some excellent performance results in our tests.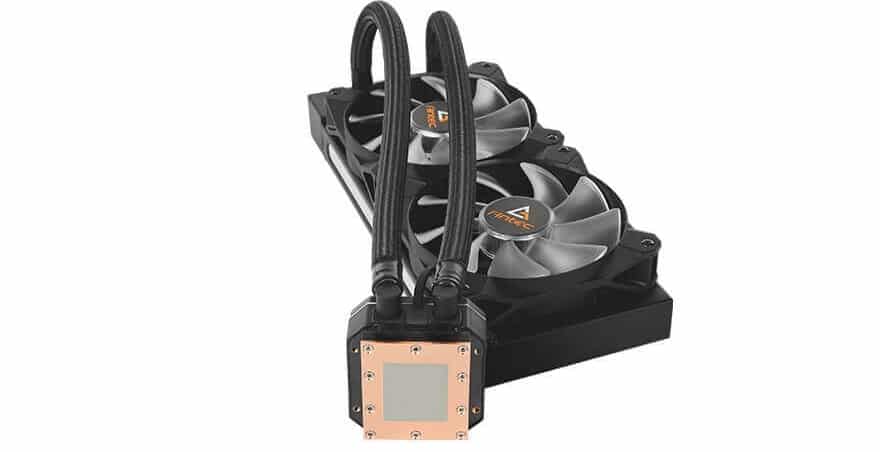 Put simply, it's sleek, stylish, and very nice to behold. With or without the RGB lighting. Speaking of RGB lighting, let's take a look at that and see if its an apparent weak point in the armor!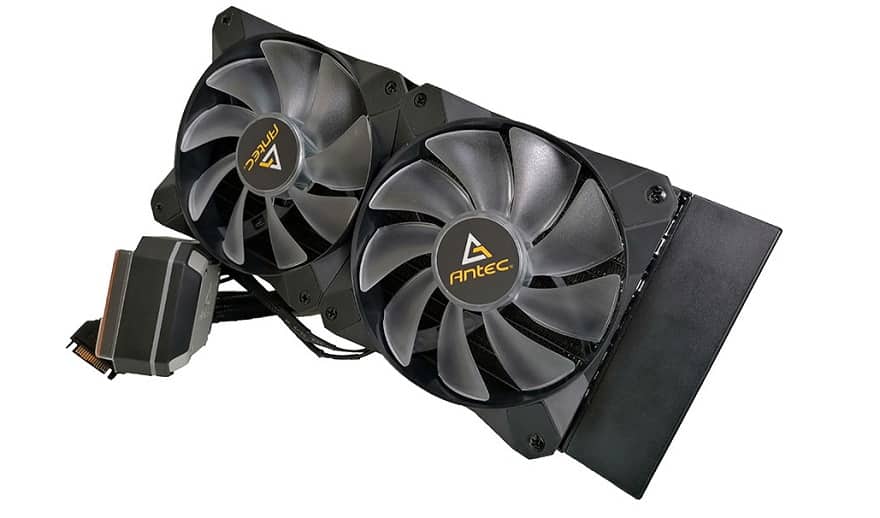 RGB In Action!
Well, if you were curious as to what the RGB lighting looked like, all we can say is that it's amazingly good! Starting with the pump head, the lighting is bright, bold and clearly excellently thought out in terms of the way the Antec logo is cut out into the cover.
The radiator fans again look fantastic with that really vivid lighting just jumping out at you. With this controllable either through your PCs ARGB settings or though the manual controller, they'll undoubtedly be a color scheme to suit everyone here!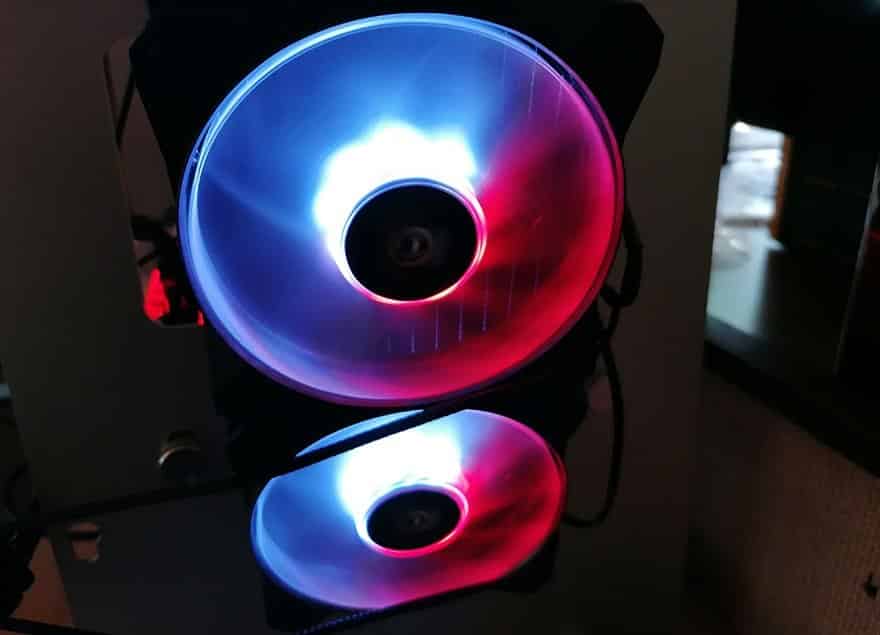 ———————–

Installation
While the design and aesthetics are, of course, important, if you want an excellent looking cooler to match your overall system design, it is important to know just how easy (or hard) it is to live with. Particularly if you're a regular tinkerer inside your system.

Starting with one of the most basic aspects, while you are provided with a manual, it is, in truth, not particularly good. While you are given a number of diagrams and part descriptions, it is (more often than not) rather vague on the details. A matter that becomes a lot harder when you have a number of very similar components that may, of course, not quite be the right ones you need for your socket platform.
While localization is always an issue (and diagrams are better than words) this would've benefited from a little more clarification on the individual parts. Particularly since the manual bears little resemblance to the itemized packages your parts are contained within.
Mounting
Fortunately, most of the main installation methods used on the Antec Neptune 240 are largely 'standard' and as such, anyone with even a little experience shouldn't have too much of an issue figuring out what needs to go where. Even the mount to the pump head is quite simplistic with it being attached by 4 screws.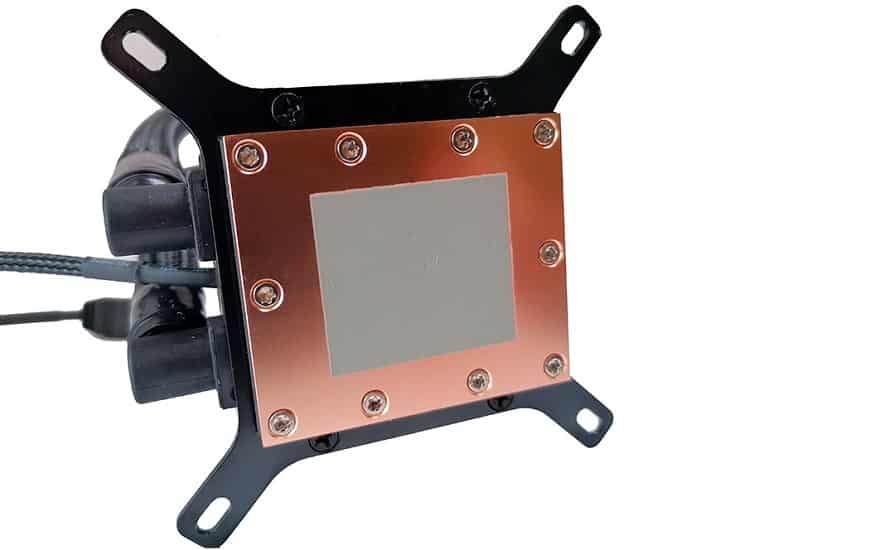 That being said, there is a very important factor we should note in regards to the installation. If you recall earlier in this review, we noted that the Antec Neptune 240 does come with an RGB hub that you can connect the fans to. Put simply, while you're welcome to use this to hook up your lighting, we strongly recommend against fitting the fans to this controller.
Why? Well, if you do, it basically defaults the fans to run at their maximum speed which is entirely unnecessary based on the overall performance of this design. In a nutshell, while the option is there if you have spare fan-headers on your motherboard, you are far better off, in terms of noise output and automated PWM control, simply connecting the fans to those.
We should note that, in the test results which are coming up shortly, we did not use the hub to control the fans as this wouldn't give 'fair' acoustic results.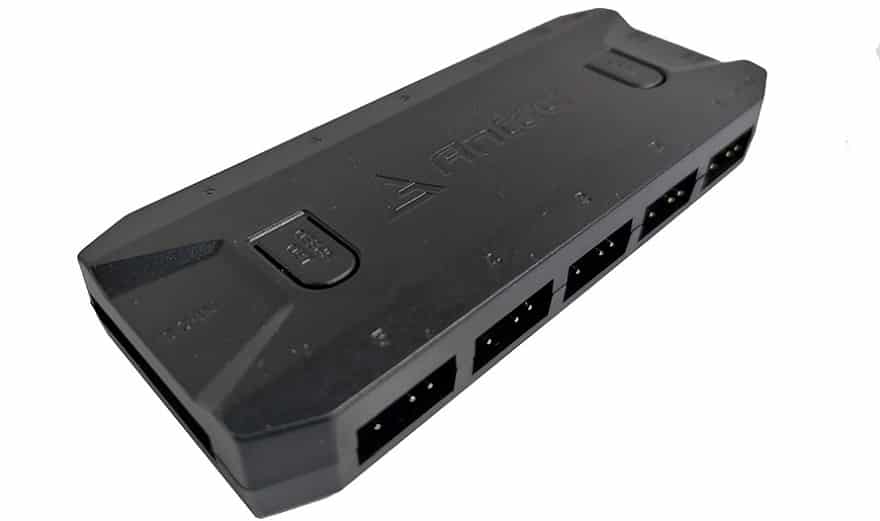 Overall Thoughts
From out of the box and onto our test bench, the Antec Neptune 240 took us around 20 minutes to install. This is, if we're being honest, a little longer than it would usually take us to fit most AIO coolers. So, why is this the case here? Well, the single largest factor is the rather crude instruction manual. With it being so unclear on a number of very important aspects, we had to scrutinize it quite thoroughly to make certain we used all of the correct parts.
While this cooler is still more than suited for an experience or first-time installer, we strongly advise you to take your time. The information is all there, but we suspect that mistakes are possible along the way if you're not careful and, if you did make an error, we certainly wouldn't blame you.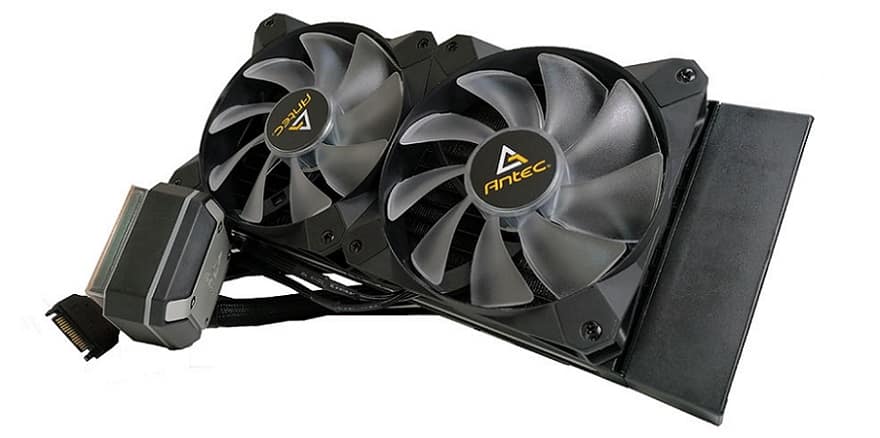 ———————–
Test System & Methodology
As you may appreciate, we review a lot of coolers here at eTeknix. As such, our prior results sheet was getting more than a little crowded. We have, therefore, applied a new system in which we have picked those coolers we consider most popular or most relevant to this design. Please note that we re-tested the Noctua NH-D15S as our base benchmark for cooling results.
Test system:
Gigabyte Aorus Gaming 9 Z270
Intel Core i7-7700K Delidded w/ NT-H1 under IHS
Radeon R7 Passive GPU with 2GB VRAM
16GB Crucial DDR4 2400 MHz (only swapped to 8GB in the unlikely event of RAM compatibility issues)
512GB OCZ SSD
be quiet! Dark Power Pro 800W
Lian Li T80 Test Bench
All testing conducted using NT-H1 thermal paste
We'd like to say a big thank you to Gigabyte, Noctua, Crucial, Intel, OCZ, be quiet!, and Lian Li for providing us with the above testing equipment and their on-going support.
Testing Methodology
We always use Noctua Noctua NT-H1 thermal paste to make sure testing reveals the efficiency of the tested coolers not the efficiency of the bundled thermal paste
Prime 95 is run for 10 minutes to calculate "load" results
Unigine Superposition is run for 10 minutes to calculate "gaming" results
The average temperature across all cores is taken
Fans are left to operate at default PWM profile speeds unless otherwise stated
For water cooling tests, all pumps have been operated at 12 volts unless otherwise stated
Ambient temperatures should be between 21-23 degrees in all our tests unless otherwise stated
Acoustic measurements are taken 10cm horizontally and 10cm vertically away from the CPU cooler with the VGA fan disabled
Stock tests are performed using "out of the box" settings for the CPU
Overclocking tests are performed with the CPU set to 5 GHz and 1.345v
All coolers were tested under identical settings unless otherwise stated.
There is approximately a 1-degree Celsius margin of error in our temperature recording software CPUID HW Monitor
There is approximately a 1.5dBA margin of error with our Benetech GM1351 decibel meter
In all these graphs we may have a few "reference" results of particular products that do not fit within that category for comparative purposes.
Software Used
———————–
Performance
The results seen for the Antec Neptune 240 are (arguably) some of the best (overall) we have seen for quite some time. Offering excellent levels of temperature control at both stock and overclocked settings, as you can see from the charts below, this cooler performs every bit as well at temperature control as its excellent aesthetics and design would suggest.
The single biggest stand-out aspect, however, has to be acoustic control. Put simply, the Antec Neptune 240 is amazingly quiet. I can honestly say that at stock levels, I could barely hear this running at all, and for a two fan AIO design, that's exceptionally impressive.
The noise levels did, as you might expect, occasionally spike when the CPU temperatures rose a little, but within a system chassis, I don't honestly think you'd hear this running at all when performing day to day tasks! There wasn't even the 'water gurgle' you sometimes hear from AIO coolers and I'll certainly mention that as a huge thumbs up!
So, taking the results as a whole, the Antec Neptune 240 is amazingly impressive in practically every level of its operation!
Stock Temperatures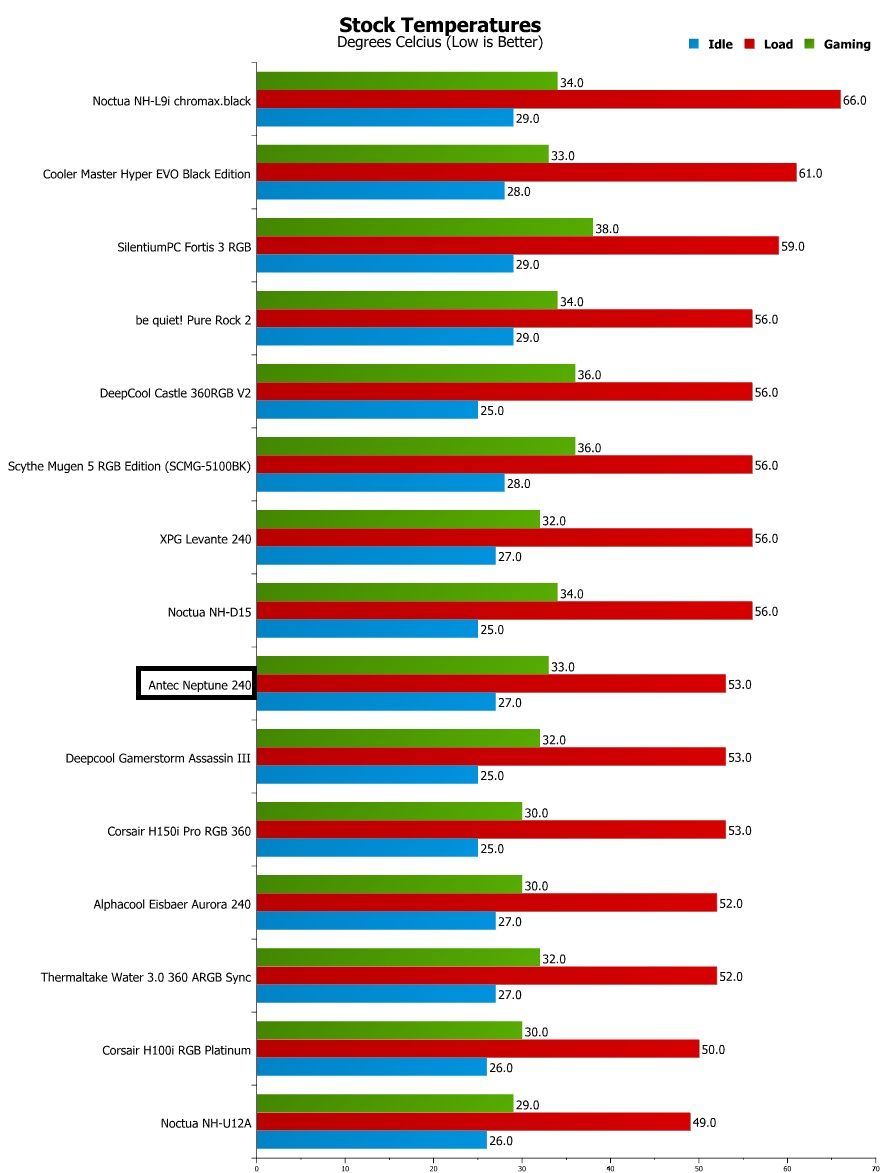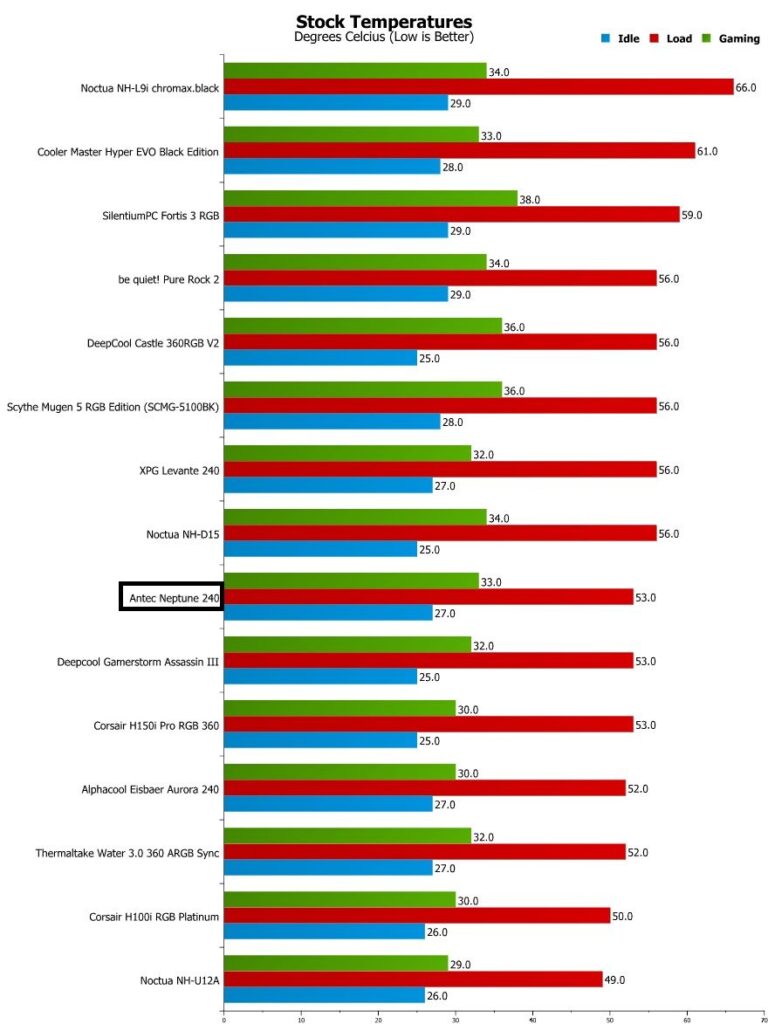 Stock Acoustics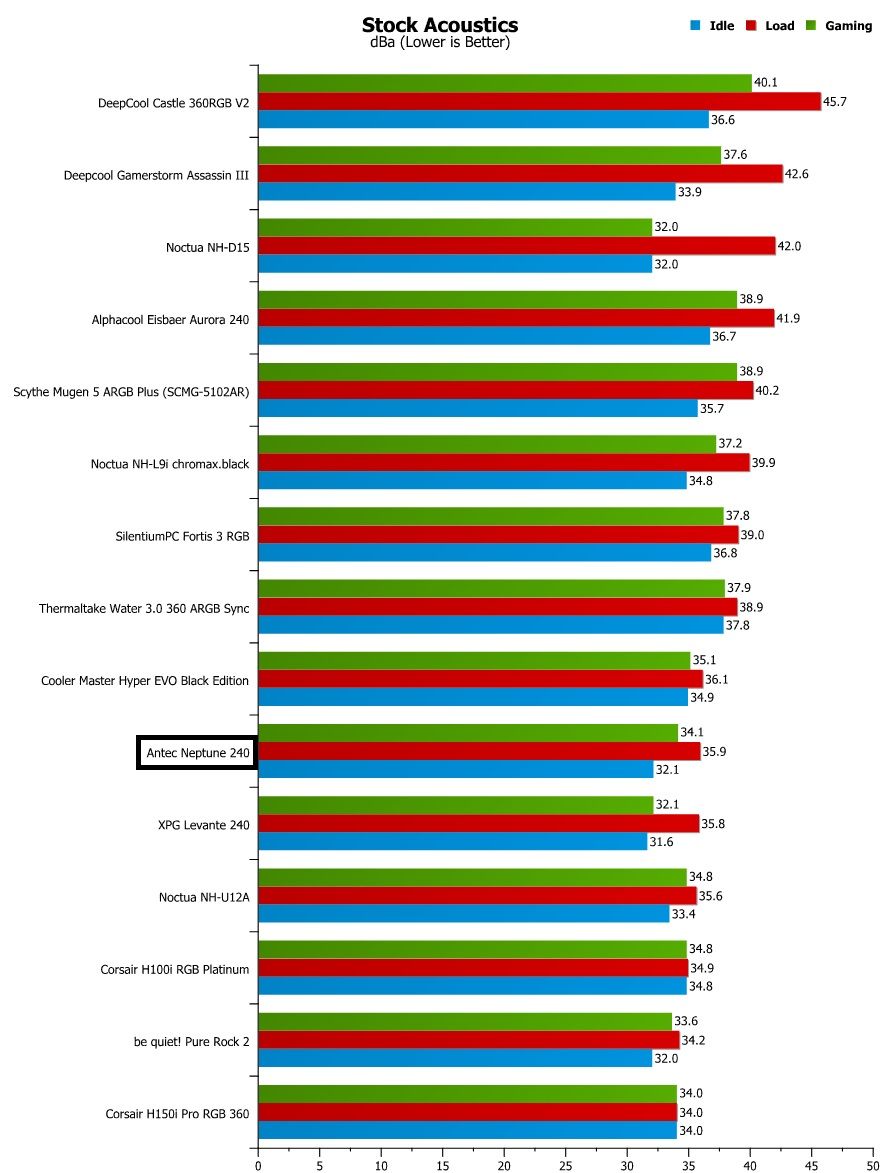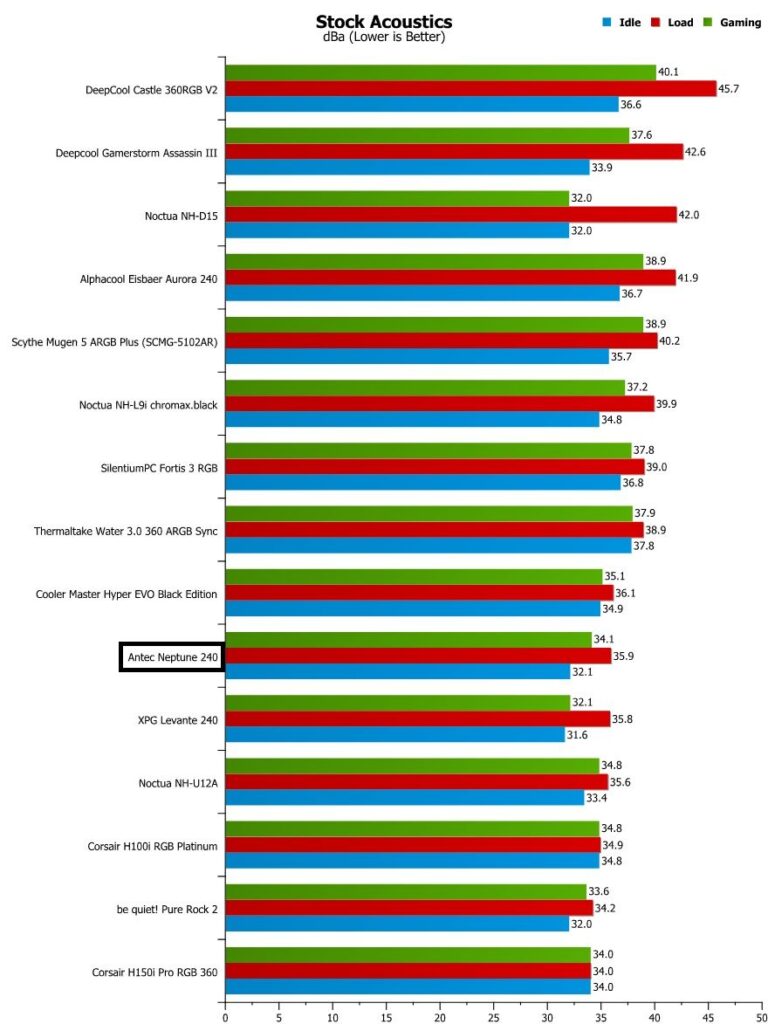 Overclocked Temperatures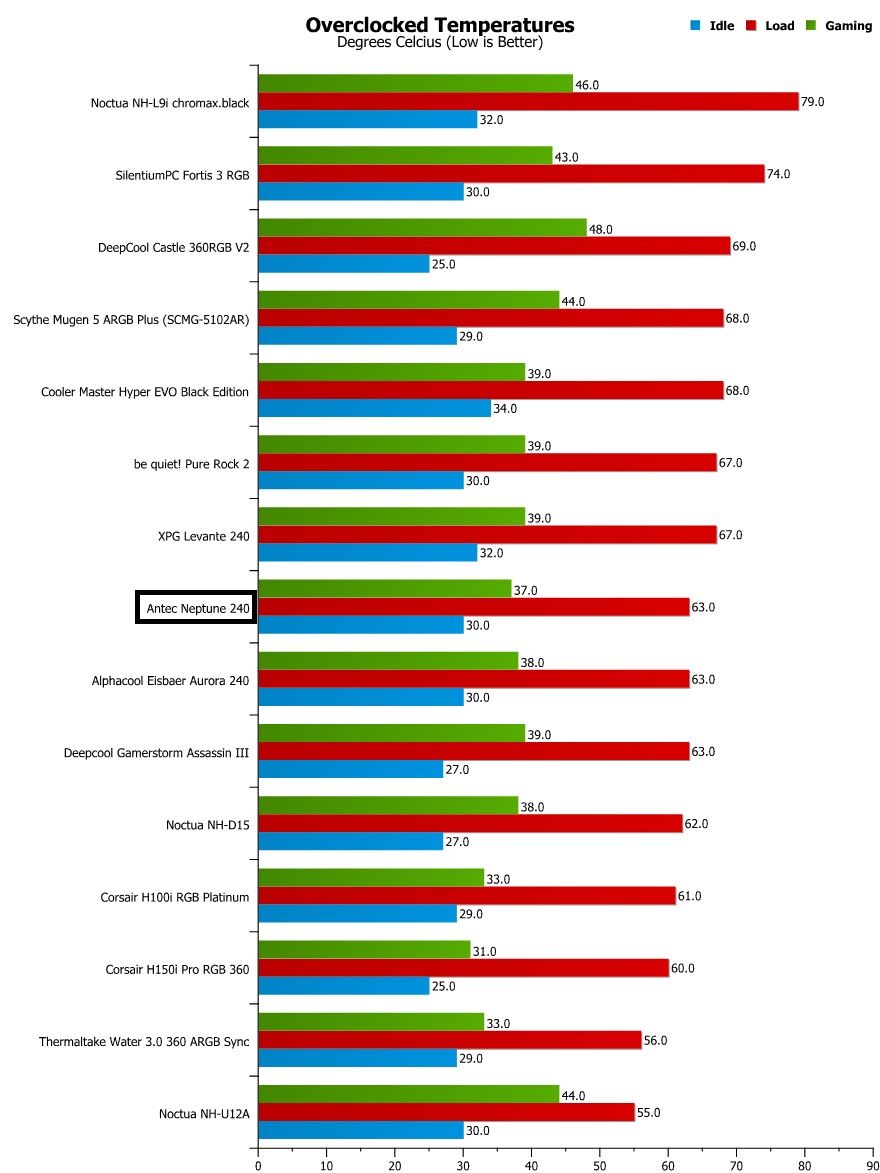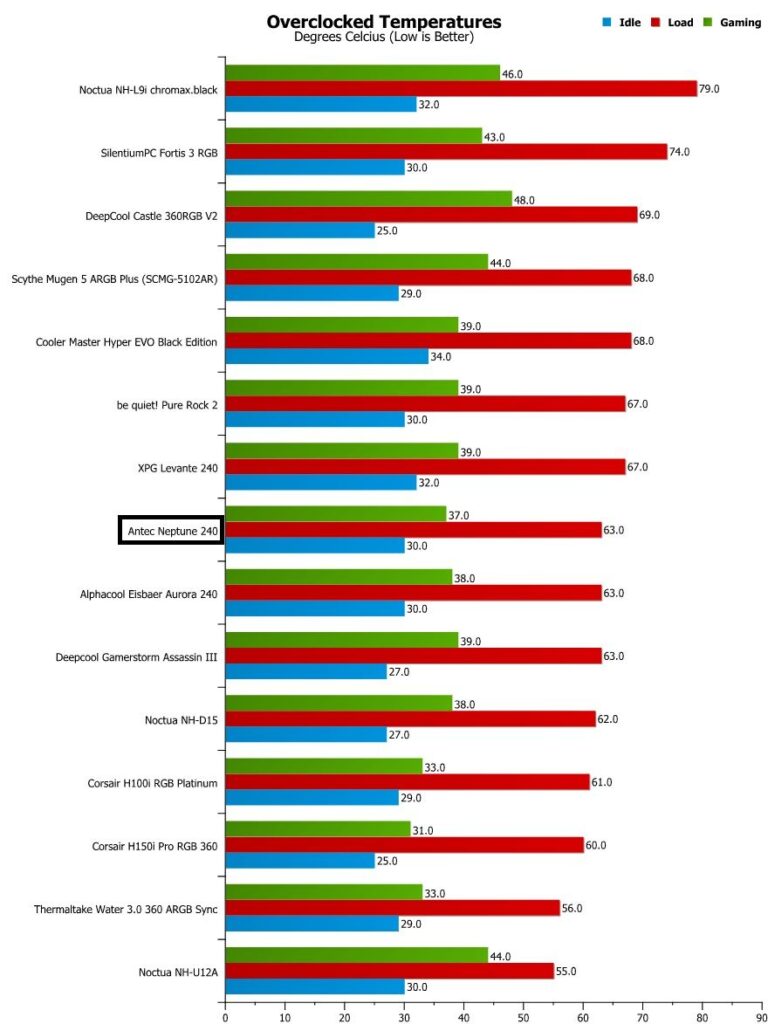 Overclocked Acoustics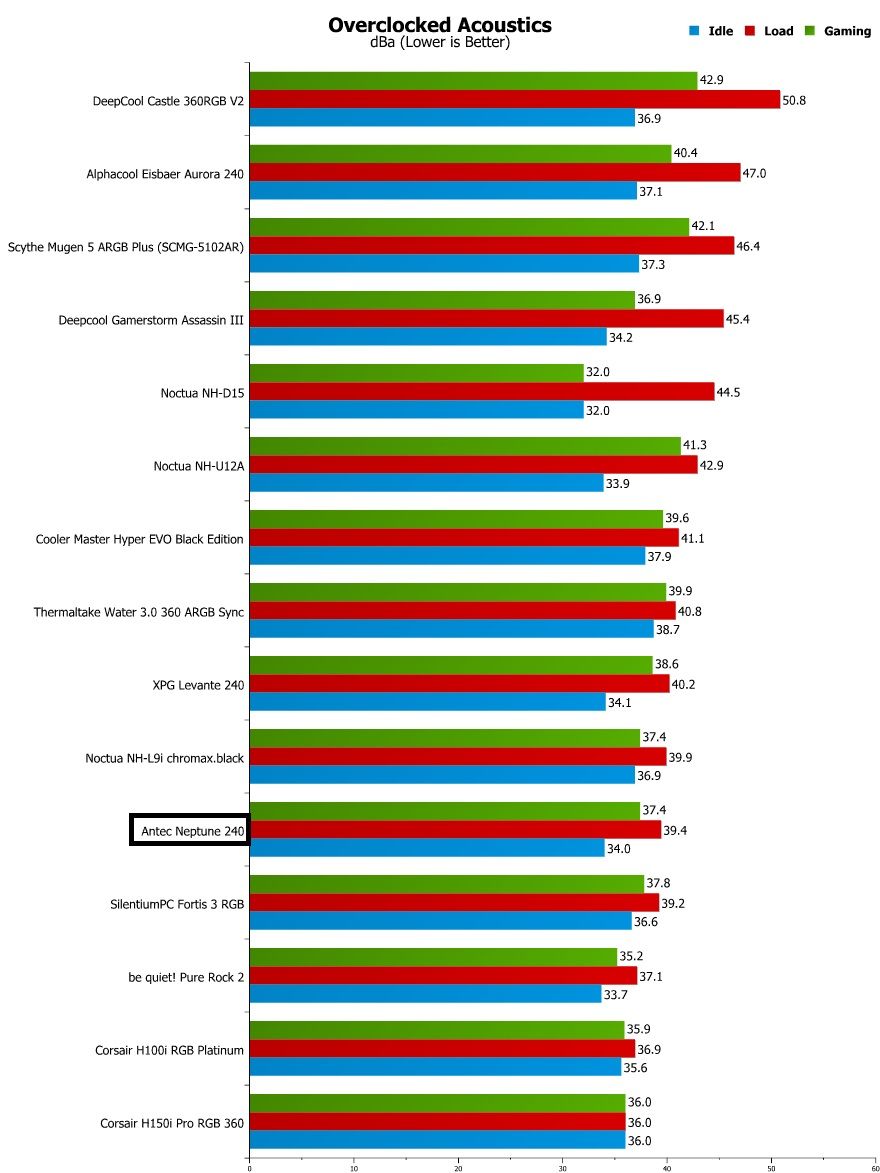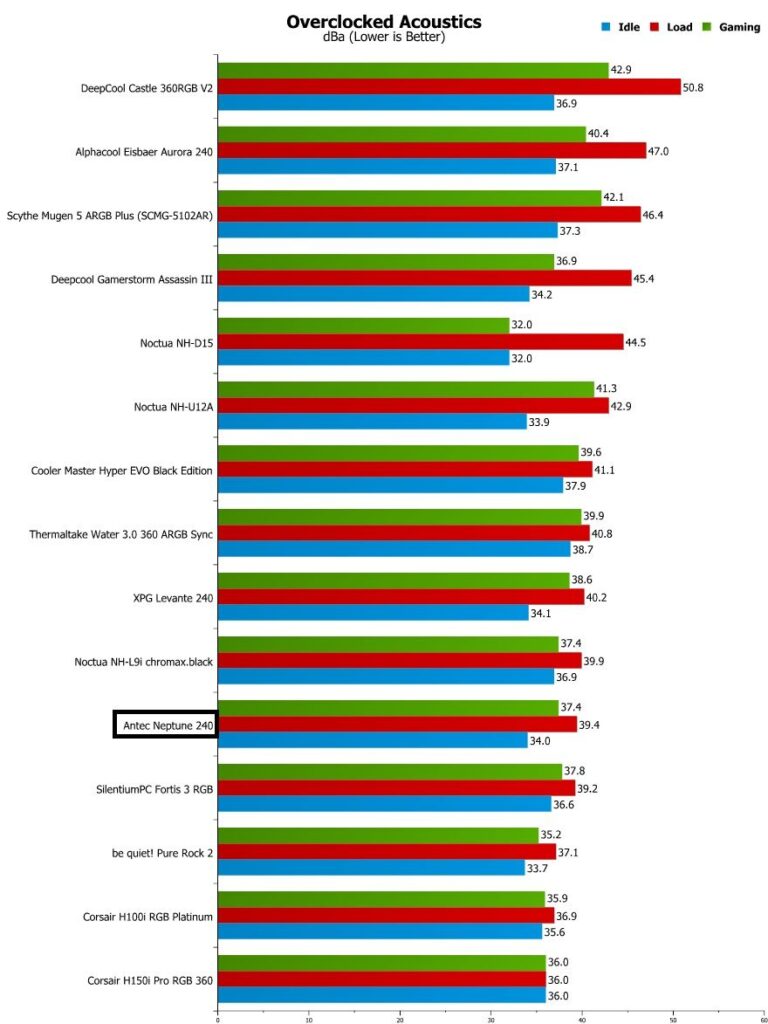 ———————–
How Much Does it Cost?
Available for £79.99, the Antec Neptune 240 is, quite frankly, exceptionally good value for money. I'll openly admit that until this point in the review, I had no idea how much this retailed for, and, having learned this now, I can only say that I expected at least £20 extra on the price tag! – I am seriously impressed that Antec has been able to sell what is clearly a high-quality cooler for such a comparatively small amount of money!
Put simply, at this price point, I'd honestly be struggling to come up with better alternatives in the 240 AIO market.
Overview
As seen in our performance testing, while the Antec Neptune 240 wasn't the 'best' we've seen in any one particular aspect, when combining noise, aesthetics, and temperature control, we'd happily describe this as one of the best 'overall' coolers around at the moment.
It's sleek, stylish, handles your CPU requirements, and, perhaps best of all, does so while making barely a whisper of noise! Again, with that price tag thrown on top of all that goodness, the Antec Neptune 240 is honestly amazing in every area of importance!
Should I Buy One?
Antec has really hit the ball out of the park with the Neptune 240. At the risk of sounding like we're waxing lyrical over the design, it's honestly hard to find any fault with it and, again, for the price this retails at, it's honestly amazing!
For every requirement you could want out of a CPU cooler, the Antec Neptune 240 puts a colossally huge checkmark in the box and, unless you were to enter the realms of £100+ price points, this is, without a doubt, one of the best cooling options around at the moment!
Put simply, it looks fantastic and that remit is equally matched (if not exceeded) in every other aspect you could imagine or require!
Pros
Excellent aesthetics whether the RGB light show is on or off!
Amazing value for money. High-tier performance for mid-range money
Antec has clearly spared no expense in this design – Everything just screams of quality!
Whisper quiet acoustic performance
Highly suitable for stock or overclocked processors
Cons
The manual is (at times) very unclear in the installation process
Neutral
RGB hub controller isn't the most ideal 'hook-up' for the fans.