Antec P120 Crystal Mid-Tower PC Case Review
---
---
---
Peter Donnell / 3 years ago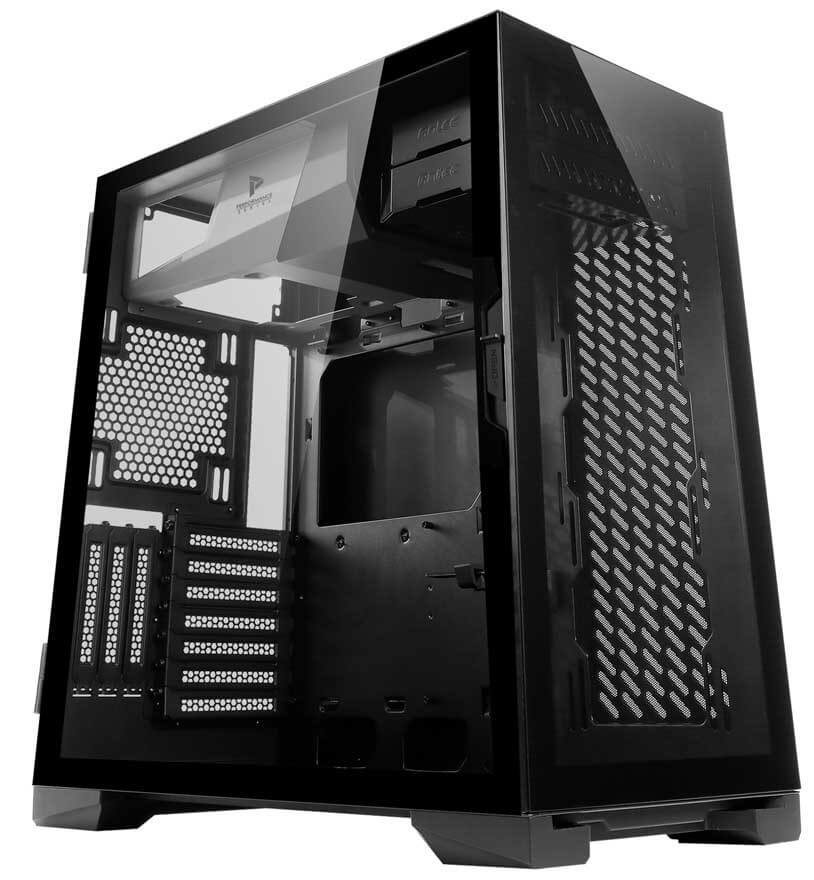 The Antec P120 Crystal is in my office at last, and while Andy had a good go at it last year in this fantastic time-lapse video (open here or watch below), I never got to take a look myself. Designed to be a blend of everything modern in the PC case market, with a few old-school hints thrown in, the P120 Crystal seems to offer a lot of cooling features for the enthusiast PC building market. It's also affordable, coming in at under £100, but that's also because it doesn't come with any fans as standard, this is a little more bare-bones than most.
Antec P120 Crystal Mid-Tower
No fans? Fear not! That's the point, as why have a bunch of stock fans if you're just going to rip them out for a radiator, or a bank of custom RGB ones, or some quiet Noctua fans? You do get two sides of tempered glass, tool-free opening doors, big dust filters, vertical and horizontal expansion slots, loads of cable routing space and much more though. There's no doubt the P120 Crystal can handle some serious hardware, so let's dive in for a closer look!
Classic, but Way Better – Antec P120 Crystal follows the minimalist design of the Performance Series and brings it to the next level. Featuring front and side tempered glass panels, P120 Crystal affords a panoramic view of your well-planned PC setup and custom water-cooling loop.
Slide It, Swing It – Say goodbye to thumbscrews. P120 Crystal comes with an industry-leading slide button design on the tempered glass side panel.
Up to the Top – The top-mounted PSU chamber frees the space at the bottom of P120 Crystal, allowing users to have more options to plan their custom water-cooling loop and radiators.
Unparalleled Scalability – P120 Crystal comes with 7 x horizontal and 3 x vertical expansion slots, offering huge space for you to explore more potential PC configurations.
Aluminium VGA Holder – The inbuilt aluminium VGA holder is flexible, providing plenty of possible positions for the graphics card.
Go Beyond Performance – Supports up to 7 x 120 mm or 6 x 140 mm fans, also crafted to mount 2 x 360 mm radiators simultaneously.
What Antec Had to Say
"Antec Performance P120 Crystal Mid-Tower case is a prime combination of aesthetics and performance.P120 Crystal offers the best configuration for your personal computer setup, and it's ready to give you a mind-blowing user experience." – Antec
———————–
Exterior
The P120 Crystal isn't quite as crystal clear as the name suggests. It does have very clean tempered glass on there, but with black hardware and a sunny office, it's a reflection box right now. It's a very classic and simple shape, no wonky angles, just a big bad-ass rectangle here.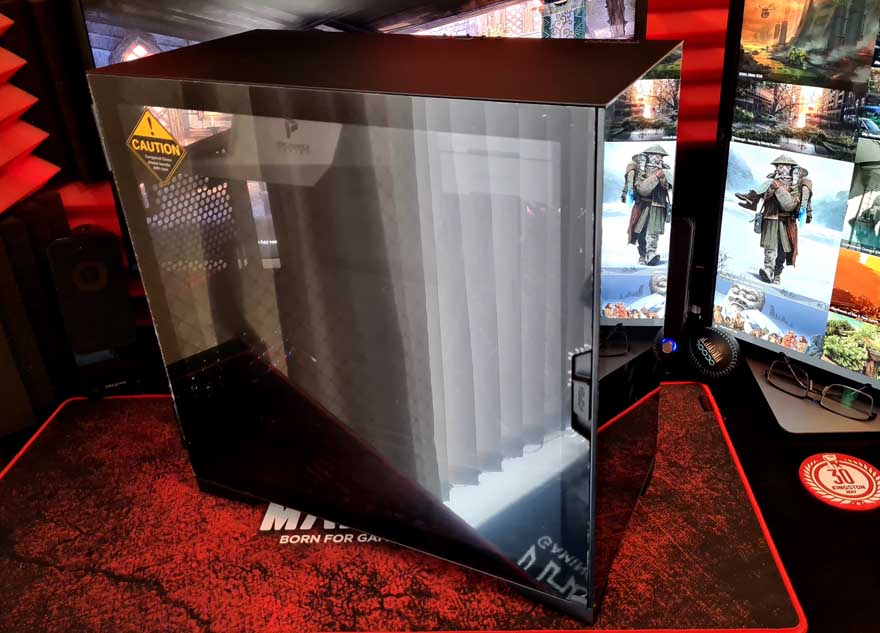 The front panel is more of the same, just a big tempered glass window to show off all your lovely hardware. There's a thick black border on the left side panel and the front panel, which hides all the boring framing, screws, etc, and just gives it a much cleaner aesthetic overall.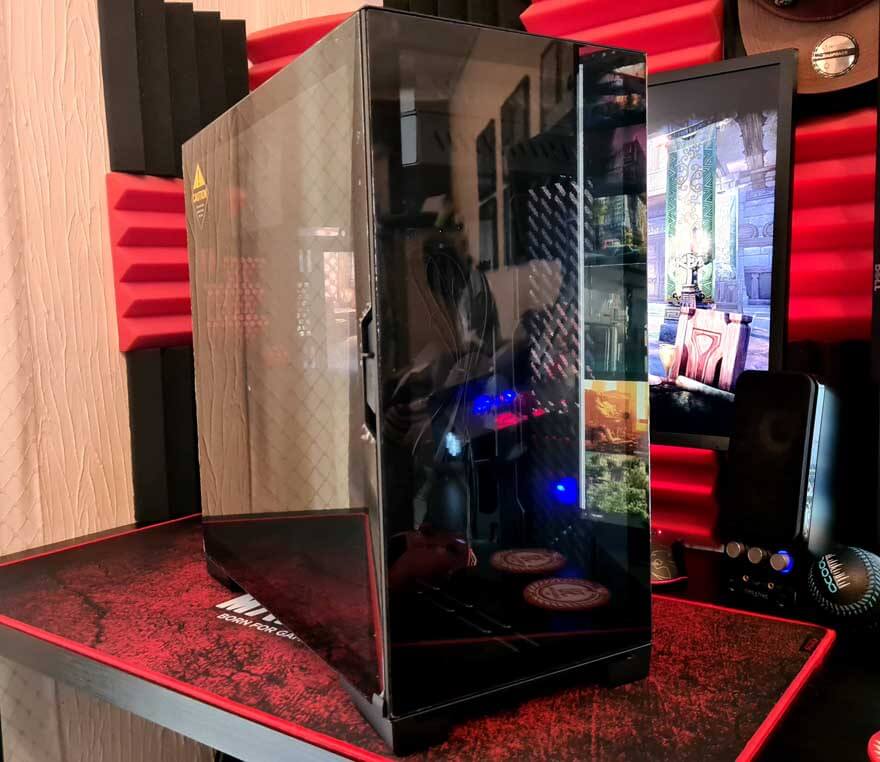 Want quick and easy access to the case interior? The left side panel has this lovely spring-loaded slider. Just pull it down until it clunks and the window can be swung open. No tools, no fuss.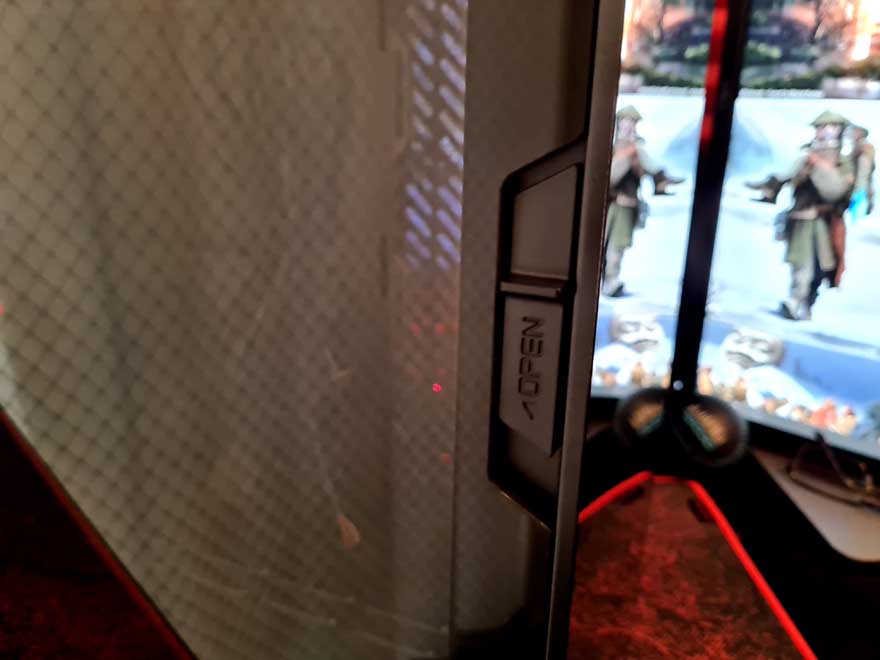 Up on the top, it's pretty flat here too, with another solid panel keeping things looking crisp and clean.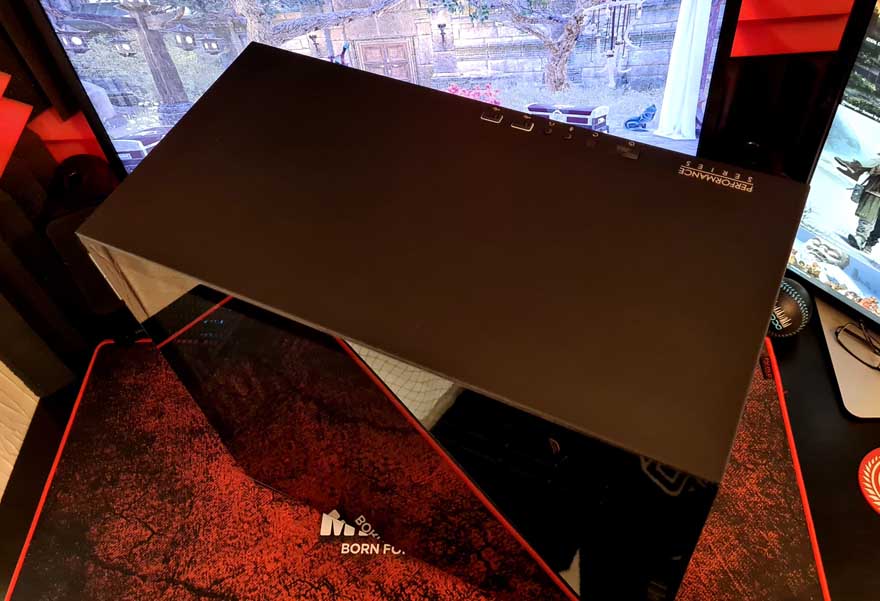 Even the I/O panel has its ports plugged up, ensuring dirt and debris can't get in there.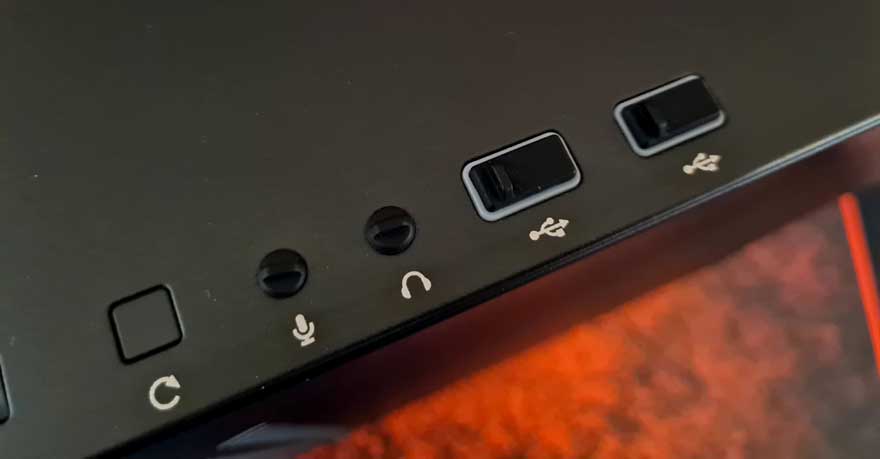 Phew, for a moment there I was worried that airflow would have nowhere to go in or out! But there's a huge ventilation cut-out on the right side panel.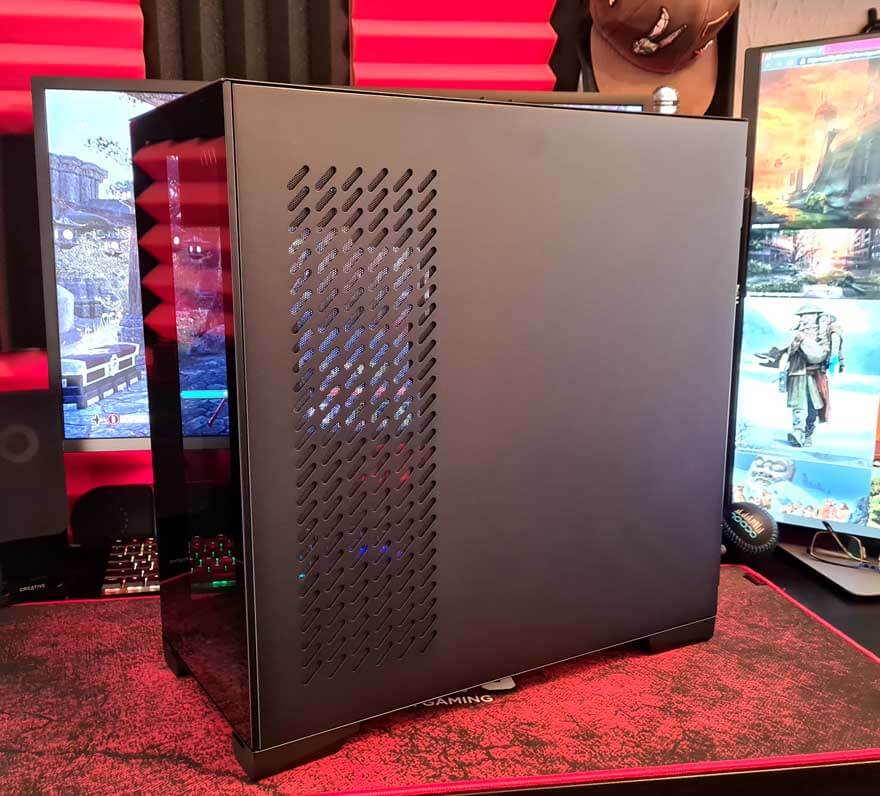 It's a really cool design, and as you can see, it has a big dust filter behind it too.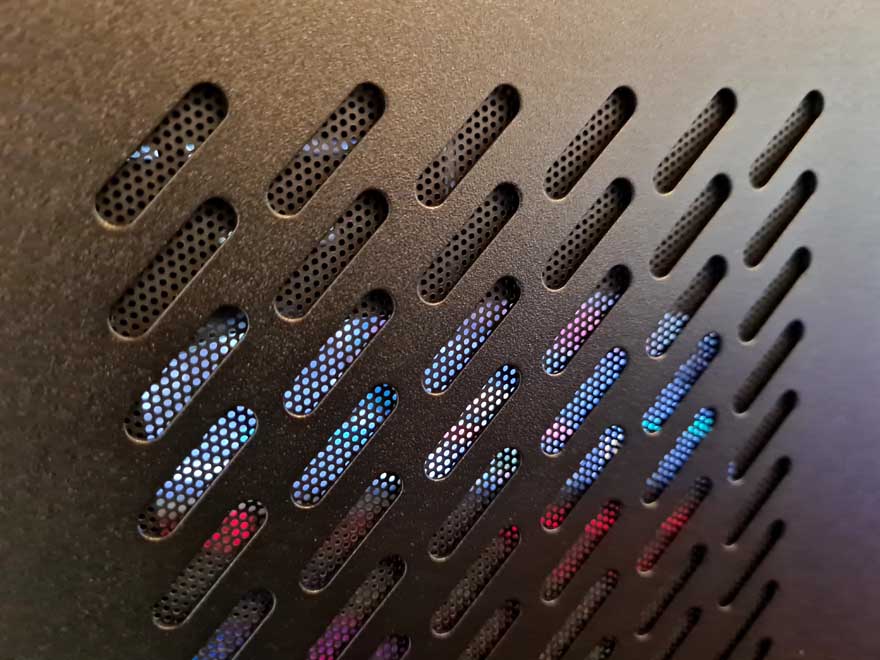 Around the back, it's business as usual for an ATX configuration. Or is it?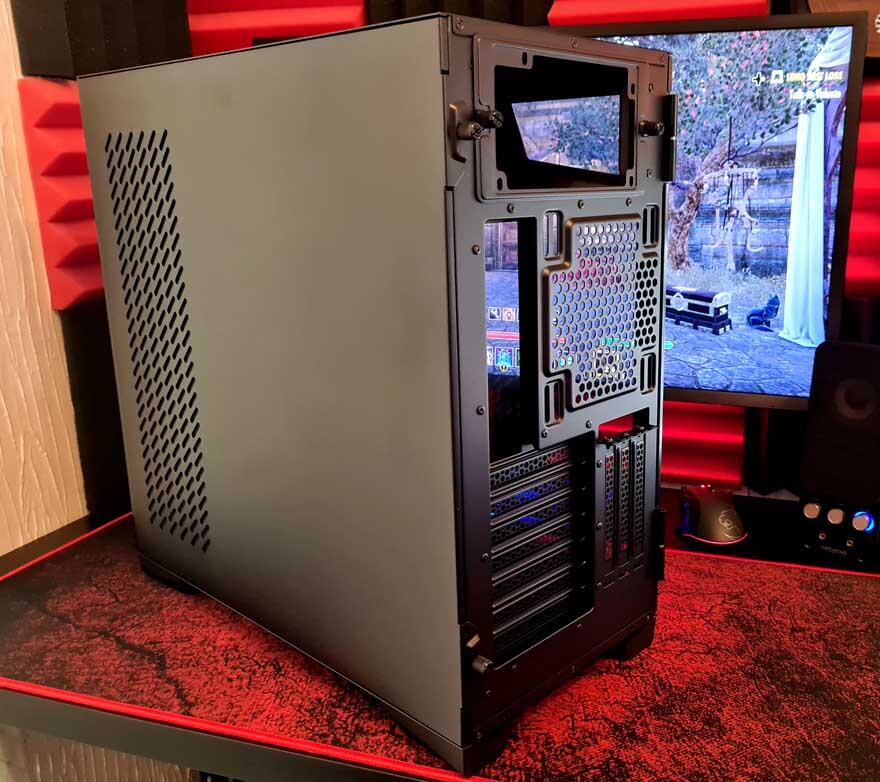 That's right, the PSU goes at the top in this build, and you really don't see that done very often these days! Why Antec has done this will become clear in a moment.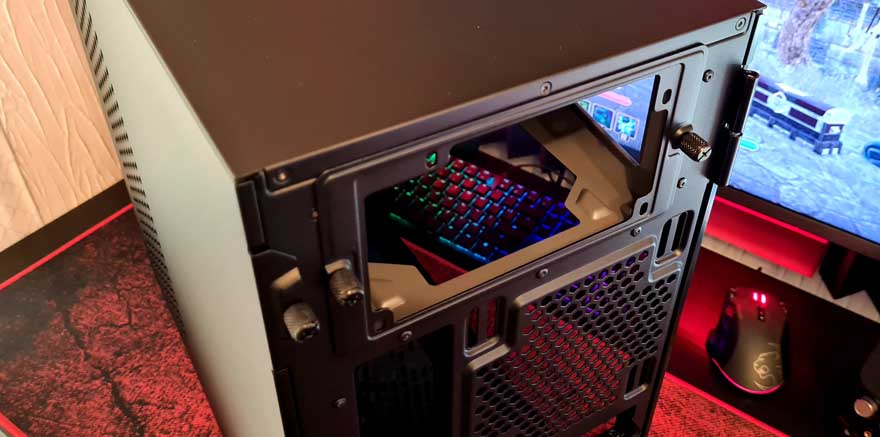 There's no rear fan pre-installed, actually, there are no fans pre-installed. However, you do get this lovely height adjustable 120/140mm mount.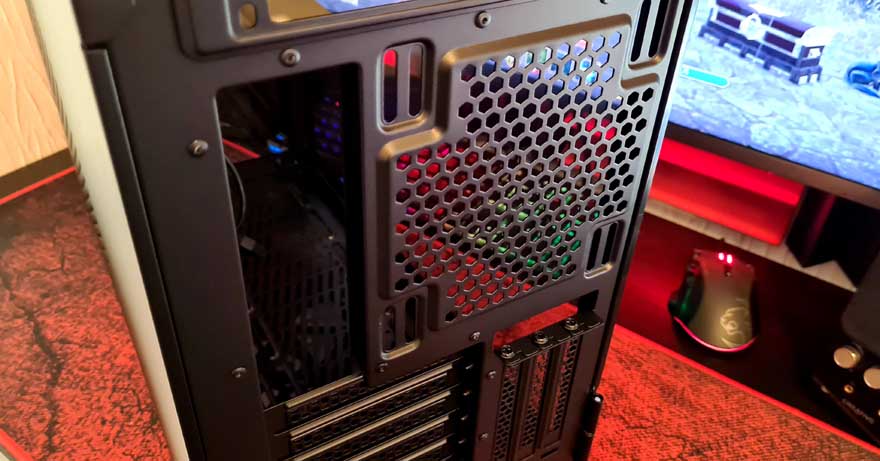 Below that, you get seven expansion slots, all fitted with reusable and ventilated metal covers. Plus, you get an additional three slots on the right for vertical mounting.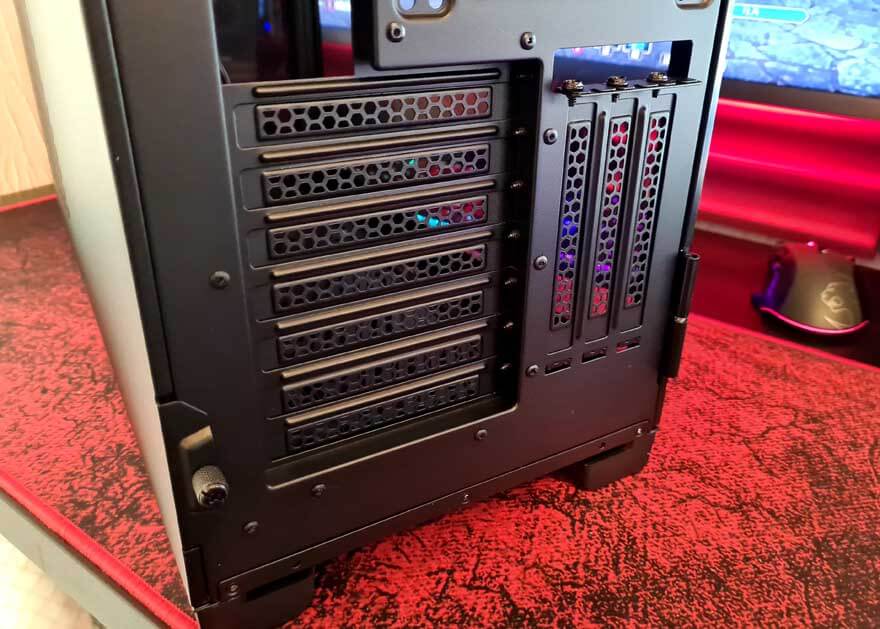 On the base, you'll find four large rubber grips and excellent ground clearance overall. There's a massive dust filter covering the entire base, and what's more, it slides out from THE FRONT of the case, making it super easy to clean.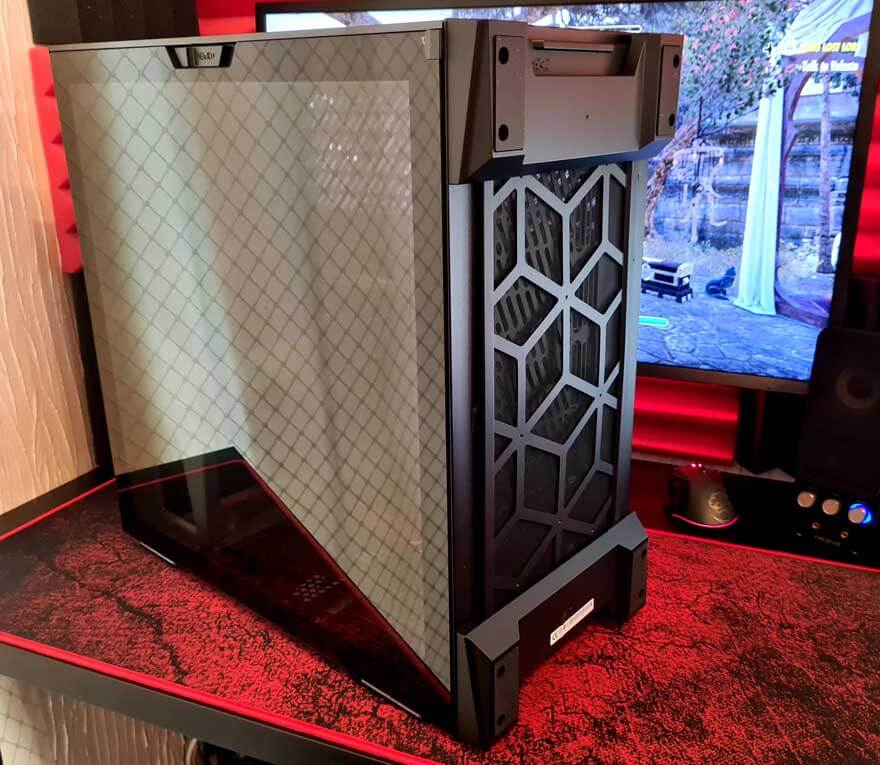 ———————–
Interior
As I said before, the side panel can be popped open with the locking slider on the front, meaning you can easily access the interior.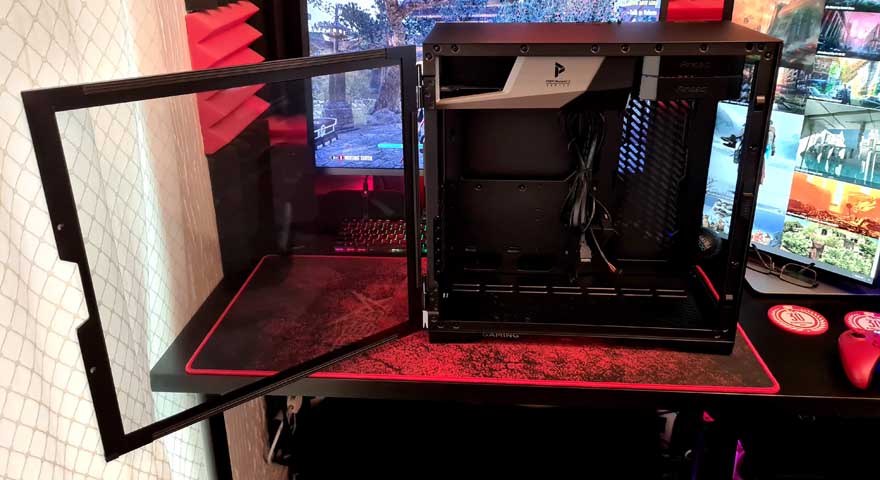 It's on hinge mount, but once opened you can simply lift the glass up and off the case and put it to one side if you wish.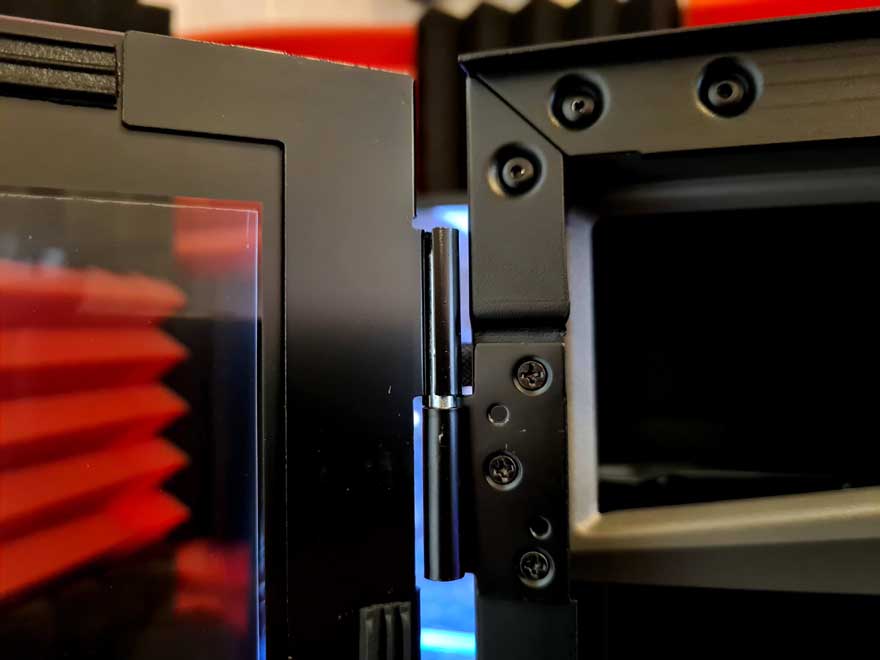 Worried about dust getting in and noise getting out or the window? Don't be! They're fitted with a snug fitted rubber grommet on all the edges, so this thing seals up pretty tight.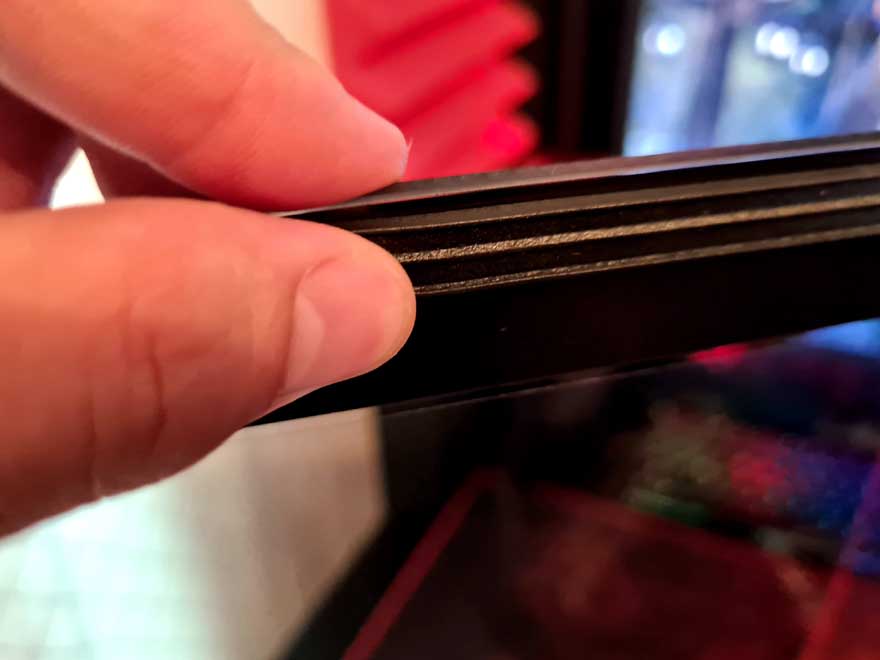 The PSU mounts in the top of the case here, and I must admit, their mount looks bloody fantastic. The two-tone design just really stands out with its funky angles. Who knew a PSU mount could look so cool. They've even given it a small window to show off the PSU design.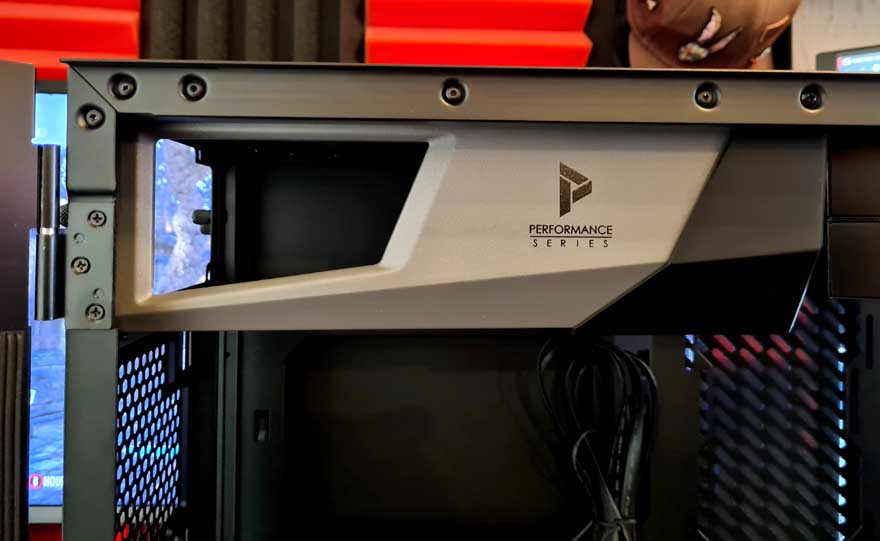 Towards the front, there are two durable metal cages for storage drives which come with an additional side locking screw to ensure they never shake loose (handy for system integrators who ship pre-made systems).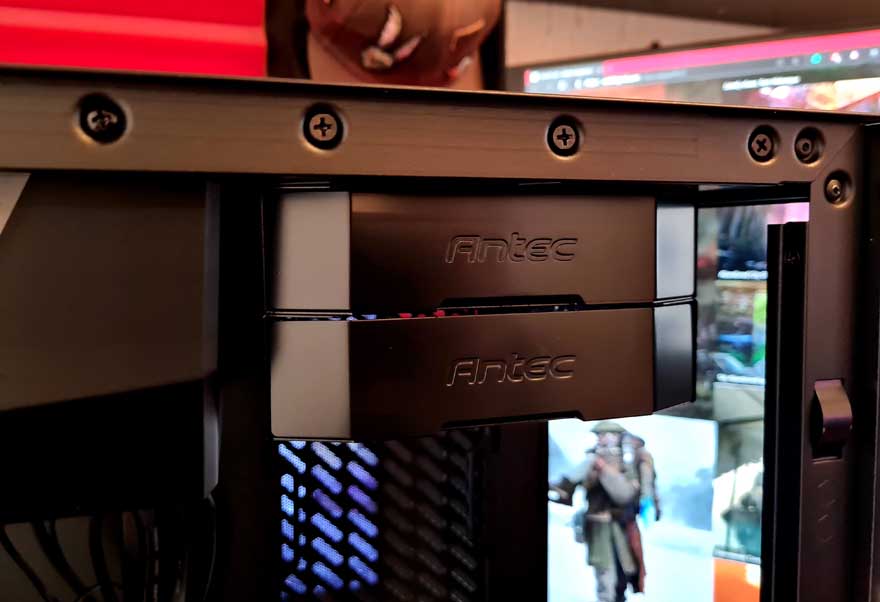 Modern graphics cards are getting bigger and heavier, so to support that, Antec now includes this lovely height adjustable, angle adjustable support. It'll help stop the dreaded drooping of your card.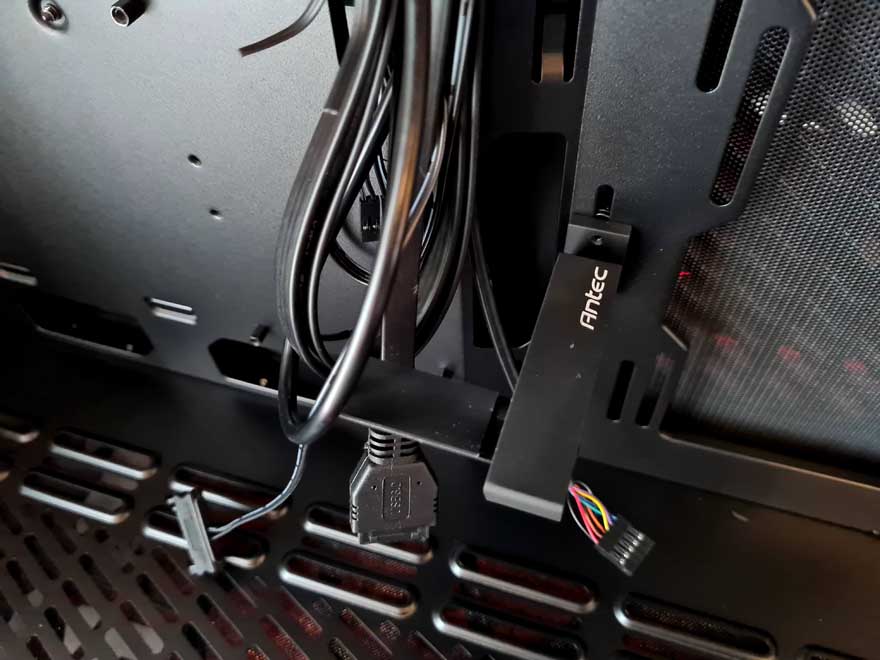 In the bottom, you'll find a huge bank of fan and radiator mounts. They're all 120/140mm spacings, so you'll have no issues fitting plenty of fans or a big radiator here.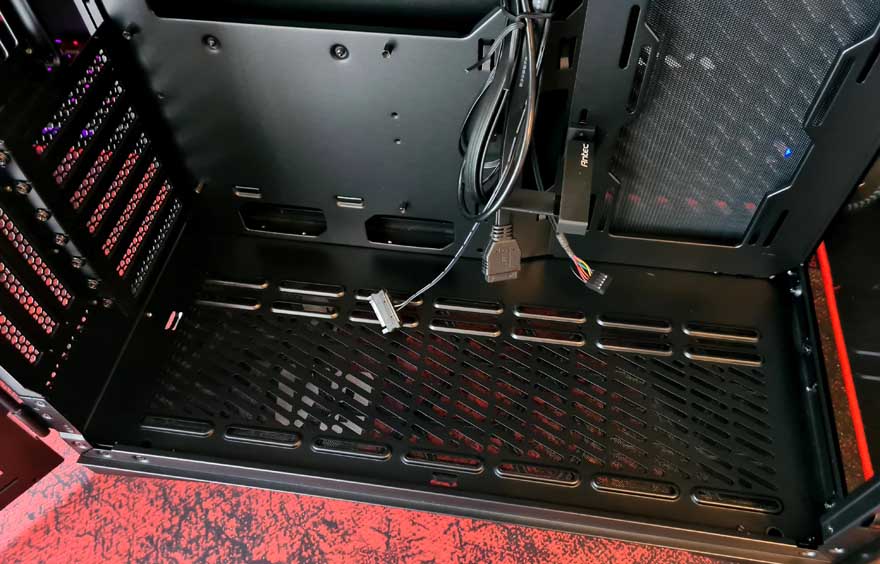 There are even more 120/140mm fittings on the right side panel too. You can get a 360mm or 280mm radiator in the bottom and on the side.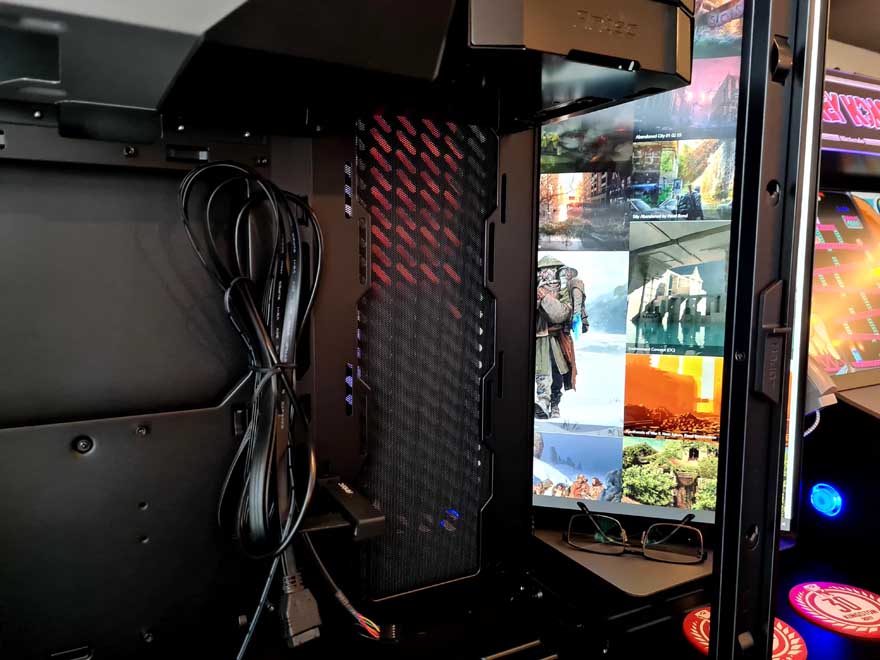 There's just a huge amount of space here too, so wider cards shouldn't be an issue, or any additional width from custom loop tubing, etc.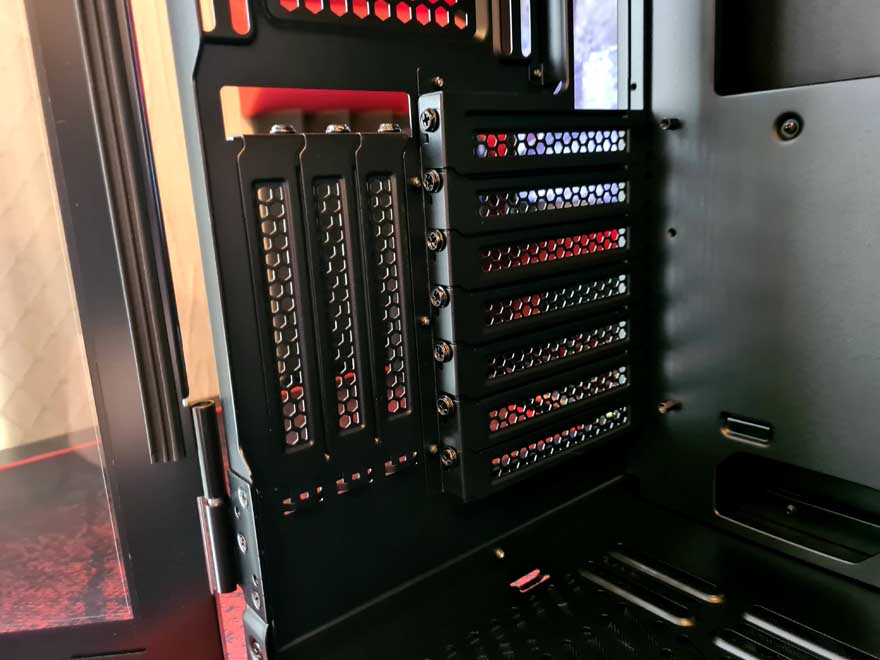 The same goes for the rear fan mount, it offers up plenty of room for an AIO cooler, thicker radiator or a fan of your choosing.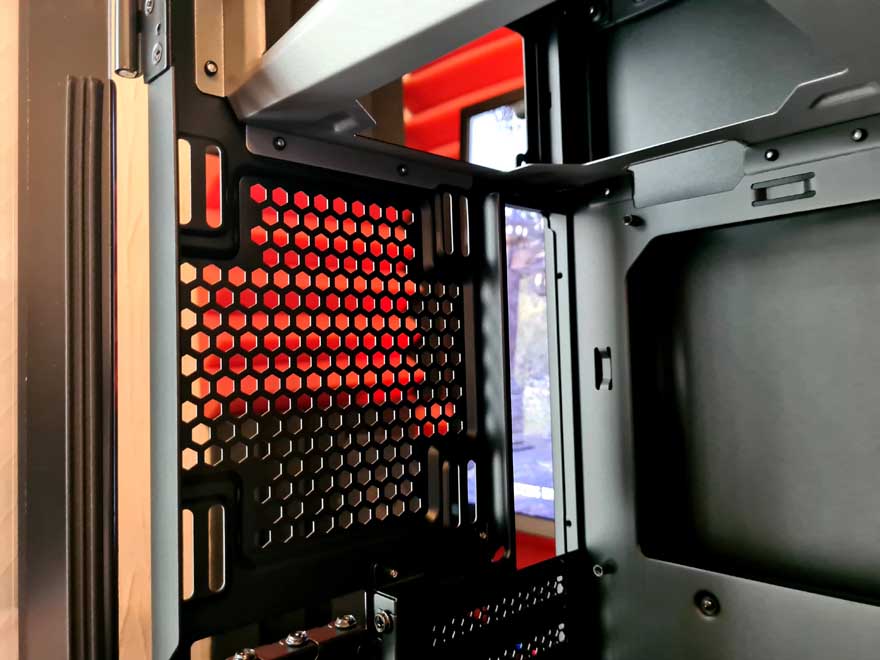 The case will support up to an E-ATX motherboard, and there's plenty of cable routing options dotted around it too. I do like that they've given it a huge cut-out too, making it very easy to install or change a CPU cooler without removing the motherboard.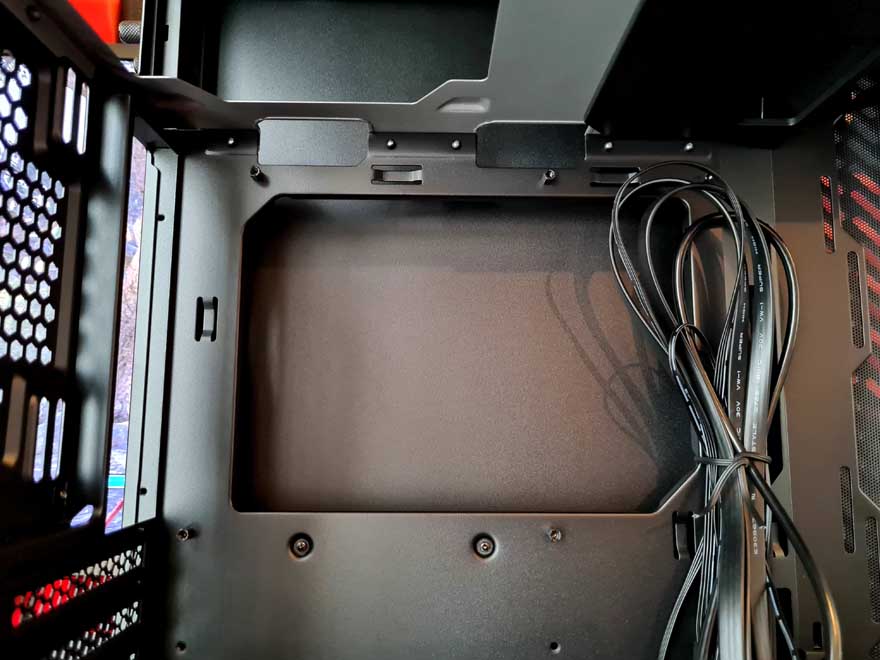 The rear panel is held in place with a pair of thumbscrews, allowing you to open it up without the use of tools. You'll find a large magnetic dust filter back here too, ensuring clean airflow throughout the case.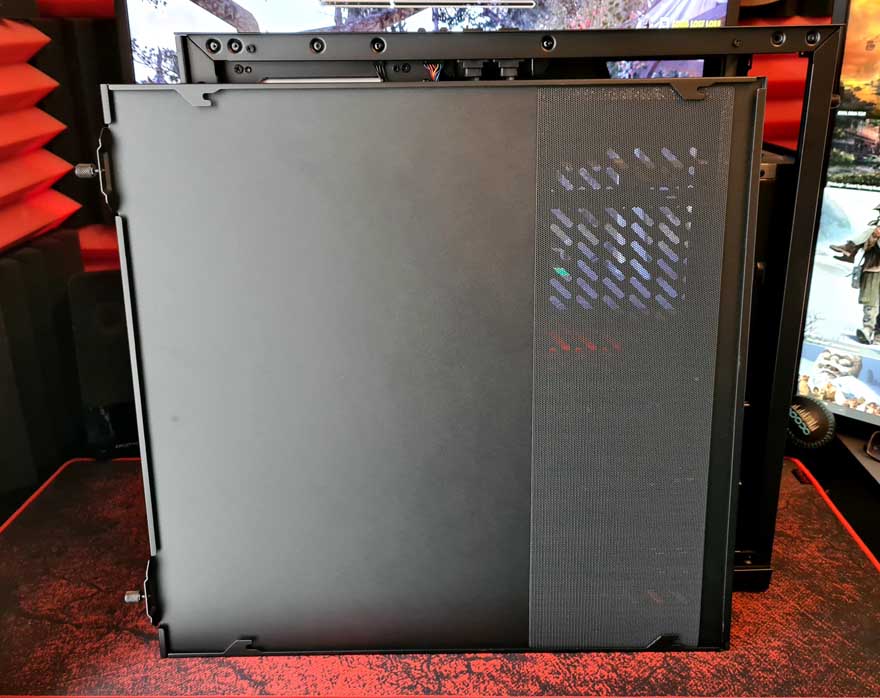 Antec has offered up a good amount of cable routing space here. However, you can cram some additional cables in the funky PSU shroud in the top of the case also. There are two HDD bays in the top of the case, but you can also mount a single SSD below them.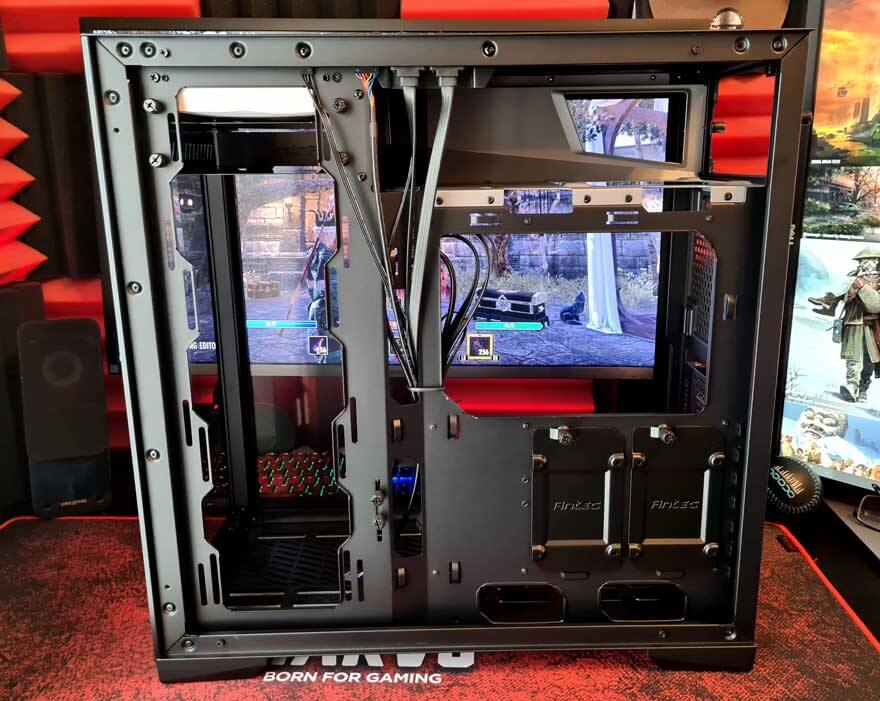 You also get two additional SSD mounts directly behind the motherboard.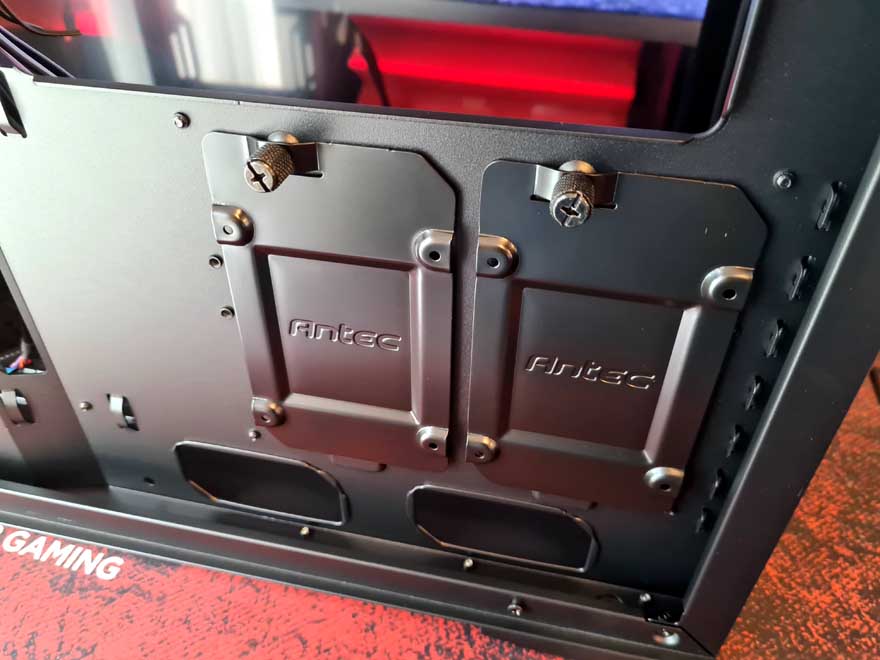 There are two thumb screws here, which allow you to adjust the height of the GPU support bracket.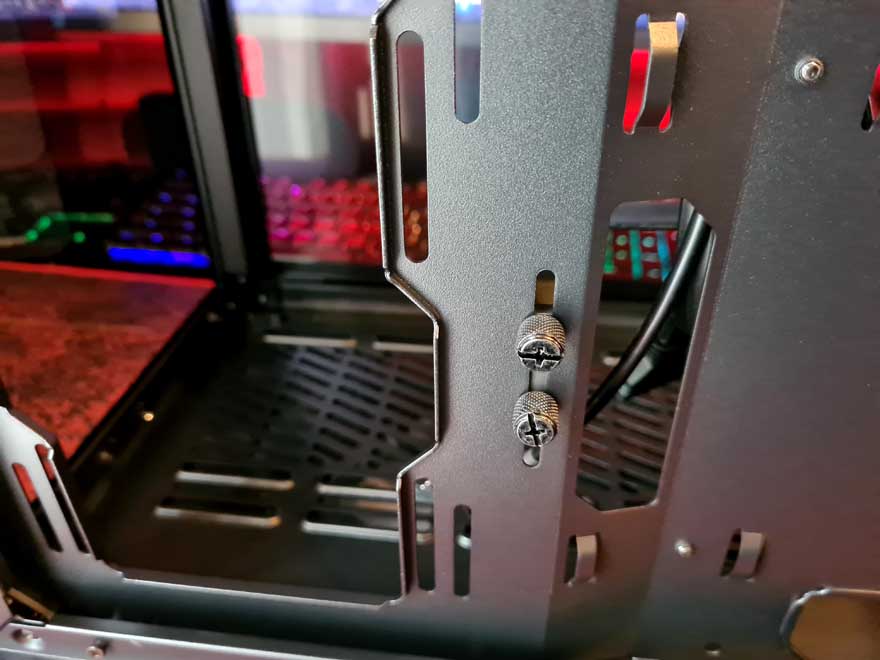 ———————–
Complete System
This is a really nice case to build a system inside, as it's just so open and, while I mean this as a compliment, a bit bland and simple. There are no silly panels, no huge fans to work around, it's just a blank template really and that means I could just drop my components in with ease. Even with an E-ATX motherboard in there, there's still plenty of room on offer.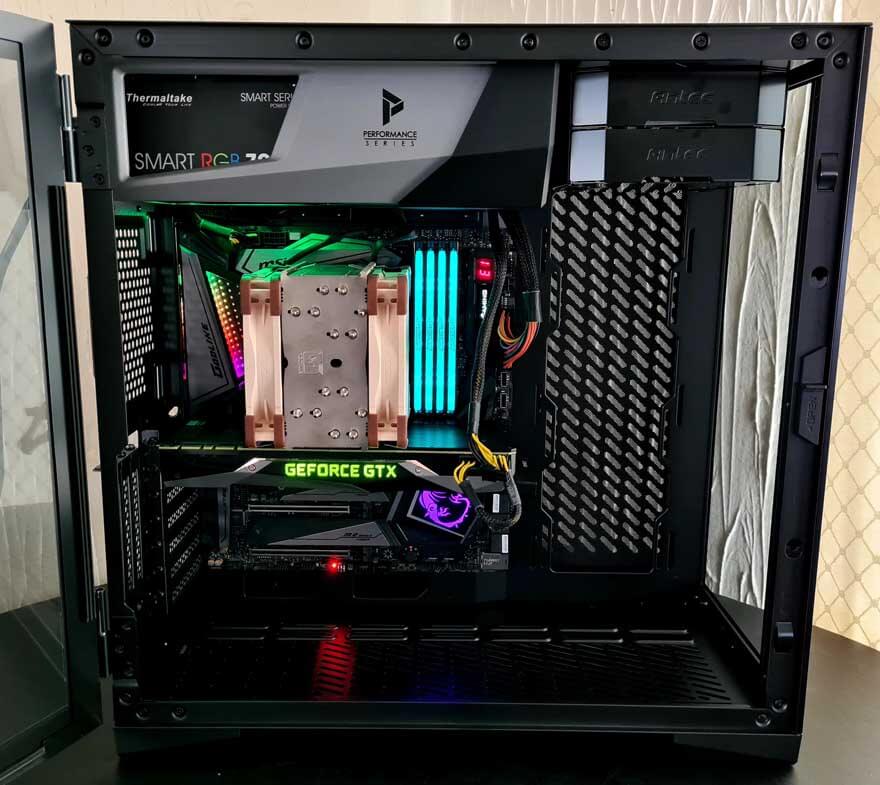 I didn't bother putting fans in the bottom, it's not really what this build was about. However, what I do like is just how much space there is for me. If you're not using the bottom PCI slots, you could put some seriously thick radiators and fan combinations down here.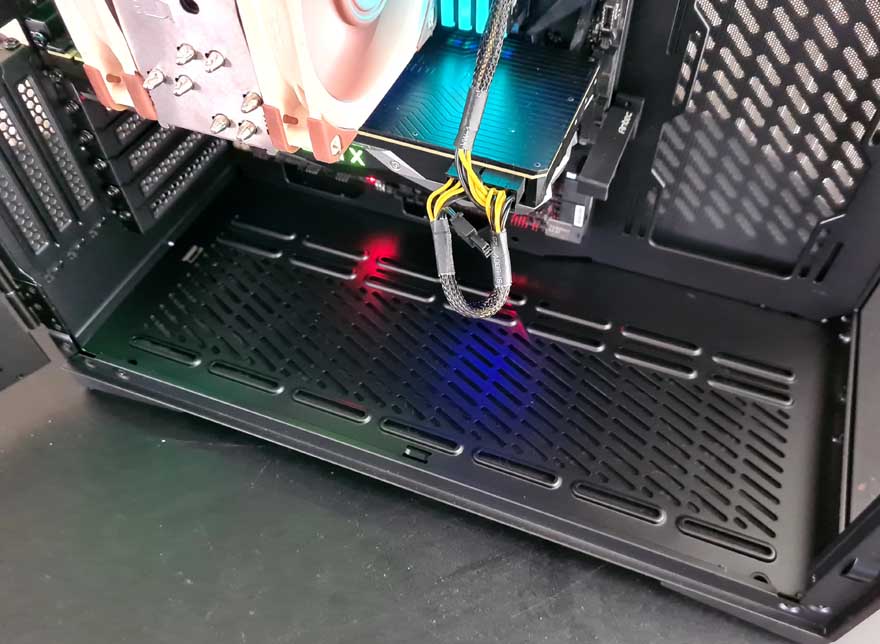 There's good clearance from the glass, so if you wanted to install a large air cooler, I don't think you'll have any trouble even with larger models. However, it's pretty clear that this case is tailored much more towards liquid cooling configurations. With that in mind, there's good clearance for those running more complex tubing runs such as hard tubing.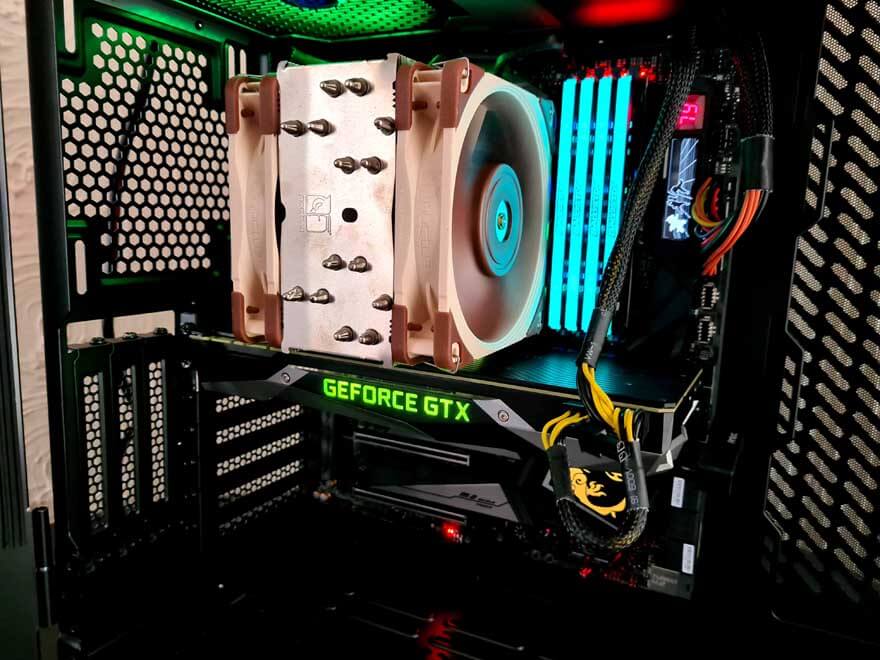 There's plenty of space to the rear mount too, so even fitting an
AIO or custom radiator here is no issue. Of course, some kind of 120mm or 140mm fan is recommended here to remove heat from the case.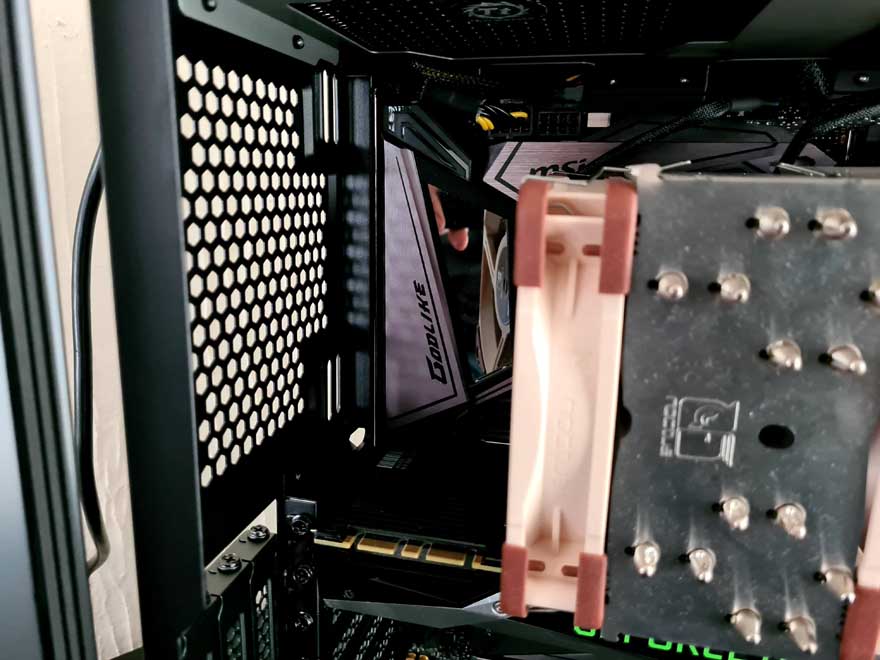 The cable routing is interesting on this case. If you're using ATX then you'll have the cable routing holes on the right side of the motherboard. However, E-ATX covers them up. You could run the cables through the radiator cut-out, but if you have a radiator there… well, you can't. Fortunately, there's a vertical pass-through so you can drop cables down from the top, which is pretty cool!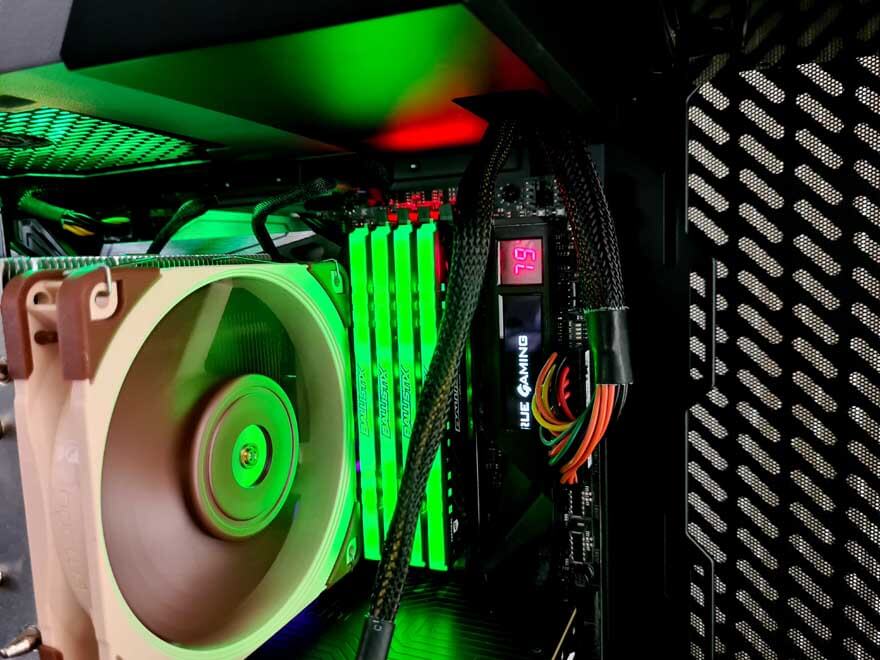 There's even a cut-out down here, so my RGB PSU is throwing out some funky lighting. Albeit, it's also for airflow to the PSU.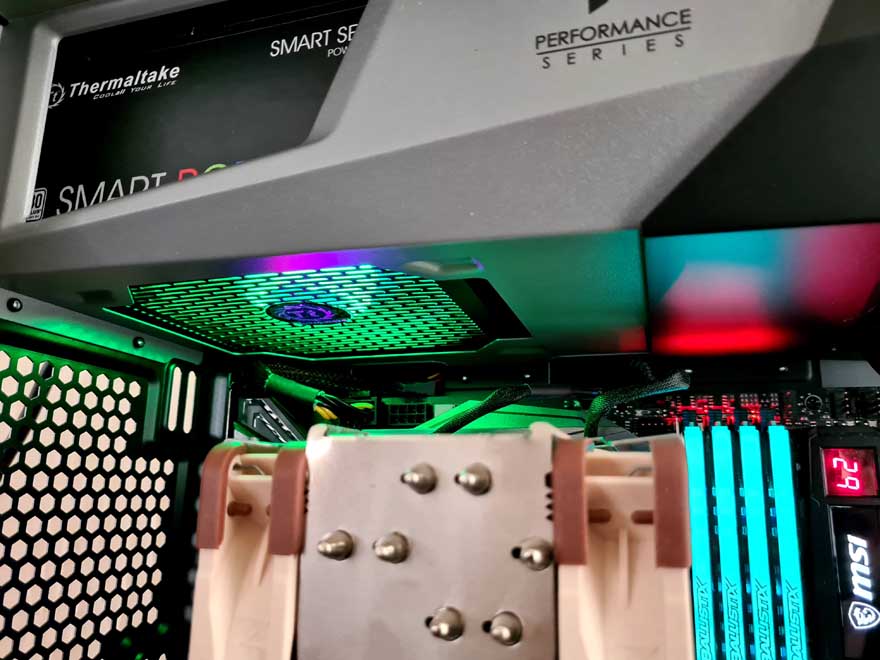 Plus there's the bigger side cut-out, so you can show off the PSU design. I quite like the Performance Series logo here also, there's not a lot of branding on the case, and this part is quite tasteful.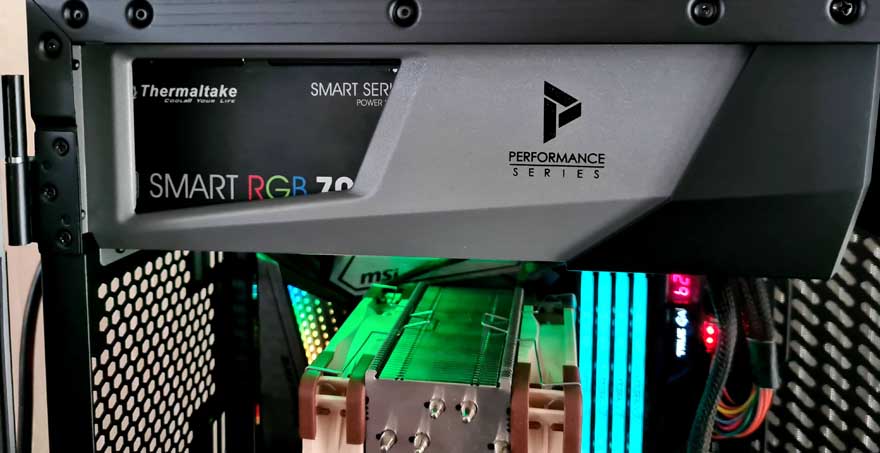 Of course, you don't mount fans in the front of this case either. It's sealed up pretty tight so you'll have to rely on the bottom, rear and these large side mounts. The case is set up for a bottom to top airflow pattern.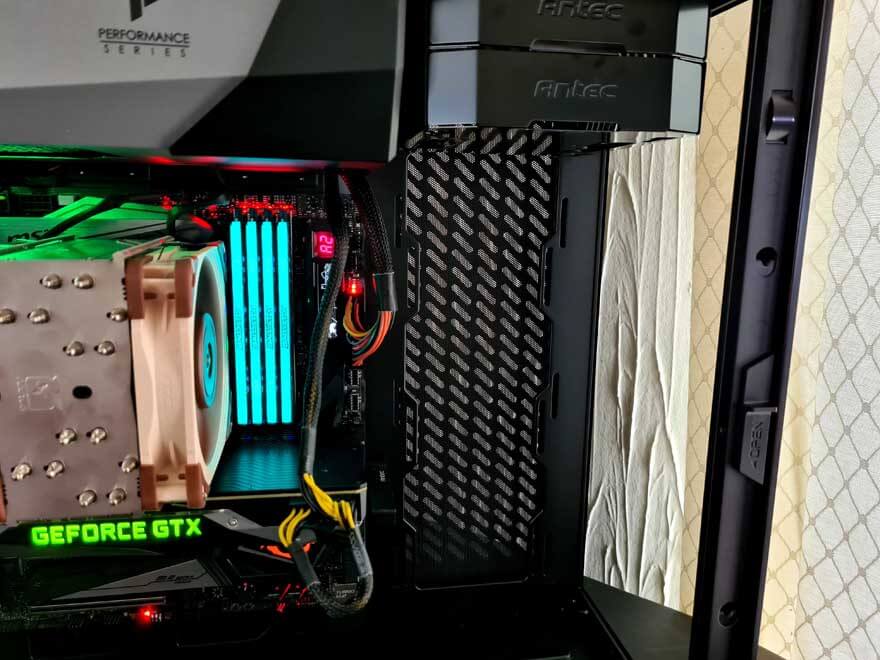 There's a full-size dust filter on the bottom, a full-size dust filter on the side mount, and the glass is all tightly fit, and even the side panel door has a rubber seal so there should be no air or dust leaking in or out with this case.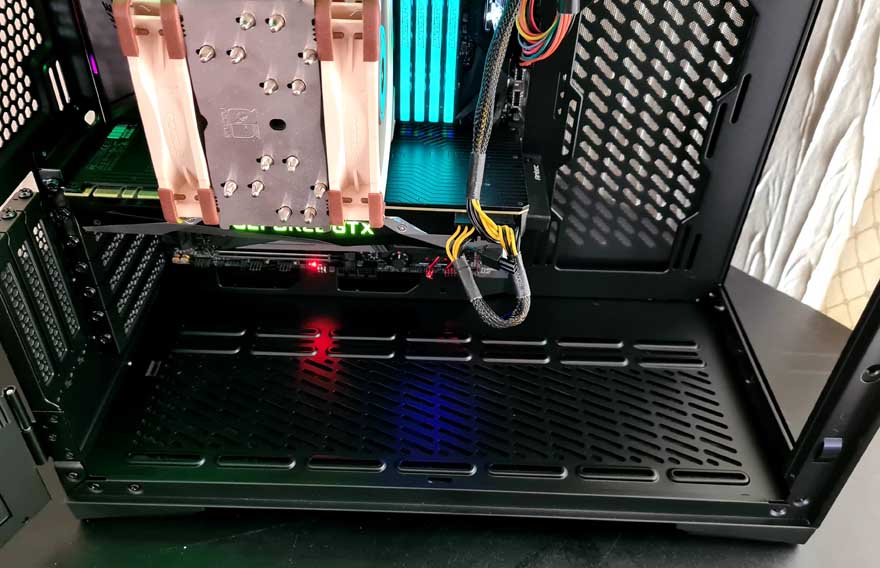 With all the glass back in place, the case looks ultra-clean and simple, because it kind of is. It looks a bit old school, but on the inside, it's still got all the modern kicks. The crystal clear glass is awesome for showing off your RGB hardware too if you're into that kind of thing.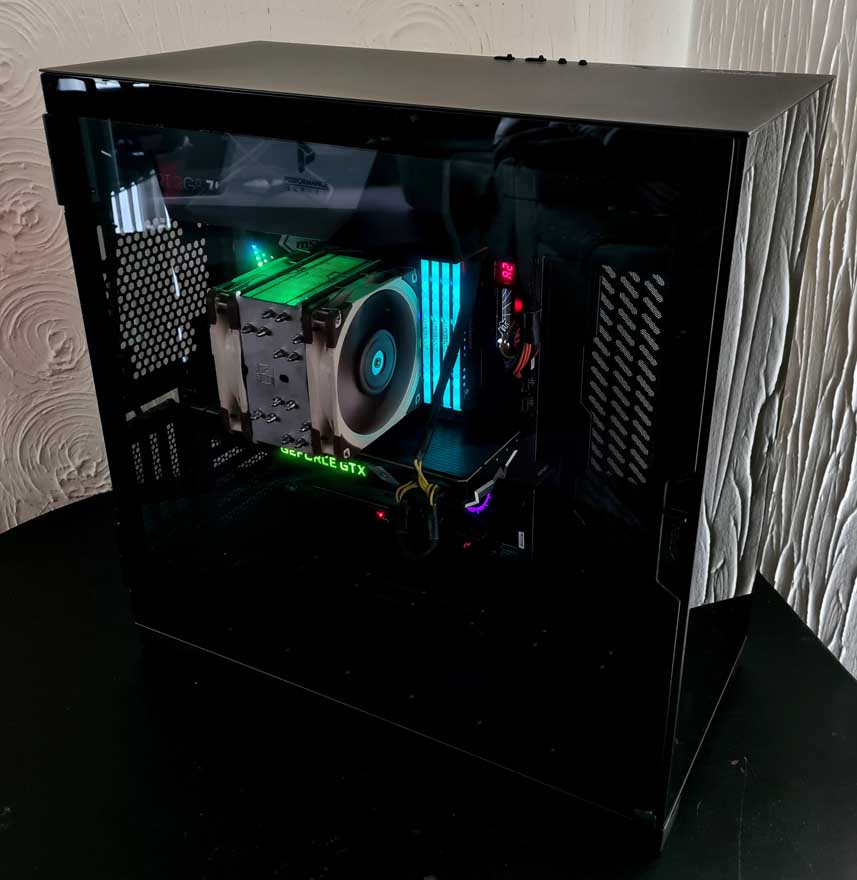 The view through the front panel glass, best keep that cable routing tidy, as it'll be on show to the world!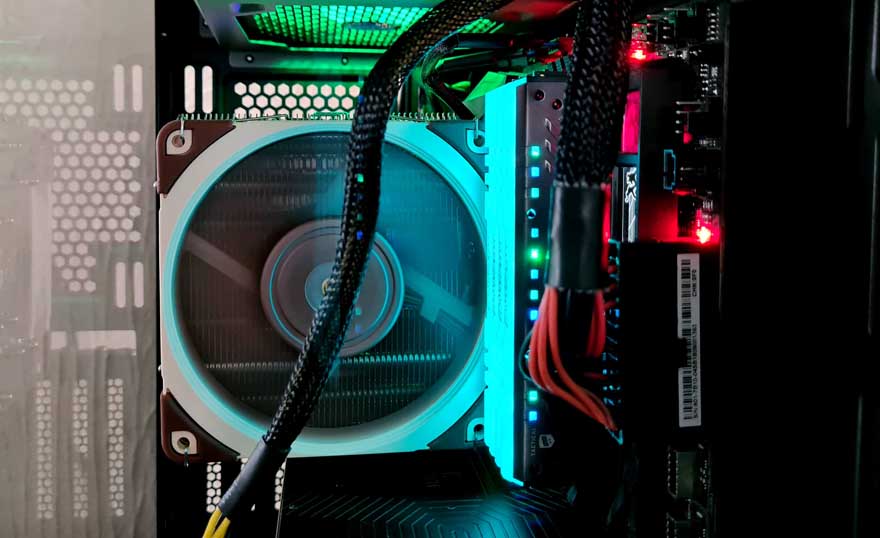 ———————–
How Much Does it Cost?
The Antec Performance Series P120 Crystal Mid-Tower PC Case is available right now from most major retailers. It's on Amazon UK for just £94.77, which is pretty great given the level of build quality you're getting here. Albeit, it may seem expensive given other brands have similar aesthetics for less, and with fans included. However, the devil is in the detail and this has much better construction that you're typical tempered glass boxes.
Overview
Antec has a long history with this case series, and the new P120 is a very welcome addition to the range. It's very understated, which is not an easy thing to do when the case is this size and has two huge panels of tempered glass on it. The complete lack of RGB out of the box is likely a contributing factor to that though.
Build Quality
This is what really stands out the most. It feels over-engineered and designed to deal with very heavy hardware, liquid cooling radiators, etc. The right side panel is very thick steel. The left side panel window is thicker and stronger. Plus, the fact they put a tight rubber gasket around it that really locks it tight is awesome. Then you have the heavy-duty locking mechanism, the black trim on the glass to hide the fittings. There's a fantastic PSU shroud design and some of the… actually THE most robust HDD cages I've seen yet. They're so durable, it took me quite a while to work out how to get them to bloody move at all. You have quality dust filters, and the bottom one slides out from the front which is great. Even the thumbscrews for the right-side panel are oversized, heavy-duty ones.
Performance
Well, it doesn't really have a default performance of its own. It has no fans, so it's airflow is pretty lousy out of the box. The enthusiast PC builder doesn't want Antecs stock fans in their case though, no offence Antec. They're going to fit their high airflow radiator fans, or a bunch of high-end RGB ones, or some expensive Noctua stuff. That kind of things, the fans they'll use in a case like this will likely cost more (in total) than the case. However, I like the fact it comes as a blank template. you can get straight on with installing your radiators and making it yours.
Should I Buy One?
The Antec P120 Crystal has everything you could ask for from a high-end PC case. It'll support loads of fans and some big radiators. It takes up to an E-ATX motherboard, it offers great cable routing and plenty of storage bays. It's a very clean and classic design on the exterior, but just a little touch of unique on the interior. It may be a little more expensive than some rivals, but when it comes down to build quality and attention to detail, Antec has got the competition beaten.