Antec SpotCool System Case Fan Review
---
---
---
Andy Ruffell / 11 years ago

[COLOR=#000000]When building a system, cooling is always a vital component and has been since the beginning of time. As technology develops, parts get faster and also generate more heat, but manufacturers are working on faster components that use less heat. This is where the likes of Sandy Bridge and Fusion are coming into play in the CPU arena.

Other components are also in the same boat, hence we have seen the likes of DDR2 with it's 2.2 + voltages make the transition to the lower voltage DDR3 which operates at a more common 1.6-1.9v. Graphics cards are in the same boat but we could list through every component until the cows come home. The truth is that every component needs cooling in some shape or form, whether it be from a heatsink made from aluminium or copper, or an active solution in the way of a fan. They all have their separate job and some perform better than others.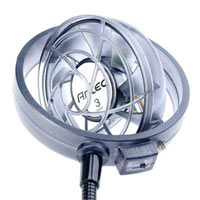 What market leader Antec have created, is a fan designed to cool any component inside your case dependant on where you position it. They've called it the SpotCool, and they've made it so that you can point it at your CPU socket to aid on cooling your processor, or at your memory, Northbridge, Southbridge or many other places. The choices are endless and are completely up to the user, but does it work? Will we see a significant difference by using it? Lets find out shall we!
Technical Details
Product Description: Antec Spot Cool – case fan

Product Type: Case fan

Rotation Speed: 2000/2500/3000 rpm

Air Flow: 15/18/22 cfm

Noise Level: 23 dBA

Power Connector: 3-pin plug

Features: Variable fan speed, blue LEDs
[/COLOR]