AOC AMD FreeSync 2 HDR Monitor Delivers 0.5ms Response Times
---
---
---
Peter Donnell / 4 years ago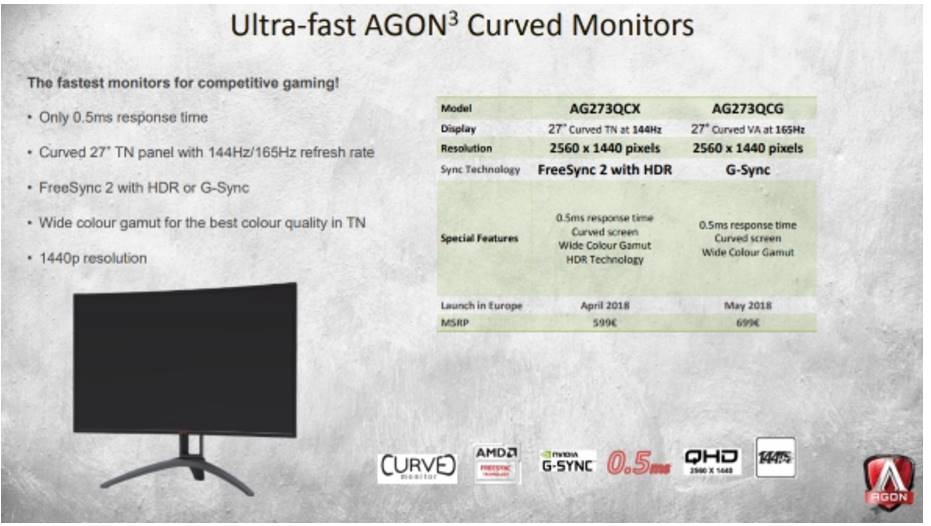 AOC AMD FreeSync 2 HDR Monitor
Tired of those gaming monitors that only manage 5ms response times? Then fear not, as AOC has got your back! Sure, there are some gaming monitors on the market that can deliver a blazing fast 1ms, but AOC is still going to cut that time in half. Their upcoming range of monitors will have a response time of just 0.5ms, which is nothing short of incredible.
AOC AGON3 Monitors
The upcoming AOC AGON3 Monitors will soon be the highest specification monitors AOC has ever released. Of course, they're not the only to use similar tech. AOC is still set to release their high-end Nvidia G-Sync HDR AG273UG 4K 144Hz IPS display. That's a screen which hits 1000cd/m2 luminance, the same standard used for HDR Premium on consumer TVs.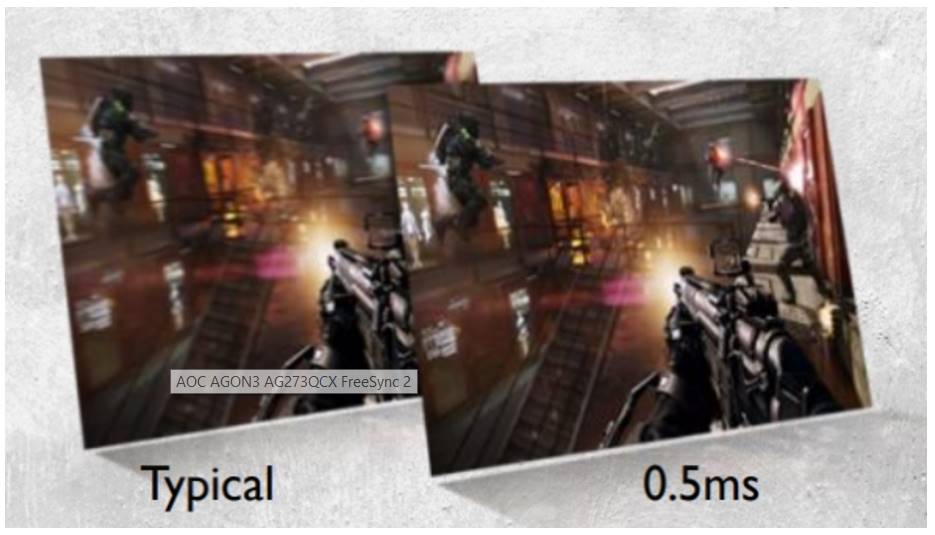 FreeSync Before G-Sync
The G-Sync model is still some way off, and before that's released, we'll see the AMD FreeSync 2 AG273QCX hitting retail stores. Equipped with a gorgeous 1440p curved screen, sporting a 144Hz refresh rate, a HDR wide-color gamut display, and 0.5ms response time.
What AOS is Saying
"We were talking with AUO and they have a new panel," AOC's Alfonso Clemente explains. "Up until now curved monitors were either IPS or VA, which is ok, but the response time was not so great. There's always some ghosting, some blurring. But now there are curved panels from AU Optronics that allow 0.5ms response time."

"I saw this TN panel, they were doing a demonstration in Taipei," Clemente says, "and the picture quality is probably better than IPS. It's not quantum dot, you can't put that on TN, but the quality was really reminiscent of quantum dot. The market has never seen a TN panel with this colour quality. Viewing angles are TN viewing angles, but you don't care about that."
Everything Else
The exciting specifications and information aside for a moment, we don't have an exact release date on this display. It'll be out sometime in April next year, with an MSRP of around 599 EUR. You can also expect a similar model with G-Sync but no HDR for around 699 EUR. Once again showing the price disparity between FreeSync 2 and G-Sync, yikes! Eager to see the 4K HDR G-Sync monitors? Expect their prices to be well over £1000, possibly closer to £2000.