AOC G2460PQU 24″ 144Hz WLED Gaming Monitor Review
---
---
---
Chris Hadley / 9 years ago
Introduction
---

As we have seen recently, there are a huge number of components that make up any system setup and unfortunately there is one key component that many people fail to put any attention to, thus making that gloriously expensive graphics card not give as good as it can. This of course is the monitor that we spend every minute looking at whilst using the system for whatever the task may be – whether it be office work, watching a film, image editing or even gaming. What these panels do for each task has a major impact on our user experience as a whole. If the image that we see is not crisp and defined with a great balance of colour, brightness and vibrancy, in the long run there is the chance of the poor image having an effect on the eyes or in the mind of a gamer, this can have a detrimental effect on the outcome of a game.
On the market there are so many generic 'all-round' performing monitors that are designed to perform for any task with reasonably good results, but nothing special. As we have seen recently though, there are many panels as well that are built for a specific user group in mind and this was a prime case when I looked at the ProArt PA249Q from Asus not too long ago. This panel is optimised for professional users who perform tasks such as image and video editing, where the need for precise colours and a definitively sharp display is fundamentally important.
Across many users, there is one task as such that many people carry out and this is where many people spend hundreds, if not thousands of pounds getting the best system they can. This of course is gaming. As highlighted in my ProArt review, its quite a sad sight so see when someone has spent hundreds of pounds on the latest and greatest graphics card, only to have a cheap, generic TFT panel connected up to it that can only give a mediocre / average image that consequently doesn't do the card much justice. As a result this is where gaming orientated displays come into the playing field.
The most critical gamers on the planet are the professional team players. This select group of dedicated people strive to win and being able to see and respond to what they see with accuracy – and fast, is what can be the make or break of any match. Anyone who has seen a professional team in action will note that each and every one of them can have differing mouse and keyboard setups and this comes down to what they find is the best for them and what they are comfortable with and all the time they are looking at the best screens they can get their hands on.
AOC have been developing some of the most sought after panels for a number of months now, including the super widescreen 29″ Q2963PM with its 2560×1080 UWHD resolution and the i2369Vm IPs panel which AOC market as the IPS panel for everyone. One of the more recent focus points for the AOC development team has been the gamer. Whilst the vast majority of screens sold worldwide for offices and professionals alike will never see a game displayed upon them, we cannot forget that the world of gaming is growing ever more rapidly and the need to have the best screen for the job is too. To develop this new panel, AOC have taken their development to the people who will push them to their limits – the professional gamers. By working with this select group of users who know specifically what they are after, AOC have been able to craft a screen that has been made for gamers – by the gamers.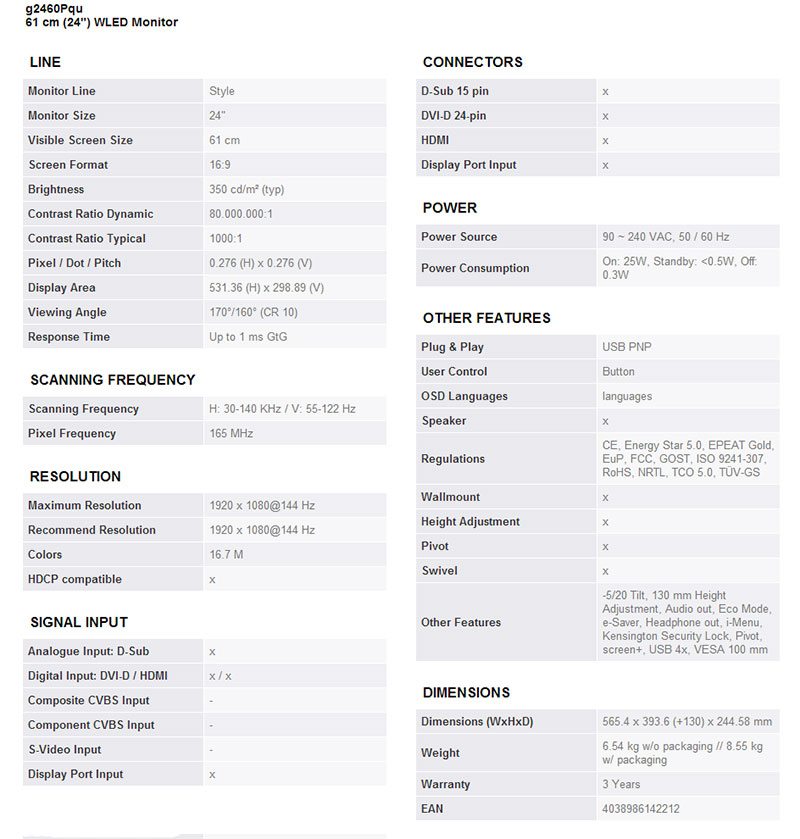 Like many a large number of other panels on the market, the G2460PQU comes in a brown based box with some simple monochrome styling around it to show what model is inside.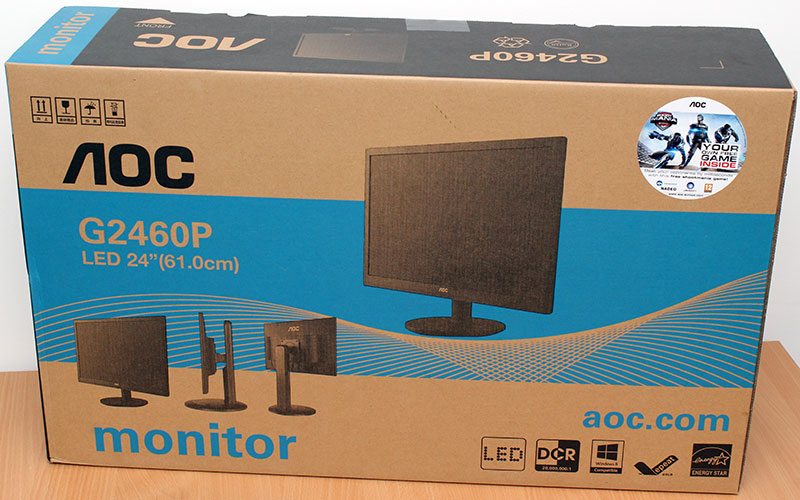 Inside there is the usual selection of cables included with the panel, including VGA and DVI display cables, a UK kettle lead, USB2.0 A-B, 3.5mm to 3.5mm audio cable, clip on cable tidy, a CD with the user guide and some software and last of all a copy of Shoot Mania to play.