AORUS RGB RAM Comes With Two Extra RGB Demo Modules
---
---
---
Ron Perillo / 3 years ago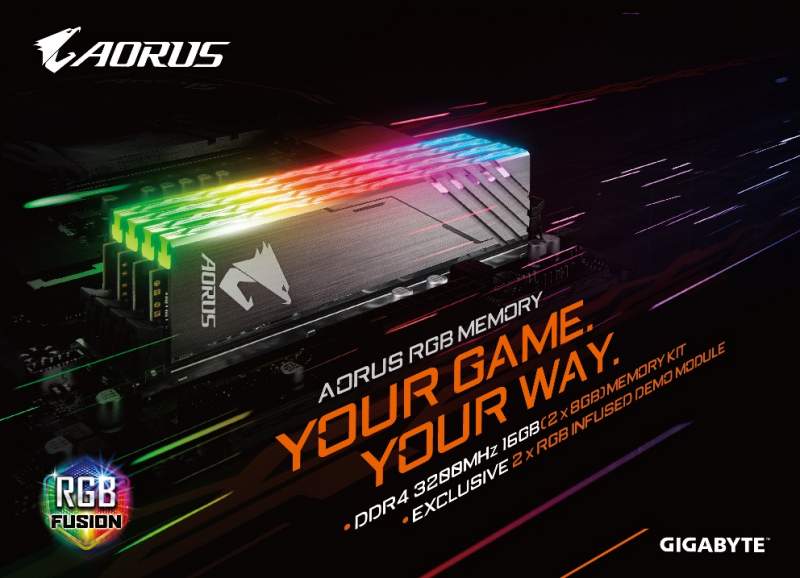 Gigabyte Launches AORUS RGB Memory Kit
We reported news of Gigabyte entering the memory market last month. Now the motherboard company is officially launching their AORUS RGB memory series.
These have RGB LEDs with a built-in diffuser along the top ridge as well so the LED shines bright and even. The early product prototype shows an AORUS logo etched on the side while the opposite edge has notches. These are most likely stylistic design choices rather than for thermal management. These notches also allow RGB LED to shine through a bit on the side, but for the most part, the lighting is concentrated on the visible top ridge area.
What sets this kit apart from other RGB memory modules however, is the inclusion of two RGB demo modules. These are basically non-functioning identical-looking memory modules that light up, but have no RAM ICs inside. This lets users with four DIMM slots to fully populate their motherboard, even if they just have a dual-channel kit. The GIGABYTE RGB Fusion or RGB Fusion Link software allows users to control all four.
How Fast Are These Memory Modules?
These AORUS RGB memory comes in 16GB (2x8GB) kits running at 3200MHz. It also comes with an XMP 2.0 profile so users can easily load it on supporting Intel motherboards.