Apacer AS720 Dual Interface 240GB SSD Review
---
---
---
Bohs Hansen / 5 years ago
Introduction
---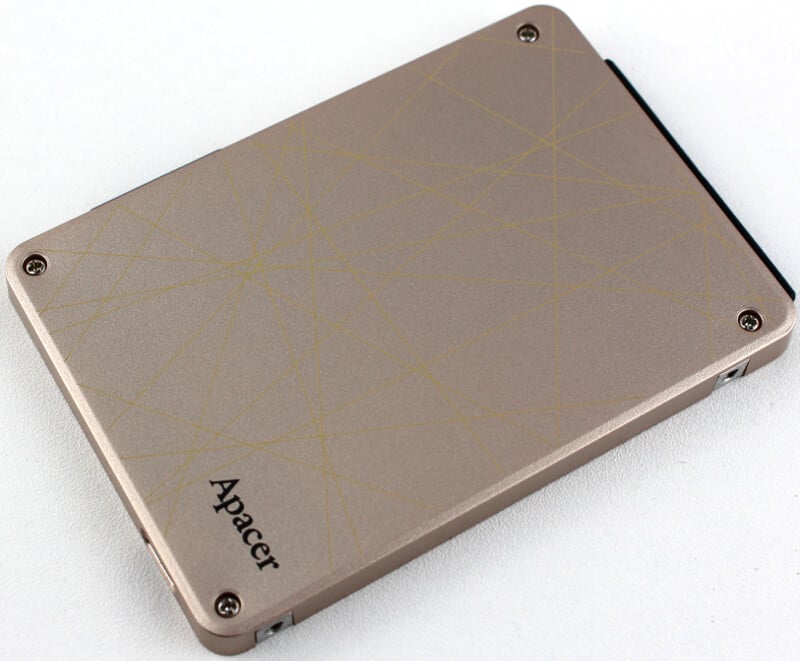 Today's review is a little bit special as I'm taking a closer look at Apacer's new AP720 SSD with 240GB capacity. This unique solid state drive doesn't just come with the normal SATA connector, it is the world's first dual-interface SSD that also comes with a USB 3.1 Type-C connector.
The dual connectivity option of the AP720 SSD can come in handy in many ways. It makes the initial cloning from your current and older system drive a lot easier as you don't need any extra SATA slot nor an external enclosure to get started. It also allows for easy removal and backup on another system. Maybe you'll also just want to use it internally at first, but have the option to turn it into a portable drive later on. The choice is yours, you got the ability with the AP720.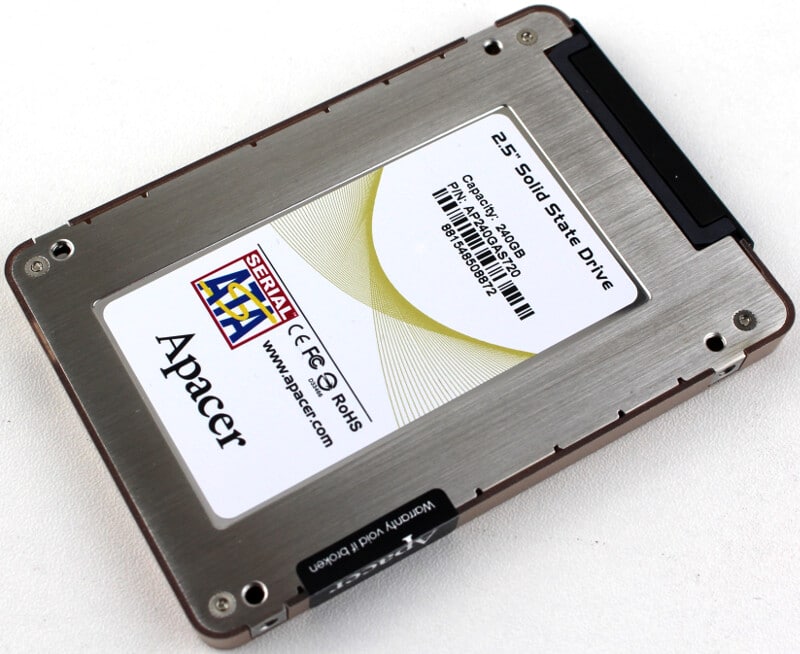 The solid state drive doesn't just come with unique connection options, it also boast great features and performance. The drive is rated for up to 540MB/s reading and 450MB/s writing when connected to an SATA3 interface. The USB 3.1 performance is rated to exactly the same, which is quite impressive from a drive point of view. Whether you want to use it on a Windows or a Mac OS based system, you're guaranteed a speedy experience. For example, it takes less than 15 seconds to copy an HD video that is 5GB in size.
Since the SATA connector normally would be exposed in such a setup, when using it as a portable drive, Apacer included a rubber cover for just this part. It fits well and doesn't fall off by itself, yet it is easy to remove when you need to connect it the traditional way.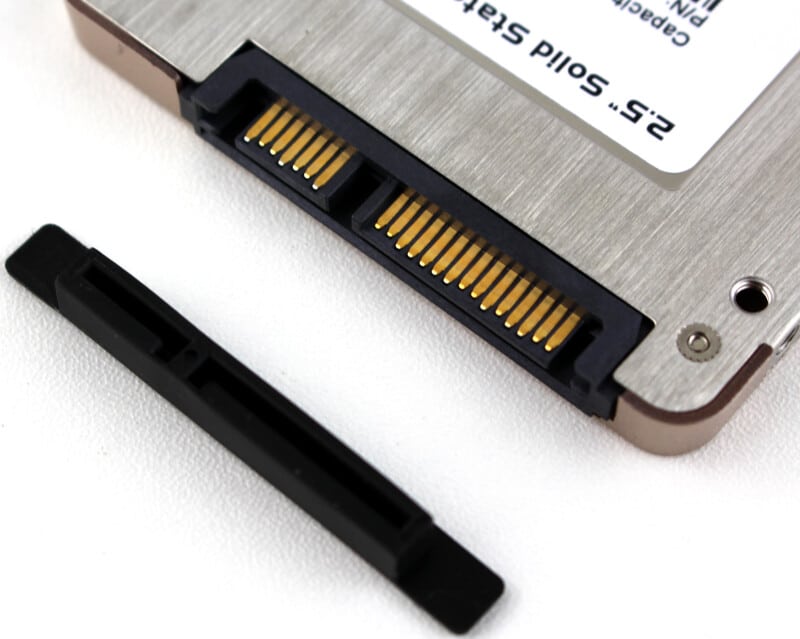 Despite the dual connectivity, the Apacer AS720 has a default 2.5-inch 7mm form factor that makes it highly compatible with all sorts of systems. It is also what makes this drive so unique with its dual connection options, yet a conventional package. For portable use, it's also great that the drive only weighs a mere 75 grams in total.
It is also a beautifully designed drive that combines exquisite gold with metallic cutting design, subtly demonstrating a clean fashion style in its low profile. The design and colour also make it a perfect companion for use with a gold coloured iMac and MacBook.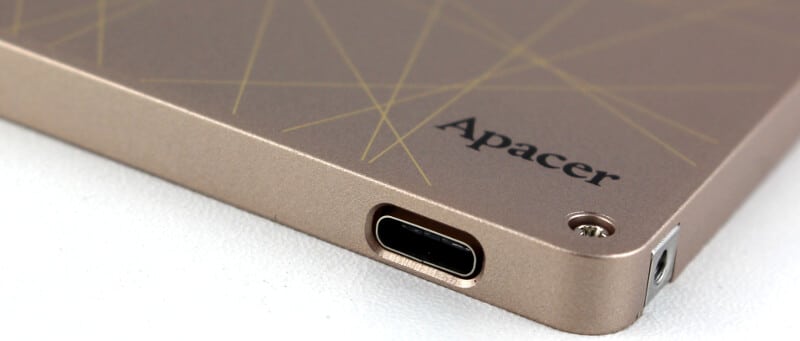 Feature wise we got a good coverage too with this SSD, starting with the basic Trim support and followed by an advanced wear-leveling algorithm that allows the drive to keep up the performance over time. It also features Error Correction Code (ECC) function that can correct up to 55 bit per 1KB. It is built with quality MLC NAND and you get a 3-year warranty for the drive.
When you are on the road with this drive, which is a likely scenario, then it's great that drive also can withstand great shocks and vibrations. It features 30G anti-vibration and 3000G anti-shock protections too.

A feature that isn't mentioned in the specification is actually a pretty cool one. The drive features two LEDs that shine through the casing for status and activity. This is particularly useful when used as an external drive.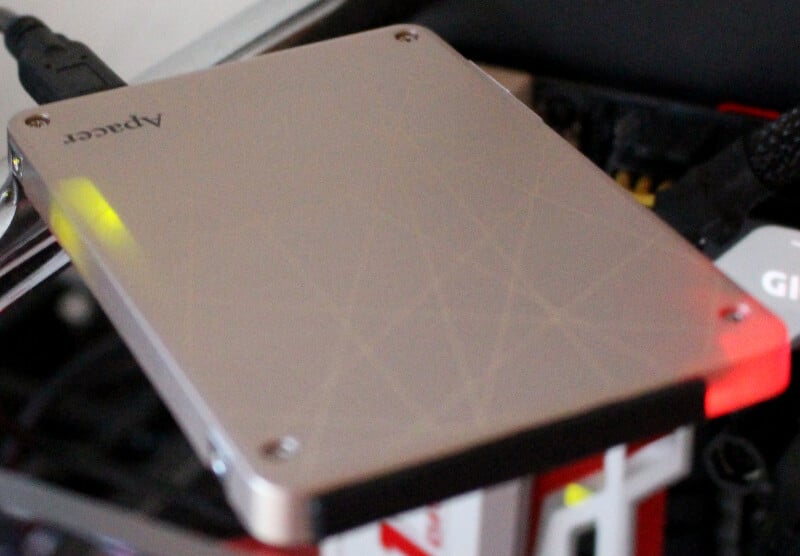 The reason that the LEDs can shine through the enclosure is that the top is made of plastic. Once we remove that, we get to see the rest of the drive that is screwed into the bottom metal plate. We can aslo see four of the used Micron MLC NAND chips here.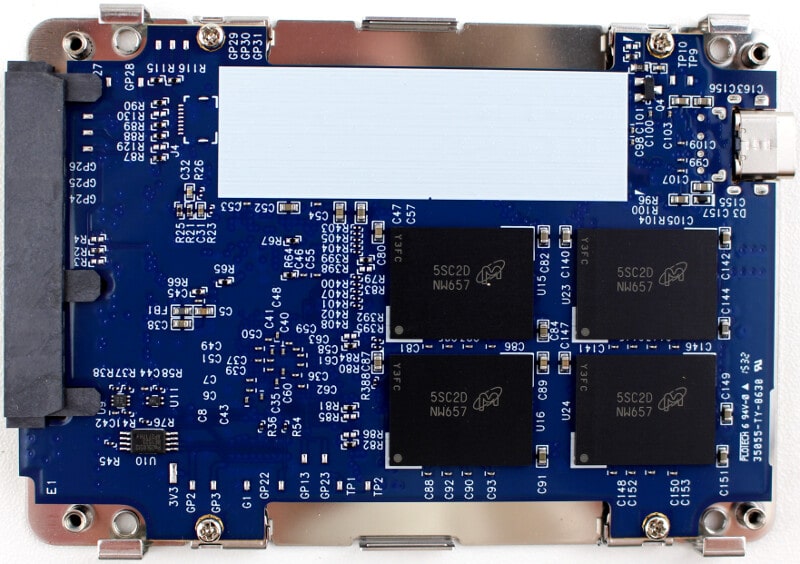 Turning the PCB over and we find four more NAND chips placed next to the Nanya cache. Just as the NAND chips, the controller is also from Micron and it's the JMF670H quad-channel ECC SSD Controller.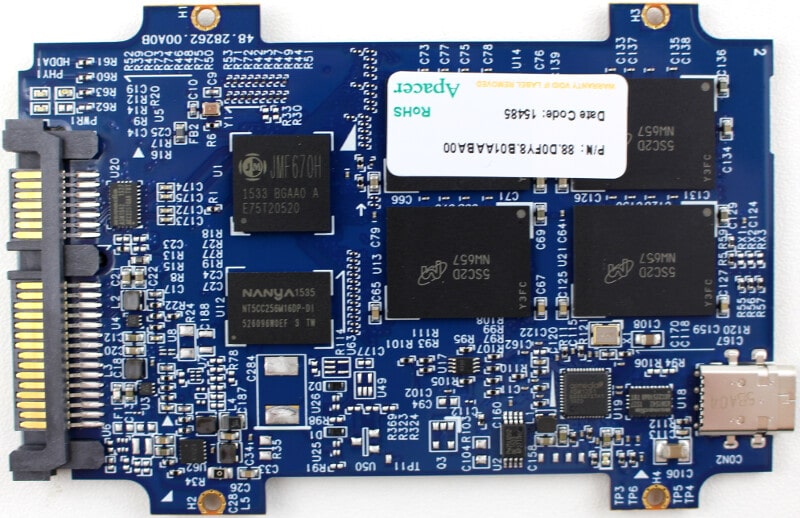 In the corner next to the USB 3.1 Type-C connector, we find another chip: the ASMedia ASM1351 USB3.1 to SATA 6Gbps bridge.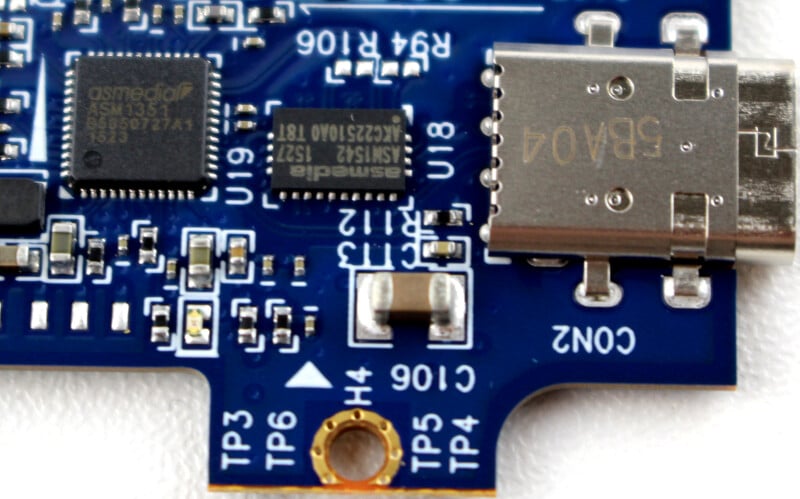 Feature Highlights
Supports SATA3 and USB 3.1 dual interfaces
Up to 540MB/s read and up to 450MB/s write
Wear-leveling for enhanced endurance
Windows-To-Go supported
Trim command and ECC supported
Specifications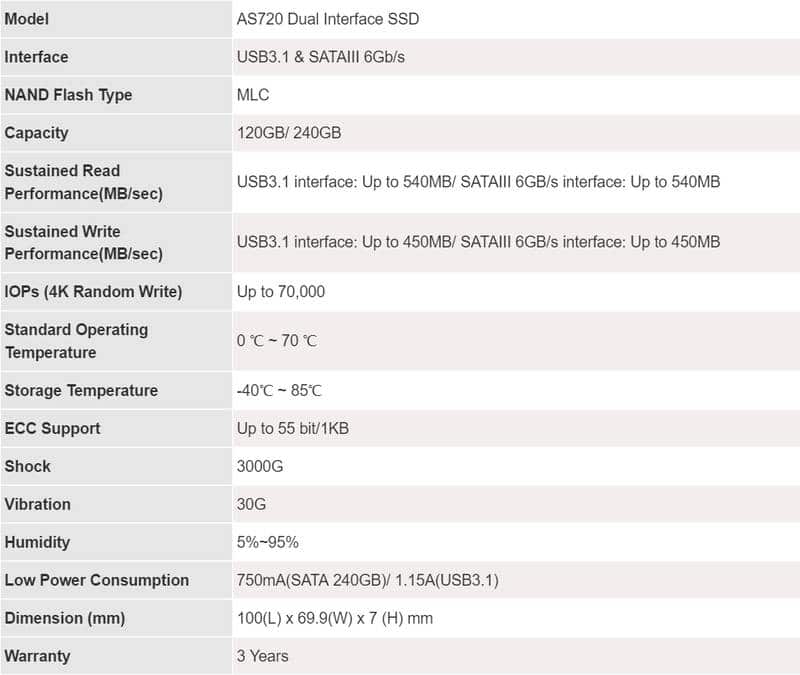 Packaging
Apacer wrapped the AS720 dual interface SSD in a pretty normal package for a solid state drive, but it does look good. It shows the actual drive through the transparent front as well as presents the drive's connection options and capacity. Everything you'll want to know before you take a closer look.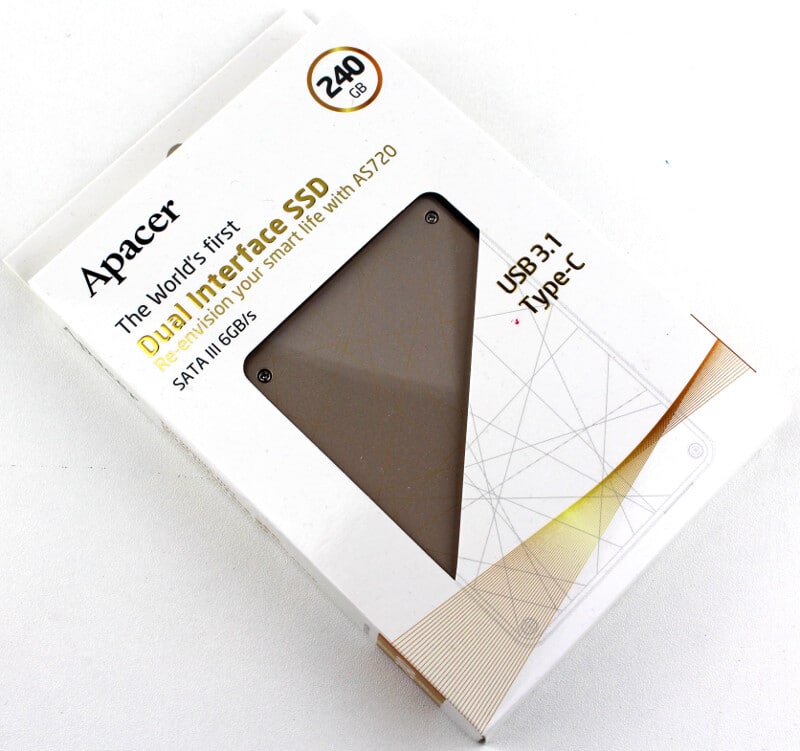 The rear has some basic information in several languages as well as the compatible operating systems.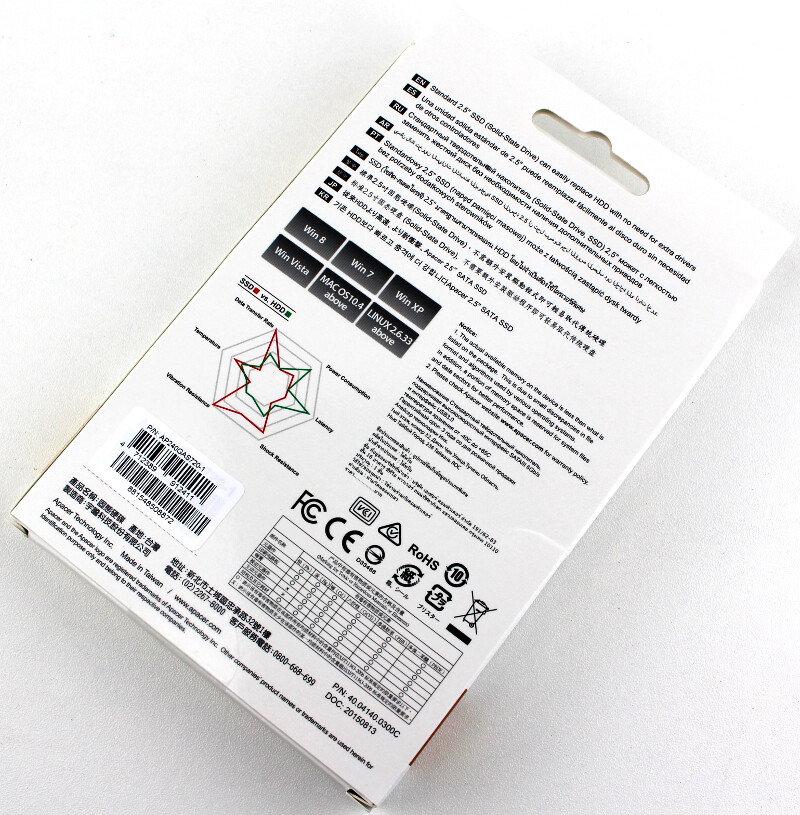 Inside the box you'll find a carrying pouch next to the drive itself and the USB 3.0 connection cable. Everything you need to take the drive with you on the go.