Apacer Blade Fire DDR4 3200MHz 32GB Memory Kit Review
---
---
---
John Williamson / 5 years ago
Introduction
---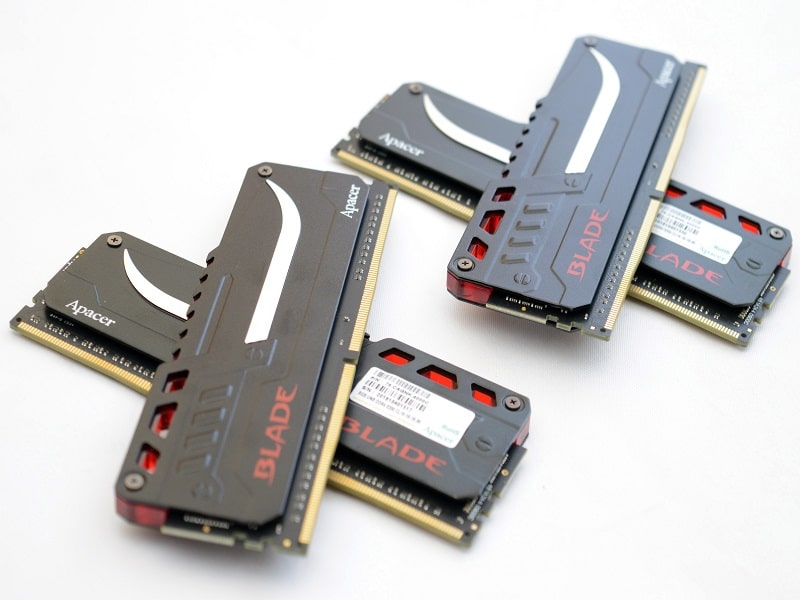 Since the launch of Intel's latest mainstream LGA1151 platform, the cost of DDR4 memory kits has plummeted and superseded DDR3 in a relatively quick manner. Prior to the Z170 chipset, DDR4 modules could only be procured by professionals using extremely expensive processors with six to eight cores. Thankfully, DDR4 kits are now readily available at reasonable price points and come in a huge array of memory speeds. Technically, Intel's SPD rating for the Z170 chipset is 2133MHz but this can easily be circumvented using an XMP profile. DIMMs from respected manufacturers including G.Skill, Corsair, Apacer, Patriot and others can surpass 3000MHz via a basic tweak in the BIOS. On the other hand, consumers tend to fixate on a memory kit's aesthetic design because faster speeds don't usually translate to improved frame-rates in modern titles.
Today, we're taking a look at the 32GB DDR4 Apacer Blade Fire memory kit which operates at a speed of 3200MHz. Furthermore, the modules' timings are rated at 16-18-18-38 with a voltage of 1.35v. Apacer decided to create a spectacular heatspreader design featuring red illumination which pulsates at 44 beats per minute. This impressive specification is bound to appeal to consumers requiring exceptional synthetic performance who prefer a more lavish design philosophy. The question is, can the modules compete against other premium brands and justify the relatively high $125.99 price per 16GB kit?
Specifications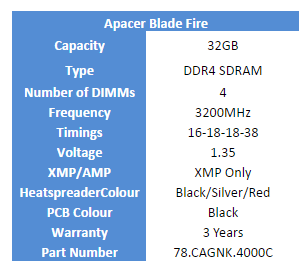 Packaging and Accessories
The memory kit's packaging adopts a striking appearance and outlines the modules' LED lighting functionality. Furthermore, the box clearly shows the military theme and utilises a bold font which draws you into the product. This brash styling is certainly more adventurous compared to other memory kits on the market.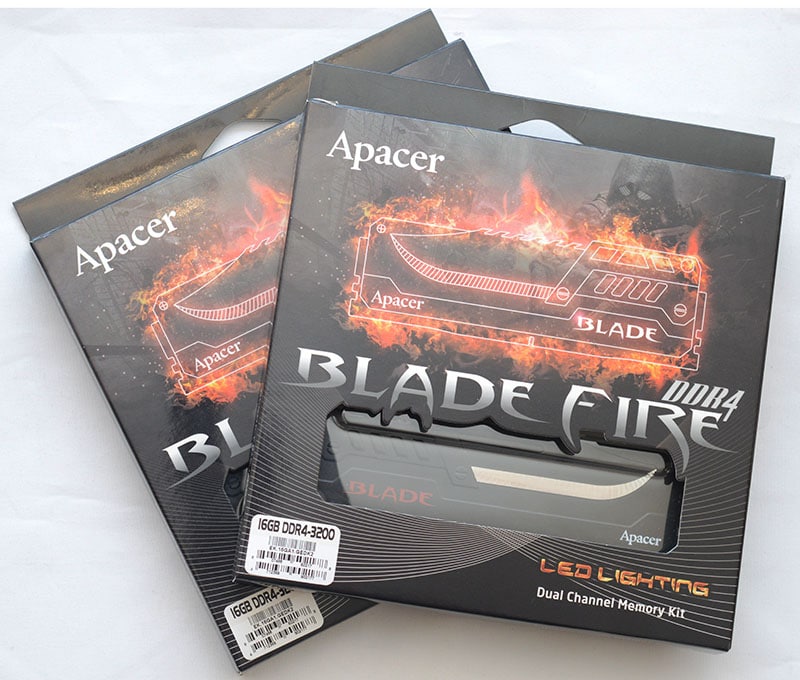 A Closer Look
Here we can see the absolutely stunning knife design which is implemented in a really innovative manner. It almost manages to be understated and imposing at the same time. I'm particularly fond of the small cutouts and top ridges. These additions complement each other and evoke a premium feel. The dark black colour and red highlights create a superb contrast and accentuate other components in your build. The knife theme should appeal to the core gaming audience who regularly enjoy first-person shooters like Battlefield 4. Overall, I'm in awe of the memory kit's appearance and believe it's one of the most inventive creations I've ever seen.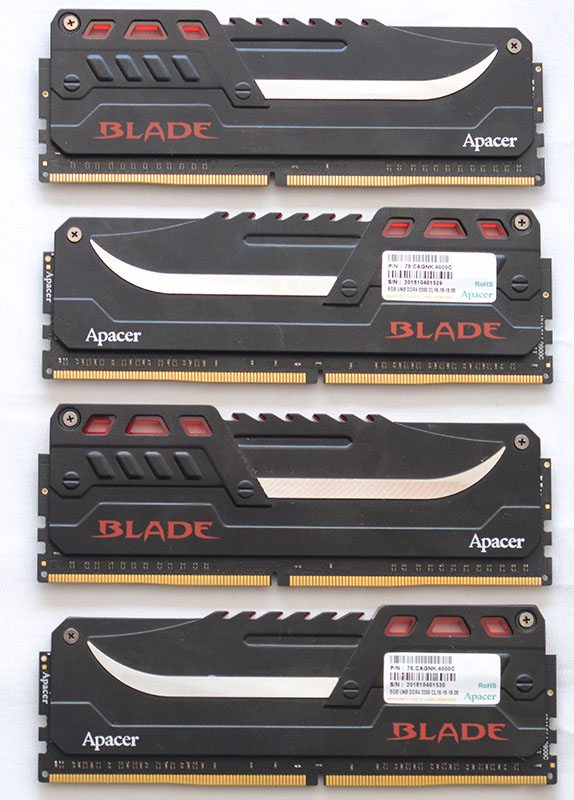 On the top section, there's a transparent plastic cover which allows the red illumination to pierce through and be easily visible in a closed chassis environment.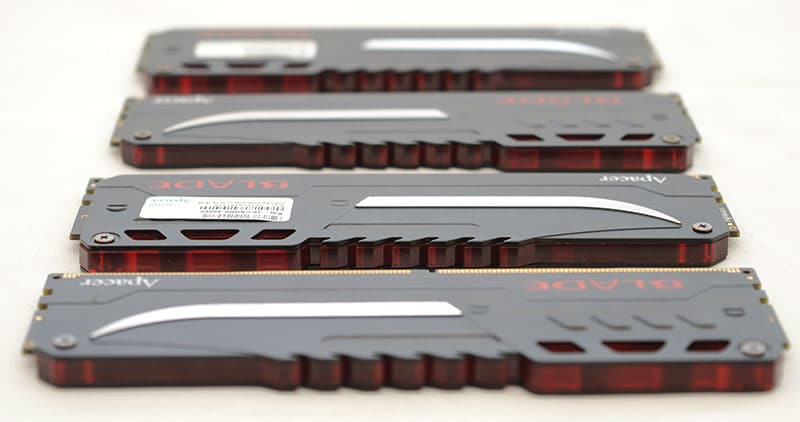 ———————–
Motherboard Installation Pictures
---
Once the memory has been installed, it's clear how seamlessly the black and red colour scheme matches a huge range of motherboards. Sadly, it's not the best option for our Z170 testing motherboard due to the gold accents but this is an anomaly. The overwhelming majority of LGA1151 motherboards are perfectly suited to the memory's unique styling and a great choice if you're looking for an attractive red and black custom PC.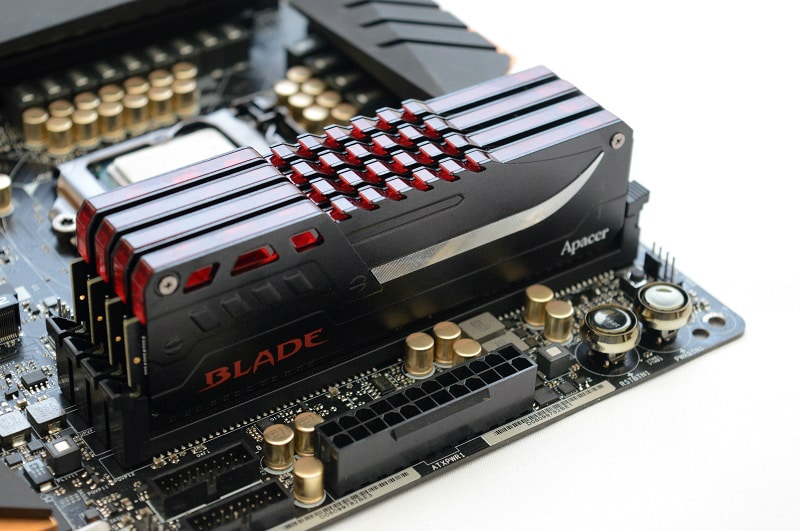 From an overhead perspective, we can see the gorgeous red lighting which exhibits good brightness levels in a variety of lighting conditions.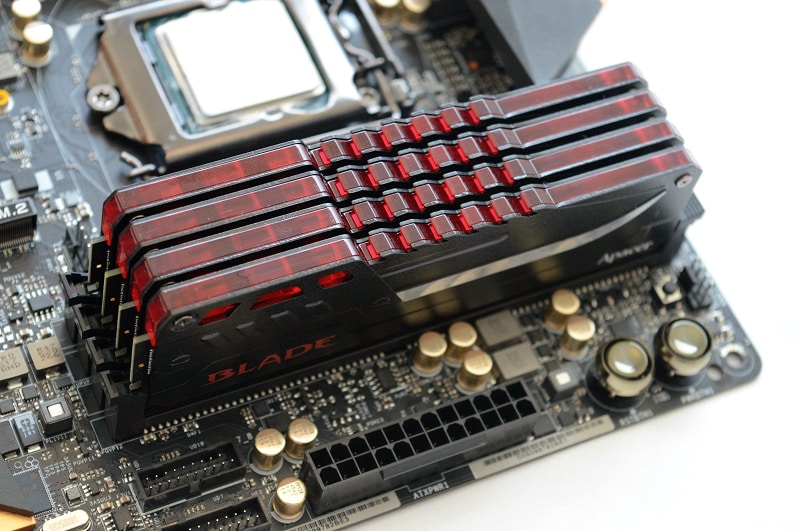 ———————–
Test System and Procedure
---
Usually, we employ the follow test system to find the maximum performance of various memory kits and allow large capacity modules to the reap the benefits of quad channel bandwidth.
Test System (Intel X99 DDR4)
Motherboard – Asus Rampage V Extreme X99
Processor – Intel Core i7 5960X at Stock With Turbo Enabled
RAM – Varies By Review
Graphics Card – Gigabyte G1 Gaming GTX 980Ti
CPU Cooler – Thermaltake Water 3.0 AIO unit with Gelid GC-Extreme thermal paste
Power Supply – Be Quiet Power Zone 1000W
Main Storage Drive – Crucial MX100 256GB SSD over SATA III interface
Chassis – Lian Li T80 Test Bench
Operating System – Windows 8.1 64 Bit
Despite my best efforts, I couldn't get the memory kit to boot on five X99 motherboards from different manufacturers. This is slightly worrying and brings into question the modules' widespread compatibility. However, it might simply be down to bad luck and some sort of defect on the sample I received. As a result, I decided to run the benchmarks on the ASRock Z170 Extreme 7+ at stock values. Thankfully, this change allowed the memory to post without any hiccups and loaded Windows using the default XMP 2.0 profile.
Software Used
Methodology
In our RAM reviews, we keep things relatively simple. We put the RAM kit that is being tested into our test system and we benchmark it at its primary XMP profile using a variety of benchmarks and tests. Once complete we then overclock the kit to see how far we can push it in raw frequency terms, then benchmark it again using the same combination of tests with a CPU-Z validation of the overclock.
Cinebench R15 Multithreaded Test
AIDA64 Engineer Edition Memory Bandwidth and Latency Test
SiSoft Sandra Tech Support (Engineer) Memory Bandwidth Test
WPrime 32M Calculation Test
3DMark Fire Strike Physics Test
———————–
Overclocking
---
Overclocking this particular memory kit was a painless procedure and I managed to attain a final figure of 3466MHz by setting the DIMMs to 3400MHz, then fine-tuning the BCLK. Additionally, I tweaked the voltage to 1.395v to aid stability and optimised the timings to 17-17-17-39. Unfortunately, it wasn't possible to reduce the command rate to 1T and I had to settle with the default figure of 2T.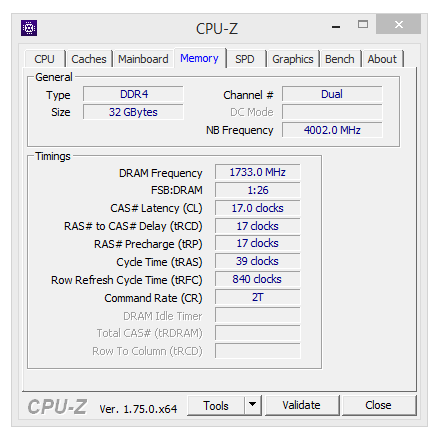 ———————–
Performance Benchmarks
---
Cinebench
Before we get into the results, I want to reiterate that every kit apart from the review sample was tested on the X99 platform. Sadly, this wasn't possible in this case due to stability issues which clearly impacted on the performance numbers. As you can see, the i7-6700K isn't a match for the 5960X and the Z170 chipset is only capable of using dual-channel configurations. Despite this, the memory kit fares pretty well at stock parameters given the processor's 4-core capabilities.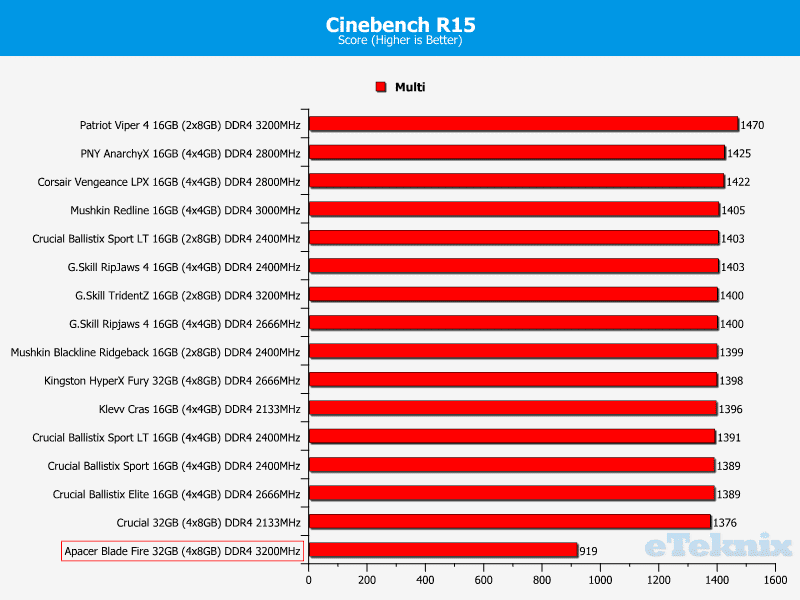 After the overclocked was applied, the Cinebench score increased slightly but the minimal difference remains within a margin of error. Clearly, the manual overclock has almost no impact on the CPU's multi-threaded performance.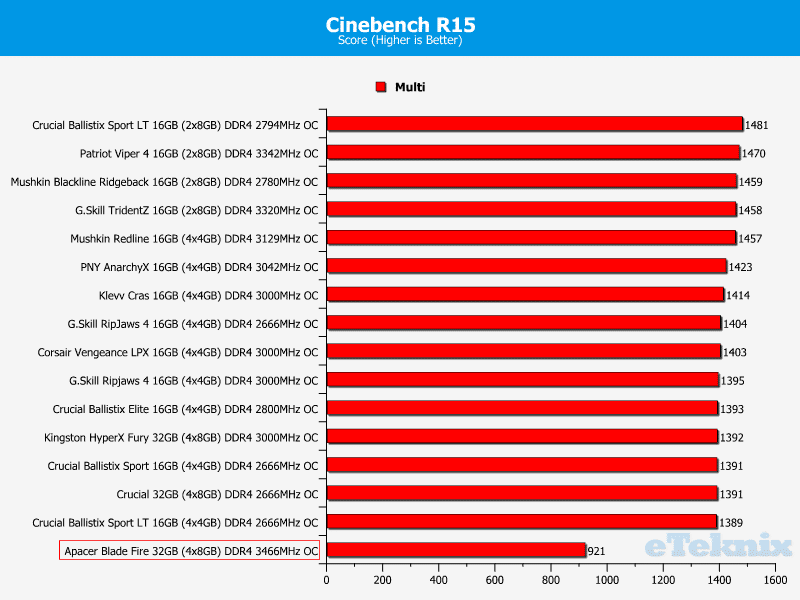 AIDA64
In terms of memory bandwidth, the modules fared rather well and reported a superb write result.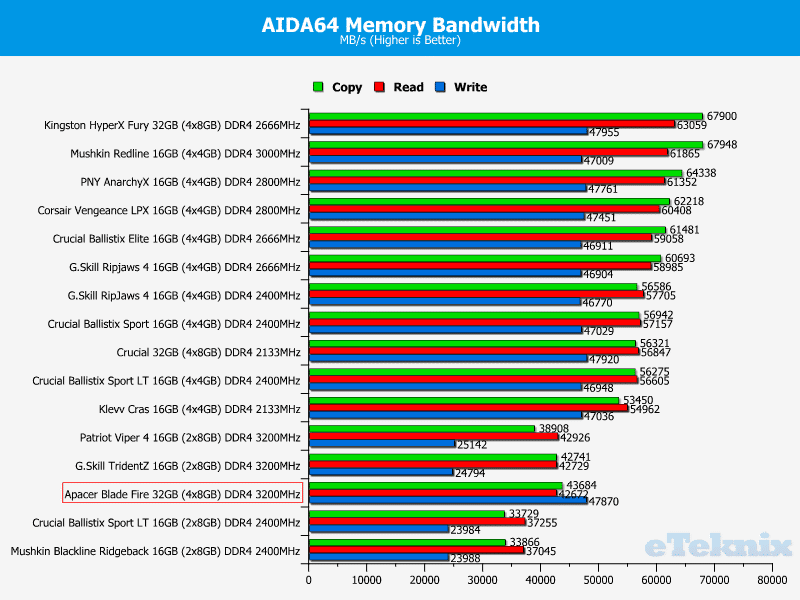 Once overclocked, the memory offered more consistent numbers across copy, read and write rates.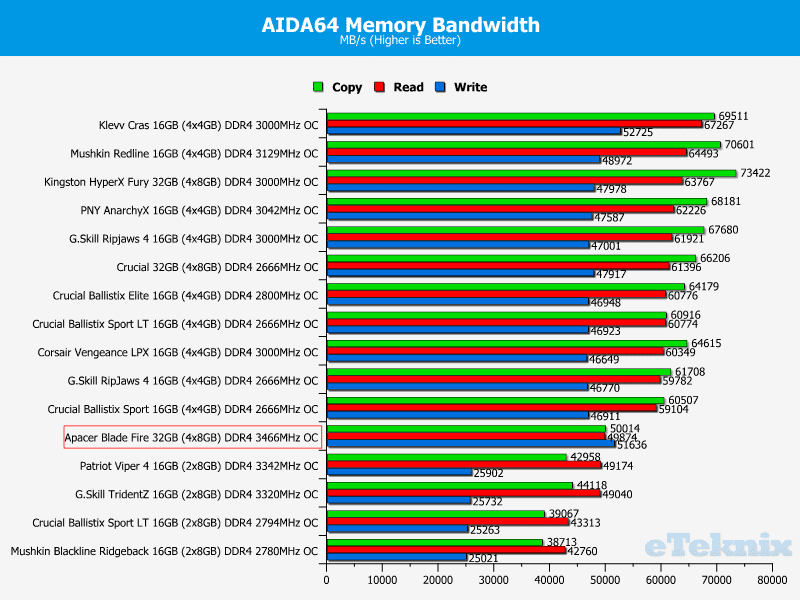 At stock values, the memory's latency remains extremely low and easily achieves the top spot. Saying that, this is the first time I've tested latency figures on Z170 so this might explain the huge lead compared to competing solutions.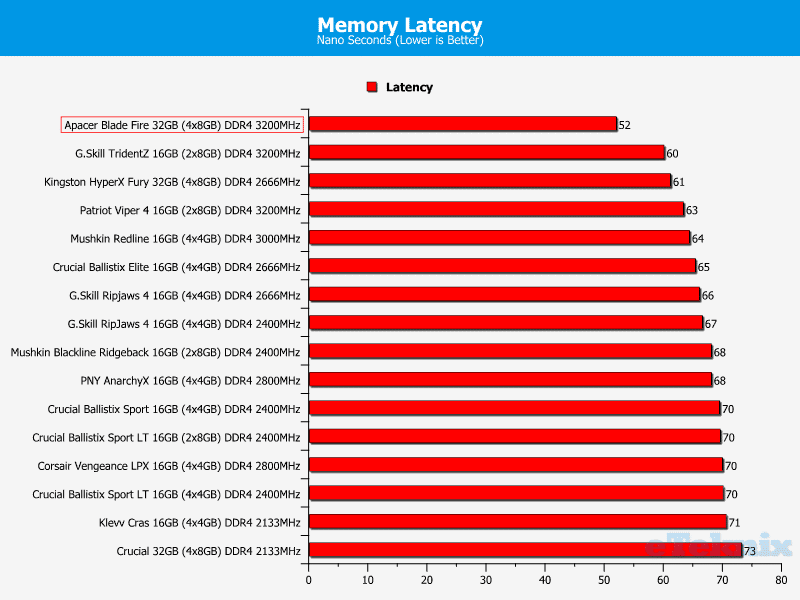 Overclocking the memory kit reduces the latency to 50ns which is another very strong showing.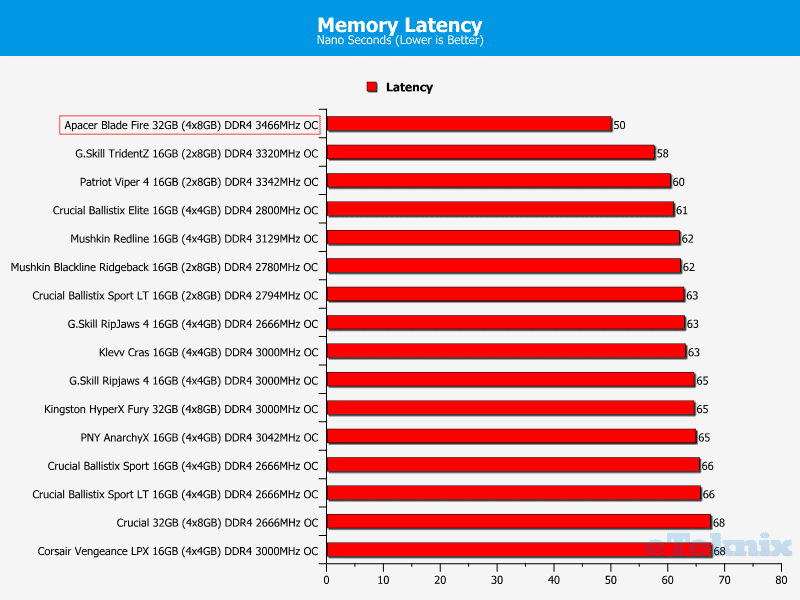 SiSoft Sandra
Here we can see the modules perform really well and surpass other premium kits like the G.Skill TridentZ.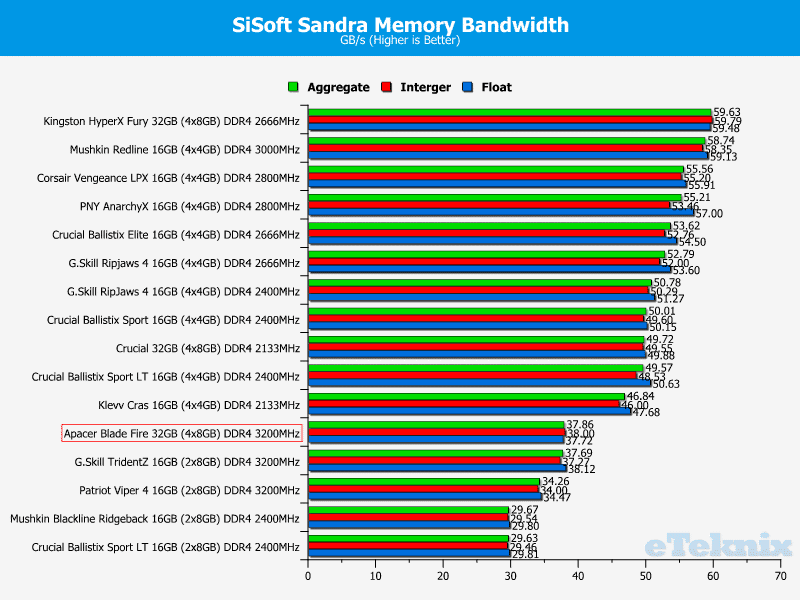 Once overclocked, the Apacer Blade Fire maintains its strong position and reported the best results we've seen in a dual channel configuration.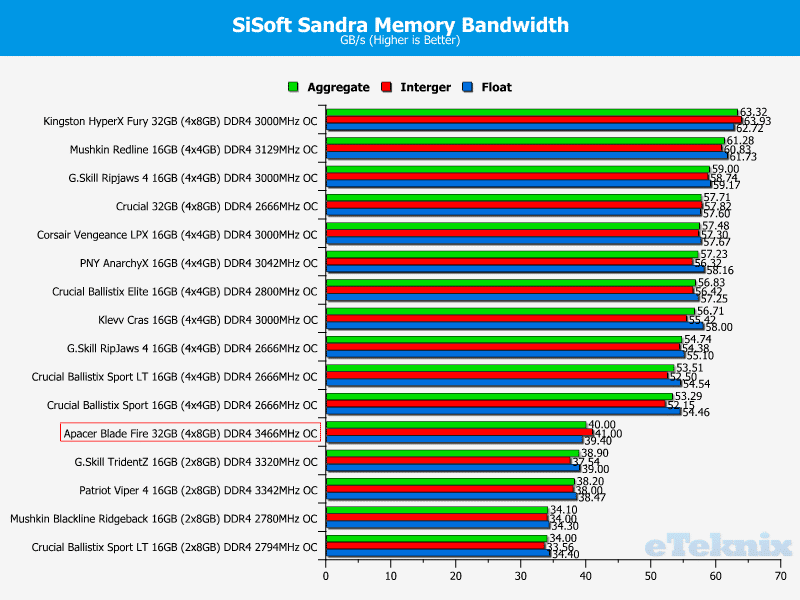 WPrime
Rather surprisingly, the CPU's 8-threads reported a much better compute time than I anticipated and wasn't far off the 16-thread, 5960X. This showcases the memory's performance on the Z170 platform and how well it compliments the i7-6700K.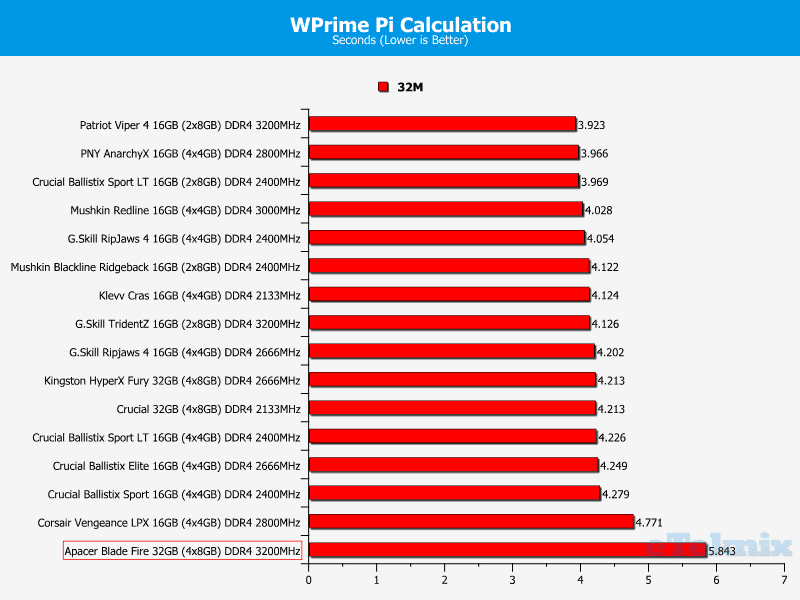 As expected, overclocking the memory only reduced the compute time by a minuscule amount.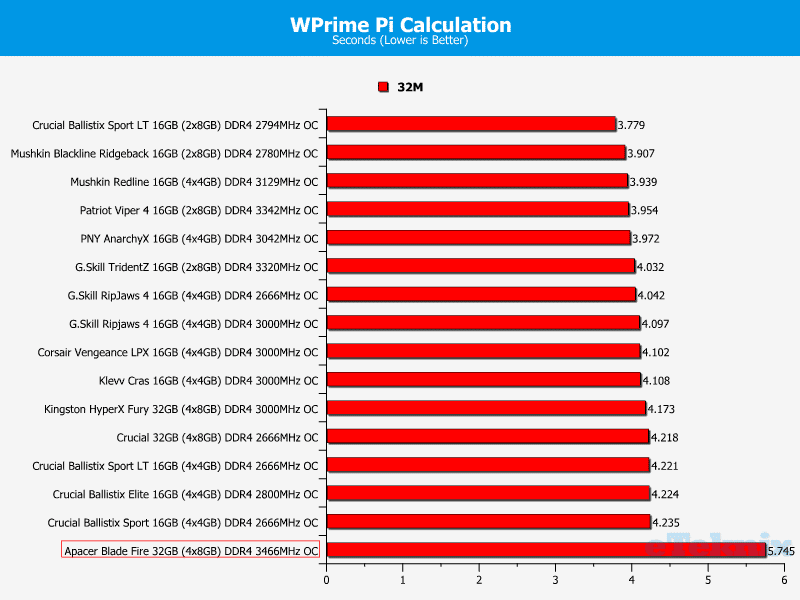 3DMark Fire Strike
At default settings, the memory attained an excellent 3DMark Physics score given the dual channel configuration and Z170 chipset.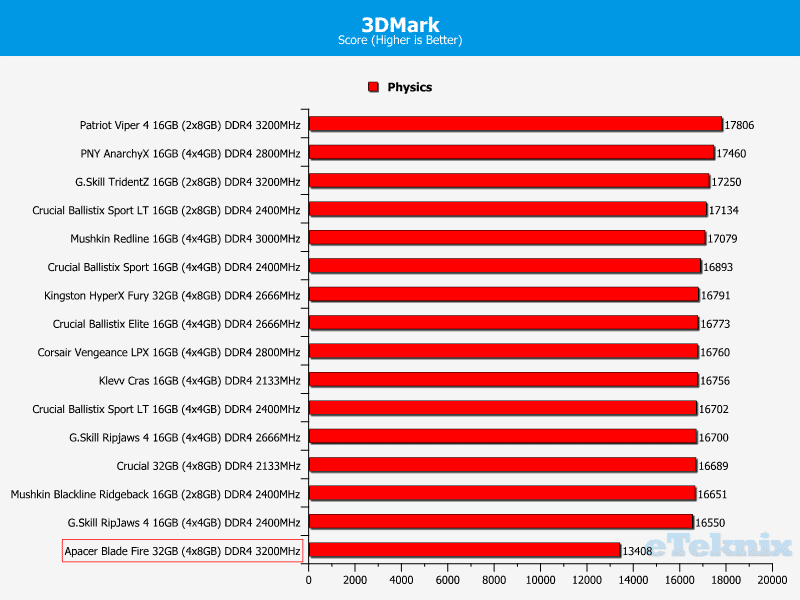 Clearly, there's a noticeable improvement compared to the stock results which illustrates the benefits of manually overclocking the DIMMs to such a high speed.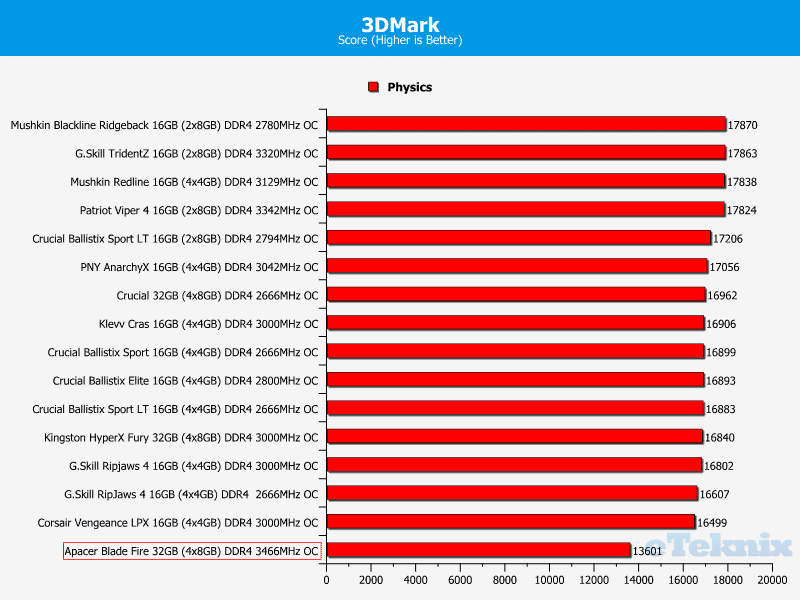 ———————–
Final Thoughts
---
Price
At the time of writing, the Apacer Blade Fire DDR4 3200MHz dual channel kit is available in a 16GB set from Newegg.com for $125.99 including free shipping. Purchasing two of these packs is an expensive proposition and completely overkill unless you work with heavy editing tasks, RAW photography or run multiple virtual machines. Of course, this applies to every 32GB kit on the market. Nevertheless, the 16GB version isn't cheap and costs significantly more than premium modules from companies with a rich history in overclocking. For example, the G.Skill TridentZ 16GB 3200MHz dual channel kit only costs $89.99 and features an absolutely stunning heat spreader design. This makes it quite difficult for consumers to justify paying extra when the G.Skill memory enthuses such a marvellous sense of luxury.
Overview
Apacer's design team have done a phenomenal job with the Blade Fire memory kit and created something which looks spectacular. The unusual military theme which revolves around a sharp knife is eye-catching and adds a unique feel to any system build. Furthermore, the contrast between the black blade and silver edges is magnificent and blends into the DIMMs in a streamlined manner. I'm also really fond of the vibrant red illumination which pulsates at different rates depending on memory utilisation. Typically, memory kits can be rather mundane and companies opt for safe designs. This certainly isn't the case with the Blade Fire and Apacer deserve a great deal of credit for breaking the mould.
Unfortunately, I experienced numerous problems trying to get the memory kit to work on the X99 platform and it failed on 5 different testing motherboards. Not only that, I looked into BIOS updates, trying only two DIMMs and nothing seemed to resolve the issue. This begs the question, is the kit compatible with the 2011-v3 chipset? Theoretically, it shouldn't have any problems and Apacer clearly outlines that the memory is suitable for X99 systems. Of course, I might have received a bad sample and your mileage could vary. However, I have to judge the memory on my own personal experience which means I cannot recommend it to X99 customers at this time.
When it comes to performance, the memory's stock numbers are superb and in many situations, surpassed the G.Skill TridentZ 3200MHz kit. Although, it's important to note that the G.Skill kit we previously reviewed has a total capacity of 16GB. As previously mentioned, it's challenging to know the memory's exact standings due to the differences between our Z170 and X99 testing equipment. In terms of overclocking, the Blade Fire instantly accepted the 3400MHz setting in the BIOS and reached 3466MHz after some BCLK adjustments. Additionally, this became stable with a minor voltage change from 1.35v to 1.395v. Once this was achieved, it was simple enough to optimise the timings to 17-17-17-39 and determine the memory kit's full potential. After the overclock was applied, the modules exhibited good performance gains with improved bandwidth and lower latency.
Pros
Attractive red illumination
Decent overclocking headroom
Great stock performance
Innovative knife design
Low voltage
Timings can be easily reduced
Cons
More expensive than widely respected models like the G.Skill TridentZ
Struggled to work on various X99 motherboards
Three-year warranty is sorely lacking
"The Apacer Blade Fire DDR4 3200MHz 32GB dual channel kit features one of the most innovative aesthetic designs ever conceived. Sadly, this comes at a price and many users will feel inclined to purchase other products with a longer warranty period."
Apacer Blade Fire DDR4 3200MHz 32GB (4x8GB) Dual Channel Memory Kit Review
Thank you Apacer for providing us with this sample.