Apacer Z280 240GB M.2 PCIe NVMe Solid State Drive Review
---
---
---
Bohs Hansen / 4 years ago
Final Thoughts
---
Pricing
[Update] The Apacer Z280 NVMe M.2 240GB has been launched now and it can be yours for as little as $109.99 through NewEgg as the first retailer. More are sure to follow soon. That is just about $0.46 per GB which is a very good price for an NVMe drive.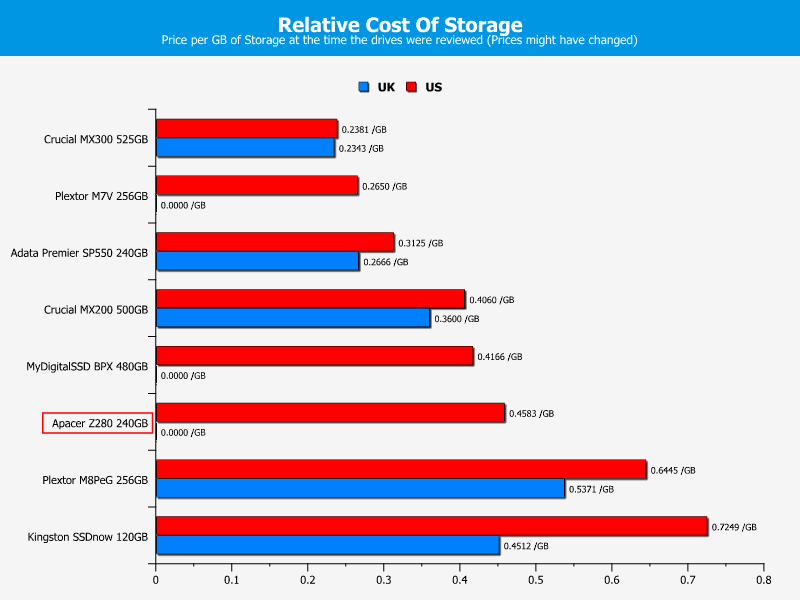 Overview
Apacer created an amazing M.2 NVMe drive with their Z280 SSD; one that performed better than the rated speeds through most tests and one that tops most of our M.2 charts with ease. The simple drive takes MLC NAND and couples it with a Phison controller to provide these great results.
There isn't much to say to the drive when we look at the pure design. It is a module and it looks like it and only comes with a small sticker to show what it actually is. Perfect and ready to plug it into your ultrabook or other system and get some amazing transfer speeds. The random performance was also excellent throughout the tests, no doubt about it.
Apacer also made sure that the drive has all the vital features such as the basic S.M.A.R.T. and global wear leveling as well as more advanced features such as end-to-end data protection and error correction engine as well as Apacer's Smart ECC ad SmartRefresh that make sure the drive maintains accuracy and safety of data access.
There really isn't much more to say about this drive as it speaks for itself with its benchmark results. I'd highly recommend the Apacer Z280 drive and should you opt for the larger 480GB version, then you'll see an even better performance that we saw on the previous page. That's a winner in my book.
Pros
Great performance
M.2, NVMe, and PCIe Gen.3 x4
Solid set of features
Cons
"The Apacer Z280 240G is the best performing M.2 SSD that I've had the pleasure to test which is even more impressive when we consider the small capacity option."
Thank you Apacer for providing us with this sample.