Apple Fix For Basic iPhone Feature Now Available
---
---
---
Chris Hadley / 9 years ago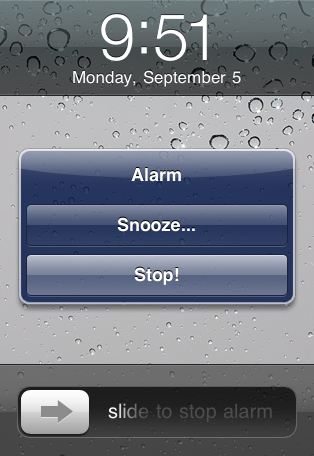 Apple are one of the most high-profile businesses that there are around the world, yet, as some unfortunate users have found, they seem to fail at writing some of the most basic code needed for a mobile. Considering the massive amount of functions that the iPhone has to carry out, it is hard to conceive the fact that there is an issue with the code needed to run the clock and even more importantly its wake & sleep buttons. Surely this has to be a joke right?
Sadly though this is far from a joke and after a large number of customers consulted Apple for this simple issue, Apple have admitted that there is a problem with its ever popular iPhone 5 handset. Whilst the problem may not seem that bad, if you happen to use the clock on your shiny new 5 handset, you may have been experiencing some late awakenings in the morning after the wake/sleep buttons fail to respond to the user's input. Additionally this is NOT the first time that iUsers have experienced a problem with their clocks. As early as 2010, there have been known problems and bugs with the simple looking clock and whilst many have been fixed with simple updates, this time it's worse than ever.
The problem is so severe that it simply can't be resolved with an iOS update and this means that it is time to head down to your local Genius bar and get it hands on repaired. Apple claim that this problem only affects a 'small percentage' of users and the fix-it program as been introduced to enable users to have their handsets fixed free of charge; and rightly so to be honest. US and Canada users initially can access the program and after entering the devices serial number into the Apple website, qualifying users will be prompted to head to the Apple Repair Centre.
There are one or two points that Apple do wish to add though, damaged screens will HAVE to be repaired before the device is sent in to have the clock fixed and you will have to part your beloved and cherished phone for around a week. There are other options to consider if parting with your handset is not an option. One is to ignore the problem and find another solution, another is to get another non-iDevice handset instead, or simply get a non-Apple branded clock. Some of these options are a little more drastic than others, so I'll leave it to you to decide.
Will this be the last time we'll hear of a problem like this? For some reason I think not.
Source: Fudzilla