Arctic Cooling Accelero Twin Turbo Pro VGA Cooler Crossfire Review
---
---
---
Luke Hill / 10 years ago

Yes, we know! These GPU coolers are getting old now, that doesn't make them bad coolers though. As long as they are fit for their purpose, age is irrelevant. The point behind today's review is to see if an after-market cooler such as the one we are reviewing is really a good step-up in the cooling world from the tailor-made stock cooler of your graphics card. With so much emphasis from companies such as Gigabyte, MSI and Asus being put on their better than-stock-cooled graphics cards which use the Windforce, Twin Frozr and DirectCU designs repectively, we want to see if those cards justify their higher price tag when a cheap and cheerful after-market cooler may fit the bill.

Stock coolers for lots of high end graphics card have the tendency of allowing the GPU to hit rather high temperatures while still managing to sound like a jet aircraft is about to take off from inside your PC. Along come the after-market coolers with their goal being to fix the high temperature problems while also being quieter at the same time. The way the majority of after-market coolers achieve their goal is by using a 3 PCI slot design coupled with masses of heat dissipating fins and efficient fans. The Arctic Cooling Accelero Twin Turbo Pro GPU cooler is no different! Coupling 4 copper heatpipes with 2 "ultra quiet" 92mm PWM fans capable of pushing 54CFM and reaching 2000RPM, it is easy to see why Arctic Cooling rate this cooler for up to 120 watts of heat dissipation.

Retailing at the relatively low price of under £25, what can this cooler do compared to it's stock heatsink counterpart? We have high expectations for this cooler, so let's not wait any longer and take a look at how it performs!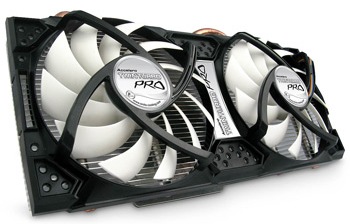 Main Features
Superiror cooling performance – 120 Watts
2 ultra quiet 92mm PWM fans with low noise adapter
Efficient heat transfer via 4 heatpipes
Patented fan holder eliminates the buzzing sound
RAM and voltage regulators cooling
Pre-applied Arctic MX-2
SLI and Crossfire compatible