ARM Unwraps Mali-T800 Series with H.265 Support on One Core
---
---
---
Bohs Hansen / 9 years ago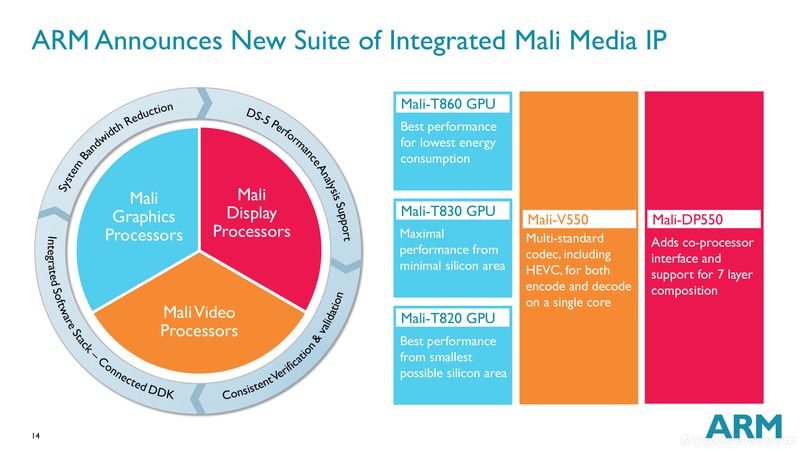 ARM has introduced their next generation Midgard architecture that consists of three new designs in the Mali-T800 series. It's been about a year since ARM introduced the T700 series based on the third generation of the Midgard architecture, and this fourth generation looks even more impressive.
The T600 is the dominant ARM series at the moment while the T700 series, that was introduced about a year ago, is just starting to hit the market inside of consumer products. Since ARM only develops the intellectual property (IP) and doesn't build the silicon themselves, we have to wait for partners to create the actual chips. ARM expects initial consumer devices based on the T800 series in late 2015 and early 2016.
The new series support OpenGL ES 3.1, DirectX 11.1, OpenCL 1.2, and RenderScript Compute as well as ARM's frame-buffer compression mojo and Smart Composition. The T860 will be the new flagship for maximum performance, the shrunk T830 is the balanced model on a smaller silicon area where the T820 is the entry-level that isn't just the smallest in product number, but also silicon size.
The Mali-T860 GPU is designed for the most demanding consumers that want nothing but the best visual experience on their mobile devices. It provides an even higher performance at a 45 percent better energy-efficiency compared to the Mali-T628 GPU. The Mali-T860 features a total of 16 shader cores.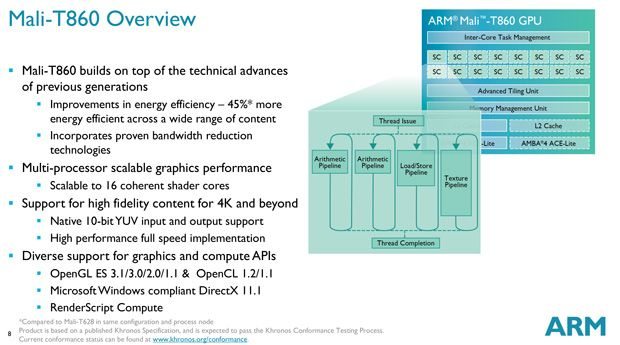 The Mali-T830 GPU strikes the perfect balance of performance and efficiency, delivering up to 55 percent more performance than the Mali-T622 and the entry-level Mali-T820 achieves up to 40 percent more performance compared to the predecessor, Mali-T622. Both of these have four shader cores and that is just half of what the T720 has.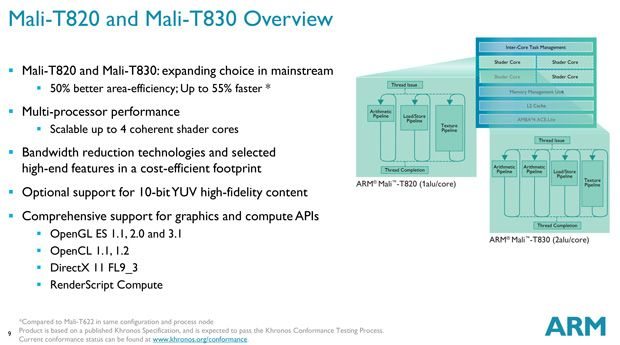 ARM also introduced us to the Mali-V550 video accelerator and Mali-DP550 display processor, both of which implement 10-bit YUV support in order to handle 4K content. The Mali-V550 has eight cores that can be used to encode and decode 4K video at 120 Hz. ARM says this is the first video encoder that can both encode and decode H.265 video on a single core. This is very impressive on its own.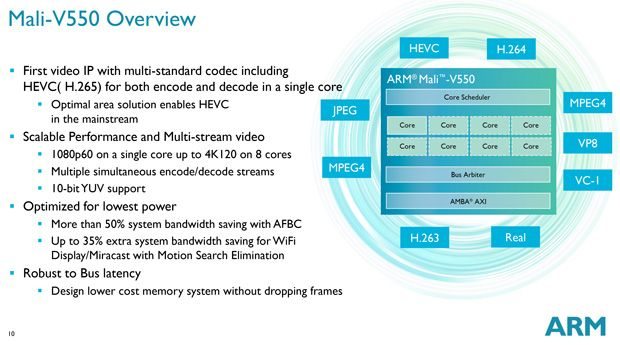 The Mali-DP550 display processor is designed to offload composition from the GPU in order to save power. It can composite up to seven layers and of course also supports up to 4K resolutions.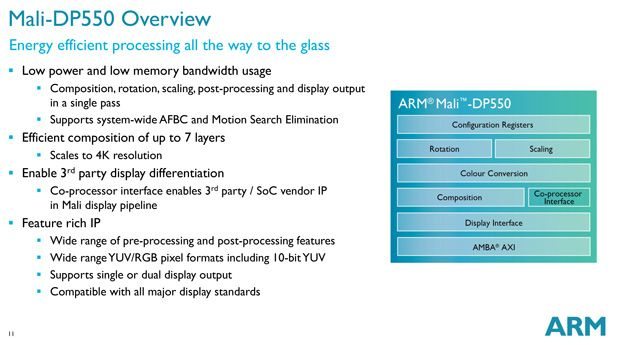 Thanks to ARM for providing us with this information
Images courtesy of ARM