ASRock Z170 Extreme 7+ (LGA 1151) Motherboard Review
---
---
---
Rikki Wright / 6 years ago
Introduction, Specifications and Packaging
---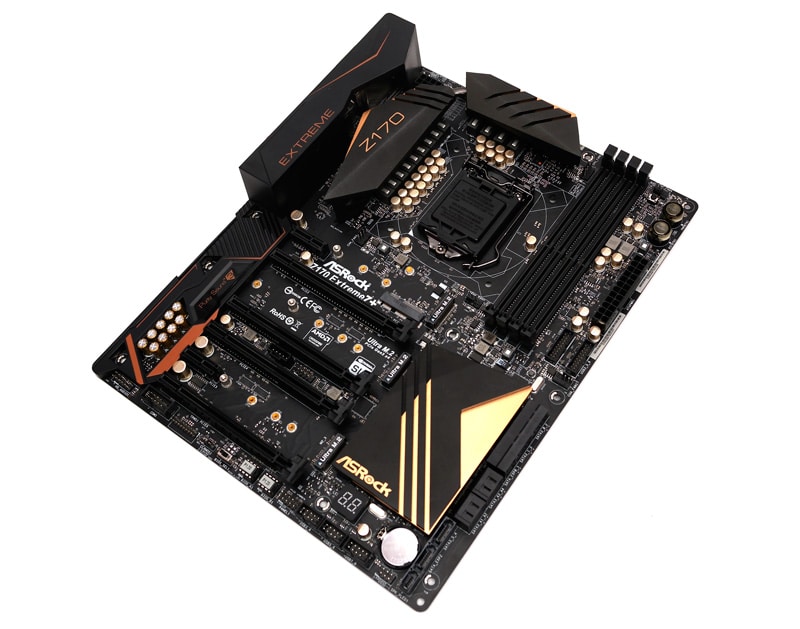 Z170 and Skylake are here, finally! The true successor to Haswell and Haswell Refresh and the first 100% successful 14nm process. Broadwell works, but due to limitations and problems, it was an extremely late release and didn't really wow us. Skylake is set to change that by bringing back true overclocking with a fully unlocked BLCK to really allow users to fine tune an overclock thanks to the 1MHz increments. Along with this, Z170 also brings huge connectivity through 20 PCIe 3.0 lanes and 10 USB 3.0 lanes; although some manufacturers may not utilise the full amount of lanes.
ASRock is a big player in the motherboard market, producing the renowned Extreme series across both Intel and AMD CPU's. The Extreme series offers top quality components with great style and functionality. In recent years, the series has taken multiple different colour schemes from blue and white, black and silver and now the best (in my opinion), black and copper. Along with that, the simply huge arrowhead style heat sink covers are gone and replaced with a much more subtle design.
Today we have the top of the line Z170 Extreme 7+, although I would expect an Extreme 9 in the near future. Featuring all of the key features that ASRock motherboards have incorporated for many years such as Ultra M.2 and Purity Sound. Thanks to the new Z170 chipset, ASRock has gone above and beyond with the connectivity. Typically you see one M.2 port, however, ASRock added an extra two. This might not seem amazing, but when you consider the ultra fast Intel NVME SSD drives, adding three in RAID 0 would make for an incredibly fast storage solution; let's find out how well it performs in today's review.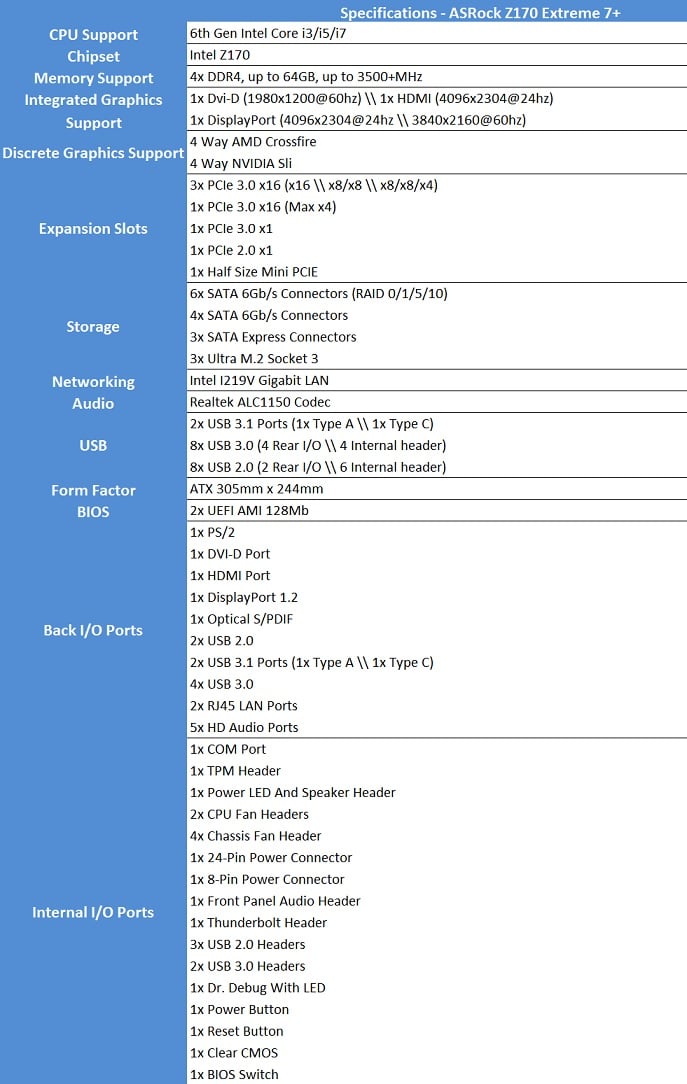 Key Features
Manufacturers nowadays need to find innovative ways to stand out from the crowd, ASRock is no exception and has crammed a huge array of features into this motherboard.
USB 3.1
USB Type-C
Turbo M.2
Purity Sound 3
NVIDIA SLI
AMD Crossfire
Dual Intel LAN
USB 3.1 Front Panel
Digi Power
Super Alloy

XXL Aluminium allow heatsink
Premium 60A Power Choke
Dual stack MOSFET
12k Platinum capactiors
Premium memory alloy choke
Packaging and Accessories
The box is very similar to the rest of the Extreme range; a strong outer case with a carry handle.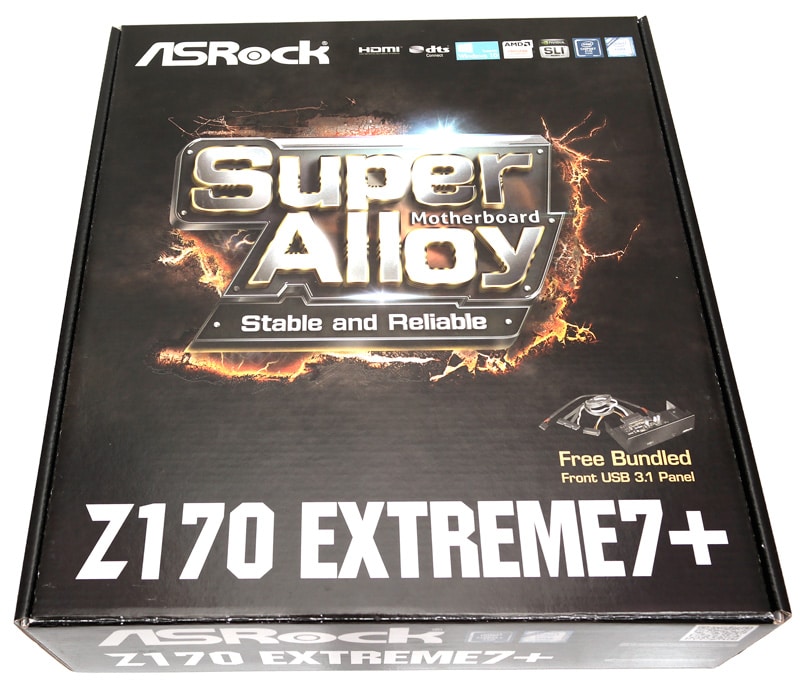 On this particular box, it puts a main focus on the Super Alloy features of the motherboard.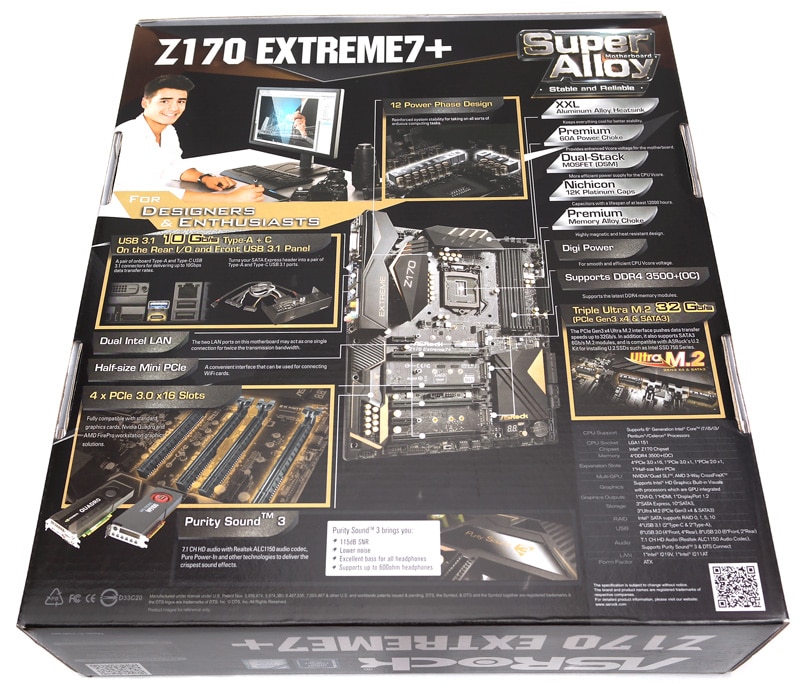 Inside the box is a conservative amount of accessories, driver disk, manual, I/O shield, rigid SLI bridge and 4x SATA 6Gb/s cables.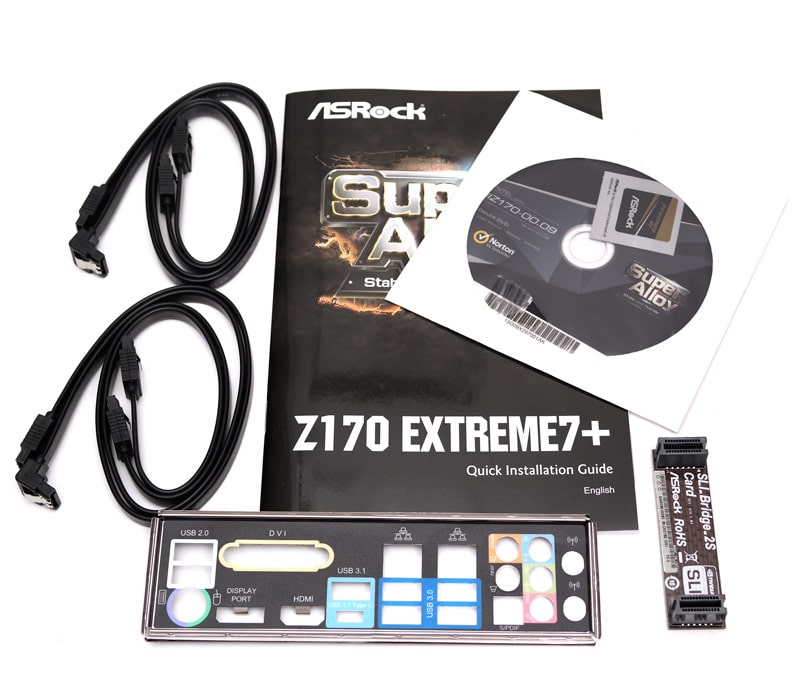 Along with those, ASRock is also bundling in an additional USB front panel connection interface, but not traditional USB 2.0 or even 3.0, but USB 3.1 in Type A and Type C formats. The cables below are what are needed to enable the fastest possible data transfers and plug into the SATA Express ports on the motherboard.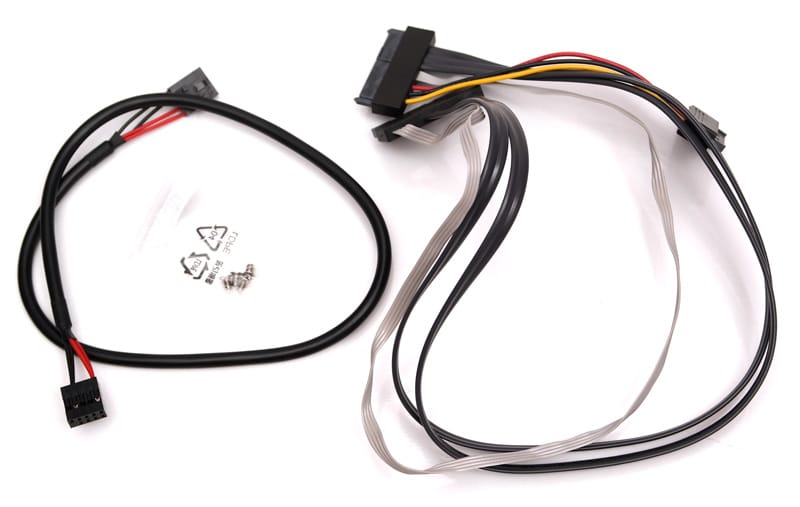 When you look at the front cover, it is relatively plain. Personally I would have mounted two PCBs on top of each other to give 2x of each port or even temperature monitoring LED's.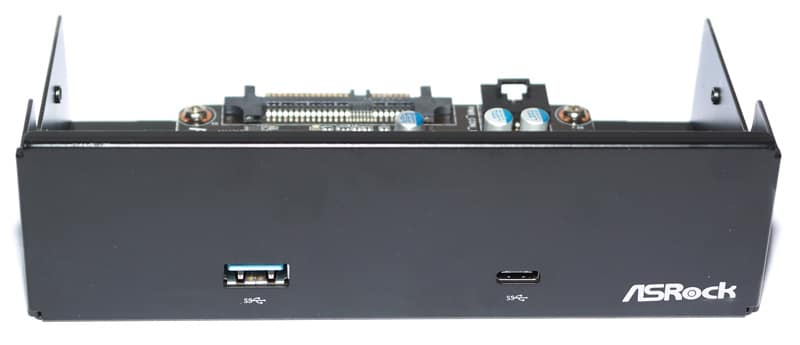 There is so much room behind the panel, maybe you could use it for cable sorting?