Assetto Corsa Competizione Gets AMD FSR, NVIDIA DLSS & TAA Gen5
---
---
---
Peter Donnell / 2 years ago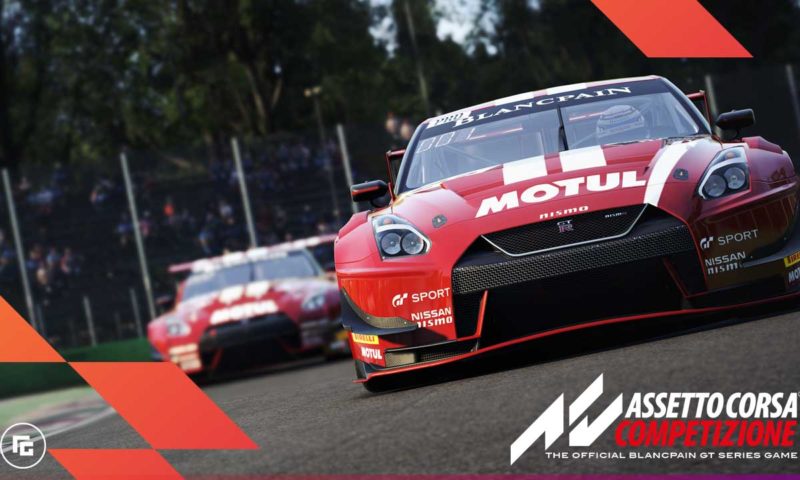 KUNOS Simulazioni has released a brand new update for Assetto Corsa Competizione. The release of Patch 1.8 updates the game to Unreal Engine version 4.26.2, and as a result, adds support for AMD FSR, NVIDIA DLSS and TAA Gen5. That's quite the tasty upgrade for fans of the game, and should bring some significant performance and visual improvements to the game for pretty much all PC gamers!
The changelog is pretty substantial too, offering a vast range of graphical improvements. Global lighting and exposure have been updated on ALL tracks. There are new visual tone mapper presets, spray effects, wet effects, rain rendering, and more are all improved.
If that wasn't enough, the physics engine has been tweaked to improve performance and accuracy, and also reduce overloading any particular CPU core in heavy load scenarios. There's also the usual suite of bug fixes and balancing that you would expect from an update like this.
What is surprising is that the game still doesn't have any ray tracing effects, which were once demonstrated back in 2019. However, while I would love that update, it's clear they've not given up on making this a prime example of a racing game. I look forward to putting in a few laps after work today.
The update is 7.86GB, so just fire up Steam and let it update asap!
GENERAL
Updated project to Unreal Engine version 4.26.2.
Added Fanatec GT World Challenge Europe 2021 season as bonus content with all entries, liveries and drivers and championship season.
NOTE: certain entries are subject to DLC ownership.
Added all-new BMW M4 GT3 as bonus content as part of the 2021 season.
NOTE: as with any major update, game menu settings (stored in menuSettings.json) will likely reset on first initialization.
IMPORTANT: reloading of Video presets will be necessary.
IMPORTANT: it is strongly suggested that custom engine.ini modifications and other third-party plugins (graphics or controllers) be removed before installing the update.
GRAPHICS
Added Nvidia Deep Learning Super Sampling (DLSS) 2.0 support for compatible GPUs (RTX 20XX series or newer).
Please check manufacturer GPU driver requirements.
Added AMD FidelityFX Super Resolution (FSR) support for all GPUs.
Please check manufacturer GPU driver requirements.
NOTE: both DLSS and FSR are selectable and functional in Triple Screen and VR rendering modes.
NOTE: DLSS is a temporal sampling method with a proprietary antialiasing solution, while FSR is a spatial upscaling method that can be used in combination with other Temporal AA solutions.
NOTE: please read the ingame help texts in the Video Options to learn more about the functionality of each method's respective sampling, antialiasing and sharpening solutions.
NOTE: DLSS implementation includes a custom DLSS dll version by Nvidia, manually updating to generic version releases might result in regression of image quality.
Added Temporal Antialising Gen5 option support.
Offers improved aliasing and clarity at a moderate performance cost. Optional over the existing TAAgen4 and KTAA implementations.
NOTE: only functional with Temporal anti-aliasing mode selected.
NOTE: FSR is incompatible with the Projection Correction view setting feature.
NOTE: it is STRONGLY suggested to remove other open-source or third-party implementations of any of the features above (such as via OpenVR etc.)!
NOTE: due to the large number of changes in rendering, it is STRONGLY suggested that custom engine.ini or third-party shader modifications be removed for this update!
Added the new rendering mode settings to save with Video Settings presets.
Fixed a limitation with Triple Screen rendering that did not allow Temporal Upsampling to be used in combination with it.
Updated global lighting and exposure on all tracks to follow Unreal Engine version changes.
Updated visual tonemapper presets to follow Unreal Engine version changes.
NOTE: the updated tonemapper settings might produce slightly more saturation and contrast than in earlier versions, adjust per taste.
Revision of various track-related shaders to follow Unreal Engine version rendering changes.
Revision of various car-related shaders to follow Unreal Engine version rendering changes.
Skybox revision to suit Unreal Engine version rendering changes.
Optimized light emitters at Nurburgring for improved performance.
Reduced bezel gap artefacting appearing along the bezel lines in Triple Screen rendering mode.
Reduced SSAO and SSR artefacting around the bezel line in Triple Screen rendering mode.
Updated TV, cinematic and free cameras to use the new Unreal Engine cameras with improved DOF effects.
NOTE: this is a global change, old cameras are deprecated.
Updated CinemaHUD to use the new and improved DOF effects.
Improved blurred wheel rim shader.
Improved car spray effect, especially in light/medium wetness situations.
Improved raindrop effect rendering logic to follow the updated spray effect.
Improved rainfall shader appearance in external cameras.
Car headlight shadow bias tweaks to prevent lights penetrating walls on close distance.
Updated track HLODs.
Added rotary switch animations, available with select cars.
Read the rest of the Changelog here.