ASUS AM4 Ryzen B350 and X370 Motherboards Price Listed
---
---
---
Ron Perillo / 4 years ago
Another day, another leak as the launch date for AMD Ryzen approaches, now more details about upcoming AM4 motherboards from ASUS have surfaced from Australian retailer EYO. Four AM4 motherboards are already up for pre-order on their website including two B350 chipset motherboards and two X370 chipset motherboards. The first is the ASUS B350M-A AM4 which appears to be a budget micro-atx board and the ASUS Prime B350-PLUS which is an ATX motherboard that costs a bit more. In case you are not familiar with the chipset segment for AMD's AM4 platform, the B350 chipset is for the mainstream segment having 2x USB 3.1 gen2 ports + 2x USB 3.1 Gen1 + 6x USB 2.0 ports by default, 2x SATA, 2x SATAe and 6-lanes of PCIe gen 2 available.
For the X370 chipset, the two listed are the ASUS Crosshair VI Hero and the ASUS Prime X370-Pro. The Crosshair series is part of ASUS' Republic of Gamers line so it carries a premium over all other motherboards in the series. The X370 chipset by default has 2x USB 3.1 Gen2 + 6x USB 3.1 Gen1 + 6x USB 2.0 ports with four SATA ports, two SATAe and 8 lanes of PCIe gen 2 available. The ASUS Crosshair VI X370 has all of the amenities expected of high-end motherboards these days including onboard RGB with RGB extensions, ESS SABRE DAC and OPAMP on the onboard audio, one m.2 SSD slot, front USB 3.1 header, 2-way SLI and 3-way Crossfire Support and built-in WiFi AC. The ASUS AM4 Prime X370 on the other hand is a bit more affordable while still having some extra features including ASUS AURA RGB lighting header, M.2 NVMe support, USB 3.1 front panel and S1220A HD Audio codec. It has eight SATA 3 6Gbs ports in total.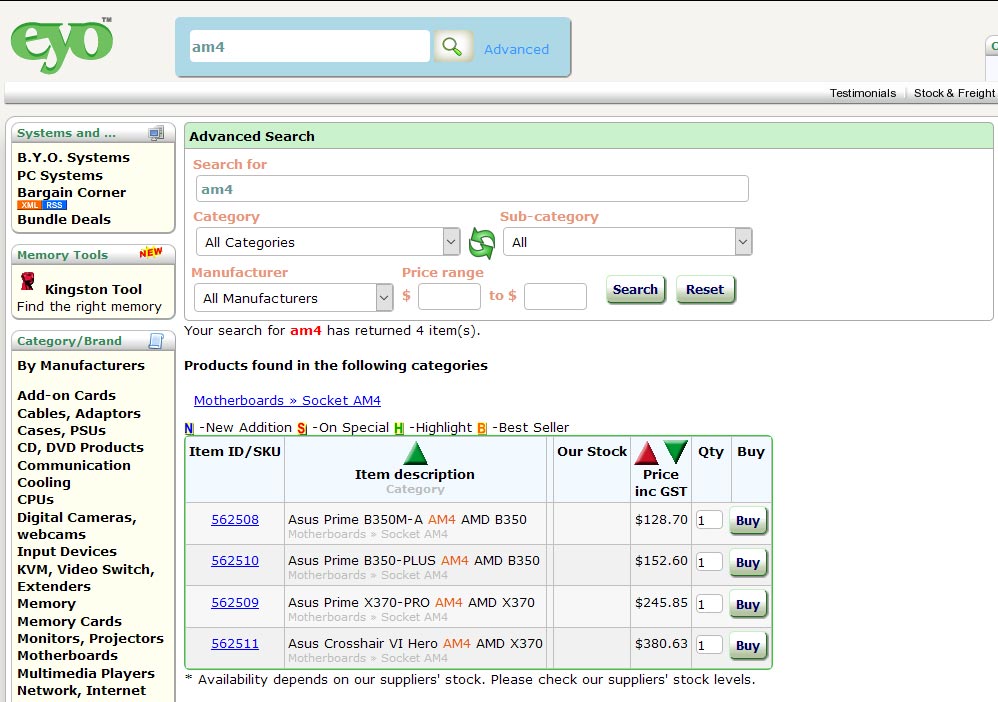 Since it is an Australian store, the prices are in Australian dollars plus the markup generally tacked on to items when exported. To convert to the US dollar value, the price must be converted then compared to how the regular stock prices are from the same store. It appears that the prices on that site have a 40% markup on regular prices after conversion, verified by looking at their current Z270 crop, so after normalization, the prices will look like:
ASUS Crosshair VI Hero = $209
ASUS Prime X370-PRO = $149
ASUS Prime B350 PLUS = $89
ASUS Prime B350M-A = $69
The result is surprisingly affordable. Hopefully these prices hold up when launch date arrives.