ASUS GeForce RTX 3070 Noctua Edition GPU Officially Announced!
---
---
---
Mike Sanders / 2 years ago
ASUS and Noctua have announced the launch of the ASUS GeForce RTX 3070 Noctua Edition: the world's first graphics card to use Noctua fans and a tailored heatsink that has been co-engineered by Noctua. Allowing for a reduction in noise levels of up to 15 dB(A), this refined cooling setup makes the Noctua Edition the quietest card in its class and the perfect choice for customers who demand serious GPU performance without sacrificing quietness of operation.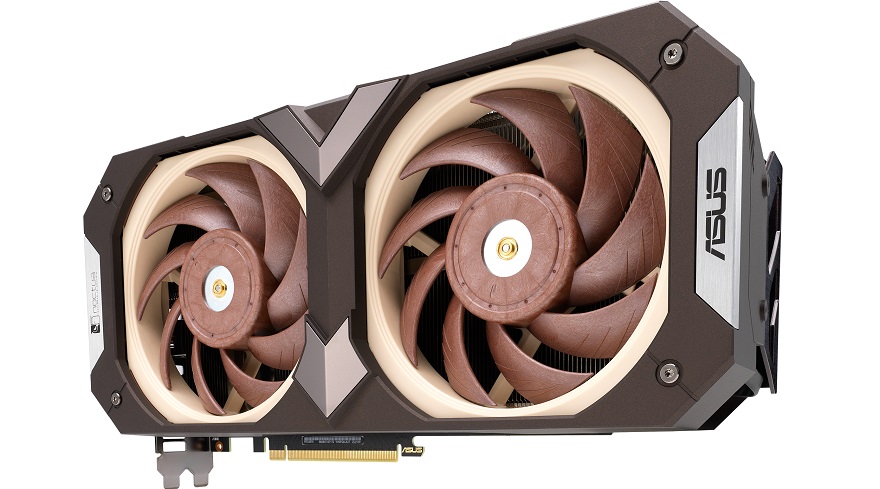 ASUS GeForce RTX 3070 Noctua Edition
Measured side by side, the improvements of the Noctua Edition are substantial with a massive reduction in noise levels of 15 dB(A) at medium fan speeds and 9 dB(A) at maximum fan speeds. When used in cases with good ventilation and at moderate ambient temperatures of 24°C or lower, the card will keep its fans at very low speeds even at 100% GPU load. In such a typical setting, the Noctua Edition achieves a reduction in noise levels of 5.7 dB(A) as compared to the standard version. Registering at only 12.6 dB(A), it is not only quiet but near inaudible. This enables customers with well-ventilated cases and moderate ambient temperatures to play games or run other GPU intensive tasks in almost complete silence.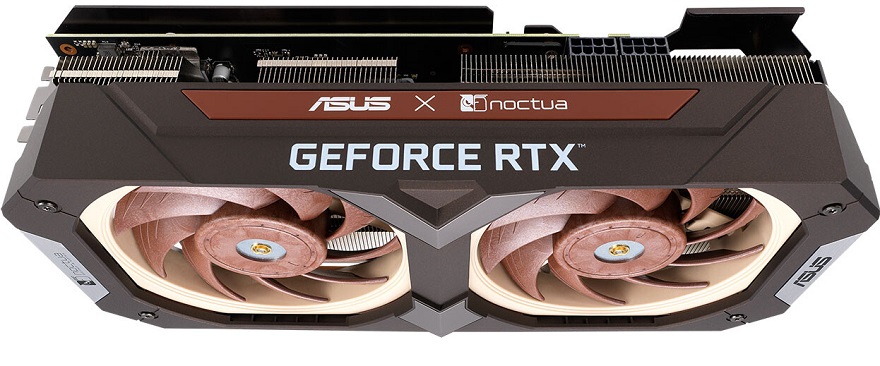 The GeForce RTX 3070 Noctua Edition features a semi-passive fan control setup (ASUS 0 dB technology) that can switch the fans off completely whenever the GPU temperature goes below 50°C. This means that in typical configurations with low to moderate ambient temperatures and well-ventilated cases, the card can run entirely fanless at lower GPU loads such as during office productivity tasks, web browsing, or even light gaming. Even at high GPU loads such as during gaming or benchmarking, the fan speeds will stay extremely low as long as the ambient temperature inside the case isn't excessive.
The combination of semi-passive functionality, extremely low noise levels even in GPU-intensive tasks, and the possibility of setting custom fan curves via ASUS' GPU Tweak software also make the ASUS GeForce RTX 3070 Noctua Edition an ideal companion for Noctua's NH-P1 passive cooler paired with the NF-A12x25 LS-PWM fan for semi-passive operation. Combining these products in a suitable case makes it easy to build a system that will run completely fanless in typical productivity tasks and only relies on ultra-quiet fans for situations when extra GPU or CPU power is required, such as gaming or video editing.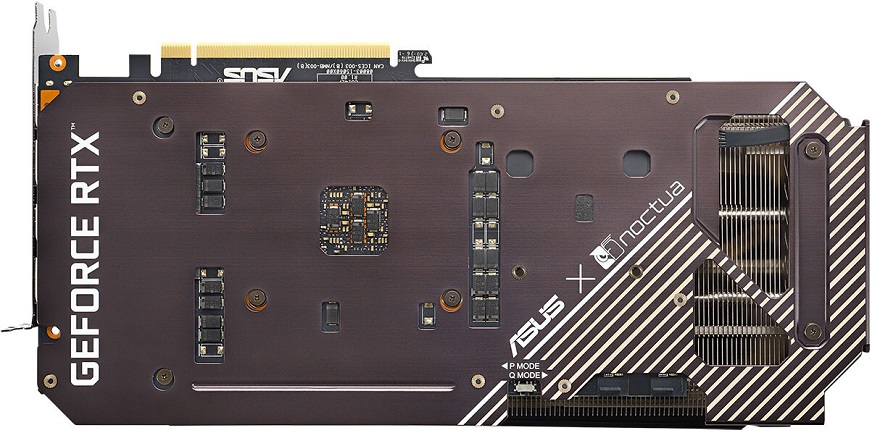 Features
NVIDIA Ampere Streaming Multiprocessors: The building blocks for the world's fastest, most efficient GPUs, the all-new Ampere SM brings 2X the FP32 throughput and improved power efficiency.
2nd Generation RT Cores: Experience 2X the throughput of 1st gen RT Cores, plus concurrent RT and shading for a whole new level of ray tracing performance.
3rd Generation Tensor Cores: Get up to 2X the throughput with structural sparsity and advanced AI algorithms such as DLSS. These cores deliver a massive boost in game performance and all-new AI capabilities.
OC mode : 1845 MHz (Boost Clock); Gaming mode : 1815 MHz (Boost Clock)
This GeForce RTX 3070 graphics card with LHR (lite hash rate) delivers 25 MH/s ETH hash rate (est.).
Two Noctua NF-A12x25 PWM fans deliver exceptional cooling and low noise.
A tailor-made heatsink takes full advantage of the airflow characteristics of Noctua fans.
Dual BIOS switch lets you toggle between Quiet and Performance BIOS profiles sans software.
0dB technology lets you enjoy light gaming in relative silence.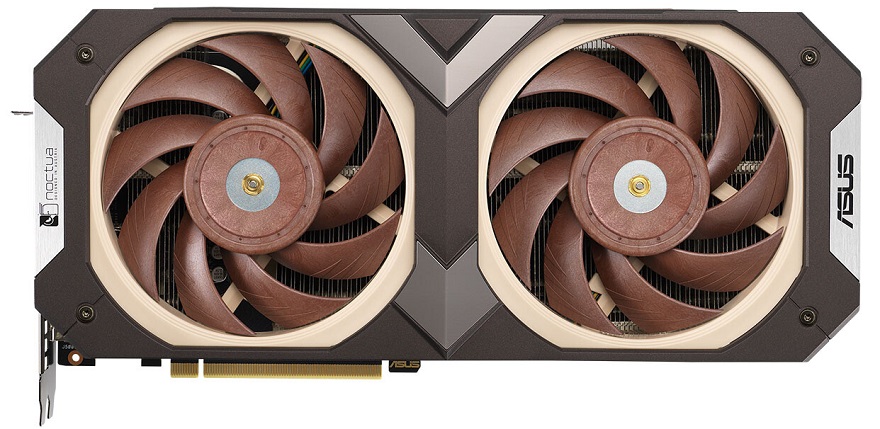 Where Can I Learn More?
Despite the official launch of this long rumoured collaborative graphics card, at the time of writing neither ASUS nor Noctua have confirmed any specific regional release dates. Nor, perhaps most pointedly, how much we can expect this to cost. – Based on the overall dimensions, however, this is definitely a bit of a fatty with it looking likely to occupy (possibly at least) 4 PCIe slots.
If you do, however, want to learn more, you can check out the official product website via the link here!
What do you think? – Let us know in the comments!