ASUS Launch its New Chromebook Vibe CX55 Flip
---
---
---
Mike Sanders / 6 months ago

ASUS has officially announced the launch of its new Chromebook Vibe CX55 Flip. A laptop engineered with a striking aesthetic and powerful components for nonstop cloud gaming with an immersive 144 Hz FHD display, accurate anti-ghosting keyboard and ultra-fast WiFi 6 technology.
The fresh, vibrant design features a dynamic, distinctive and daring look that's both stylish and durable, with exclusive colour-blocked WASD keycaps to bring flair to online play. Coupled with access to leading cloud-gaming services, including NVIDIA GeForce NOW, Xbox Cloud Gaming (Beta) and Amazon Luna, ASUS Chromebook Vibe CX55 Flip is set to energize this underserved audience—ready for all-new gaming adventures.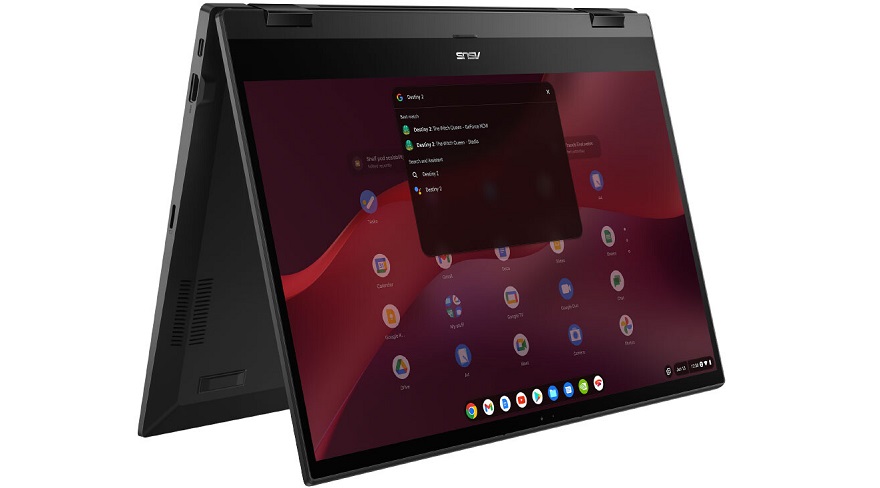 ASUS Chromebook Vibe CX55 Flip
Powering all the entertainment is up to an 11th Gen Intel Core i7 processor, 16 GB of memory and immersive Harman Kardon audio. – Support for Google Play and the Chrome web browser empowers modern cloud-native users to seamlessly stay in sync with favourite apps for productivity, communication, amusement and more, taking work and entertainment to the next level.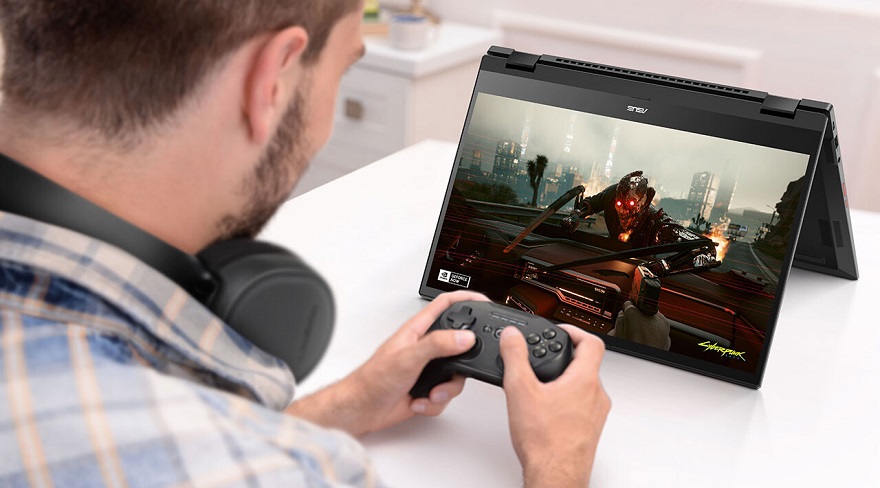 Features
Exceptional gaming experiences
Great gaming and entertainment experiences are about immersion, and that demands crisp, smooth visuals. That's why ASUS Chromebook Vibe CX55 Flip packs a 144 Hz high-refresh-rate, FHD display to deliver vivid, true-to-life imagery, without blur or lag—drawing gamers deeper into their virtual worlds. It also boasts a three-sided NanoEdge panel to maximize the display area and screen-to-body ratio, further drawing the player or viewer into the virtual world or theatre.
ASUS Chromebook Vibe CX55 Flip's stunning aesthetics continue under the lid. The striking orange colour-blocked WASD key design provides quick and intuitive gameplay in cloud-based games, with the anti-ghosting keyboard supporting fast, accurate multi-key input to create a winning edge—ensuring that crucial turn or shot is not missed. This keyboard is also full-sized and backlit, with the palm rest finished with a silky-smooth velvet-obsidian texture for added comfort during extended gaming sessions
With WiFi 6 technology, ASUS Chromebook Vibe CX55 Flip delivers exhilarating speeds of up to 2.4 Gbps, for smooth streaming of video and online games. Its high-end connectivity is bolstered by ASUS WiFi Master Premium for ChromeOS, which ensures greater speed, stability and range to stay connected anywhere.
There are also many small touches that elevate ASUS Chromebook Vibe CX55 Flip above the norm, including clear, expressive and immersive audio powered by Harman Kardon, and an HDMI 2.0 port to enable the connection of an external 4K display—ready for some seriously-detailed, next-generation cloud-gaming visuals.
Cloud gaming levelled up with perks
ASUS Chromebook Vibe CX55 Flip delivers cloud-gaming freedom with a three-month gaming-platform subscription to NVIDIA GeForce NOW's highest performance tier membership and Amazon Luna+. This perk, with a value of up to US$89.94, enables users to instantly access 1000+ games—such as Dying Light 2 Stay Human, Cyberpunk 2077, Destiny 2: The Witch Queen and more—no installs, no downloads, no hassle. And, with the Everything button, a few clicks are all that stand between the player and their favourite game.
To ensure users are able to get in the game from the outset, ASUS Chromebook Vibe CX55 Flip offers even more. NVIDIA GeForce NOW enables over 1,400 games to be streamed, including over 100 free-to-play games. A free SteelSeries Rival 3 gaming mouse with a US$49.99 value is also on offer, equipping gamers for the fun that awaits—and contributing to a total value of USD$139.93 available for consumers to claim.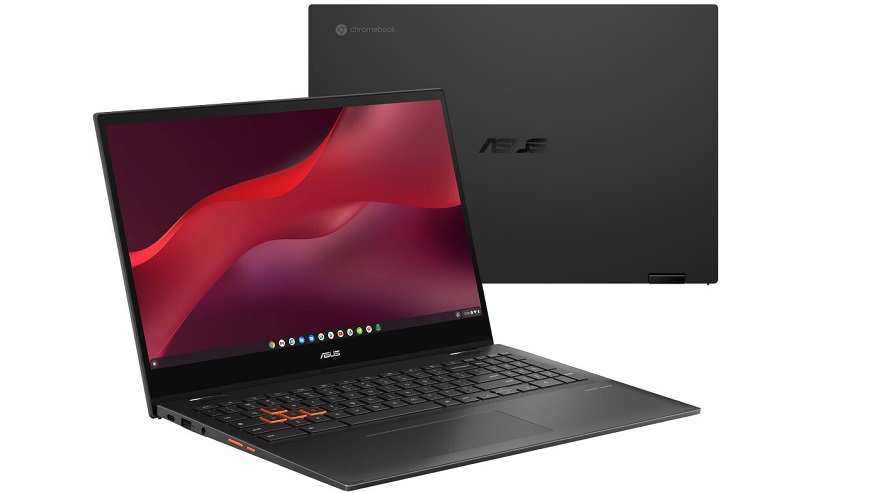 Primed for performance
Powered by up to an 11th Gen Intel Core i7 processor and 16 GB of memory, ASUS Chromebook Vibe CX55 Flip delivers performance and responsiveness to empower users with the ultimate device for productivity, lag-free gaming and smooth entertainment.
Easy access to Google Workspace and other productivity apps on Google Play, not to mention a vast library of leisure tools and games, let the user breeze through projects or kick back and relax. A fast up to 512 GB PCI Express SSD further boosts performance for both productivity and play, and provides capacious storage for apps and data.
ASUS Chromebook Vibe CX55 Flip runs for up to 10 hours on a single charge, enabling work or play throughout the day—even when on the move.
Gaming-optimized by ChromeOS
ASUS Chromebook Vibe CX55 Flip is powered by ChromeOS, the speedy, simple and secure operating system. This in turn opens the door to Google Play, the premier online for favourite apps, games, movies, TV shows, books and more. The laptop also makes this surfeit of good stuff easy to find and run, via the Everything button. Users need only tap this to search for a launch run of their favourite game. Game titles can also be pinned to the app shelf, so they're treated like any other app, primed for whenever the user wants to play.
Distinctive, daring design
ASUS Chromebook Vibe CX55 Flip redefines what a Chromebook can be, delivering the refined aesthetics of a Mineral Gray aluminium-alloy metal lid and an all-black design on the interior. Contrasting this are colour-blocked WASD keycaps cast in arresting orange to bring both focus and flair to cloud-gaming journeys.
The precision-engineered 360° ErgoLift hinge on ASUS Chromebook Vibe CX55 Flip smoothly adjusts and secures the display at any angle. The hinge also lifts and tilts the keyboard into the perfect typing position when the display is rotated into laptop mode. Additionally, this position creates extra space underneath the laptop to enhance the audio and allow more airflow to cool the underside of the chassis—just the thing for keeping the internals cooler for extended gaming sessions. The same for when ASUS Chromebook Vibe CX55 Flip is used in tent mode, handing the user the freedom to elevate the screen to the perfect angle for kick-back play or streamed entertainment.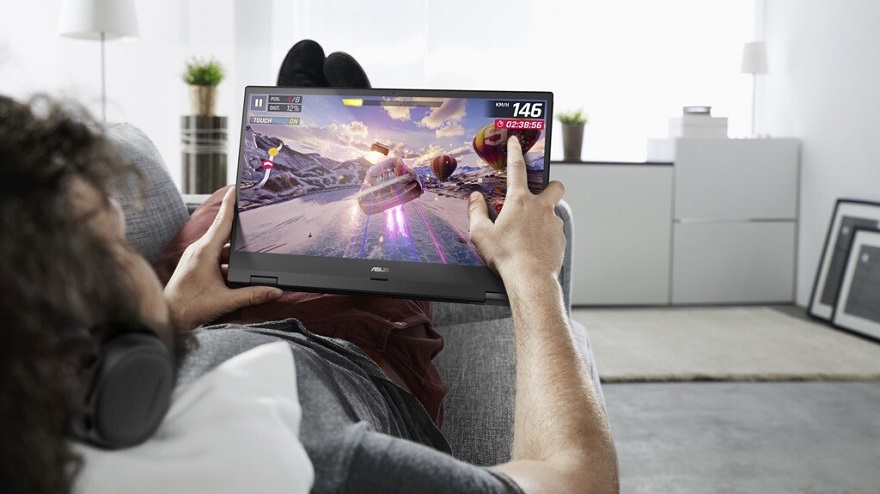 Where Can I Learn More?
At the time of writing, ASUS has yet to confirm any specific regional release dates for its Chromebook Vibe CX55 Flip nor how much we should expect it to cost when it does arrive with retailers. – If you would, however, like to learn more about this and other ASUS products, then you can check out their official website via the link here!
What do you think? – Let us know in the comments!