ASUS Launches 2023 ROF Strixx Scar and Strix G Lineup
---
---
---
James Cusworth / 1 month ago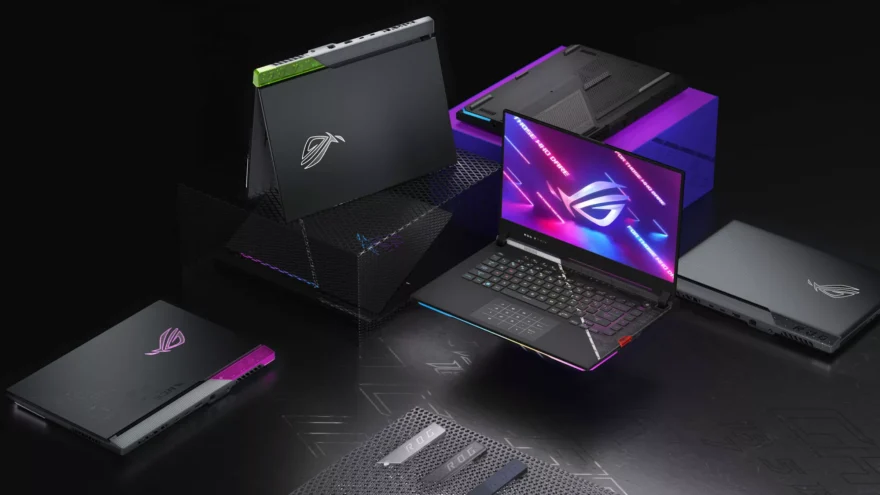 ASUS Republic of Gamers has just revealed the latest editions to their popular series of Scar and Strix laptops. The ROG Strix SCAR and Strix G lineup will be gaining several new models. The Strix Scar 16, Strix G16, and the G18 come with new designs and new internal updates, as you might expect, as do the Strix SCAR 17 and Strix G17. These hardware updates and new designs coupled with the latest ROG's Nebula and Nebula HDR displays, as well as a new and improved intelligent cooling thermal solution, these powerful laptops will let you conquer the world of esports and no doubt please most gaming enthusiasts in general.
These, of course, will be ROG's highest-performing laptops to date, the Strix series is powered with the latest chips from Intel and AMD, as well as the latest graphics hardware from Nvidia.
The SCAR 16 and 18 will have the option for up to an Intel Core i9-13980HX processor with 24-cores and 32-threads along with an NVIDIA GeForce RTX 4090 mobile GPU. A MUX Switch with NVIDIA Advanced Optimus intelligently ensures optimal framerates when plugged in, and better battery life when untethered, with no manual intervention needed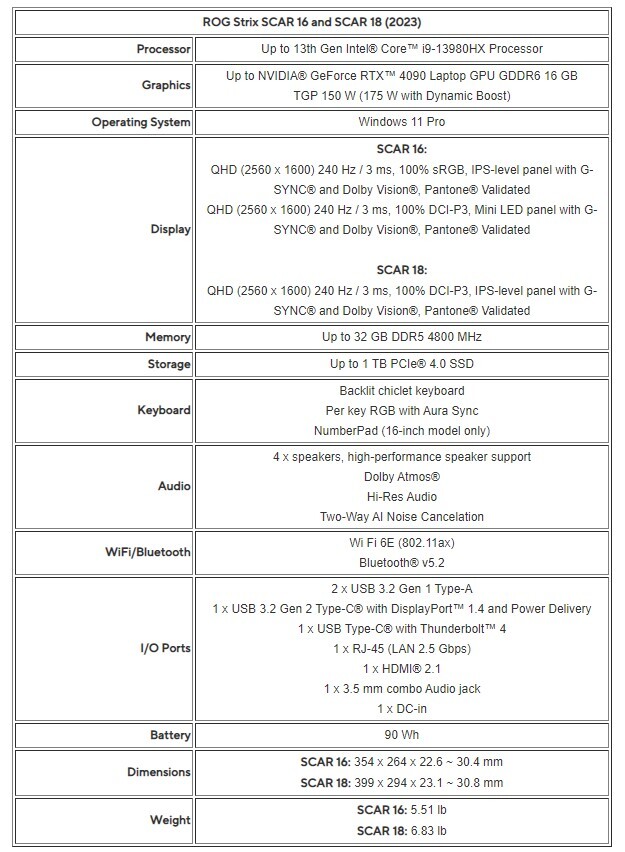 The Strix G16 and G18 are powered with up to an Intel Core i9-13980HX along with an RTX 4080, and that has the MUX switch option too.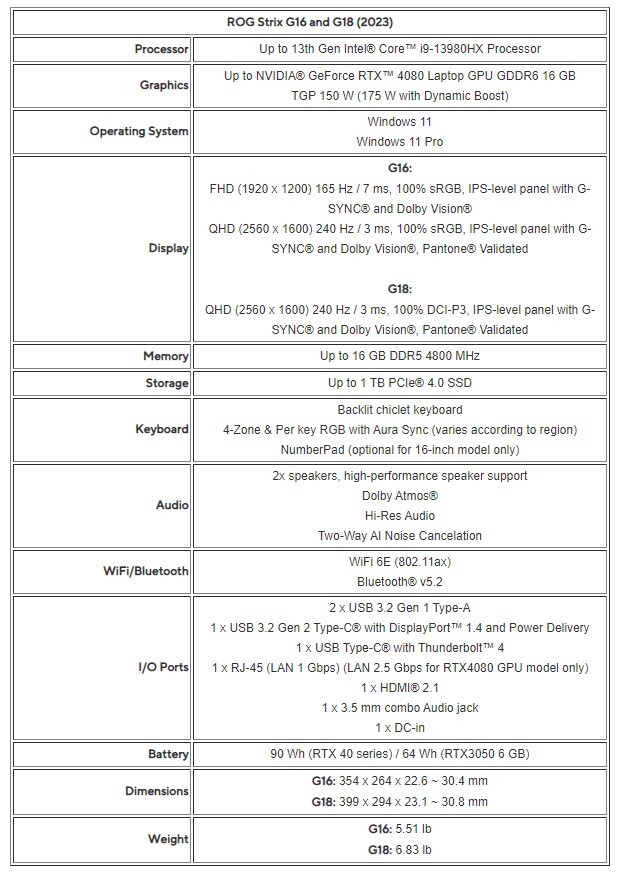 ROG is also introducing refreshed versions of the Strix SCAR 17 and Strix G17. The 2023 Strix SCAR 17 contains up to an AMD Ryzen 9 CPU, plus up to an NVIDIA GeForce RTX 40 series.
Upgraded Intelligent Cooling solutions

The redesigned 16- and 18-inch Strix laptops allow for an Intelligent Cooling suite, featuring ROG's Tri-Fan Technology first introduced on the 2022 Flow X16. In addition, we've taken the full-width heatsink from the Flow X16 and enlarged it for the 2023 Strix SCAR 16, Strix SCAR 18, Strix G16, and Strix G18. This larger heatsink increases surface area for heat dissipation by up to 92.23% compared with 2022 models, and paired with our new full-surround vents, ensures next-level airflow for the powerful components inside. Combined with Conductonaut Extreme liquid metal on both the CPU and GPU with 7 heat pipes, ROG's new solution allows for higher-than-ever TGPs for this year's next-gen CPUs and GPUs.
The 2023 Strix SCAR 17 and Strix G17 contain Conductonaut Extreme liquid metal on the CPU, while the SCAR 17 is paired with a custom vapor chamber for top-tier cooling performance.
Eye-popping displays
2023's new 16-inch and 18-inch Strix machines don't just feature larger, 16:10 panels. Every model is also available with one of ROG's groundbreaking Nebula displays, ensuring a fast, bright, vivid image that surpasses typical gaming laptops for a truly immersive experience. Nebula displays require high refresh rates with a response time of 3 ms or less, at least 500 nits of brightness, and 100% coverage of the DCI-P3 color space, so users don't have to wade through spec pages to know their display is top-notch. All 2023 ROG Strix machines are available with up to QHD 240 Hz displays.
The Strix SCAR 16, however, is also available with a beautiful Nebula HDR display—meeting those standards and more with a Mini LED panel containing 1,024 individual zones for unbelievable contrast. Combined with up to 1100 nits of peak brightness, this display provides extraordinary HDR picture quality in one of the year's most powerful gaming laptops.
Designed to win, built for victory
ROG Strix laptops were conceived for gamers that demand the absolute best in portable performance, alongside showstopping design with endless customization. Armoury Crate's performance modes allow users to pick from silent, low-powered computing to turbo-charged gaming, or tweak voltage and fans manually for a completely fine-tuned experience. Plenty of RGB lighting adorns the chassis of each Strix machine, including an all-new full-width light bar along the vents on the back of the Strix SCAR 16 and 18. With Aura Sync, users can keep their laptop's lighting coordinated with their peripherals, or even design their own complex lighting effects with Aura Creator.
Spacious keyboard layouts make for more comfortable gaming, alongside customizable hotkeys that control volume, microphone, or toggle performance modes for on-the-fly gaming. A larger glass touchpad gives more precision, and the chassis' anti-fingerprint coating ensures a clean look no matter how active a user's lifestyle. A semi-translucent keyboard deck on the Strix SCAR pulls the sporty design together, along with a new customizable Armor Cap design that allows users to flex their own style.
Availability and Pricing
ROG Strix Scar 16 starts from MSRP of $2899.99 and ranges to $3699.99. Pre-orders will be available at Amazon, ASUS Eshop, and Newegg.
ROG Strix Scar 18 is available for pre-order at MSRP $3699.99 at Best Buy and ASUS Eshop.
ROG Strix G18 starts from MSRP of $1999.99 and ranges to $2499.99. Pre-orders will be available at Best Buy.