ASUS & Noctua to Partner Again for New 3080 Graphics Card!
---
---
---
Mike Sanders / 1 year ago
In October last year, and after more than a few months of speculation, ASUS and Noctua announced the launch of their collaborative GeForce RTX 3070 graphics card. With it featuring ASUS' technology in combination with Noctua's world-renowned air cooling skills, while the aesthetics might have divided the community a little, it was still hard to deny that for a team effort, this was a very impressive and pretty unexpected GPU release.
Ever since the release of that 3070, however, news of work and direct involvement between the two companies had died down a little. Well, a lot actually! – Following a report via Videocardz though, it appears that ASUS and Noctua are coming together once more, and this time the focus of their attention is the GeForce RTX 3080!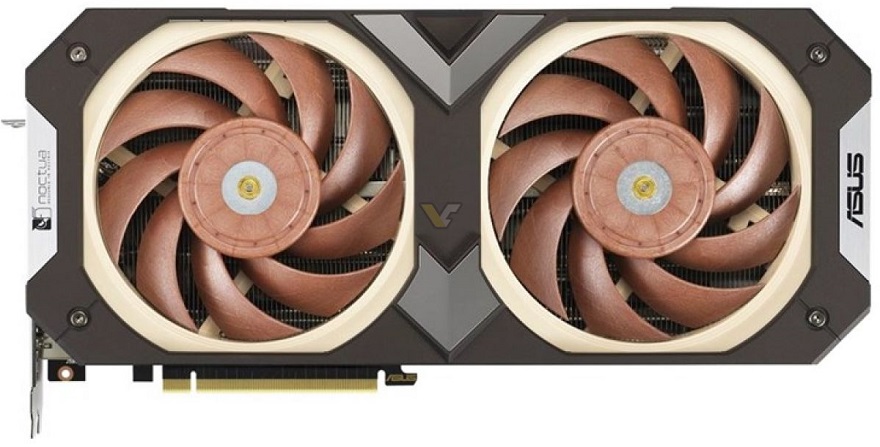 ASUS & Noctua GeForce RTX 3080
Getting one elephant out of the room pretty quickly, based on the images which have leaked online, aesthetically speaking, the cooler featured on this ASUS 3080 does appear to be the exact same Noctua design utilised on the prior 3070. So, in other words, in terms of eye candy, it doesn't look like we're going to get much, if anything, new to visually separate the two models.
Taking this a step further, however, and in something that's even more mildly confusing, it does appear that this fresh collaborative effort is going to utilise the older (and original) 10GB version of the Nvidia 3080. And if you don't know why this is a bit weird, earlier this year Nvidia revised the model to 12GB and effectively discontinued the original.
Price & Availability
Although it is not yet confirmed exactly when the new ASUS RTX 3080 10GB Noctua will hit retailers (online or otherwise), it's understood that this new model will come with an MSRP of something in the region of €1,150. – So no, not cheap, but given that this is circa €250 more expensive than the original 3070, it has at least maintained a level of some consistency.
Albeit, given the huge interest this new Nvidia 3080 is undoubtedly going to have, all we can say is good luck finding one!
What do you think? – Let us know in the comments!