ASUS PSU Figures Recommend a Minimum of 750W/850W Output for Radeon 7900 GPUs
---
---
---
Mike Sanders / 3 months ago

With AMD's Radeon 7900 series of graphics cards set for release on December 13th, based on the official figures provided by Team Red during their unveiling, it seems pretty clear that in terms of power consumption, Team Red's GPUs should be notably more benign than Nvidia's current offerings. – With that being said, however, this did clearly still raise the question as to what kind of wattage output consumers should be looking towards from their power supply.
Well, following a report via Videocardz, ASUS has given us the answer and the short version is that for a 7900 XT, they recommend a minimum of 750 watts, and for the 7900 XTX, 850W.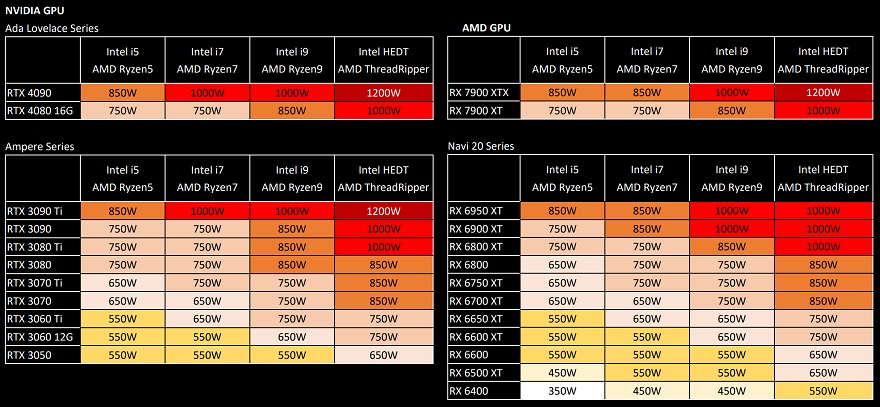 ASUS Lists Recommended PSU Wattage Outputs for Radeon 7900
Giving credit to ASUS, the list they have provided (above) is impressively comprehensive and clearly indicates what consumers should be looking towards presuming they are considering going for a 7900 XT or 7900 XTX as their next upgrade. And this isn't just limited to the graphics cards themselves, but also overall consumption in partnership with the CPU.
Put simply though, it seems that if you have a top-end processor, you should be looking towards the remits of a 1000W PSU to go with the Radeon 7900 series, and for more mid-tier models (such as the Ryzen 7600X/i5-13400) a more ideal minimum of around 750, or better still, 850 watts.
I won't deny though that it is interesting to basically see both the AMD and Intel figures effectively mirror each other. Then again, following the release of the 4080, it's already been found that many models have hit the market with a notably lower TGP than the stated maximum from Nvidia. – Overall though, it does seem to hammer home the point that, at least according to ASUS, 750 watts is really the new starting point for power supplies moving forward.
What do you think? – Let us know in the comments!