Asus ROG G751JY-T7051H Gaming Notebook Review
---
---
---
Colin Chambers / 9 years ago
Introduction
---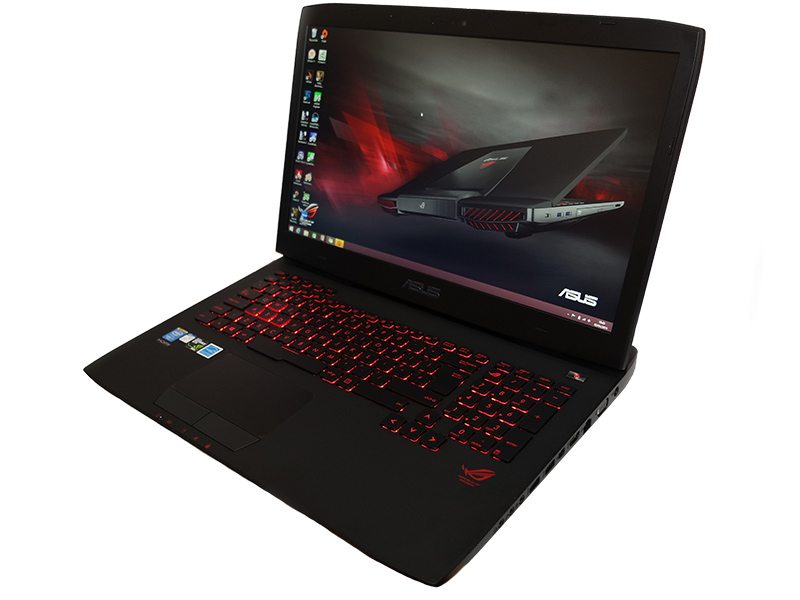 With every incarnation of Next-Gen mobile GPU releases there is always a high-end selection from each major manufacturer vying for the title of "World's Fastest Laptop", "Ultimate Portable Gaming Notebook" or similar, and Asus is no stranger for aiming for this accolade. Their Republic Of Gamers (or "ROG" as more commonly known) series is specifically designed towards this area, and has put out regular revisions of its G-Series laptops since the launch of the G70 in 2008. Fast forward to 2014 and we have the G751 series, aimed the highest point in the market in terms of price and performance, using the latest Intel Haswell CPU and the Nvidia GTX 980m GPU based on the new Maxwell architecture.
There was a point in time where most manufacturers could get away with purchasing the latest Clevo OEM motherboard and cramming it with the latest hardware and then shipping it out – though Asus was one of the few at the time to take thermals into account and actually create a custom cooling solution that helped gamers get the most out of their the high-end hardware. Add some aggressive looking "Stealth Fighter" design choices and you have the ROG series in a nutshell.
As an owner of gaming laptops over the years including the Asus G73 back in the day, I have high hopes going into this review that Asus have delivered a monster of a machine capable of gaming till my eyes go square. After briefly looking over the hardware specifications I am looking forward to pushing the G751 to its limits, while hopefully being met with a tremendous gaming experience that will keep me glued to my seat over the New Year. As a laptop pushing the £2000 boundary, this represents a significant investment and therefore we have high expectations going into this review.
Specifications
Name: Asus G751JY-T7051H
CPU: Intel Core i7-4860HQ @ 2.4GHz (up to 3.4GHz Turboboost)
RAM: 32GB 1600MHz DDR3 1.35w (8GB*4)
SSD: 512GB PCIE SSD
HDD: 1TB 7200RPM
GPU:NVIDIA GeForce GTX 980M 4GB
LAN:10/100/1000/Gigabits Base T
WLAN: Integrated 802.11a/b/g/n/ac Built-in Bluetooth™ V4.0
Monitor: 3″1920 x 1080 Anti-glare LED backlit
Keyboard: Chiclet Red blacklit Asus ROG branded
I/O: 4x USB3.0, 1x HDMI, 1x VGA, 1x Thunderbolt, SD Reader, Mic-in, Headphone-out, line-in, line-out, 1x 1Gb LAN, FHD Webcam
ODD: BD-RW (6x)
Battery: 8-Cell 6000mAh 88w/h
OS: Windows 8.1
Dimensions: 41.6 x 31.8 x 5.3 cm
Weight: 8kg with battery (10.6lb)
Warranty: 2 year Global Warranty, can be extended to 3 for an extra £65
Price: £1999.99 Inc VAT
Packaging & Accessories
The notebook box provides a decent amount of protection to the laptop inside, and both the machine itself and accessories have an extra layer of protection in that they are inside in thin foam bags. Having said that though for a laptop of this value, it would have been nice if it had been shipped inside a padded box for extra protection, in the same way the PC Specialist Cosmos 2 was packed.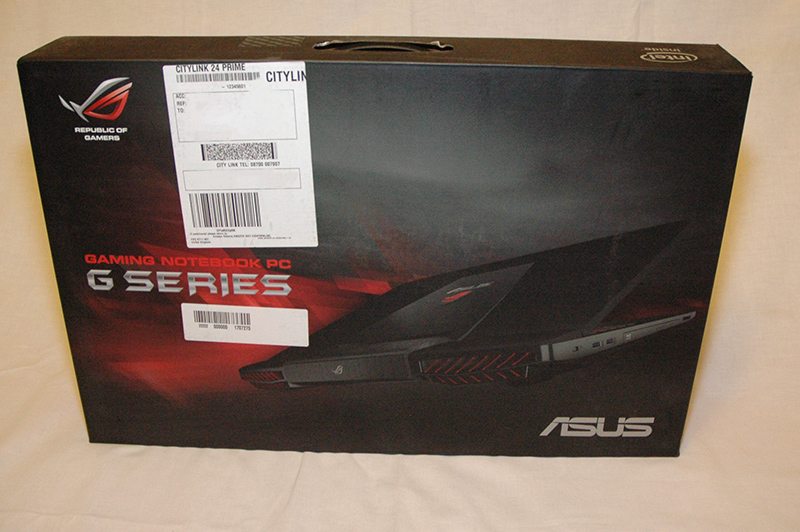 The box is well designed, with carry handle and angled sides reminiscent of the laptop's aggressively edged design. Upon lifting the lid of the box you are greeted with the line "In Search of Incredible" on the inner lid, and the system itself wrapped inside its afore-mentioned sleeve. The power supply is located in a compartment to the right of the system, and the accessories are stored in a compartment that is revealed under the laptop once it has been lifted from the box.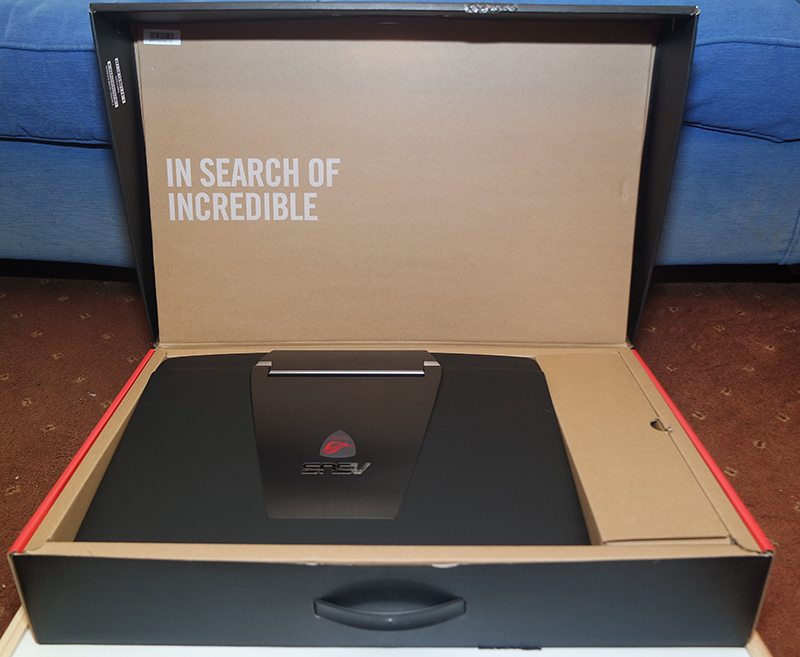 Included is a power supply, UK 3 pin plug with kettle connection to the power supply, an Asus branded cable tidy wrap, manual, quick start guide, warranty card and cleaning cloth.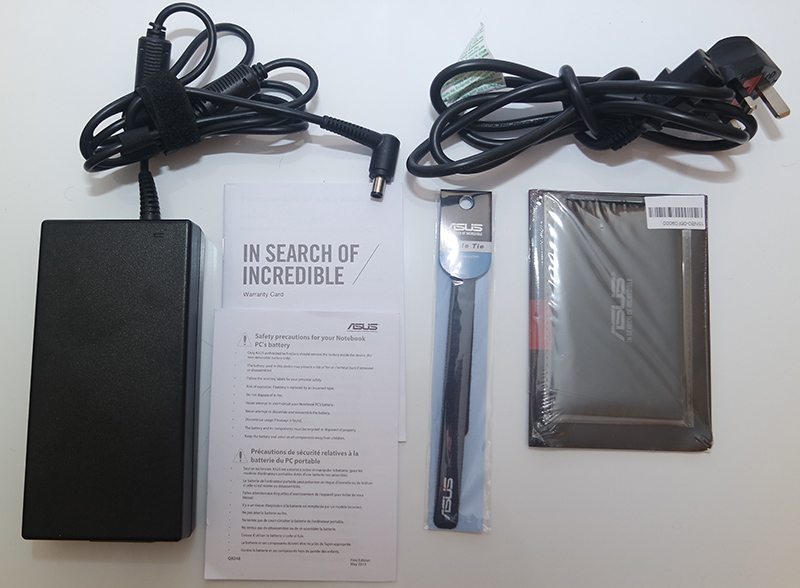 CPU-Z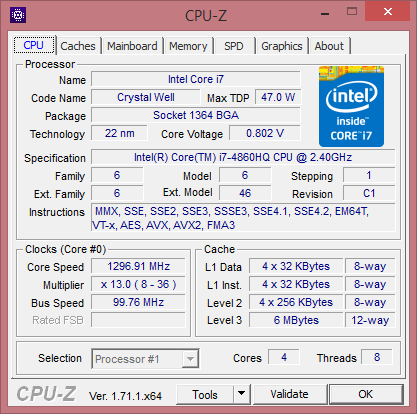 GPU-Z