ASUS ROG MAXIMUS XIII EXTREME Motherboard Review
---
---
---
Ben Enos / 2 weeks ago
A Closer Look
Not only is this the most expensive Z590 board we have reviewed, but it is also the only EATX board we have seen. Big, heavy, massive are not enough to describe this beast, we need a whole new word that has yet to be said! However, as they say in America, go big or go home and ASUS definitely aren't going home! Packed with more features than one could imagine, it is now time to take a closer look at all the MAXIMUS XIII EXTREME has to offer.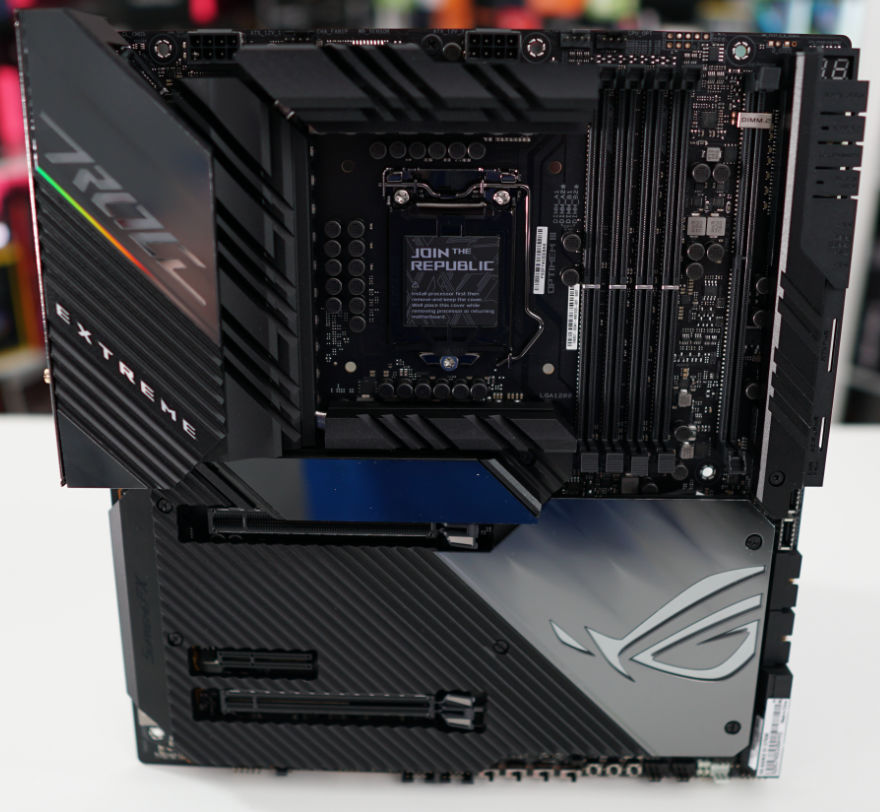 ASUS really had no choice but to go with dual 8-pin EPS power connectors on this board! Personally, I can imagine them wanting to add a third but it just not being feasible. Notice how they are also spaced apart rather than right next to each other as per normal. In between them, we have a single chassis fan header and a WB_SENSOR. This sensor is for water blocks and will allow you to monitor leak detection, flow rate & temperatures. This is just the start of some of the EXTREME features we are going to find on this board.

Moving along, we have a pair of CPU fan headers and we can see about half of the DeBug LED output.

As for RAM, we have 4 DIMM slots that in total can handle up to 128GB DDR4 RAM up to 5,333MHz in OC mode. Now, this is the same across most Z590 boards we have seen and will be due to CPU and RAM limitations.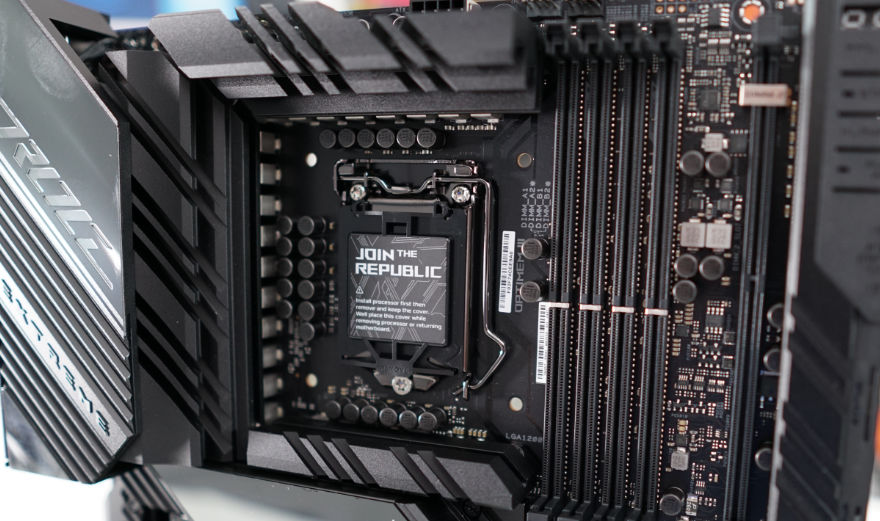 Here is where things get interesting, again! The DIMM.2 slot is similar to a RAM slot except it is designed for M.2 SSDs. ASUS has included an adapter for this slot that can house two M.2 drives on it then you simply slot it into the DIMM.2 slot, allowing for a total of FIVE M.2 drives on the MAXIMUS XIII EXTREME.
DIMM.2_1 slot (Key M) via ROG DIMM.2, type 2242/2260/2280/22110 (supports PCIe 3.0 x4 & SATA modes)
DIMM.2_2 slot (Key M) via ROG DIMM.2, type 2242/2260/2280/22110 (supports PCIe 3.0 x4 mode)*
* DIMM.2_2 shares bandwidth with SATA6G_34 and DIMM.2_2 is default set at x2 mode.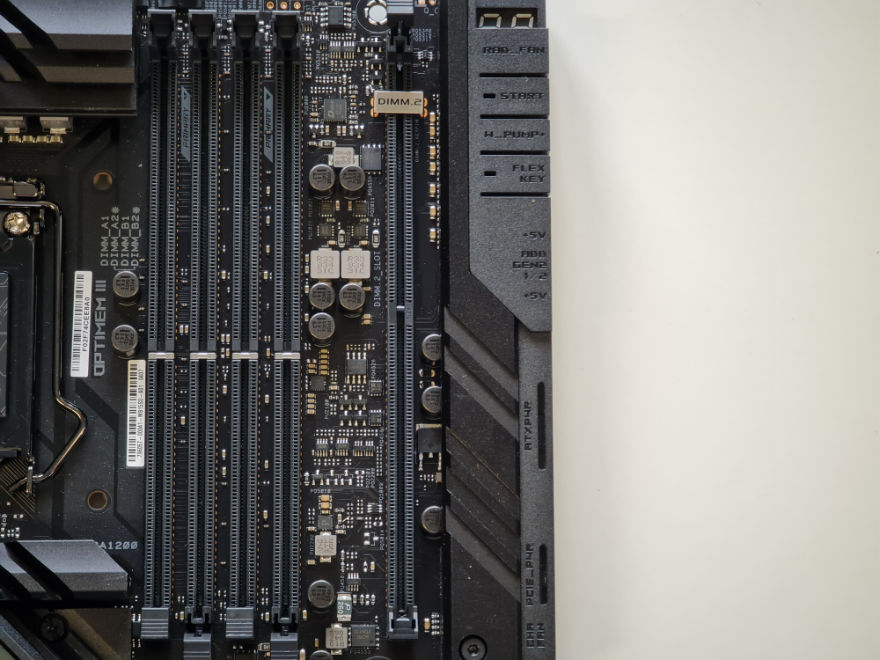 Again, ASUS going beast mode with 18+2 teamed power stages, each of which is rated at 100 Amps. This is absolutely nuts and is going to allow you to push these board and whatever CPU you want to its limits, even when doing some LN2 benching!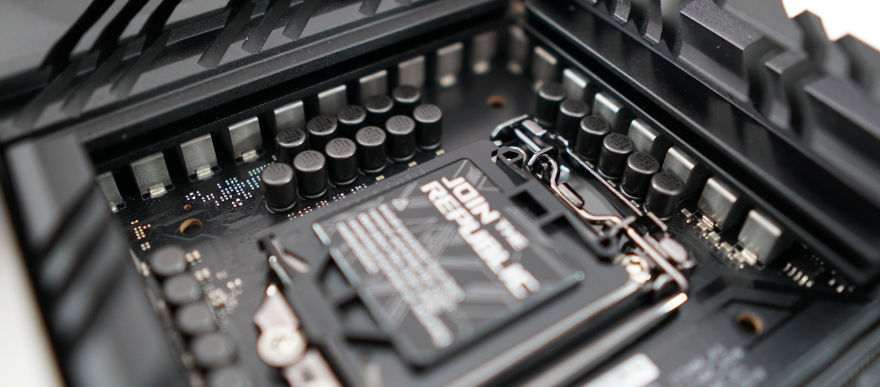 Continuing with the whole EXTREME theme and ASUS have added a couple of buttons next to the DIMM.2 slot. One will allow you to turn the motherboard without the need for connecting a standard power button. The FLEX KEY button is going to allow you to easily reboot your system. You can also customize the FLEX key to do things like boot into safe mode or turn the AURA lighting on or off.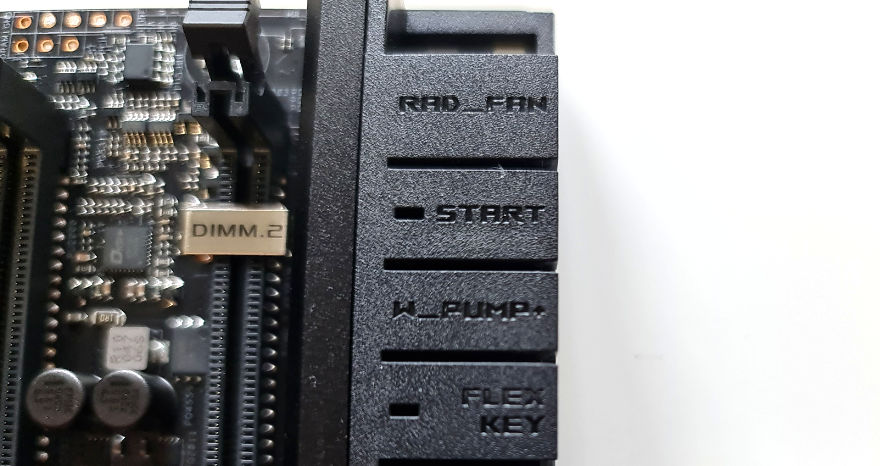 Just below the FLEX KEY is a useful couple of +5V engravings that are to let you know that to the side of them are a pair of 5v aRGB connectors as you will see in the image below.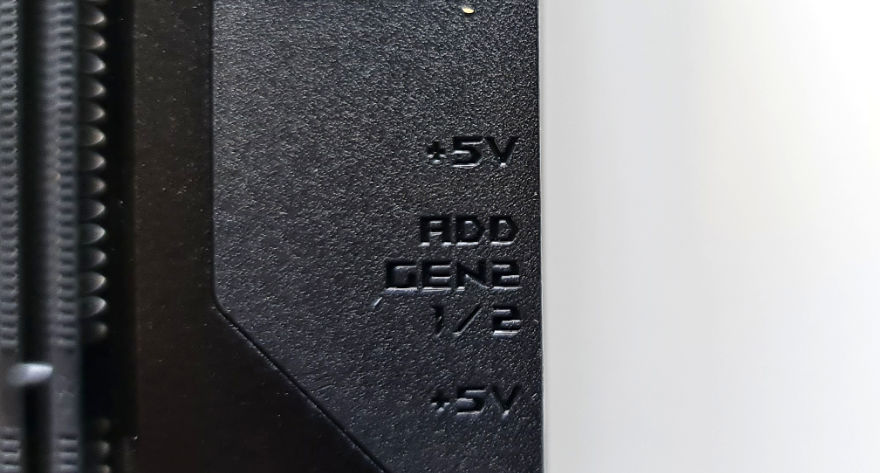 ASUS has decided to leave no space on the MAXIMUS XIII EXTREME and as such, we have ports and connectors all the way down the right side of the motherboard. Starting from what would be the top and working our way down we have a pair of PWM Fan connectors for a RAD or PUMP, a pair of 5V aRGB headers, 24-pin power connector and an additional 6-pin PCIe power connector and another PWM fan header, this time for a chassis fan.
Working or way down we have a pair of USB 3.2 Gen2x2 ports and a pair of USB 3.2 Gen 1 ports as well as six SATA 6GB/s ports.

The bottom half of the board has a massive cover across it, covering everything except for the PCIe slots and the very bottom of the board. Removing this cover will grant you access to three of the M.2 drives. All three of these M.2 slots are PCIe 4.0 capable when using an 11th Gen CPU. The bottom two slots support PCIe 3 M.2 drives as well while the top slot is only PCIe 4.0. Looking to use a SATA based M.2 and you will have to use that lovely DIMM.2 expansion card!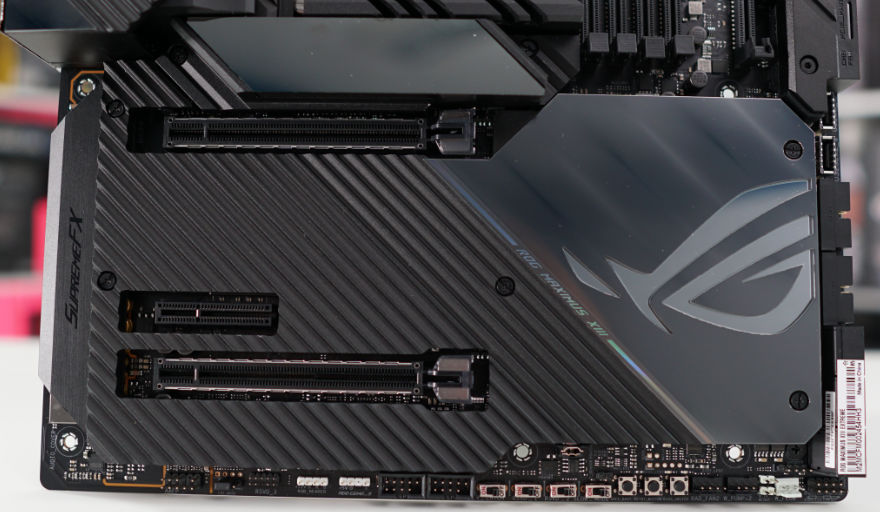 To the right of the M.2 slots is the info on which slot is which. You would think it would go 1/2/3 from top to bottom but nope, it goes 3/1/2. Guess ASUS has been taking counting lessons from Microsoft lately.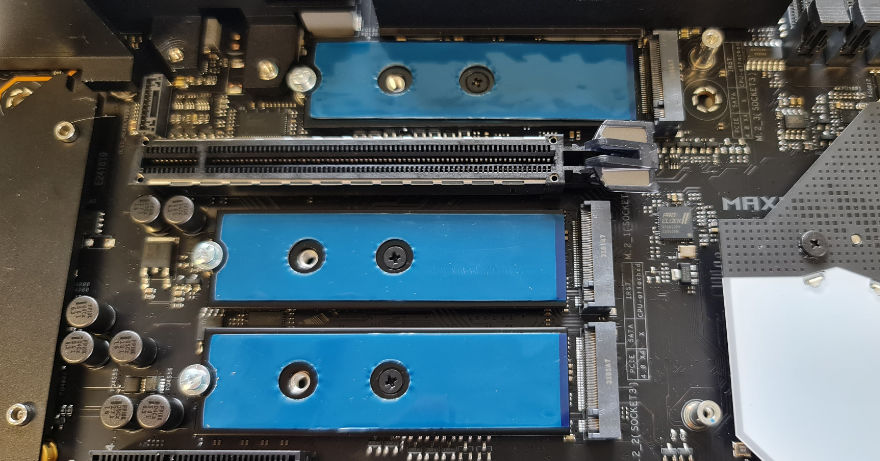 If you thought the side of the board had a lot of stuff going on, wait until you see this! It's amazing to see that ASUS crammed so much stuff on the MAXIMUS XIII EXTREME. We have our audio header, LN2 mode jumper, 12v and 5v RGB connectors, a pair of USB 2.0 headers, V_Latch/RSVD/slow Mode switches all of which I don't recommend playing with unless you know exactly what they do as they could mess things up. Next up we have safe boot/retry/BIOS switch buttons all of which will come in handy for enthusiasts and professional overclocker, a W flow port for flow indicators, a speaker header and our front panel connectors. A lot of these headers wouldn't be of any use to normal everyday users, hence why most boards don't have them!


Onto the rear IO and again, we have so many ports it's crazy! Dual LAN ports, 10x USB 2.0 and 2x USB-C ports and much more! We also have our handy dandy BIOS flashback button and a clear CMOS button!
2 x Thunderbolt™ 4 USB Type-C® port(s)
8 x USB 3.2 Gen 2 port(s) (8 x Type-A)
1 x HDMI™ port
1 x ASUS Wi-Fi Module
1 x Marvell® AQtion AQC113CS 10Gb Ethernet
1 x Intel® I225-V 2.5Gb Ethernet
5 x LED-illuminated audio jacks
1 x Optical S/PDIF out port
1 x BIOS FlashBack™ button
1 x Clear CMOS butto

For additional support, ASUS have covered 3/4s of the back in an armour shielding!