ASUS ROG MAXIMUS Z690 EXTREME Motherboard Preview
---
---
---
Peter Donnell / 7 months ago
Motherboard Overview
The first thing I noticed about this motherboard is its weight and size. It's a freaking monster. There's just so much raw material in its design, from enormous heatsinks on the front and back, armour plating on much of it, thicker PCB designs, and a lot more copper in the traces. That's not a bad thing though, as it means that the durability and cooling performance for all the components should be excellent.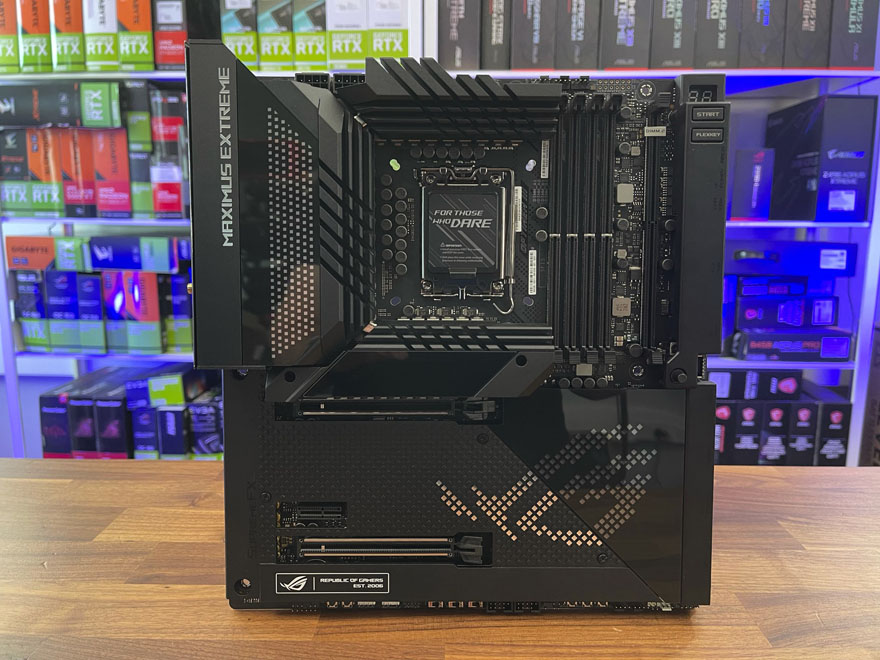 The EXTREME houses a pretty drastic VRM design, with 24 105A teamed power stages, which is pretty nuts. However, if you're pushing extreme overclocks for maximum performance or even to set a world record, this will likely be one of the best motherboards to do it. Of course, just look at the size of those heatsinks too, surrounding the CPU on three sides, with a huge heatpipe linking them to ensure an even thermal load.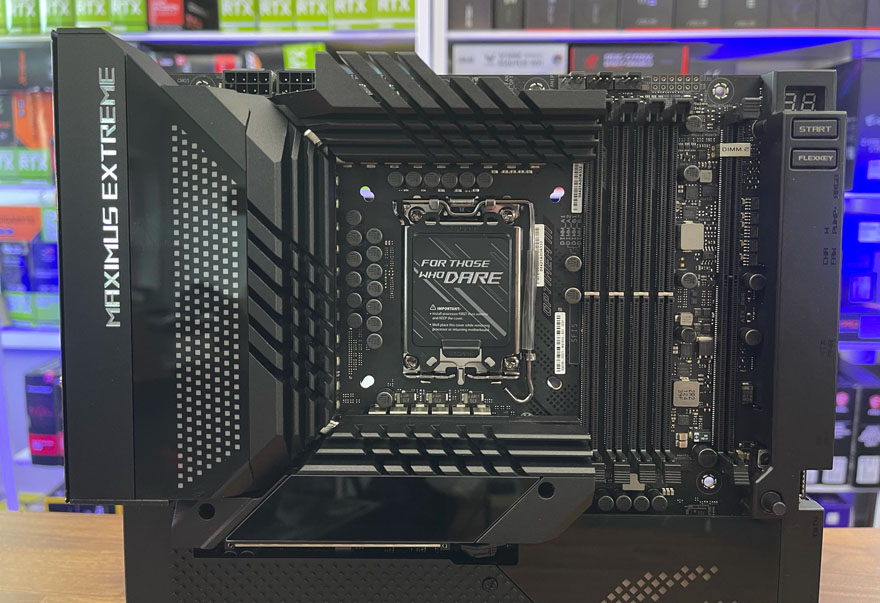 The board is decked out with 10K Black Metallic Capacitors, as well as MicroFine Alloy Chokes, which are great for performance, but it all looks pretty cool too.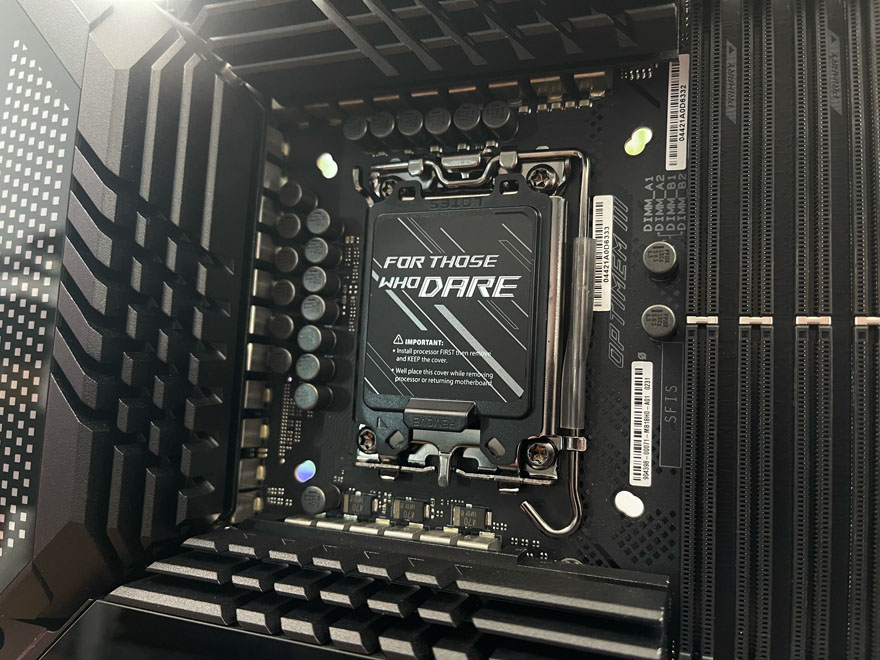 There are two 8-pin PSU headers, both reinforced and shielded, with extra thick traces to ensure great power delivery too.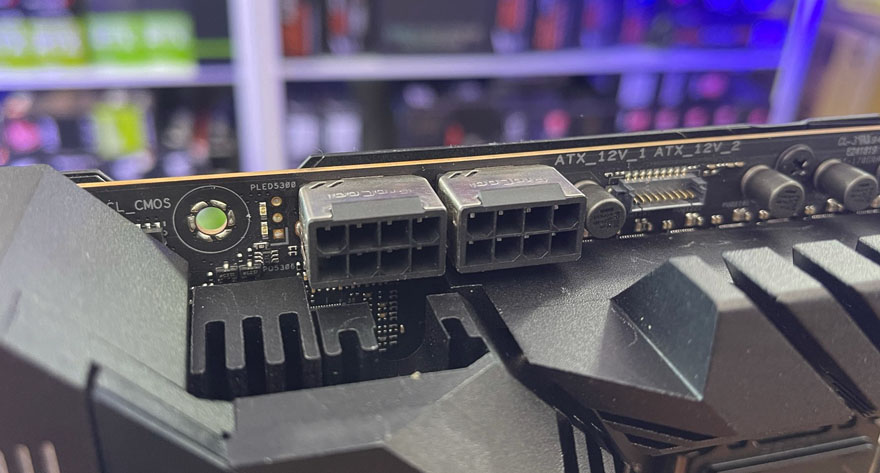 There are four DDR5 DIMMS on this board, with some reinforcements to prevent any flex in the board (the armour on the back will really do most of the work). Plus, there's that DIMM.2 slot, which can use the included expansion card for additional storage.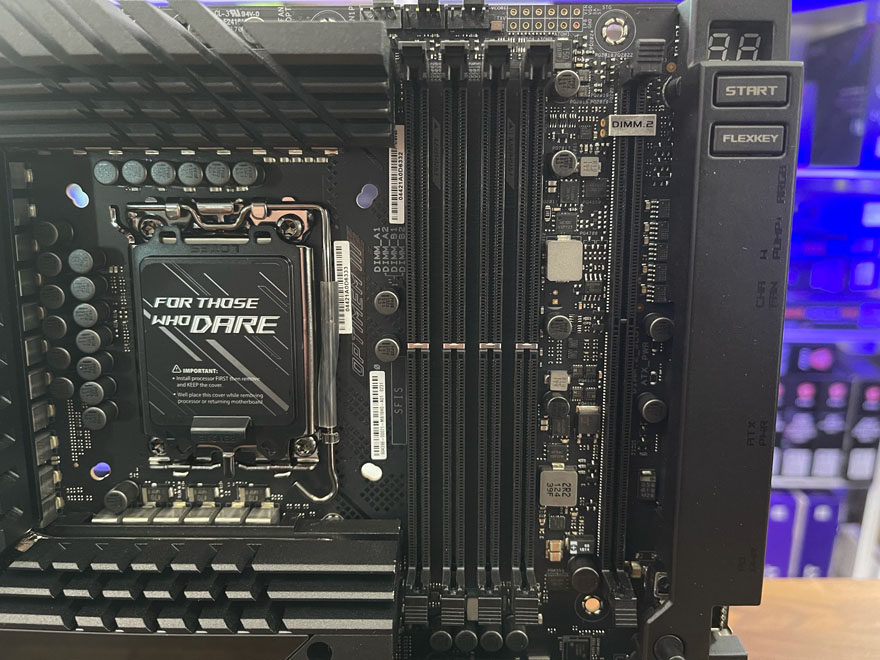 What I do love, however, is the BIOS LED in the corner, as well as START and FLEXKEY. Rather than just a reset button, FLEXKEY is fully programmable, making it a vital button for overclocking and those who love to tinker with more advanced BIOS settings.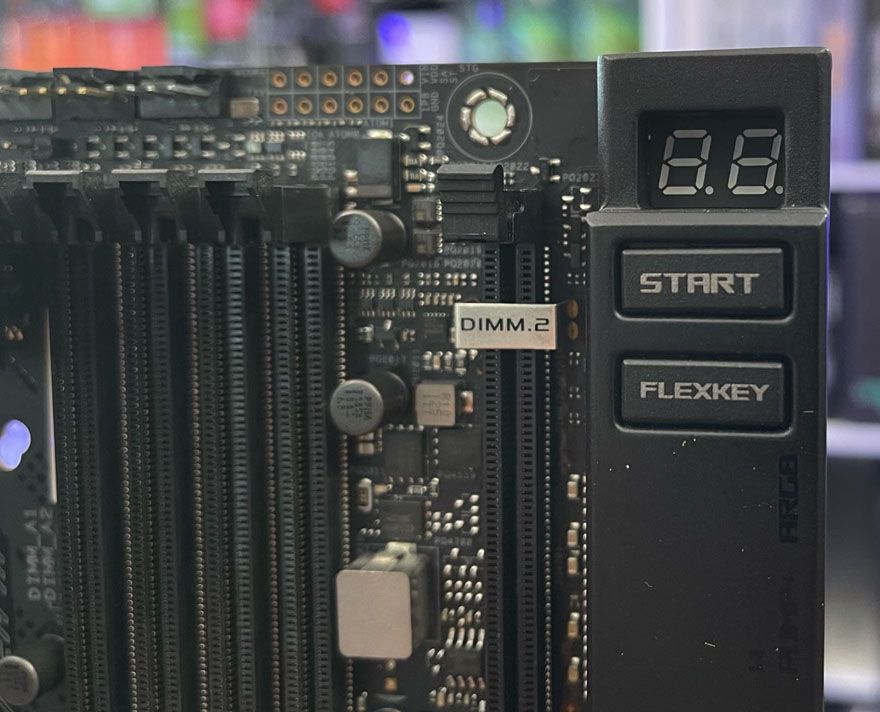 The lower section of the board looks stunning, with that huge slab of armour providing impressive cooling and protection for the chipset and a few of the M.2 mounts. There are two PCIe 5.0 lanes on this board, which isn't that common on the Z690 hardware, and there's obviously PCIe 5 devices yet, but they'll be coming soon enough, and you'll be ready! There's also a 1x PCI 3.0 slot too, should you ever need it. That ASUS eye logo looks stunning too, but it's actually all RGB lit, which you shall see in just a moment.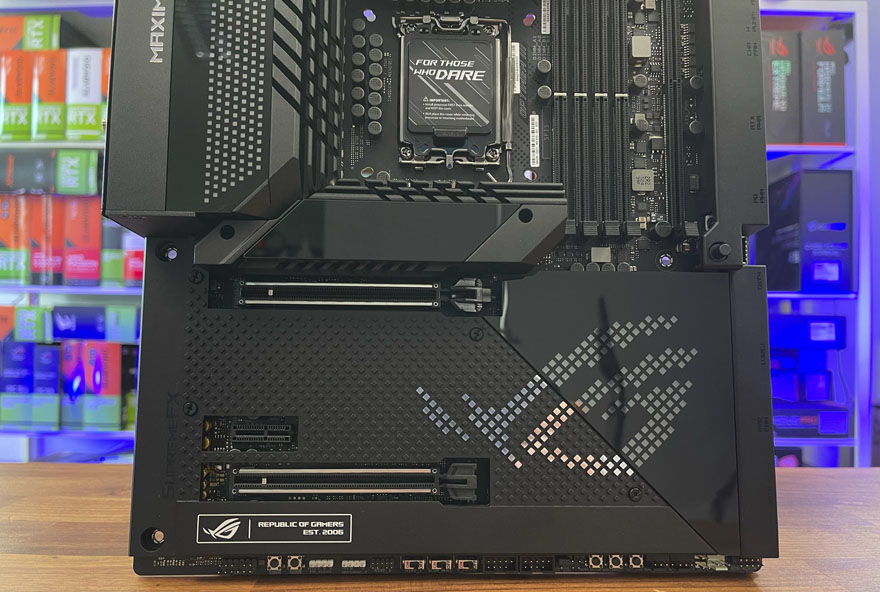 All the main power connectors are at 90-degrees, which should make for a cleaner looking setup overall. However, there's an additional 6-pin header here, which I think is for the front panel USB ports, allowing them to charge at up to 60W.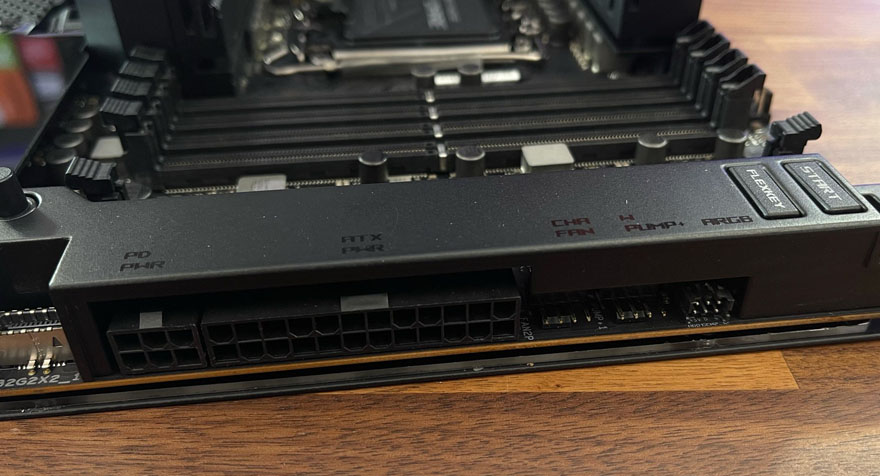 The rear I/O wastes little space, with two high-performance LAN ports, as well as the latest WiFi 6 hardware. There's some flush mounted gold-plated audio jacks, as well as SPDIF taking care of all your audio needs too. However, it's the USB setup that really gets my attention, it's all USB 3.2 Gen 2, so no compromises on speed anywhere! However, you also get two Thunderbolt 4 ports and a Type-C. Basically, any ultra-fast networking or external storage devices can really reach their potential on this motherboard.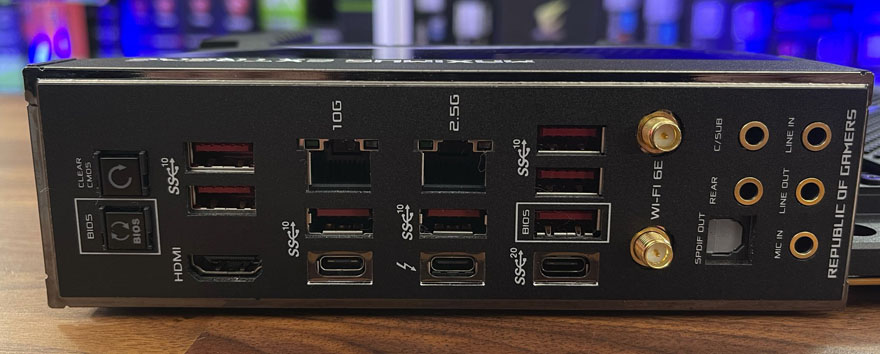 As I said before, this is a very heavy motherboard, and while a lot of that is from the heatsinks on the front, there's actually quite a lot of metal on the rear too. This is needed, as if they bolted those heatsinks direct to the PCB, it would likely just break in two. They use this to basically clamp the motherboard in between two heatsinks, making it strong and cooler, and heavier.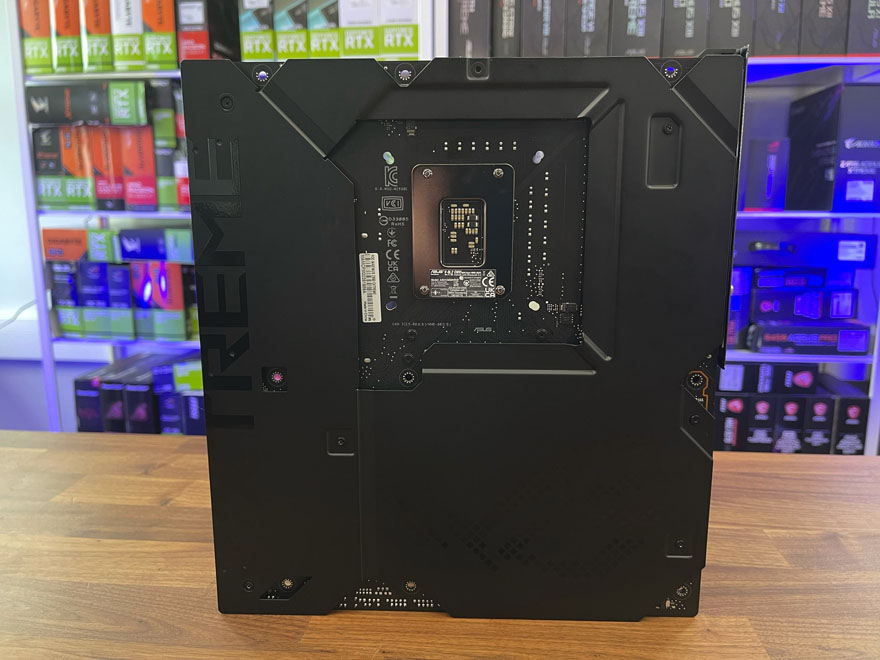 As for the RGB, well, that's just as XTREME as everything else on this motherboard. The main M.2 heatsink has a freaking OLED display built into it. The LiveDash is now a 2″ screen, making it easier to read than the last-gen. It can be customised with images and animations, show you cooling performance, and much more.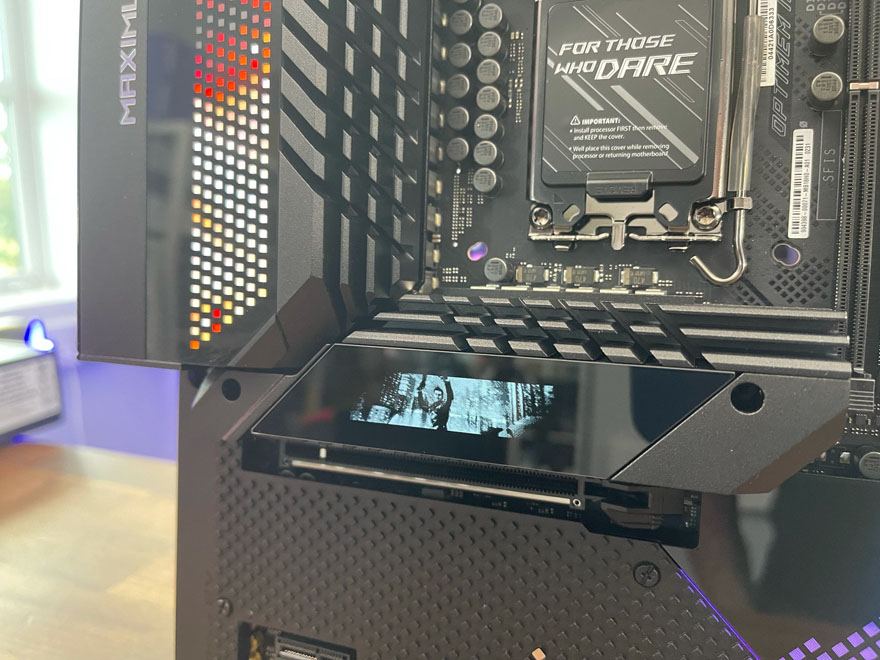 As if that's not cool enough, there's the AniMe Matrix Display, comprised of 222 LEDs that can run through a load of pre-made animations, custom images, animations, audio visualisations and much more.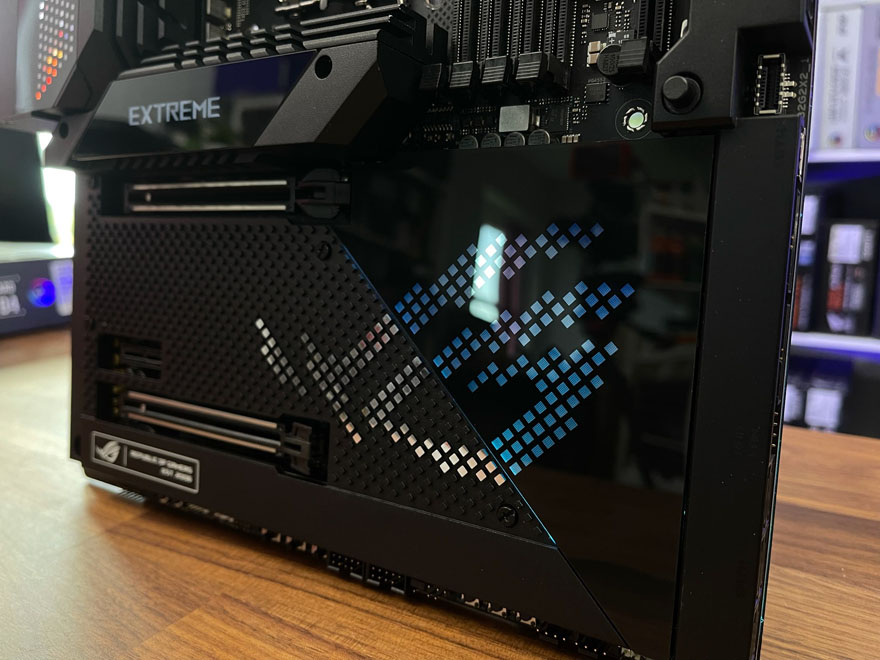 Overall, this motherboard takes everything to the next level, and honestly, I can't wait to show you the performance too, but that'll have to wait for another day.