ASUS ROG Rapture (GT-AC5300) Enthusiast Router Review
---
---
---
Bohs Hansen / 5 years ago
Introduction
---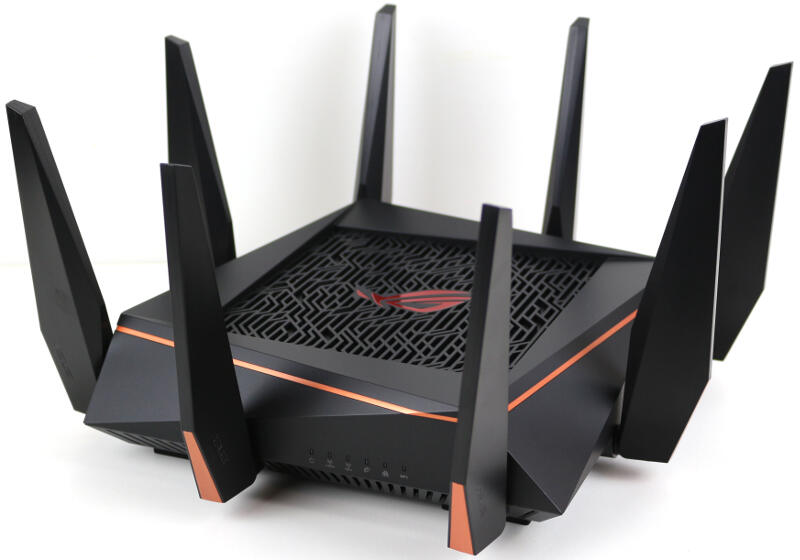 The ASUS ROG Rapture GT-AC5300 wireless AC5300 tri-band gaming router is probably one of the most epic routers you can buy pre-built, and today we're taking a closer look at why that is and what it means. While the word gaming is thrown around a lot when it comes to hardware, the GT-AC5300 actually comes with quite a few enhancements that should improve your experience in that area.
Aggressive ROG Design
You aren't in doubt that the ROG Rapture wireless router means business when you look at it. The aggressive design speaks for itself, but it hasn't been taken too far. The top features a classic ROG mesh design and logo and the rest of the unit is designed with sharp edges and plenty of sides. Even the antennas continue this design. Everything looks a bit bulky, but that's pure performance. A muscle car among routers.
The somewhat large design is a necessity for all the hardware that's inside, but it's also a bonus when it comes to the durability and stability. The larger design allows for better cooling of the individual parts, at least in theory, and thereby a better stability during peak times.
A Gaming Product without RGB
When a new gaming product is released these days, one feature is guaranteed in most cases. That's the RGB LED feature. Luckily, that isn't the case for this router. A router with a lot of light effects would only be distracting and it would be more than unnecessary. So, I'm pleased that ASUS didn't add that. The built-in LEDs for activity are placed well and seem to have the proper brightness to be easily visible without being distracting.
Tri-Band Wireless Networking
One of the Rapture GT-AC5300's strong points is its basic wireless networking capabilities. There are some advanced technologies tied into this too, but we'll get to them on the next page. For now, we're looking at the hardware itself.
ASUS equipped the router with a tri-band wireless setup, which means that you have three available network bands instead of the usual two. You get the normal 2.4GHz and 5GHz bands, but you also get an extra 5GHz band that's just as fast and feature rich as the first one. With the extra band, you can dedicate one to your gaming and use the other two for your normal wireless devices. This could be, for example, your smart TVs, phones, and tablets.
This is one of the best routers on the market and it also comes with the best in wireless technologies. At the moment, that is the 1024QAM technology which can deliver up to 1000 Mbps on the 2.4GHz band and up to 2167 Mbps on each of the 5GHz bands.
Antenna Design and Signal Technology
It is quite easy to spot that we get a lot of antennas on the ROG Rapture GT-AC5300 router. In fact, there are 8 of them and they all use the latest MU-MIMO technology for simultaneous transfers without devices bottlenecking each other. Each band uses a 4×4 design and the router comes with standard-based and universal beamforming technology. All this in combination should make for the best possible coverage from a single point in your home.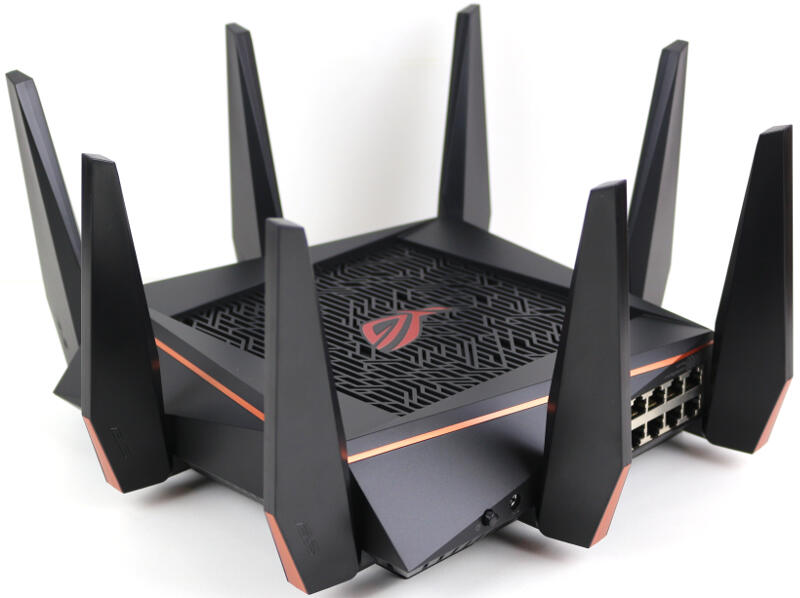 Wired Internet and Local Networking
Wireless networking is cool, but it isn't always the best option. Sometimes you need the wired connections, at the very least you do for proper internet speeds. The GT-AC5300 is very well equipped in this area too as it comes with 8 (eight) LAN ports. That is double of what other routers offer and it can save you from having to set up an extra switch.
All eight LAN ports and the WAN port are full Gigabit Ethernet RJ45 ports, as you would expect them to be. The router supports internet connections with automatic IP (DHCP), Static IP, PPPoE (MPPE supported), PPTP, and L2TP.
While we're talking about wired networking, there's another great feature in this router that we don't see very often. We are able to bond two LAN ports into an 802.3ad link aggregation. While this feature only is supported on two ports for a single connection, it's a great bonus. It is especially great when we consider the wireless speed possibilities. A single Gigabit Ethernet connection could end up being the bottleneck when compared to the possible 2100 Mbps wireless speeds.
Add-On Options through USB 3.0
ASUS added two USB 3.0 ports to this router and they can be used in a multitude of ways. You could use them to hook up a 3G/4G modem if you wanted and create a backup internet connection, or you can use them to connect USB printers and turn them into network printers. However, the most likely scenario is that you'll use them to connect storage devices such as thumb drives and portable hard drives. The files on them can then be shared in a multitude of ways from media servers that are AiPlayer compatible to personal cloud storage and FTP connections.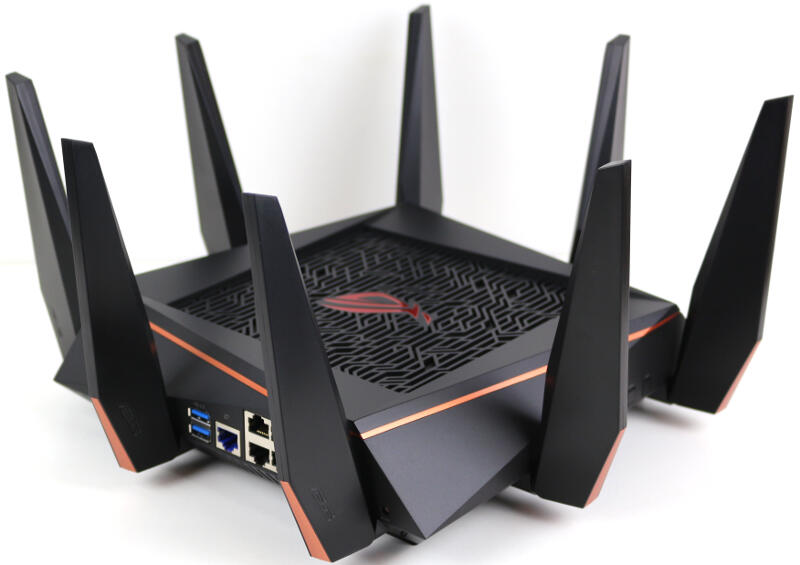 Power under the Hood
All those features require a lot of performance in the back, and ASUS made sure that it won't be a problem. Nine Gigabit Ethernet ports, three high-speed wireless bands, and two USB 3.0 ports all require great hardware to run at once without bottlenecks. To handle this, ASUS used a quad-core 64-bit processor with 1.8GHz and added 1GB RAM. The firmware has 256MB flash to reside in.