ASUS Announces ROG Strix Flow X16 Gaming Notebook
---
---
---
Peter Donnell / 10 months ago
ASUS has just revealed the latest addition to their notebook family. The ASUS ROG Flow X16 is a new convertible thin and light laptop, which still promises to deliver decent gaming performance too. It comes equipped with the latest Nebula HDR Display and fully compatible with the XG Mobile ecosystem.
The Flow X16 is a 16-inch convertible laptop, meaning you can open it up like a traditional laptop, or flip the screen right over the keyboard basically acts as a stand. It makes it perfect for watching movies and playing games.
On that front, gaming should be shockingly decent, as this slim laptop is packing the fantastic AMD Ryzen 9 6900HS processor and can come with up to an NVIDIA GeForce RTX 3070 Ti Laptop GPU. Pretty impressive considering it weighs just 2.1 kilograms. With a maximum TGP of up to 125 W on the RTX 3070 Ti thanks to Dynamic Boost.
Furthermore, with 64 GB of DDR5 4800 MHz RAM, with both SO-DIMM modules 100% accessible and upgradeable. The Flow X16 comes equipped with up to 2 TB of Gen 4 SSD storage, but there's an additional M.2 slot so yo can upgrade it in the future.
Nebula Display
If there's one thing that makes the Flow X16 stand out, though, it's the stunning Nebula HDR Display. It adheres to all the specs of our Nebula certified panels: 100% coverage of the DCI-P3 color space, Pantone Validation, high refresh rate, Adaptive-Sync, and a response time of 3 milliseconds or less. But the Nebula HDR panel goes one step further. 512 Mini LED dimming zones and a peak brightness of 1100 nits create stunning contrast and allow vibrant, colorful images pop off the screen, while ROG's Nebula HDR engine works alongside AUO's AMLED technology to reduce haloing, thanks in part to a polling rate of 5400 Hz. We've introduced the Nebula HDR Display­ before on the Zephyrus Duo 16. But with the Flow X16, the HDR experience is taken to a whole new level, thanks to the versatility afforded by a fully convertible laptop and the mobility that you can only get from a tablet. When you need to curl up on the couch or in bed to catch up on your favorite shows mastered in HDR, the Flow X16 is the perfect companion.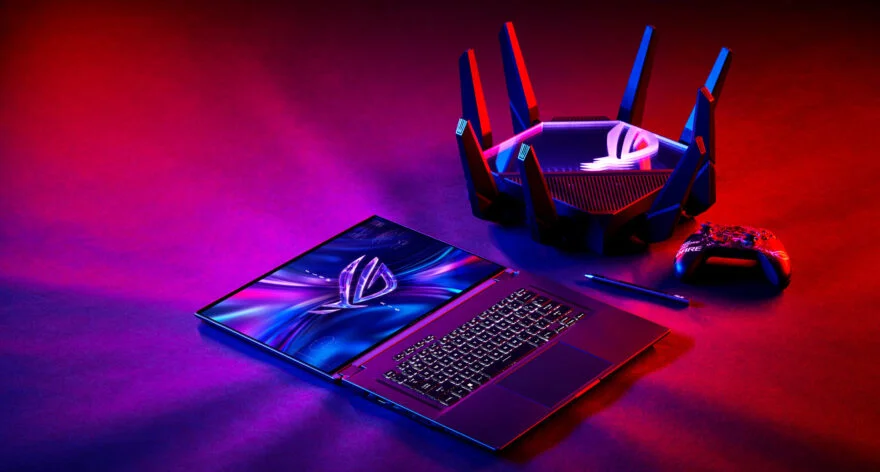 Cooling
ROG engineers had to bend a few conventions to accommodate all of the power inside it's the Flow X16's svelte frame. The X16 builds upon years of Intelligent Cooling experience and improvements to push the boundaries of the kind of power possible in a thin and light laptop. Our new Frost Force Technology directs air through precisely calculated and machined cutouts in the chassis, sending air directly towards internal components to keep them cool even during extended gaming sessions and video renders. In addition, the X16 has a unique tri-fan design. This extra auxiliary fan directly helps exhaust heat from the GPU to the heatsinks, while also keeping fan noise lower than a traditional dual fan design.
The second key ingredient in the Flow X16's cooling solution is the new Pulsar Heatsink. Comprised of ultra-thin copper cooling fins as slim as 0.1 mm, this double-sized heatsink has total surface area of 110,902 mm², making it extra dense without limiting airflow. Combined with the Frost Force cooling system and Thermal Grizzly's liquid metal thermal compound on the CPU, the Flow X16 is redefining what thin and light gaming looks like.
XG Mobile
While the Flow X16 is a fully-fledged gaming machine in its own right, it shares the same compatibility with the XG Mobile ecosystem as the rest of the Flow family. These powerful standalone GPUs come equipped with additional I/O ports, serving as a convenient docking station when you need to turn your X16 into a full-blown battle station. Enjoy access to 4 USB Type-A ports, an SD card reader, a 2.5G ethernet port, as well as a DisplayPort 1.4 and a full HDMI 2.1 port for additional monitors. Thanks to the unique PCIe 3.0 x8 connector, you never need to worry about bandwidth limitations. If you need more GPU horsepower in the future, you can connect to 2021's NVIDIA GeForce RTX 3080 Laptop GPU model, or the 2022 AMD Radeon RX 6850M XT GPU to unlock incredible performance in a form factor the size of an average hardcover novel, and without having to upgrade to a whole new laptop.