ASUS ROG STRIX Z590-I GAMING WIFI Motherboard Review
---
---
---
Ben Enos / 1 year ago

It's still Intel's 11th Gen Launch day and we have another ASUS board up on the chopping block. The ROG STRIX Z590-I GAMING WIFI is an ITX form factor board looking to be your next upgrade for your SFF build. Bearing the ROG STRIX branding, we know this board is going to be pretty impressive and offer us just what we need from a Z590 ITX board. Being a STRIX board, we should also get that premium gamer feel from it so without further ado, let's get into it!
ASUS ROG STRIX Z590-I GAMING WIFI
Straight off the bat and we can already see that this board comes with WiFi 6E thanks to the big image on the front of the box. We will also see PCIe 4.0 for blazing-fast NVMe speeds and RAM support for up to 64GB of 5,333MHz RAM in OC mode when using an 11th Gen CPU. It also features a rather unique M.2 slot which we will be sure to take a look at in this review.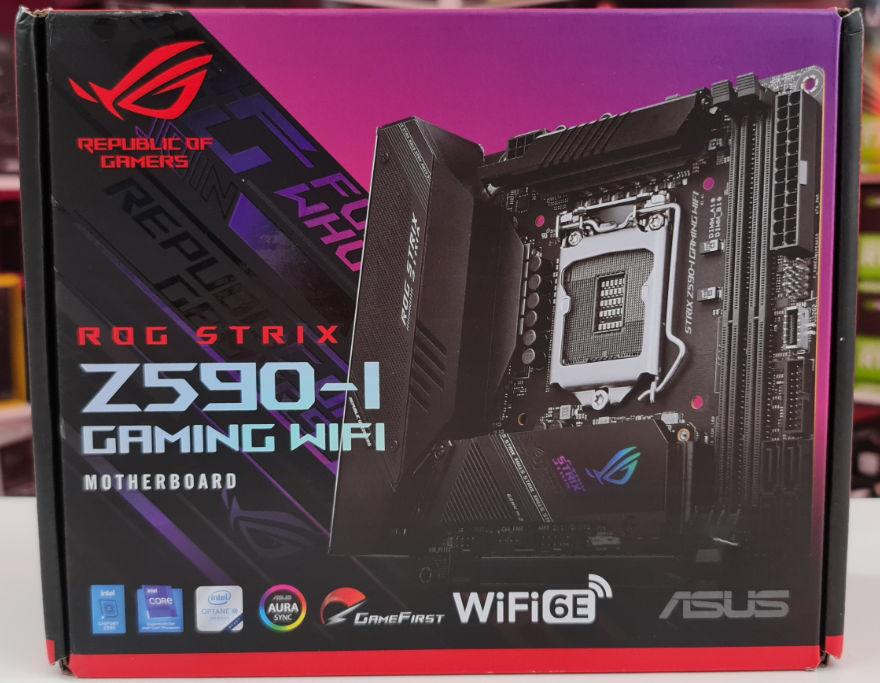 Features
ITX
8+2
WiFi 6E
2.5gb ethernet
bios flashback
64gb ram
1 HDMI (2.0 w/ 11 gen)
1 x PCIe 4.0/3.0 x16 slot*
4x SATA 6GB/s
2x m.2

M.2_2 slot supports PCIe 3.0 x4 & SATA modes

1 x USB 3.2 Gen 2×2 port(s) USB type c
1 x USB 3.2 Gen 2 port(s) type a
1 x USB 3.2 Gen 1 port(s) type a
1 x Thunderbolt 4
4 x USB 2.0
For in-depth specifications, please visit the official Manufacturer Motherboard product page here.
Make sure to also check it out on:
AMAZON UK: https://amzn.to/3w4FzWM
SCAN.co.uk: ASUS ROG STRIX Z590-I GAMING WIFI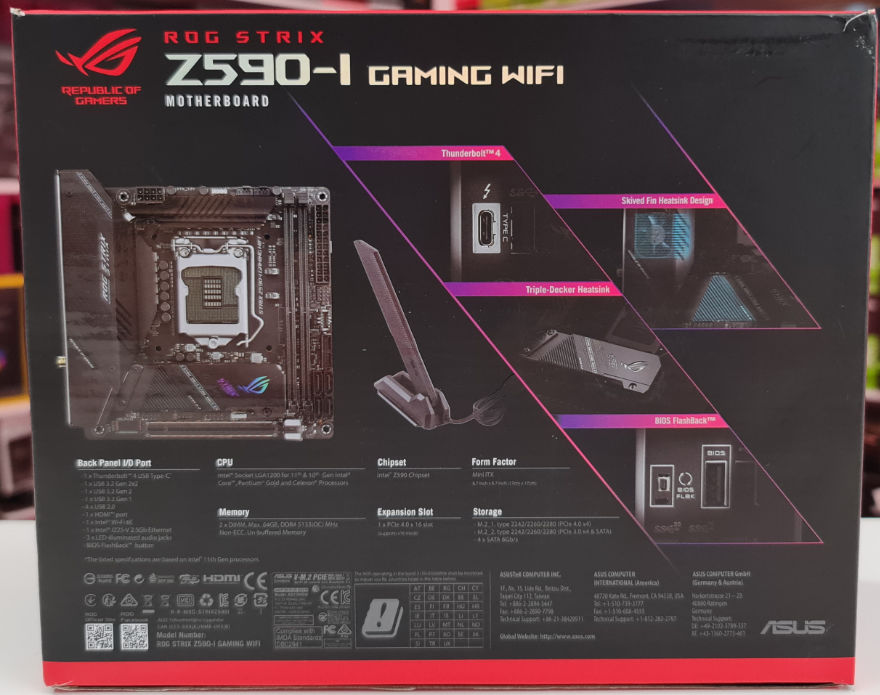 There's not a whole lot of included accessories in the box, but it should be just enough for most people. Alongside our manuals and driver CD, we have some stickers which hopefully some of will be useful, our WIFI antenna, some SATA cables, Zip ties, RGB splitter and a lovely little front panel extender that will plug directly into the motherboard, then we can plug our power/reset button cables and the likes into it. This will make our lives much easier especially as this is an ITX board and once you've got your RAM, GPU and CPU cooler installed, there generally isn't a whole lot of finger room to go plugging stuff in.