ASUS RoG Zenith Extreme X399 Motherboard Review
---
---
---
Peter Donnell / 5 years ago
Final Thoughts
---
Pricing
All prices are correct as of 13/09/2017
The ASUS RoG Zenith Extreme AMD X399 TR4 E-ATX Motherboard is available now from most major retailers. It's at OCUK for a wallet busting £519.95, which let's be honest, is a real kick in the bank balance. However, is that overpriced? I don't think so, as there's a lot of added value to this motherboard, and it's clearly designed for the extreme end of the enthusiast spectrum. Spending £1000 on a CPU, £1000 on memory, £1000 on storage? Perhaps more on GPUs? This motherboard is a drop in the financial pond.
Overview
There are few products on the market that I can think of which come with this many features. When it comes to a hardware throw down, the Zentith is virtually top of its game. Yes, it is £520, ouch, but what does this motherboard have that others don't?
Let's start with the lovely ROG DIMM.2 Dual M.2 Expansions, allowing you to side mount the drives where it can get airflow. Next up, LiveDash OLED, allowing you to view hardware status and custom graphics on the rear I/O shield. How about Intel Gigabit Ethernet, 802.11ad Wi-Fi, LANGuard and GameFirst technologies. SupremeFX S1220 with Sonic Studio III, certainly a welcome addition. And as if THAT wasn't enough… all the pure hardware gold was included in the box. SLI bridges, fan control expansion hub, M.2 expansion hub, USB drive, and a freaking 10Gbe networking adaptor!
This motherboard may be about £150 more than its rivals, but I'll be damned if you don't get way more than £150 worth of extras.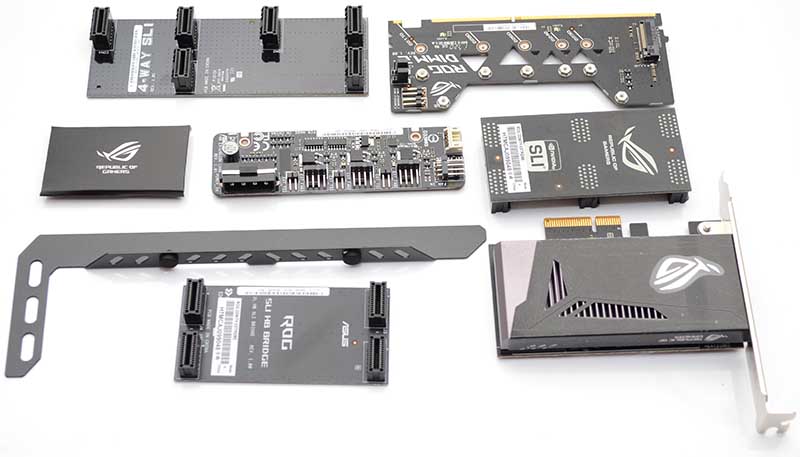 Extreme Performance!
Delivering some of our best ever benchmarks, this motherboard is no slouch. If you're looking to push the most from your new TR4 CPU, it'll deliver the performance you desire. The overclocking features are extensive for the professional user. However, a single button press will net you a fully optimised and overclocked system in minutes too, making it beginner friendly. Not that I expect a beginner to buy something like this, but they could.
Peace of mind comes from that huge power delivery system, and the fan built into the rear I/O to ensure the motherboard doesn't throttle the CP. As well as massive heat sinks on the chipset, and armor on the PCIe slots, and… I think you get the idea, it's pretty much starting to sound like hyperbole now.
Gaming, Streaming, and Beyond!
As one of the more expensive X399 motherboards on the market, justifying this for a standard gaming rig would be bonkers. However, if you're a content creator that games, streams, and produces content in 4K, it's perfect for you. The 10 GbE hardware, the fast M.2 storage, and Threadripper give you the chops of a mighty workstation, with the power of a high-end gaming system mixed in. It's not for everyone, but I'm sure there are enough people out there already typing in their bank details to order one.
Pros
RoG M.2
LiveDash OLED
Excellent overclocking options
Active cooled VRM
10 GbE card included
Huge amount of storage options
On board power controls
Fan hub, M.2 mount, PCIe Bridges and more included
Incredible performance
Stylish design
Full RGB lighting with expansion support
Durable build quality
Neutral
VMR fan on motherboard is a little noisy, but it does help keep important hardware cool
It's very expensive, but keep in mind the added value from everything else included in the box
Cons
"ASUS RoG decided to go big rather than go home. The Zenith E-ATX X399 motherboard has so many features, they couldn't fit them onto the motherboard. It may be one of the more expensive, but it justifies the price with excellent performance, amazing extras like a 10GbE card, DIMM.2, and so much more. Enthusiasts and content creators are going to love this motherboard."