ASUS STRIX GAMING GTX 1060 Graphics Card Review
---
---
---
John Williamson / 6 years ago
Introduction
---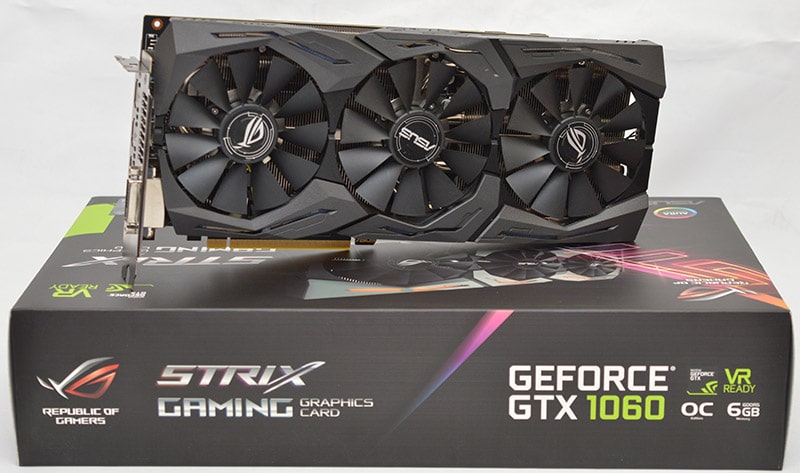 NVIDIA's Pascal architecture is already a resounding success as consumers desperately try to get hold of the latest and greatest solutions in graphics technology. So far, AMD has focused on mass market appeal and the Polaris 10 architecture was created to revolutionise the capabilities of affordable graphics cards. More specifically, the RX 480 posed a real challenge for current mid-range NVIDIA products and outputted superb performance statistics, especially when deploying modern APIs like Vulkan and DirectX 12. Of course, NVIDIA responded to this release in a rapid fashion and unleashed the GTX 1060 with an attractive price point. While it's not as affordable as the RX 480, the DirectX 11 gains are clear to see and custom editions sporting a hefty factory overclock remain an enticing proposition.
The ASUS STRIX GAMING series is known for its immense build quality and virtually silent operation. This stunning combination gained the admiration of many consumers and professional reviewers while inspecting the models higher up in NVIDIA's ranking order. Thankfully, ASUS haven't made any major concessions during the ASUS STRIX GAMING 1060 OC's development and ensured the end-user receives a premium product worthy of this branding. Technically, the graphics card features a 1645MHz base clock, 1873MHz boost and the memory operates at a speed of 8208MHz. Please note, the quoted specifications revolve around the OC profile and retail samples automatically ship with a slightly slower Gaming BIOS. Despite this, you can enable the higher performance mode using ASUS' overclocking software suite.
When you take into account ASUS' imperious reputation and ability to provide astonishing boosts over the reference design, I'm expecting their custom version of the GTX 1060 to perform brilliantly and pose a headache for the RX 480. Whether this applies to DirectX 12 or Vulkan remains to be seen, but the results should make for an interesting comparison. Hopefully, the analysis will finally answer the question of which GPU is the current price to performance master.
Specifications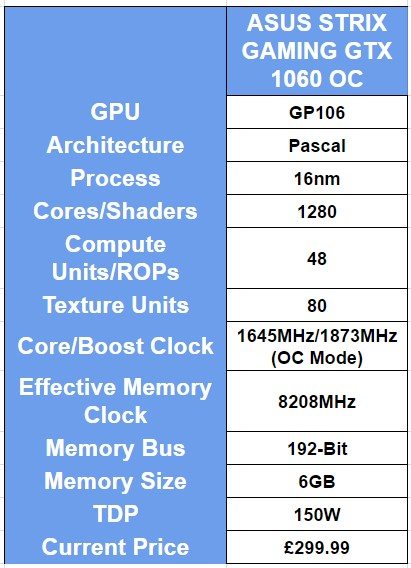 Packing and Accessories
The ASUS STRIX GAMING GTX 1060 OC is bundled in a visually appealing box which contains a wide range of colours and evokes a sense of excitement. Not only that, information is displayed regarding the unit's DirectX 12 functionality alongside a host of other Pascal features.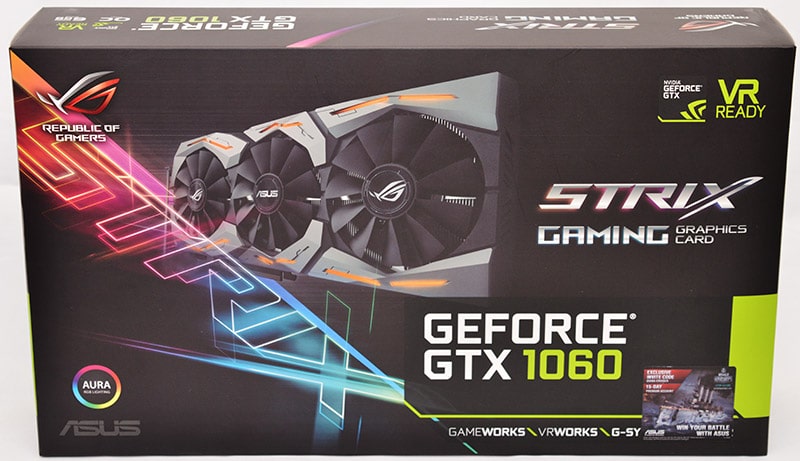 The opposite side outlines details on the product's innovative cooling solution, stunning AURA RGB lighting system and much more. As you might expect, the presentation is remarkable due to the concise descriptions and gorgeous macro photographs.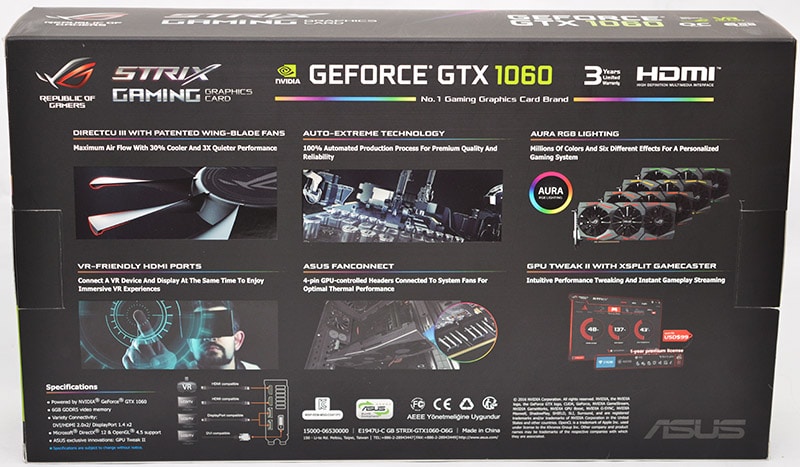 In terms of accessories, the graphics card comes with a user's guide, Republic of Gamers velcro ties, driver disk and World of Warships promotion. While it's not pictured, the 1-year XSplit license is a huge plus and adds to the product's value proposition if you're into streaming services.