ASUS STRIX GAMING GTX 1060 Graphics Card Review
---
---
---
John Williamson / 5 years ago
A Closer Look
---
From a visual standpoint, the ASUS STRIX GAMING GTX 1060 OC is almost identical to the company's GTX 1070 and GTX 1080 barring one slight alteration. Unlike the more expensive models, the graphics card only supports RGB lighting through the front cut-outs and the ROG logo cannot cycle through bold, vivid colours in an attractive manner. This is really disappointing because the logo's illumination proved to be a standout feature and created a distinctive appearance. I'm not entirely sure why this decision was made since the cost involved of retaining RGB lighting on the backplate has to be fairly minimal. In my opinion, it's an unwise move because the range no longer has synergy and those settling for the GTX 1060 cannot enjoy ASUS' aesthetic design to its full potential.
Putting this negative aspect aside, the graphics card has an elegant appearance and the neutral styling should easily slot into a wide range of builds with contrasting colour schemes. Also, the subtle markings and dynamic edges make the GPU stand out from the competition.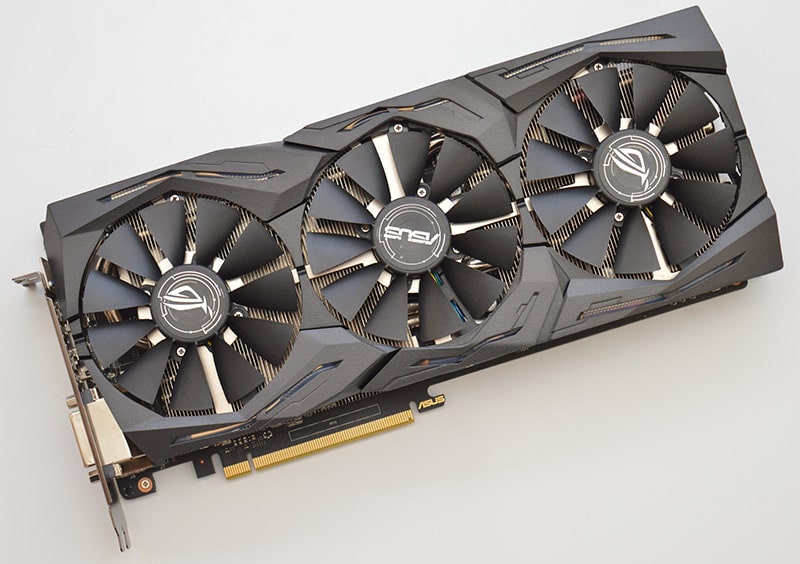 Even though the graphics card is based on one of NVIDIA's lower-tier Pascal options, you wouldn't be able to tell from the robust construction. More specifically, the ASUS STRIX GAMING GTX 1060 OC has a hefty weight and just about conforms to a 2-slot design. There's also an included backplate which prevents unwanted droop and improves the product's aesthetic appeal. I'm particularly fond of the understated STRIX branding and unusual lines which surround the backplate in a gorgeous pattern.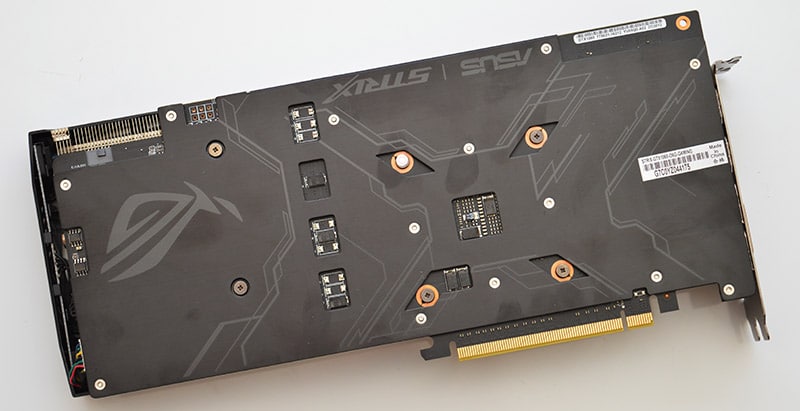 On a more technical note, the graphics card utilises 6+1 phases with Super Allow Power II components which improve efficiency, reduce power loss and achieve thermal levels around 50% cooler than the previous design. Not only that, the GPU is manufactured using a fully automated production process which revolves around stringent quality control and flux-free production. Removing the human element could eliminate mistakes and reduce the probability of manufacturing defects from occurring.
ASUS' DirectCU III cooling solution contains six nickel-plated heat pipes which interconnect to two large aluminium heatsinks. These heatsinks feature a dense fin array to maximise heat dissipation. As expected, the mounting point makes direct contact with the core and there's also a thermal pad on the left side to expel heat away from the MOSFETs. Additionally, the patented triple Wing-Blade fans deliver excellent airflow and according to ASUS, are three times quieter than the reference design. Judging by my previous experience with the Wind-Blade fans, the noise to performance ratio should be exceptional.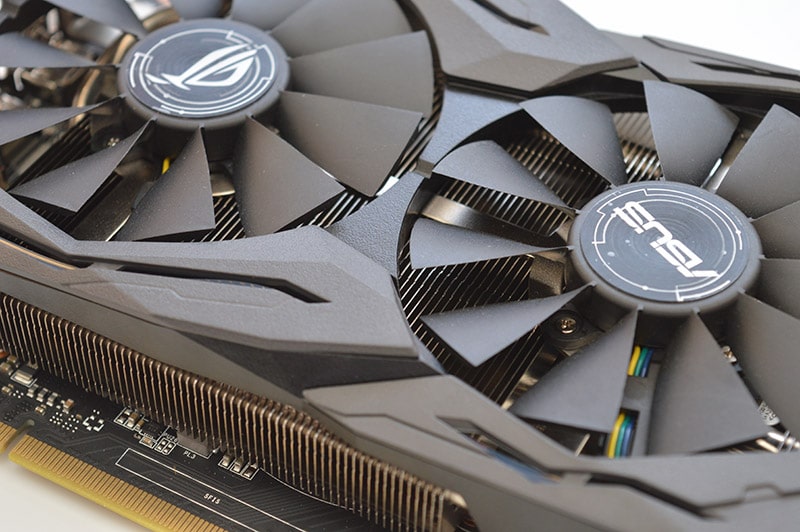 The graphics card has two 4-pin PWM fan headers which allow you to connect chassis fans and directly cool the GPU. Since GPU thermal loads are usually higher than a modern CPU, the system can take advantage of your case's cooling hardware in a more proficient manner. While it's not something I'd personally use on a daily basis, it's a handy addition and great for testing purposes.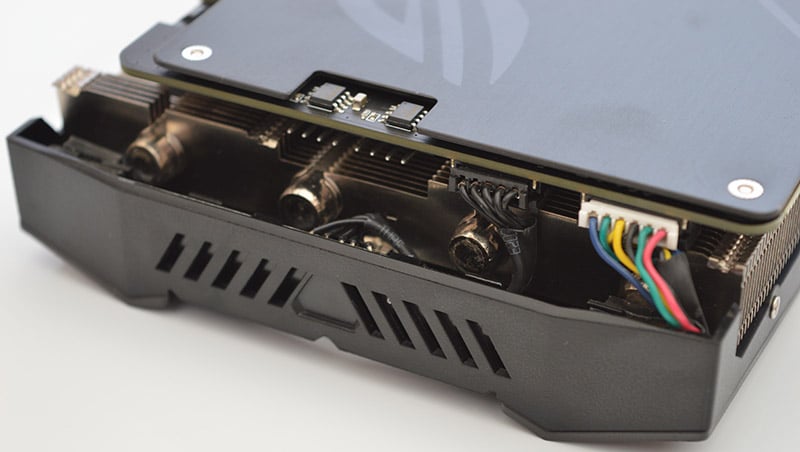 Instead of using the stock 6-pin PCI-E connector, ASUS have deployed an 8-pin to leverage extra power when overclocking. Hopefully, this should ensure the boost clock remains perfectly stable and doesn't deviate too much when running at an extreme frequency. Saying that, voltage restrictions imposed by NVIDIA proves to be a limiting factor.

Connectivity-wise, the graphics card houses a dual-link DVI-D, two HDMI 2.0b, and two DisplayPort 1.4. This arrangement is suitable for VR usage scenarios to easily connect a HUD and external display at the same time.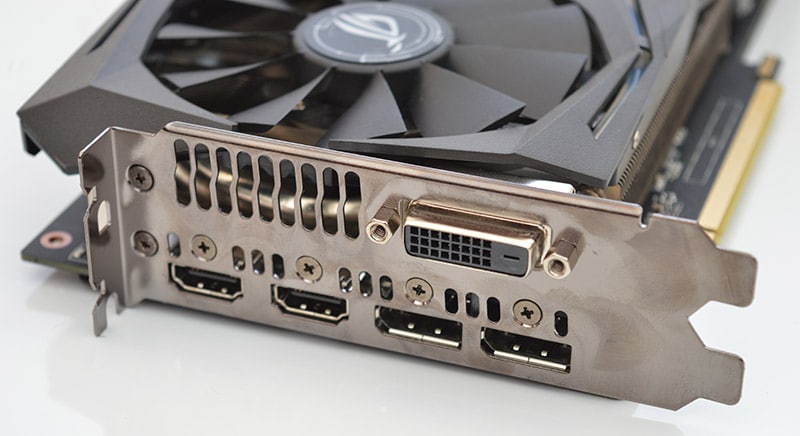 Here we can see the graphics card's mesmerising colours when powered on. Of course, you can choose your favourite solid colour or select between a wide range of transitional effects. It's even possible to change the lighting based on temperatures or sync it to music. Unfortunately, pictures struggle to do the colours justice and the vibrancy of each shade really is a sight to behold.