ASUS STRIX GAMING GTX 1070 OC Graphics Card Review
---
---
---
John Williamson / 5 years ago
A Closer Look
---
Aesthetically-speaking, the graphics card is a work of art and the sleek, understated colour scheme looks spectacular. This relatively simplistic design doesn't rely on questionable colour combinations and ensures the graphics card can easily slot into a wide range of system builds. The shroud's angled edges and attractive cut-outs for RGB lighting are another marvellous addition. Honestly, the visual aspect of the card is flawless and there's nothing I'd personally change. This is a testament to the extraordinary design and which creates a sense of luxury.
The graphics card's cooling apparatus revolves around three patented Wing-Blade fans capable of extremely impressive airflow and heightened static pressure. According to ASUS, the cooling hardware is three times quieter than NVIDIA's reference design and offers a much better noise to thermal ratio. As you can see, the angled blades and noticeable gap between them allows for more air to be transported over the heatsink. Of course, during idle usage scenarios, the fans cease spinning which results in a completely silent desktop experience.
It's impossible to exaggerate how substantial the GPU's cooling solution is and adds a great deal of weight to the product. This staggeringly high-quality cooling hardware includes 5 thick nickel-plated copper heat pipes and multiple aluminium heatsinks with a dense fin array. The heatsinks' surface area is very large and able to dispel heat in an effective manner. Also, there's a strengthened mounting point which makes direct contact with the GPU's core.
ASUS' 6+1 Phase Super Alloy Power II circuitry offers greater reliability and reduced power loss while running approximately 50% cooler than previous designs. More specifically, the new concrete alloy chokes are two times quieter and the capacitors have a lifespan over 90,000 hours longer than traditional alternatives. Furthermore, the POSCAP maximises overclocking headroom and the DrMOS contributes to lower thermals.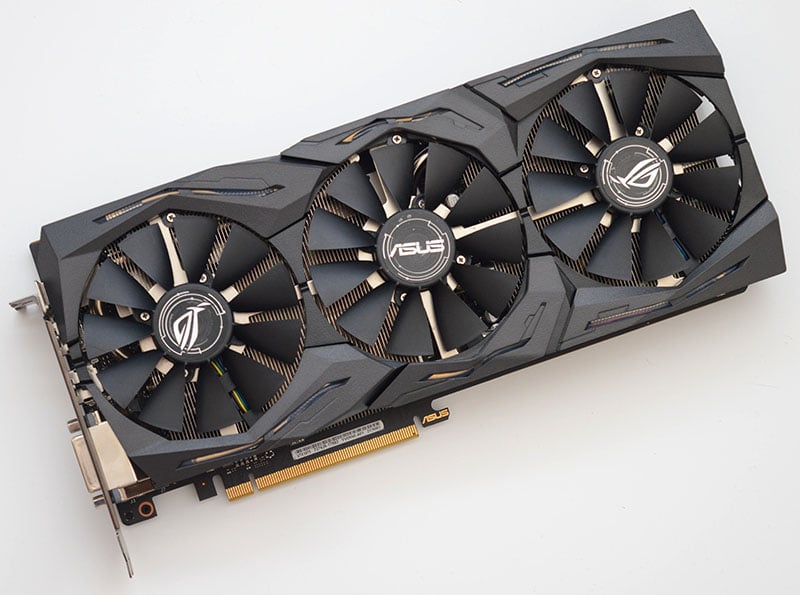 Here we can see the gorgeous backplate which houses the iconic ROG logo and a usual pattern. This is a beautiful concoction and compliments the cooling shroud in a magical way. The backplate is pretty hefty and prevents the graphics card from drooping.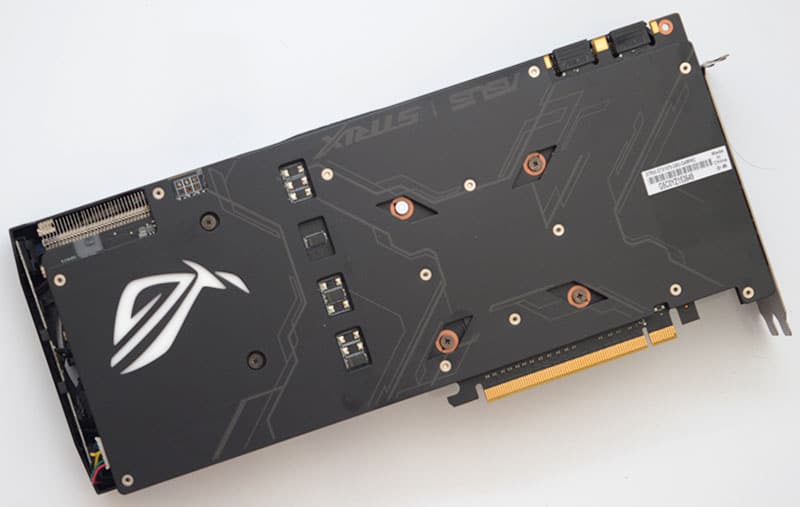 If you want to reduce the load temperatures even further, it's possible to connect up to two 4-pin PWM chassis fans. As previously mentioned, GPU temperatures are usually higher than the demands on modern CPUs. Therefore, targeting the GPU with high-performance fans like the Noctua NF-F12 might be a better use of your hardware.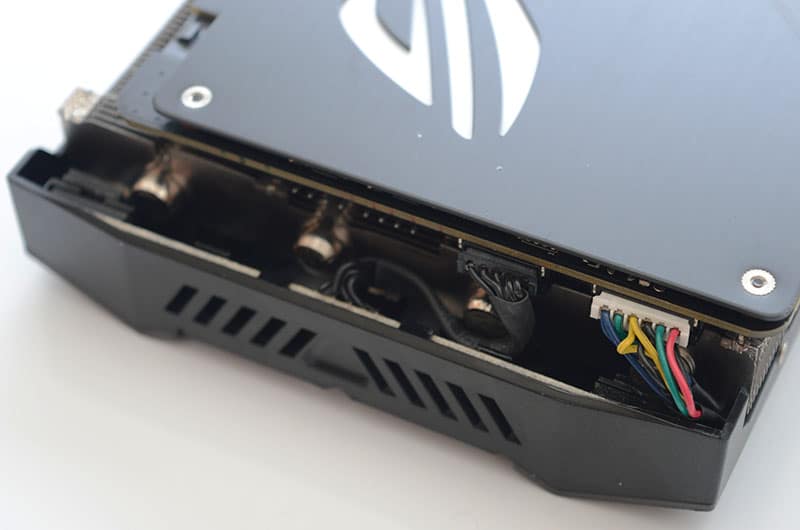 The graphics card requires a single 8-pin PCI-E connector to leverage extra overclocking room and should be more than enough given the GTX 1070's modest TDP.

Connectivity-wise, the graphics card has two HDMI 2.0b, two DisplayPort 1.4 and a dual-link DVI. The HDMI arrangement is designed with VR in mind and provides the end-user with enough ports to connect an HMD and display.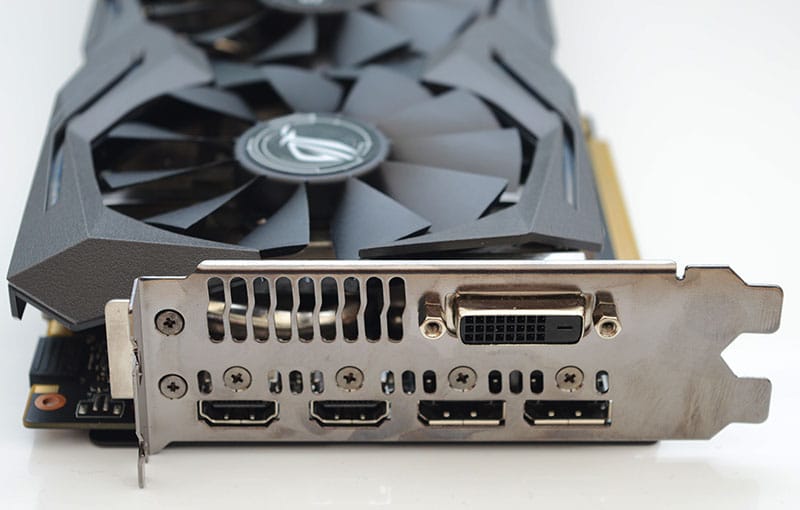 Once powered on, the slots within the cooling shroud allow the integrated RGB illumination to shine outwards. This is a visual treat and you can choose a solid colour or cycle between transitional effects including breathing, strobing and colour cycle. It's even possible to adjust the lighting based on GPU temperatures or sync it to your favourite music. The colours are incredibly rich and look fantastic in a chassis with an inverted layout.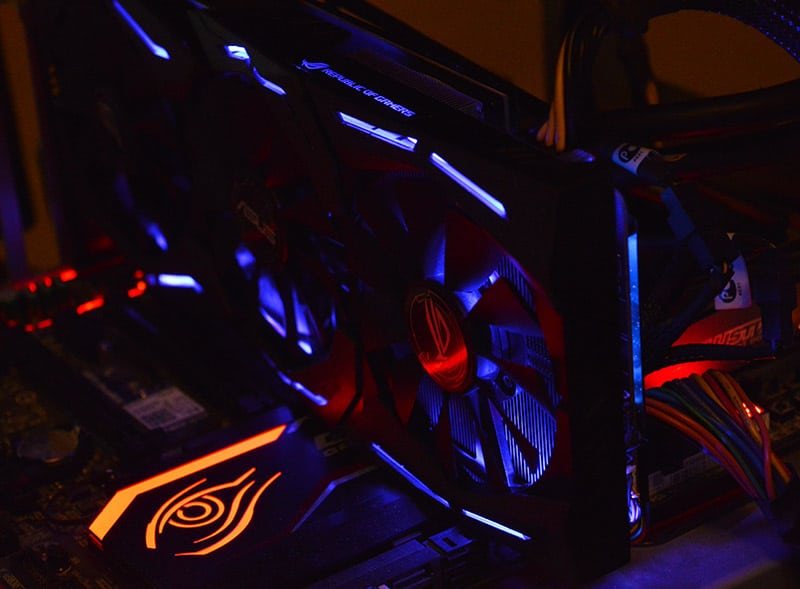 Most users who own a PC case with the traditional orientation will see the backplate from a side-panel window. Thankfully, this portion can also be customised and emits the same beautiful finish. Unfortunately, pictures struggle to do the lighting justice but rest assured, it's nothing short of perfection.