ASUS STRIX Z270F GAMING LGA1151 Motherboard Review
---
---
---
John Williamson / 4 years ago
A Closer Look
---
The motherboard has a real sense of character thanks to the chunky, brushed aluminium heatsinks, large I/O cover and stylish pattern scattered across the PCB. Furthermore, the I/O cover's matte black finish contrasts with the power delivery's silver hue to form a sophisticated design. Personally, I'm quite fond of the heatsink's slight indentations and the grooved STRIX logo. Even the I/O cover has some diagonal lines which prevent it from looking overly bland. In a similar vein to other motherboard vendors, ASUS fixated on a neutral colour scheme and relied on RGB technology to add a more flamboyant visual style. This is an excellent idea because the motherboard's aesthetic can be tuned to suit various tastes including those who love wacky visual effects and consumers that prefer a more simplistic design. On another note, the PCH with its Deus Ex-inspired polygons is absolutely stunning and made me fall in love with the motherboard's appearance in record time. Simply put, I think this is one of ASUS' most visually-appealing motherboards to date.
Moving onto the fan arrangement, ASUS embedded 6 4-pin headers which support DC and PWM modes. This means you can customise the RPM values using Fan Xpert 4 or utilise ASUS' automatic fan curve. The motherboard takes advantage of a new fan chip offering over current protection and over temperature protection. These work together to prevent hardware failure during a sudden thermal or electrical change which should prolong the motherboard's lifespan. Not only that, the high amp header can contend with up to 3A for a PWM fan and 1A if you decide to use DC mode. The H_AMP fan header is suitable for high RPM models like the Noctua Industrial PPC. Now, you can install an extremely powerful fan without worrying about the effects on the motherboard's circuitry. The ASUS STRIX Z270F GAMING has a decided all-in-one pump header which is designed to consistently run the pump at 100% duty.  However, you can control the AIO_PUMP speed in the BIOS, if you find the maximum value is too loud.
As you might expect, the fan headers all support Extreme Quiet mode which intends to create a silent desktop experience. Interestingly, the motherboard can configure the GPU temperature as a way of analysing the system's thermal output. Theoretically, assessing the CPU on its own is a poor indication of a PC's health because the GPU is an integral part of a chassis' environmental temperature. Having the option to base the tuning on GPU temperatures should allow for a more accurate calibration. The motherboard supports ASUS' fan extension card which expands the fan options to 6+3 and the sensors to 8. This particular device requires a 4-pin Molex connector and can be controlled via the onboard EXT_FAN header.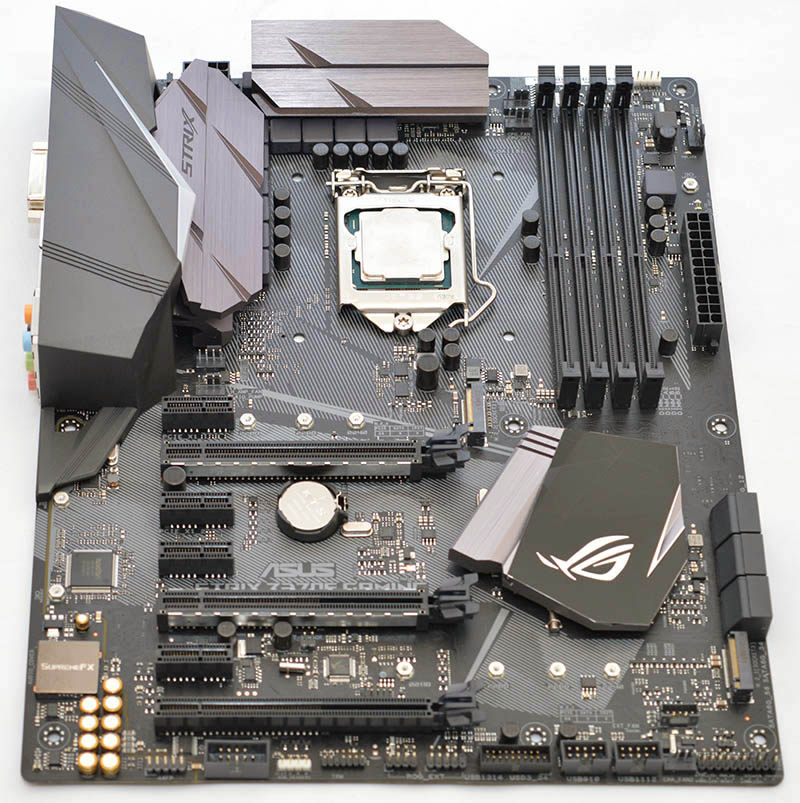 The ASUS STRIX Z270F GAMING utilises a digital semi-8 phase power design for the CPU and the iGPU has its own dedicated 2-phase circuitry. Also, the memory is powered by a 1-phase VRM and the DRAM fuse provides extra protection against damage caused by an electrical short. ASUS' DIGI+ Power Control consists of Texas Instruments NexFET MOSFETs, MicroFine alloy chokes, an advanced PWM controller and Japanese-made 10K black metallic capacitors. The MicroFine alloy chokes are 31 percent cooler than large granules and offer a 75 percent less hysteresis reduction. Of course, the black capacitors have a significantly longer lifespan and 20 percent enhanced thermal tolerance. Therefore, the motherboard's components should withstand extreme thermal loads without buckling under the pressure.
On another note, the motherboard has a BCLK generator which works in tandem with ASUS' Turbo Processor Unit to provide the end-user with greater overclocking flexibility. More specifically, the full BCLK OC range is enabled with an adjustable clock amplitude and clock slew rate. Essentially, you can achieve better stability at higher frequencies and maximise the overclocking headroom. Also, the BCLK generator has lower jitter and can be used in a single click. The LANGuard is another great feature which takes advantage of SOC technology to combine signal-coupling and premium surface-mounted capacitors into a single chip. This provides much more comprehensive ESD protection and apparently cuts the signal loss to 300MHz compared to 130KHz on the traditional LAN port.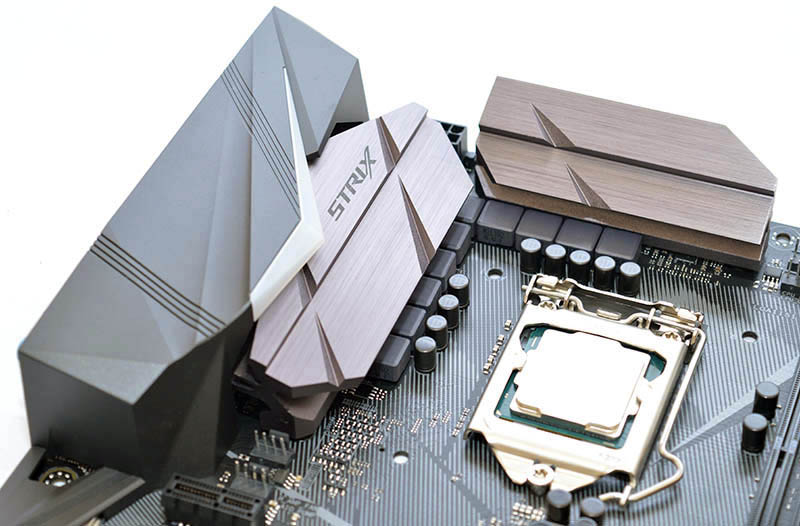 In terms of memory support, the motherboard accommodates up to 64GB DDR4 in dual-channel configuration and frequencies reaching 3866MHz. Of course, the majority of consumers will be opting for kits within a 2400-3200MHz range via an XMP profile. ASUS' newly designed T-topology has an isolating enhancing technique to reduce the crosstalk electrical interference from the neighbour signal, leading to a better signal integrity. Furthermore, ASUS worked alongside upstream vendors to unify the T-Topology process. As mentioned earlier, the motherboard has a 3D printing friendly design and includes a 3D mount hole screw to add your own unique touch. Granted, this is a very niche feature given the price of 3D Printing, but it could become more useful in the near future.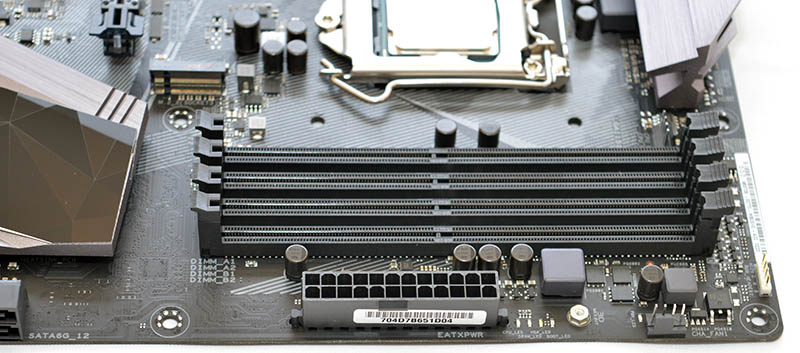 The motherboard sports the latest SupremeFX audio solution which revolves around the S1220A codec featuring a 133dB signal-to-noise ratio line-in and 120dB signal-to-noise ratio line-out. Additionally, there are dual headphone amplifiers with 2.1Vrms output capability and 600-Ohm high impedance driving ability. The De-Pop MOSFET minimises pop noises and detects the impedance of your headphones. Also, the SupremeFX shielding isolates the crosstalk and noise interference from other frequencies and upholds a greatly reduced multi-lateral interference from the separated PCB. The left and right channels are on separate tracks to reduce interference and the stainless steel cover maintains the best possible audio quality. As you can see, the motherboard opts for premium Nichicon capacitors which deliver a crisp sound.
When it comes to expansion possibilities, the motherboard supports 2-way SLI and 3-way CrossfireX configurations. There's room to house a number of PCI-E x1 devices including a sound card. The primary graphics slots employ ASUS' SafeSlot technology which fortifies the slot for superior retention and shearing resistance. Additionally, the ASUS employs an extra hook on the metal pin before inserting it into the plastic slot which offers extra protection in the PCI-E bonding structure. The revised SafeSlot's solder points have been increased which results in a 16 percent durability improvement o n the X-axis, 66 percent on the Y-axis and 34 percent on the Z-axis.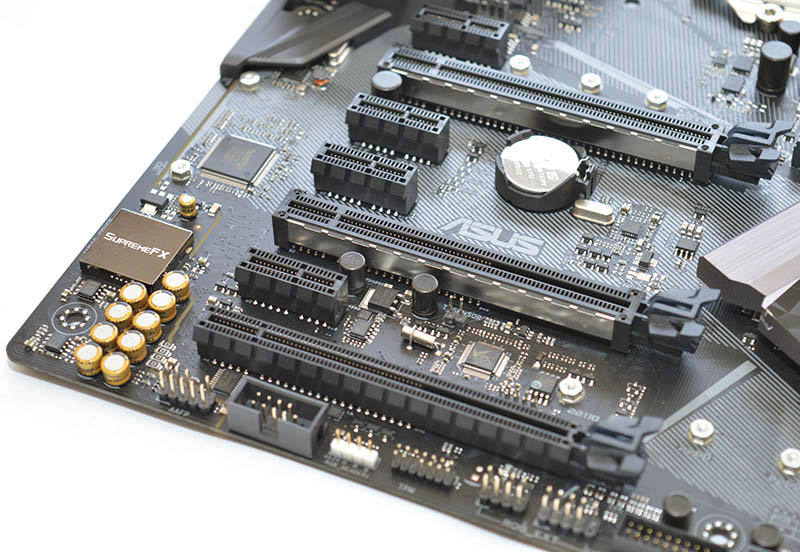 Connectivity-wise, the motherboard has six SATA ports and two M.2 connectors, one supporting type 2242/2260/2280 and the other allows you to install type 2242/2260/2280/22110. Sadly, there's no U.2, Thunderbolt 3 or SATA Express.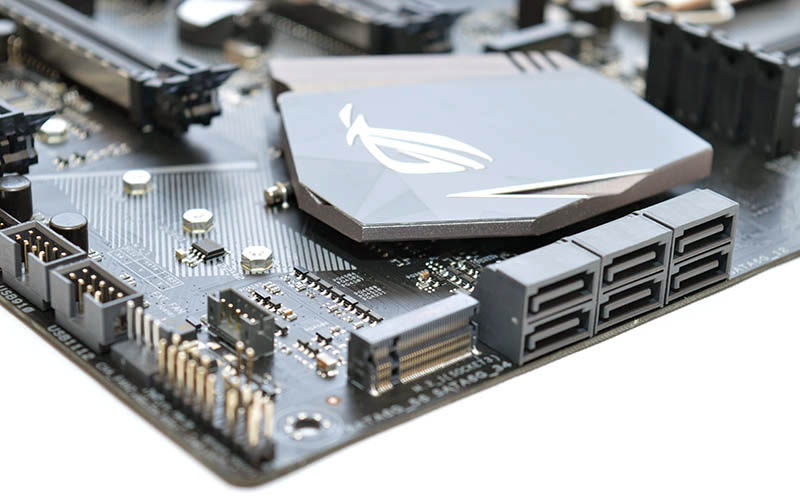 Here we can see the beautifully designed PCH with a tone-tone finish and polygon print.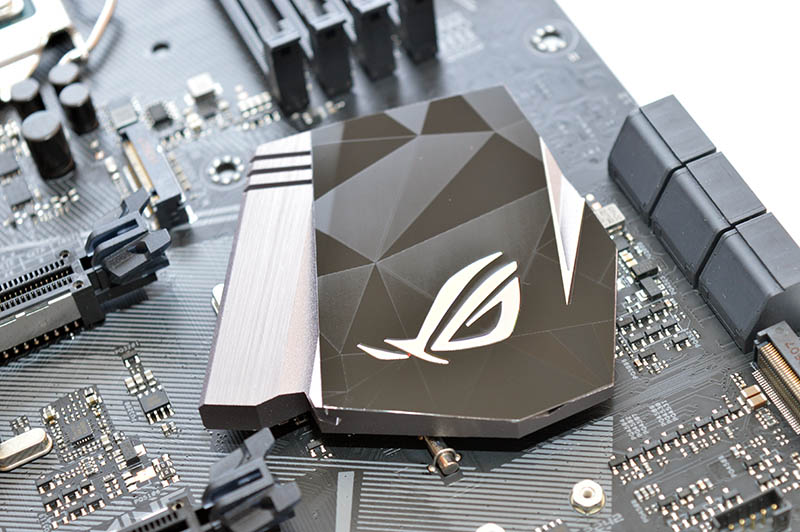 The rear I/O contains a USB 3.1 Type-A port, USB 3.1 Type-C, DVI-D, DisplayPort, HDMI, PS/2 Combo port, four USB 3.0, Intel i219V Gigabit LAN, 5-audio jacks and S/PDIF Out.

ASUS' Aura RGB lighting allows you to customise the motherboard's appearance and choose from 9 spectacular effects including Static, Breathing, Strobing, Colour Cycle, Rainbow, Flash and Dash. Also, it's possible to make the illumination change depending on CPU temperatures or a music track's rhythm. The motherboard has two RGB strip headers supporting 5050RGB strips with a maximum power of 12V/2A. Once attached, these can be controlled using the Aura software. Personally, I love the idea of onboard RGB headers because they reduce cable clutter and allow for a neater finish. Interestingly, the motherboard's lighting is quite subdued and restricted to the I/O cover.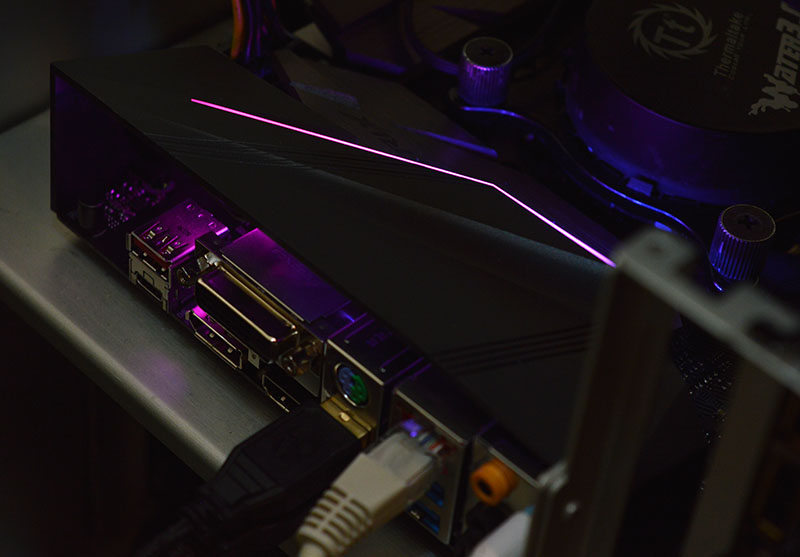 As you can see from the wider shot, the PCH, DIMM slots and audio isolation path are not illuminated. This makes the motherboard have a less vibrant appearance than its competitors and I'm surprised by the limited lighting areas.