ASUS to release two variations on Maximus V formula board
---
---
---
Ryan Martin / 11 years ago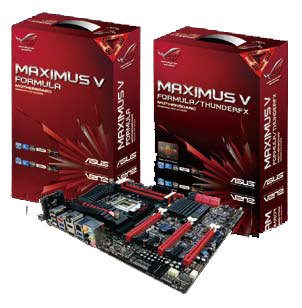 ASUS is known for offering different product models from small variations in design, such as in(ex)clusion of Thunderbolt or the addition of a game (Battlefield 3). So it comes as no surprise that they will make two versions of the Maximus V Z77 Formula motherboard. The different types of Maximus V Formula boards will be decided by in(ex)clusion of the ThunderFX audio components.
The ThunderFX part will see the inclusion of a headphone amplifier which uses the Texas Instruments 6120A2 amplifier, found on ASUS soundcards like the Xonar Essence STX. There will also be a USB sound card powered by the C-Media 6631 chip. Although all these special components seem to have been designed with noise-cancelling high quality headphones in mind, those gamers with 7.1 or 5.1 surround sound systems may find themselves slightly disappointed.
ASUS should be unveiling the Maximus V formula at Computex 2012 next week at a special R.O.G press event.
Source: VR-Zone