ASUS TUF Gaming M5 Ambidextrous RGB Mouse Review
---
---
---
Peter Donnell / 4 years ago
A Closer Look and Performance
---
My first impressions of the TUF Gaming M5 are pretty positive. It's quite a compact mouse overall, but it feels nicely weighted and very durable. I should hope it was durable anyway, given the "TUF" or "tough" branding and claims that ASUS has made about it. The mouse weighs just 85g without the cable and 110g with it. Overall, this means it feels pretty light, but I think it's weighty given the overall size is quite small.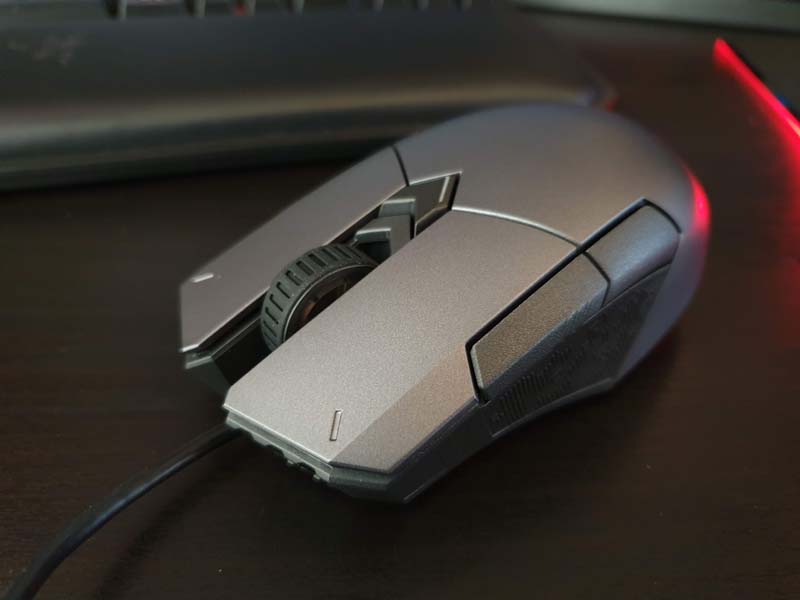 The mouse may be compact, but it's got some great ergonomics, with a low nose and a raised back. Overall, it's designed to fit snug in the palm of your hand. However, the tough rubber textured grips on the side make it best suited for fingertip and claw grip play styles. You can really get a firm grip on it, and that greatly benefits those using a lift-off technique; handy if you like using very low DPI settings.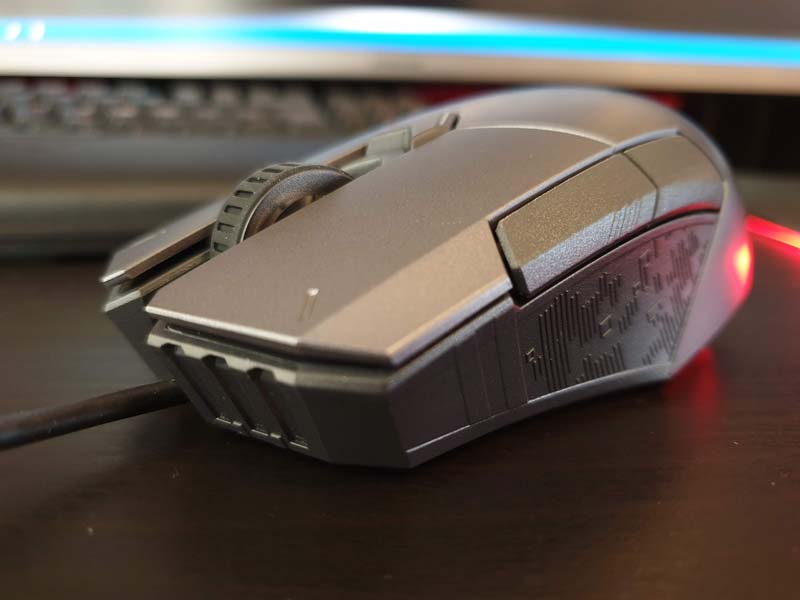 Ergonomics
The back of the mouse is quite bulbous, but again, this just makes it very comfortable in the hand. It's quite back heavy too, so the nose of the mouse can easily be pivoted around with your fingertips. Personally, I find that great for fine-tuning your aim with small movements; perfect for twitchy accuracy while playing FPS games.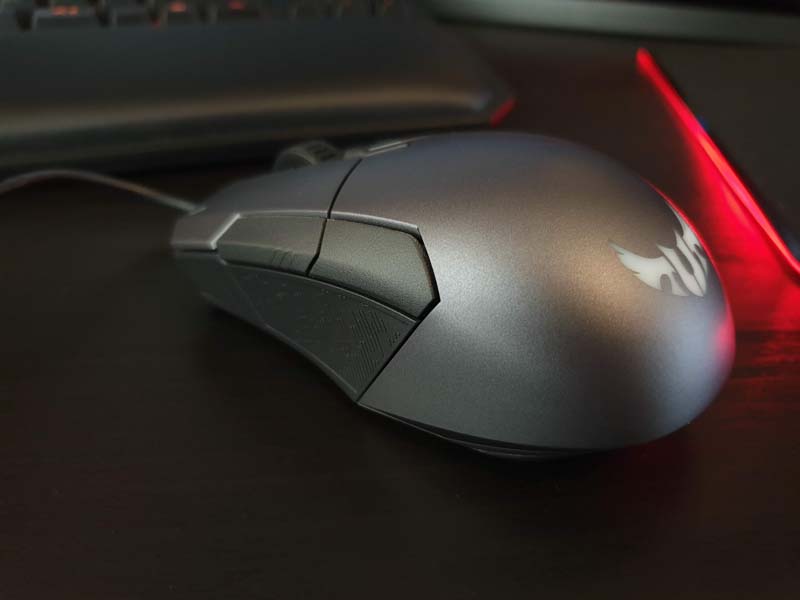 While this is an ambidextrous mouse, it's only half as much of one as I had hoped. It has two side buttons (see above) on the left side. However, it just has a blank "TUF GAMING" badge on the right. You can swap the buttons over, and that is a shame. The ambidextrous simply comes down to the symmetrical ergonomics. That's OK I guess, but if you want buttons on both sides, you may want to look elsewhere.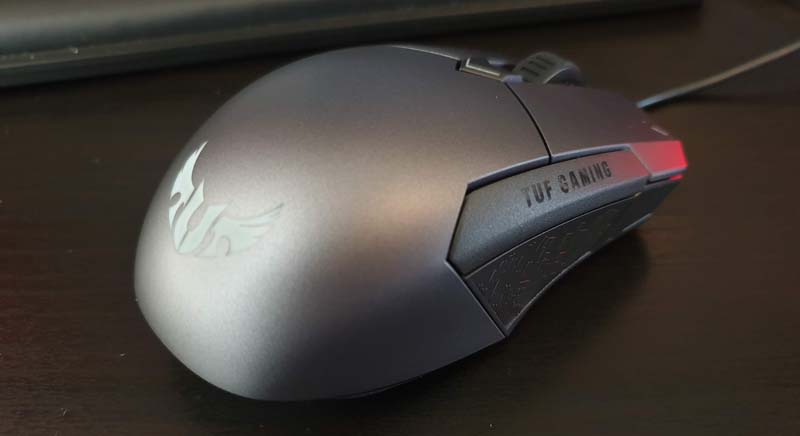 Omron Switches
There's loads of neat stuff going on up front though. The left and right mouse buttons are both mounted on their own panels. That means they're individually sprung, rather than being part of a unibody top panel. This gives them perfectly independent feedback and control that's great for work and even better for gaming. Even more so, they feature lovely Omron switches rated for 50M clicks, so even the most vigorous LoL player isn't going to wear them out with a few years of heavy duty gaming. They've got a nice and clear tactile click to them too, making them very snappy and responsive overall.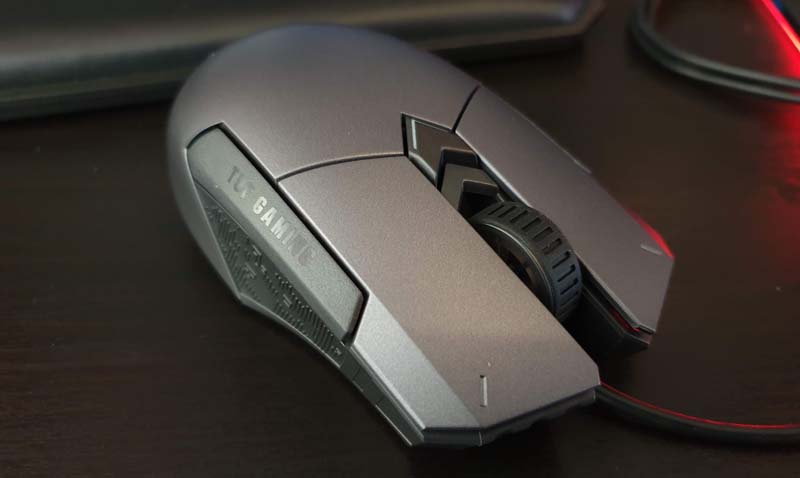 There's a good size scroll wheel, not too big, but certainly not too small. It's heavily recessed into the mouse, but a soft rubber grip makes it easy to control. It has a clearly defined "bump" when turned too, making weapon changes in FPS games nice and accurate. Of course, it's also clickable, giving you one more button to tinker with. Behind it, you'll find a profile/mode button, which can be used to change through your DPI profiles. However, hold it and use the side buttons and you can tab through your profile sets on the fly also.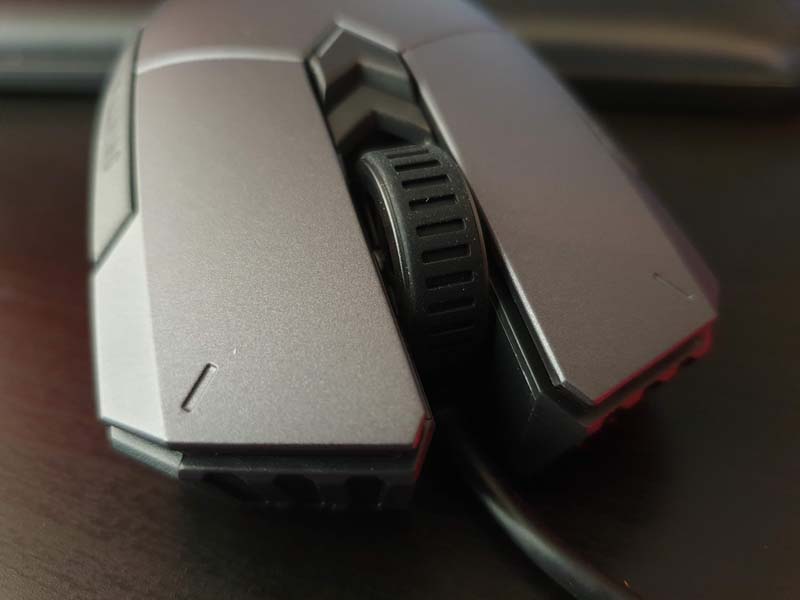 6200 DPI Sensor
The optical sensor is pretty competent too, offering a maximum of 6200 DPI. Of course, that's more than enough for making fast turns, or fast scrolling over a large MOBA map, even on high-resolution monitors. Using the downloadable software you can tune it from 100 to 6200 DPI or anywhere in between too, and save multiple speeds to the DPI button for on-the-fly changes. It'll track at up to 220 IPS too, so even those who launch it across their desk will find it doesn't skip a beat. While you're in the software, you can also tinker with the button configuration. There are only six buttons on the mouse, but they're all full programmable, giving you lots of flexibility.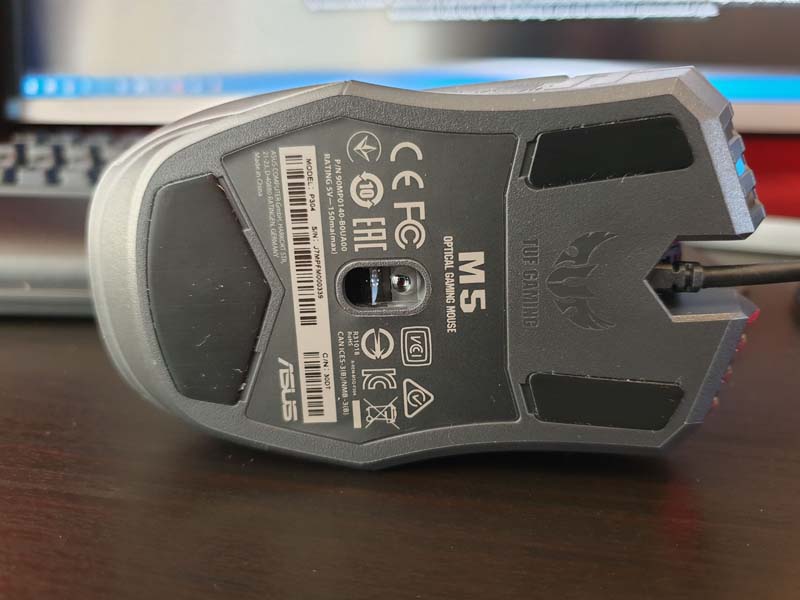 Overall, the mouse is very versatile and perfectly nimble thanks to its large Teflon slipmats. It'll glide over wood, hard plastic, aluminium, and cloth gaming surfaces with confidence.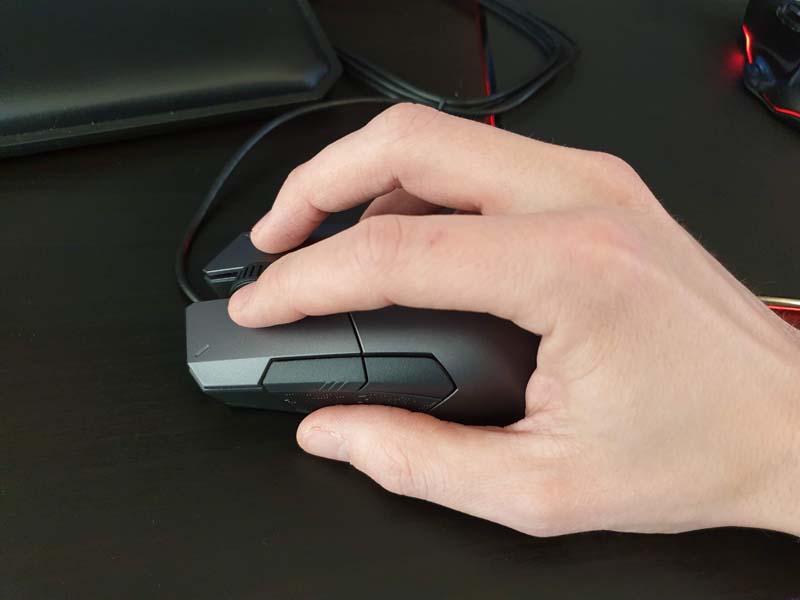 Right Side Buttons?
I would have liked to see a second set of side buttons on the right though. For an ambidextrous mouse, it feels like it's only half done the job.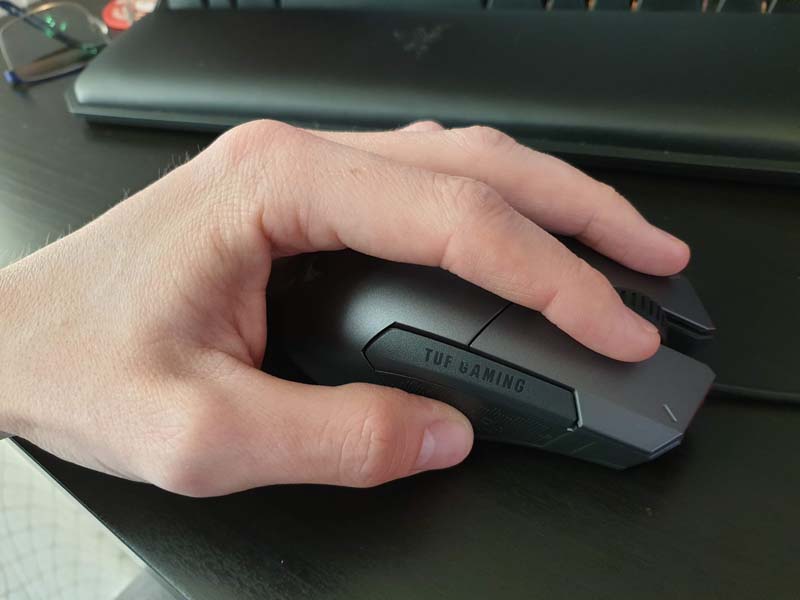 Finally, we have the RGB. It features ASUS' Aura Sync RGB tech. Of course, that means you can pair up the effects with your system RGB lighting and other peripherals. There's only one light though, so it's nothing too crazy, but it's still a nice touch overall.