ASUS X99-A II (LGA2011-3) Motherboard Review
---
---
---
John Williamson / 7 years ago
Introduction, Specifications and Packaging
---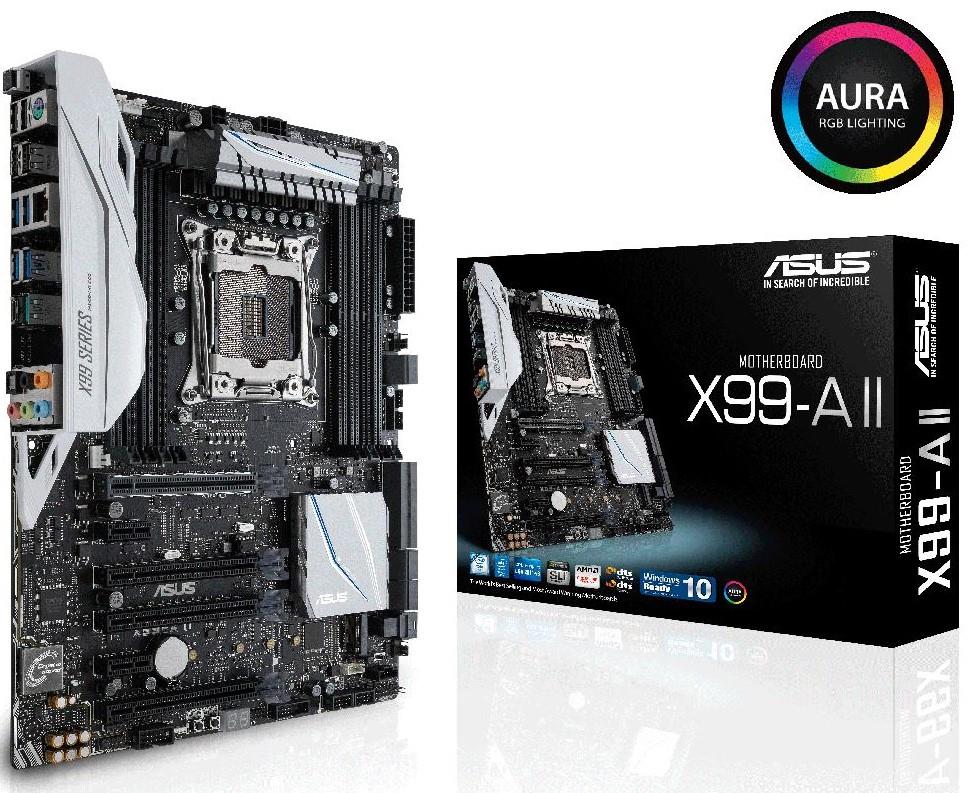 The X99 platform is primarily designed for professionals using complex multi-threaded applications and require a great deal of processing power. As a result, motherboard vendors haven't really offered a huge range and decided to focus their efforts on the mainstream Z170 chipset. While there are a few models available, it's not on the scale users are accustomed to and you'll very rarely encounter an X99 motherboard with a flamboyant aesthetic design. Fortunately, this is all about to change due to the notion of prosumers and overpriced nature of the i7-6700K. This means it can be a prudent decision for high-end gamers to opt for a 5820K and reap the benefits of quad channel memory. Even though most games prioritise frequency over cores, it could easily change with modern development engines.
Of course, Intel is organising a refresh of the Haswell-E architecture and rumoured to launch a brand new flagship featuring 10 cores. To prepare for this new range, motherboard vendors are going to release new X99 models with native support for the latest Broadwell-E processors. Please note, existing products can house the upcoming CPUs providing you download the appropriate BIOS update. Nevertheless, it's fantastic to see new motherboards and a greater emphasis on providing stylish X99 creations.
Today, we're taking a look at ASUS' relatively affordable X99-A II motherboard which incorporates the company's Aura RGB lighting system and SafeSlot to reinforce the first PCI-E slot. As expected, the X99-A II utilises premium components including an OC socket, DIGI+ power control, T-topology circuit design and Crystal Sound 3 audio solution. This incredible specification is accompanied by Thunderbolt 3 connectivity via an optional card and a stellar BIOS layout. This makes it a marvellous choice for users who don't want to sacrifice on features but have a reasonable budget. Therefore, I'm expecting to see some very impressive numbers which legitimately rivals higher priced alternatives.
Specification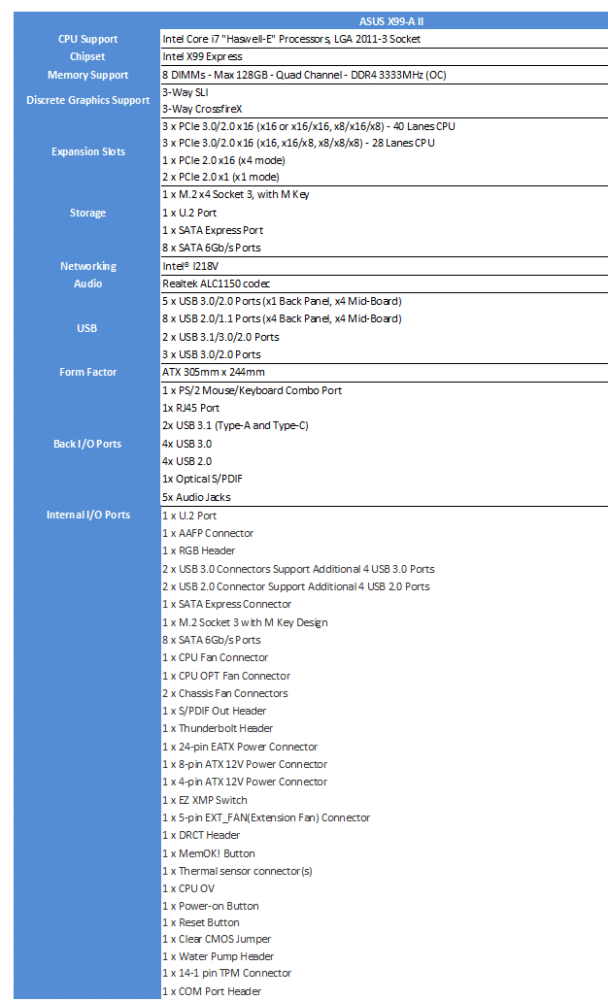 Packaging and Accessories
The ASUS X99-A II comes in a fairly understated box which displays the motherboard's key features including SLI, Crossfire and the Aura lighting system. I'm quite fond of the stark contrast between the black background and white highlights on the motherboard's I/O and PCH.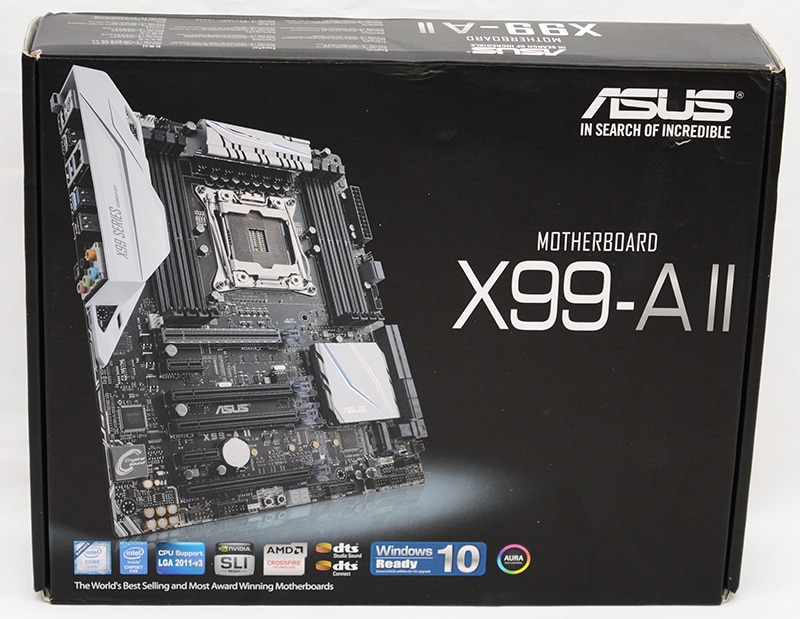 Next up is the rear section which contains a basic overview of the motherboard's layout. There's also a detailed explanation of innovative ASUS technologies such as the exclusive OC socket which allows for enhanced overclocking headroom.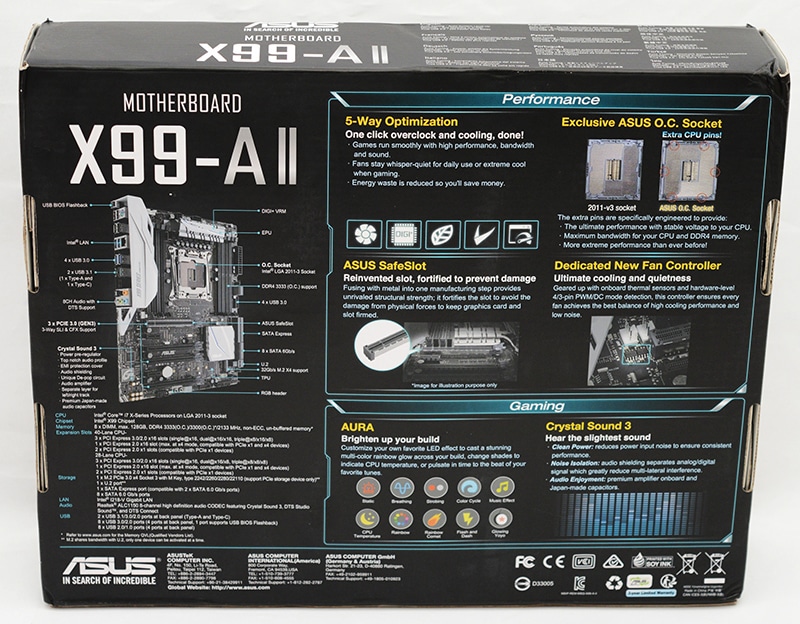 In terms of accessories, the motherboard is bundled with a user's guide, drivers disk, Q-connectors, SLI bridge, Q-Shield (I/O), four SATA 6Gb/s cables, CPU installation tool and extension cable for RGB strips. The CPU installation tool is an ingenious device which ensures the end-user positions the CPU in the socket correctly and protects against damaged pins. All you have to do is attach the anti-static sheet to the bottom of your CPU before installing it into the protective cover. Then clip the installation tool into the socket slot and ensure everything is aligned properly. Once this is complete, remove the anti-static sheet and install the 2011-v3 processor as usual. While this is an amazing tool, it's not something I'd personally use as I tend to have an old-school approach. Despite this, I did a test run and realised that it offers great peace-of-mind for novices who want to protect their investment.