ASUS XG-C100C 10GBase-T Network Adapter Review
---
---
---
Bohs Hansen / 5 years ago
Introduction
---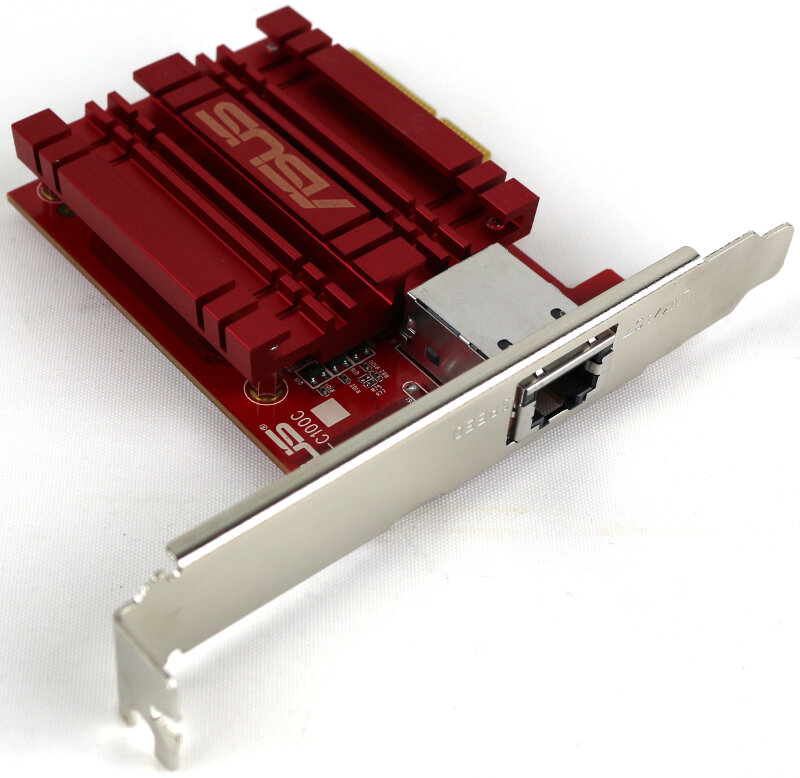 I have long been a supporter of increased network speeds and as such, it's nice to have another 10 Gigabit Ethernet network card in the office. Today I am taking a closer look at ASUS XG-C100C 10GBase-T PCI-Express network adapter.
With the XG-C100C, you are able to get up to 10 times the speed of traditional Gigabit Ethernet. Thanks to modern storage technology, the network interface has quickly become the bottleneck of our systems. A simple addition of a small add-in card like this can solve that problem.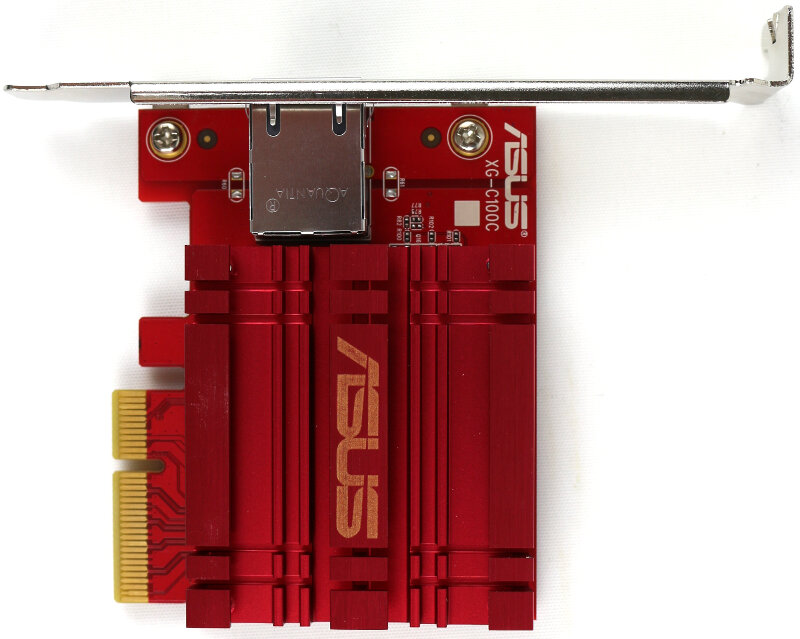 Compatibility
The ASUS XG-C100C isn't just compatible with 10GbE networks, so you can upgrade your overall network gradually. It is naturally compatible with 5GbE, 2.5GbE, 1GbE, and even 100MbE networks. No matter how much of your network you upgrade, the system with this card is ready for it.
Thanks to the standard RJ45 port, compatibility is high and it is a lot easier to deploy than SFP+ type network. Your speed will depend on the cable used, the switches and hubs it is connected through, and the sending and receiving systems. You'll need CAT7 cables to get the full speed, but the card will work fine with older generation cables. Just slower.
Most setups will be compatible with the card due to the support for both Windows 10 and Linux Kernel 4.4. The small size will also make it fit almost any system and it comes with an included low-profile cover bracket.
Advanced Functions and Features
ASUS is a company well-known to build their products with gamers in mind and it is no different for the XG-C1000C 10GbE card. It comes with a built-in QoS technology, optimised for gaming. The built-in Quality-of-Service technology will automatically prioritise gaming packets for the best possible gaming experience.
Gaming systems come with beefy graphics cards and high-end processors, all of which generate a lot of heat. A card like this 10GbE adapter will be placed between all these and that can be an issue. That is if the card didn't come with a heatsink which covers the entire card. The heatsink should make sure that your card will perform with its full capabilities under these situations too. It also gives the card a great look that will match your other ASUS network add-in cards.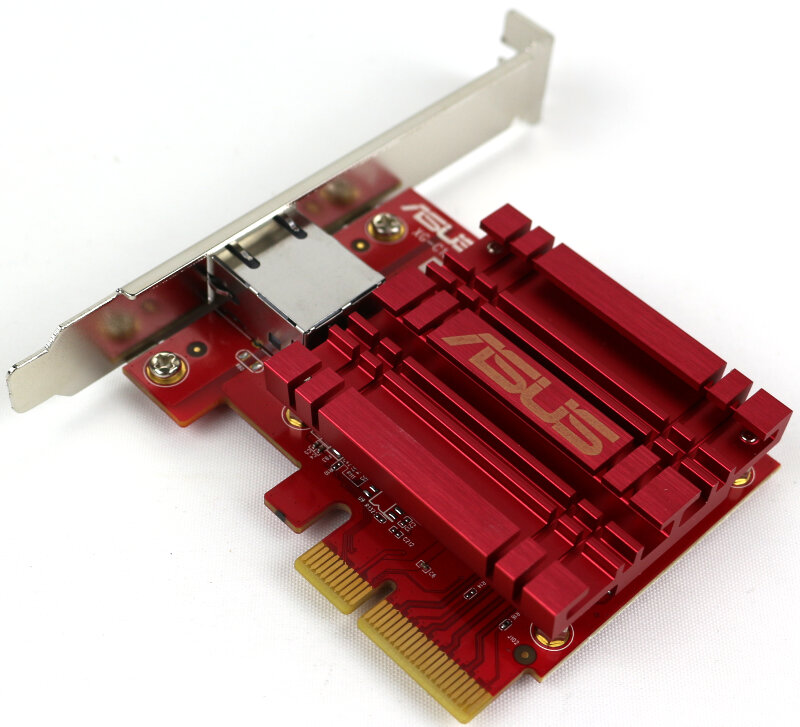 Compatible Hardware
If you want to get the full benefits out of this card, then the rest of your network has to match. You need a switch or router with the same speed abilities. The system it connects to also needs to be able to handle this kind of speeds. You could, for example, get one of ASUS' relatively new XG-U2008 switch which features two 10GbE ports. Such a switch and two systems with an XG-C100C card each and you got a really nice setup.
In many cases, the second system will be some sort of storage pool, either a NAS or another form of server. High-speed network performance is mostly beneficial to file transfers. So if your NAS comes with a 10GbE interface, then you only need a switch and a card for your desktop. Size-wise, the card should fit NAS systems with PCIe slot too, but I'm not sure whether it will be recognised.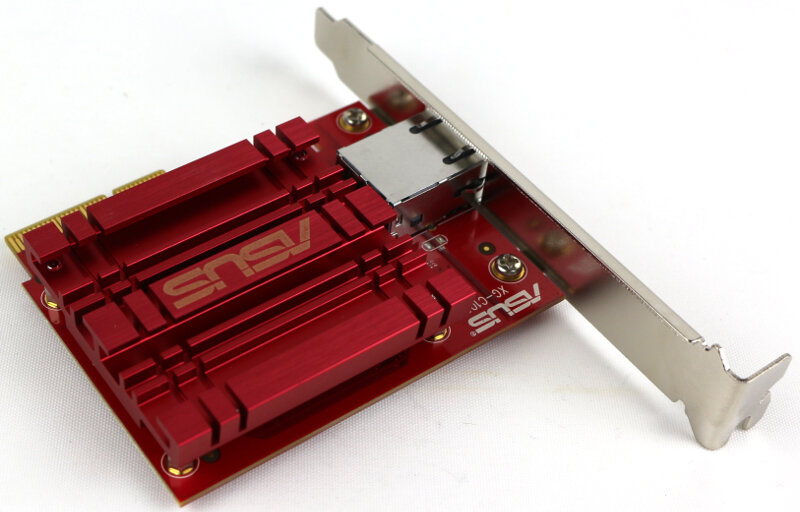 Card Design
It isn't just the heatsink that's red on this card, the PCB itself is red too. This colour choice will make them look good in most gaming setups, as a lot of these feature red in their colour scheme. The heat-sink also looks great with its groves and bends. The shape isn't just for design purposes, it also gives the heatsink more surface area and thereby a better heat dissipation. While the rear side of the card isn't covered with a beautiful backplate, it shouldn't break your system design. It will still look great.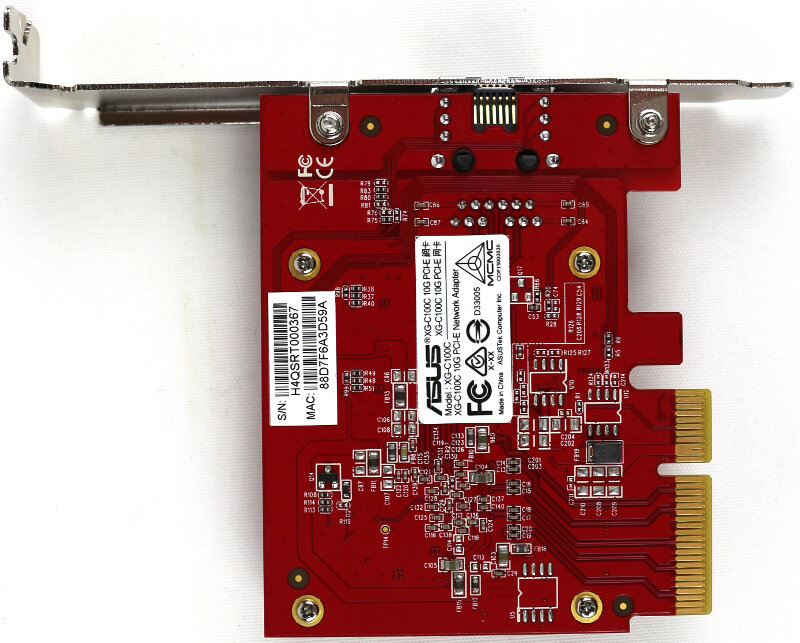 Removing the heatsink shows us what is on the top of the card, but there isn't a lot to see. That is except for the controller which is connected to the heatsink with a small TIM pad.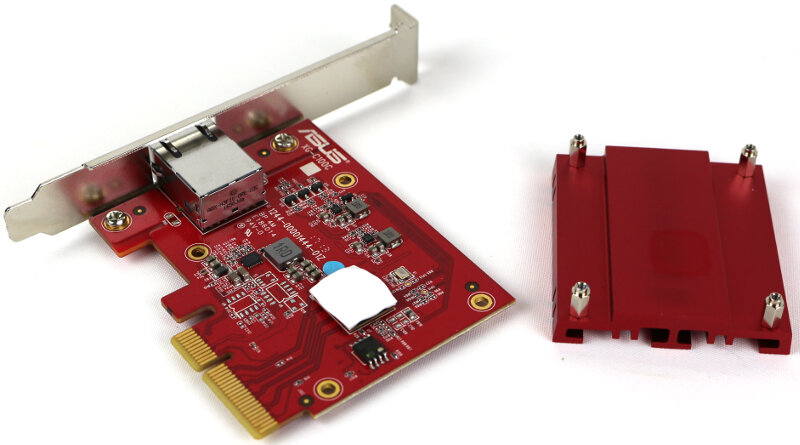 Once I got the thermal pad removed, we can see that the ASUS XG-C100C uses an Aquantia Aqtion AQC107 controller. The high-performance controller features a PCIe to multi-gigabit solution on a single chip. Integrated PCIe, MAC, and PHY solution enable an efficient product design, and the XG-C100C is a prime example of such. It integrates Aquantia's AQrate PHY technology which delivers 10 GbE network connectivity speed through 100 meters of Cat 6a cabling, enabling higher data rates with zero change to legacy cabling.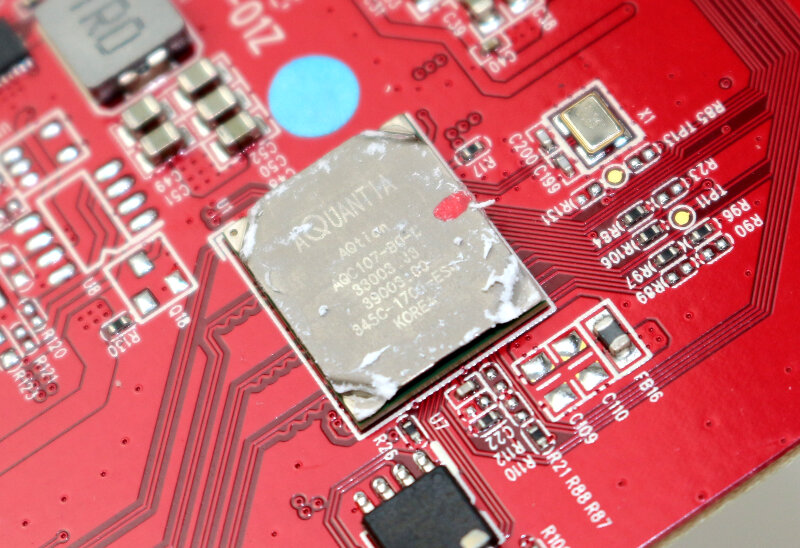 XG-C100C Specifications
The specifications are for the version and revision reviewed. Possible hardware revisions and updates might change this for future versions.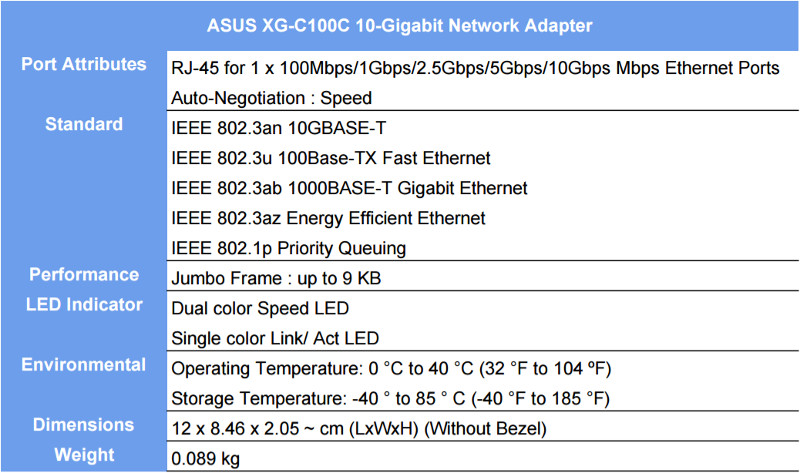 Package and Accessories
The front of the package has all the vital details, giving you all the basic knowledge of the add-in card in one look.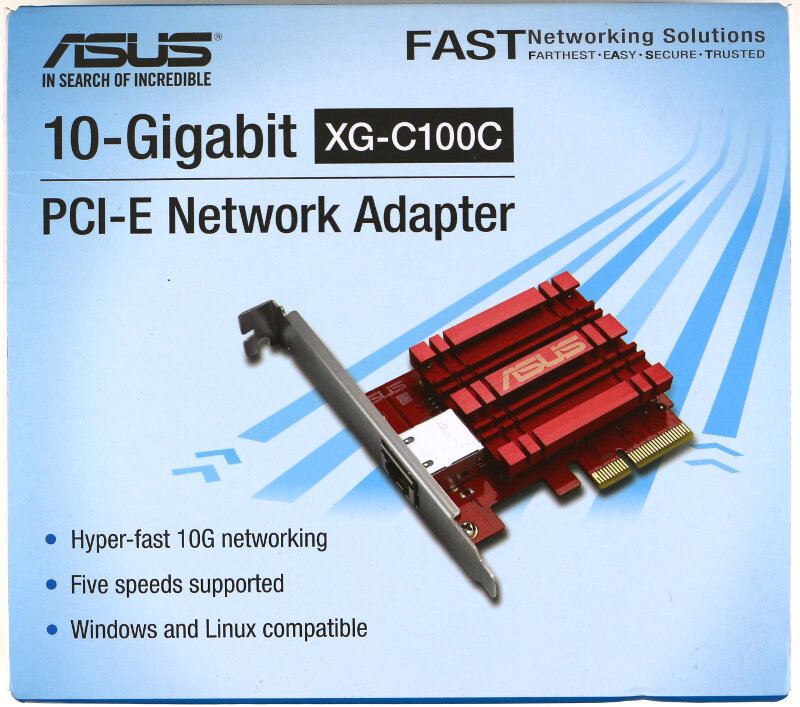 The rear side has a few more details on the speed improvements you can get, its usage scenario, and compatible devices.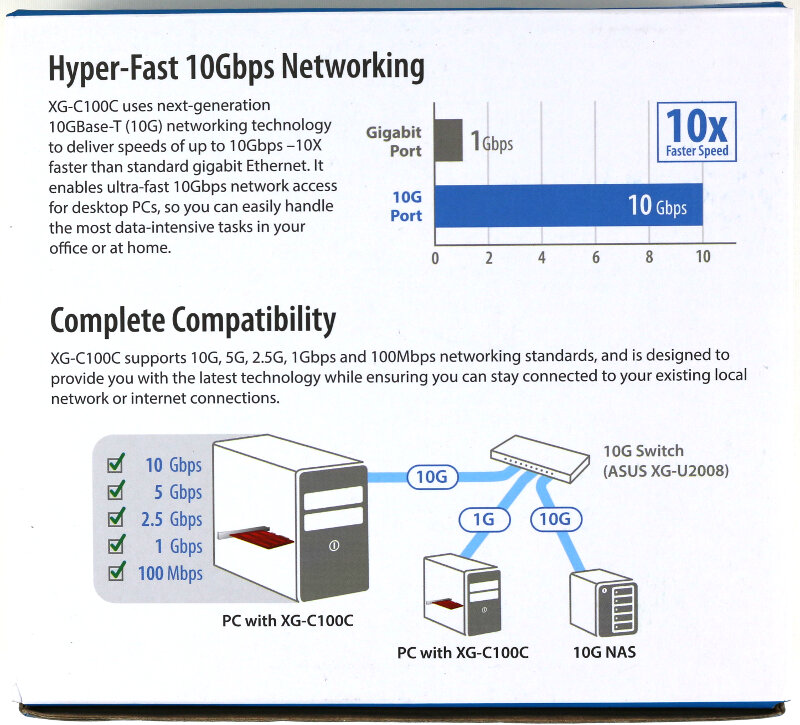 The card specifications are listed on the side of the package, rounding it off with the last you need to know before you put it in your shopping cart.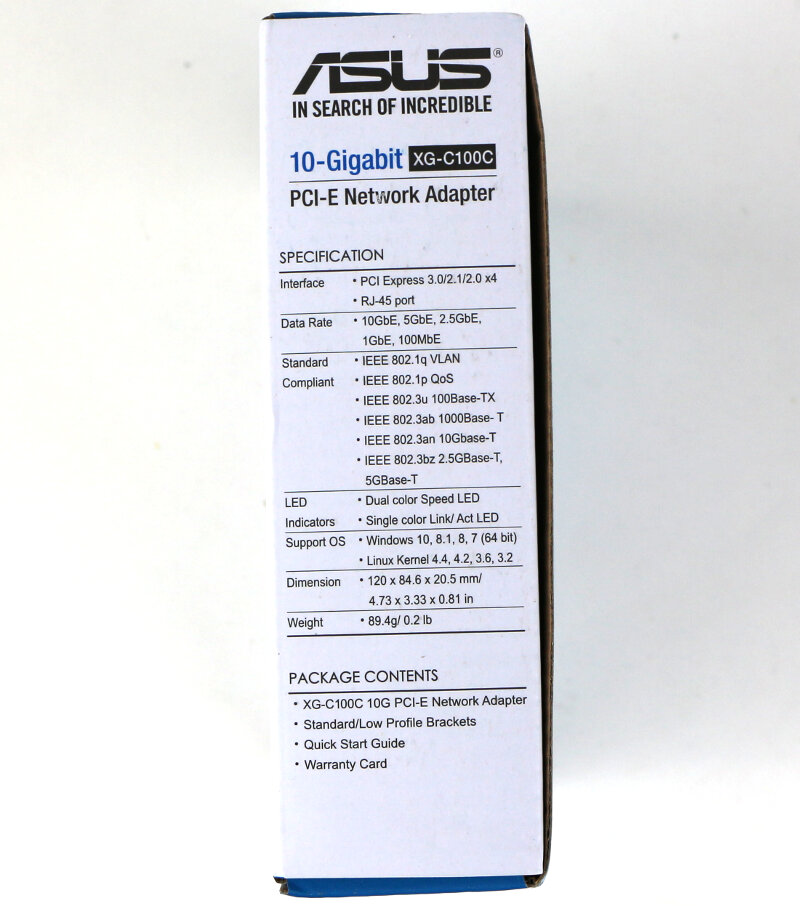 Inside, you'll find a quick start guide and a couple warranty notices in various languages.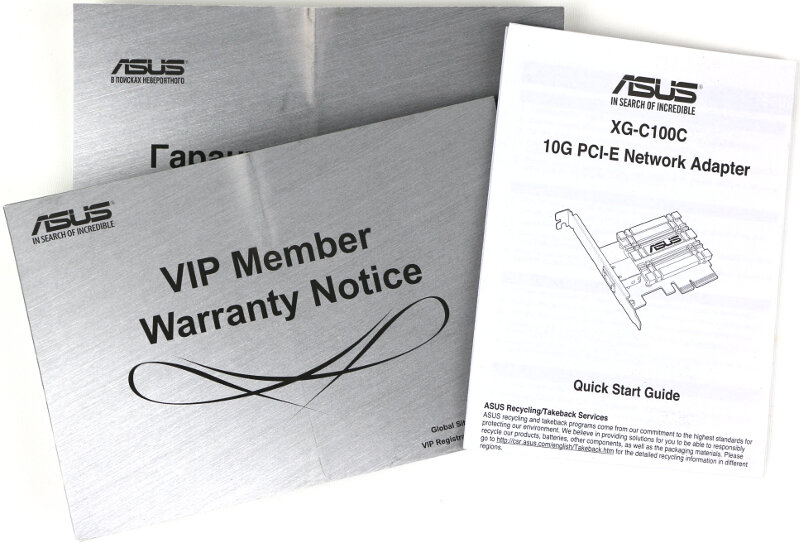 There is also a low profile bracket to replace the installed full-size one. This will make the card fit small form factor systems too.