ASUS Z690 Motherboard Max OC Memory Clock Speeds Leaked
---
---
---
Mike Sanders / 2 years ago
With the upcoming launch of Intel's new Alder Lake-S processors, one of the key new featured expected on the platform will be the consumer introduction of the DDR5 memory platform. Just how good is this going to be on the launch Z690 motherboard platforms though? Well, following a report via TechPowerUp, information has leaked online citing the maximum supported overclock speeds for many of ASUS's upcoming models!

ASUS DDR5 Z690 Max Memory OC Specs Leaked
Now, we should note that the information provided does come with a number of caveats. Firstly, for those of you unaware, many manufacturers are expected to release Z690 motherboards that will be compatible with both DDR4 and DDR5 memory (although clearly not together on the same hardware). – Secondly, the four motherboards listed here are, basically, from their entry-level tier/s and, as such, will clearly not represent the most potent capabilities of DDR5. – So, no, 6000 and 6400 are not overly impressive numbers for the max pre-set overclocking potential of DDR5. Particularly since we've already heard rumours from other manufacturers of 8,000MHz models. – You do, however, have to put this into perspective.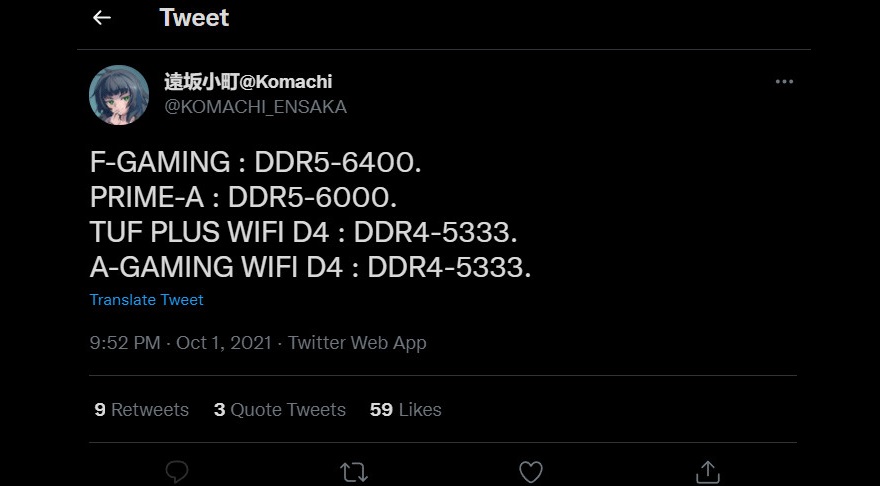 What Do We Think?
While the DDR5 figures here are not exactly mind-blowing, remember that these are expected to be entry-level Z690 motherboards. As such, they're going to be more focused upon price rather than performance. And let's face it, we're not expecting Alder Lake-S to be cheap, let alone the Z690 motherboards and DDR5 memory modules that will be required for the 'true' next-gen leap it's offering.
The real question will, of course, be in seeing a direct comparison between the two. We've already seen indications that the initial DDR5 memory launch modules will only perform roughly on, or below, par to what we already have in DDR4. As such, early adopters may, ultimately, find the initial launch performance to be a little underwhelming. Not, incidentally, that this was any different from when DDR4 arrived to replace DDR3. Hopefully, while not offering anything close to the full potential of DDR5, ASUS might at least have an affordable entry point for consumers here!
What do you think? – Let us know in the comments!