ASUSTOR AS3102T Mainstream 2-Bay NAS Review
---
---
---
Bohs Hansen / 5 years ago
Introduction
---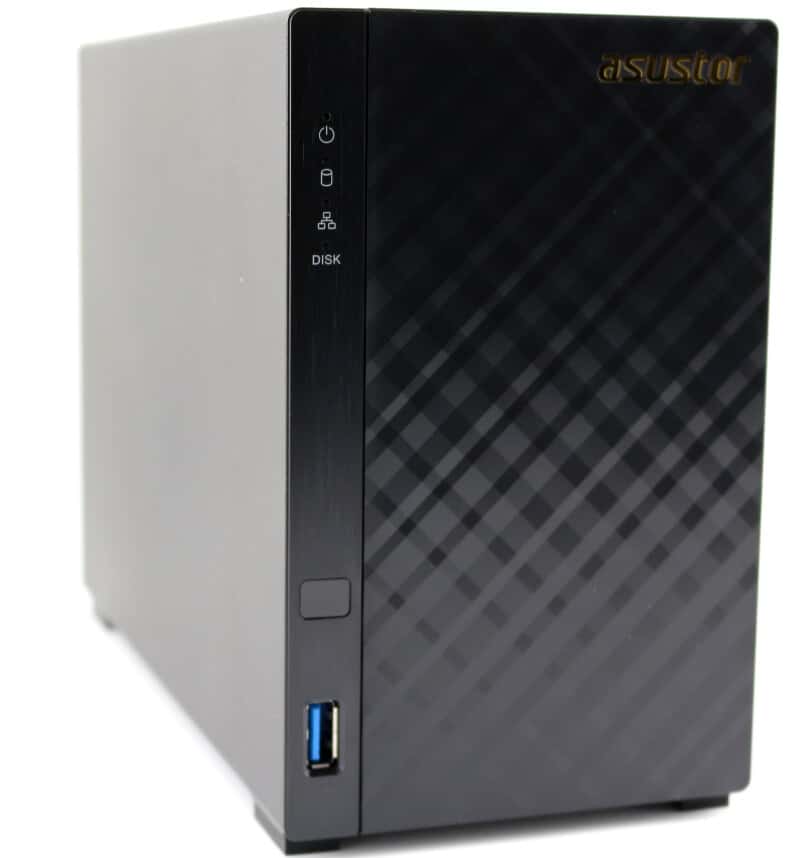 Lately, I have been reviewing quite a few high-end NAS devices, but today it has become time for a more mainstream unit. I'm taking ASUSTOR's AS3102T 2-bay NAS for a test drive and will check out how well it performs and what it can do.
Right out the box, the AS3102T presents itself with ASUSTOR's classic diamond pattern on the front and otherwise a simple design that will blend well with most environments. There aren't the big highlights here as the unit loads the drives internally and it has to be opened to do so. In return, this design gives us a cleaner exterior look.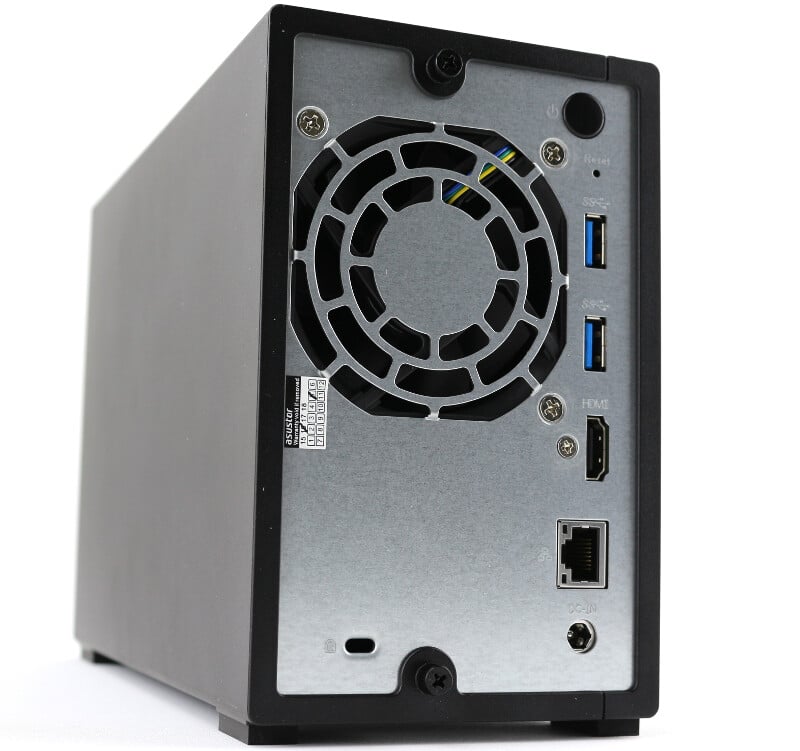 On the inside, the AS3102T features an Intel Celeron 1.6GHz dual-core processor with a burst up to 2.48 GHz. The CPU features both an AES-NI hardware encryption engine and a hardware transcoding engine that supports H.264 (AVC), MPEG-4 Part 2, MPEG-2, and VC-1 formats. This nice CPU is then coupled with 2GB DDR3L memory that sadly isn't upgradable. However, it is a dual-channel memory setup and that is a thing that will help a lot with the performance, especially when dealing with 4K resolutions.
As a two-bay NAS unit, you can load two hard disk drives and end up with 16TB raw storage using 8TB drives. That's quite impressive for the small size and best of all, it can all be remote controlled thanks to the built-in infrared receiver. That part becomes especially useful when we use the built-in HDMI port for direct usage.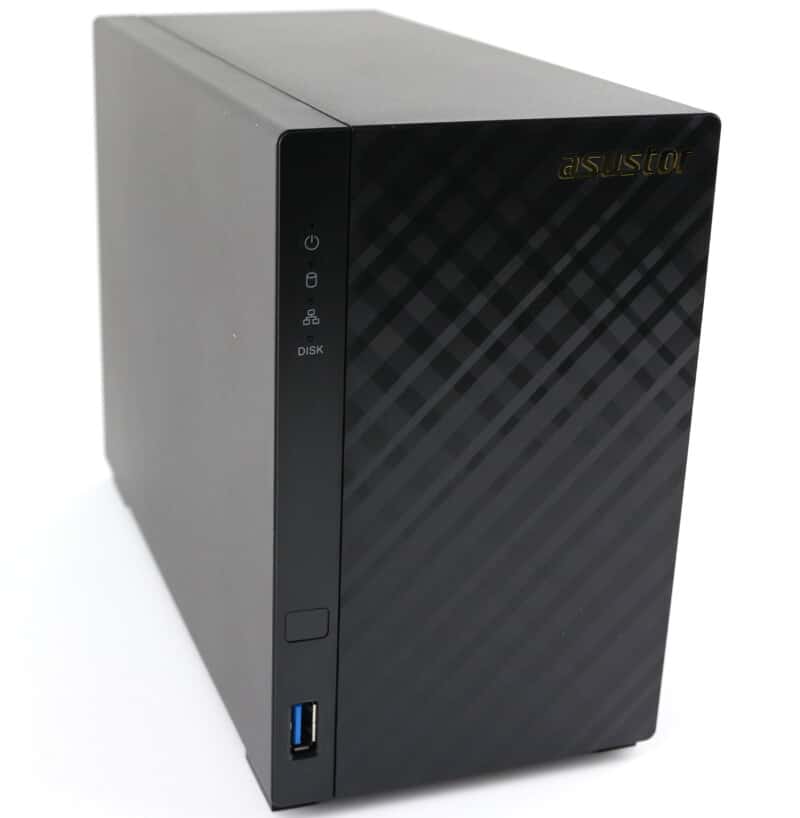 Speaking of the HDMI port, we better take a look at what ports the AS3102T has to offer in general. On the front is a single USB 3.0 port below the IR receiver, but the front is clean besides that. We find two more USB 3.0 ports on the rear of the unit and all three can be used for wireless connection dongles, printers, storage drives, or input peripherals.
These ports all come in handy when the HDMI 1.4b port is used for direct usage on your TV or monitor where you can control the NAS as if it were a media centre with KODI, YouTube, Plex, games, and other apps from the comfort of your couch. The HDMI port is even capable of handling a 4K resolution and thanks to the dual-core CPU, that should be a smooth experience. We also find a single Gigabit Ethernet LAN port that probably is the most important connector for a NAS.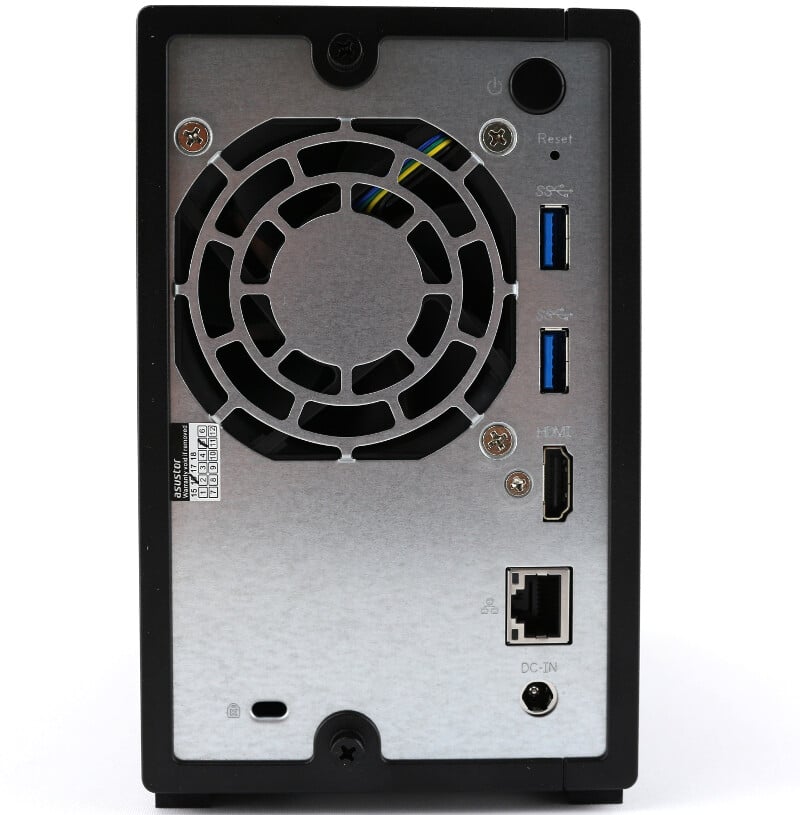 I mentioned earlier that the drives were internal, but that doesn't make the installation more difficult or tedious. ASUSTOR opted for thumbscrews that allow you to make a tool-less installation. There are two screws on the rear and another four for each internal drive, making it quick and easy to setup when you first get it and just as easy to upgrade at a later time.
The AS3102T is also a power saving and ECO-friendly device. Auto-standby is supported for both internal and external drives while the fan control makes sure to keep the noise to a minimum while it still supplies enough airflow to cool all the parts. The LED night mode conserves a little bit extra power, but it's mostly useful to keep annoying blinking lights turned off while you try to sleep or otherwise could get distracted by it. It's a great feature that also just can be used to dim the lights. It also features power scheduling where you can tell it when to turn itself on, off, or restart on its own.
The power consumption is kept at a low 13.7W during active operation and 7.478W when the internal drives enter hibernation mode. It will barely consume anything during sleep mode where it goes below 1W. The noise level is rated to 18.6 dBA when the hard disk drives are idle, but that could naturally vary a little by location and used drives.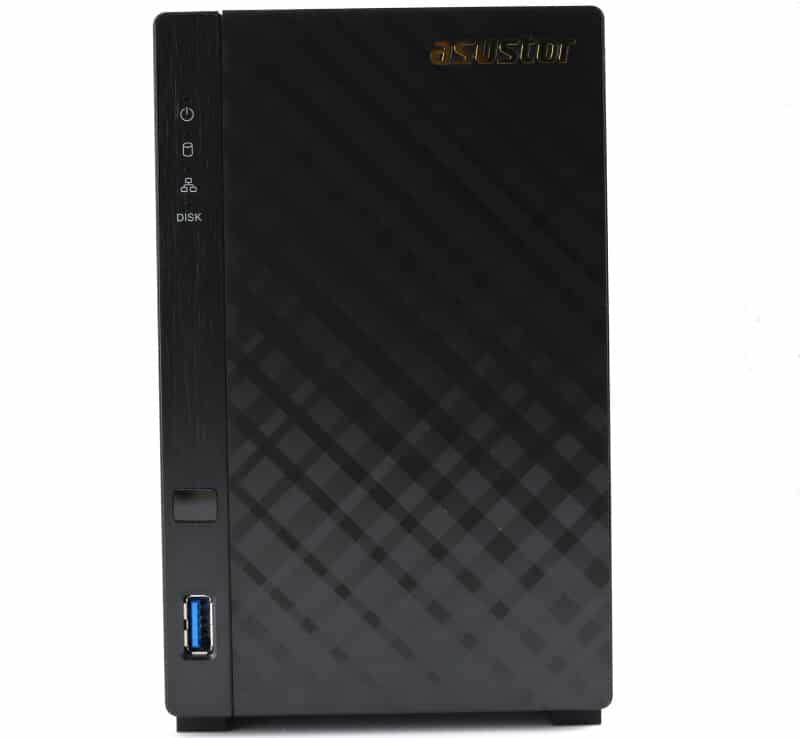 As all ASUSTOR NAS, this one is also powered by ADM which has become quite a powerful operating system filled with great features. Home users will be happy to find features such as UPnP media streaming capabilities for the general usage as well as more specialized apps such as built-in Itunes server. The photo gallery where you can store and organize all your photos is another awesome feature that a lot of people love and so is the download manager that can handle both peer-to-peer and direct downloads. Takeasy is also available and it allows direct download of media from sites such as YouTube and Vimeo, allowing you to enjoy the videos when you're offline too. Two other great app features in ADM are SoudsGood and LooksGood, and as you might have guessed, they are for audio and video playback, may it be via locally connected speakers or through your favourite web browser.
More advanced and even business users will love features such as the built-in Mail server and surveillance center. The system also comes with both a VPN server and client abilities. Backups can be handled in multiple ways from Rsync over Cloud to FTP and external drives. Everything you'll want. Speaking of clouds, ADM also supports Dropbox, OneDrive, Google Drive, and HiDrive.
The default file system is EXT4 but external drives with other file systems such as FAT32, NTFS, or HFS+ are also supported. Even iSCSI is included with the AS3102T that comes with all its advantages such as 256 snapshots, direct storage attachment, and high compatibility and flexibility.
Feature Highlights
Powered by the latest Intel Celeron processors
Local HDMI multimedia output (4K, 1080P and high-definition multi-channel audio)
Hand screw design for toolless installation
Stylish diamond-plate finished cover design
Equipped with hardware transcoding engine
Accessories
The AS3102T comes with everything you need to get started. A welcome and setup guide, a driver disk, a power supply with a cord for the region you purchased it in as well as an RJ45 LAN cable and eight screws for the drives.