ASUSTOR AS6202T Enthusiast 2-Bay 4K-Capable NAS Review
---
---
---
Bohs Hansen / 6 years ago
Introduction
---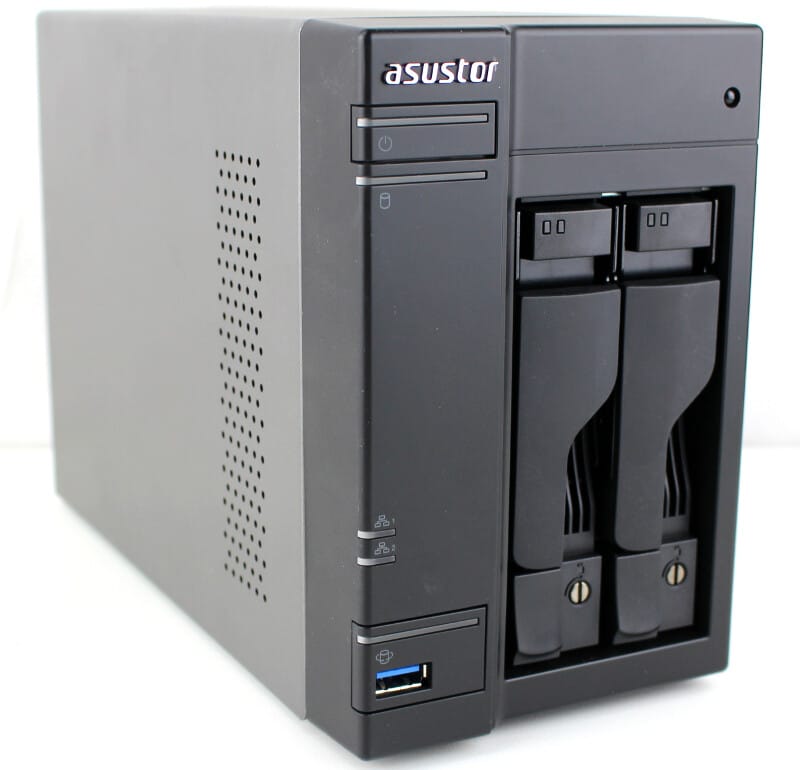 Today I'm taking ASUSTOR's impressive AS6202T 2-bay enthusiast NAS for a spin in the testing area and a closer look at all the features and function it has to offer. This is one seriously impressive NAS, both feature wise and performance wise. There's also a 4-bay model available called the AS6204T in case 2 bays aren't enough for your storage needs.
The AS6202T is based around Intel's new Braswell-based Celeron quad-core processor with Intel AES-NI hardware encryption and powerful iGPU – at least powerful when we talk NAS and multimedia. The system is equipped with 4GB dual-channel memory and it capable of speeds over 223MB/s writing and 220MB/s reading in RAID 1 configurations. With encryption turned on, the system is still able to deliver 222MB/s read speeds and 117MB/s write speeds. Right from the start, we know that we got a powerful NAS in our hands.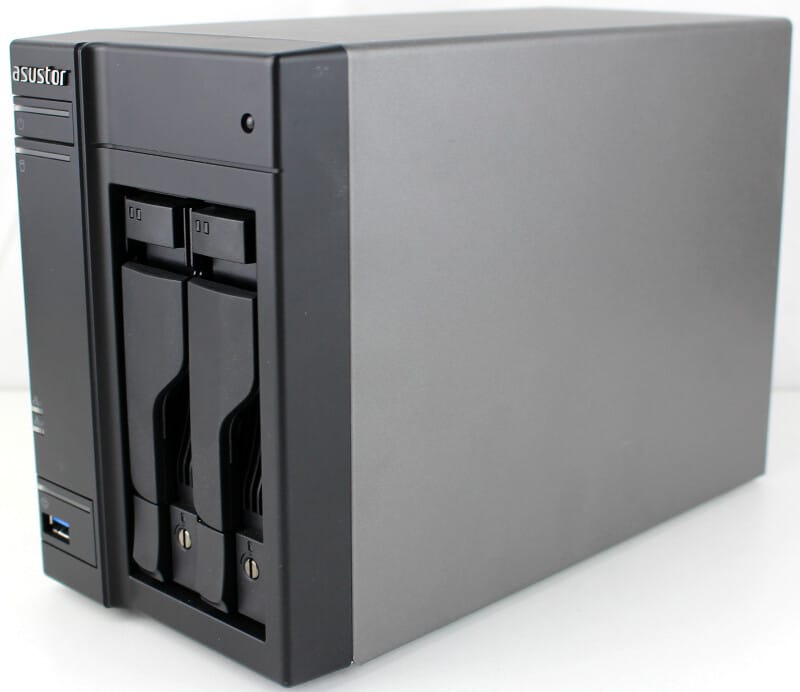 The AS6202T is just as powerful when it comes to expansion and connection options as it is in its heart. You get three high-speed USB 3.0 ports where one is located on the front together with the 1-touch copy button. There are two more USB 2.0 ports on the rear where you also find two eSATA ports. That is one feature that I really love. eSATA is my favourite method of attaching external storage to my system and finding two eSATA ports is a rarity. Big thumbs up from me for this addition. The two Gigabit Ethernet RJ45 ports allow for fail-over and link-aggregation setups for increased throughput, lower latency, and backup in case of failure.
A bit part of a NAS is the ability to deliver your stored media content to you where ever you are. The network capabilities are great, but the NAS also features direct connection options. With an HDMI 1.4b connector, you are able to connect the NAS directly to your TV or monitor where you can control it with either USB keyboard and mouse or by use of ASUSTOR's remote control. There's also an S/PDIF audio port for the best connection to your stereo system.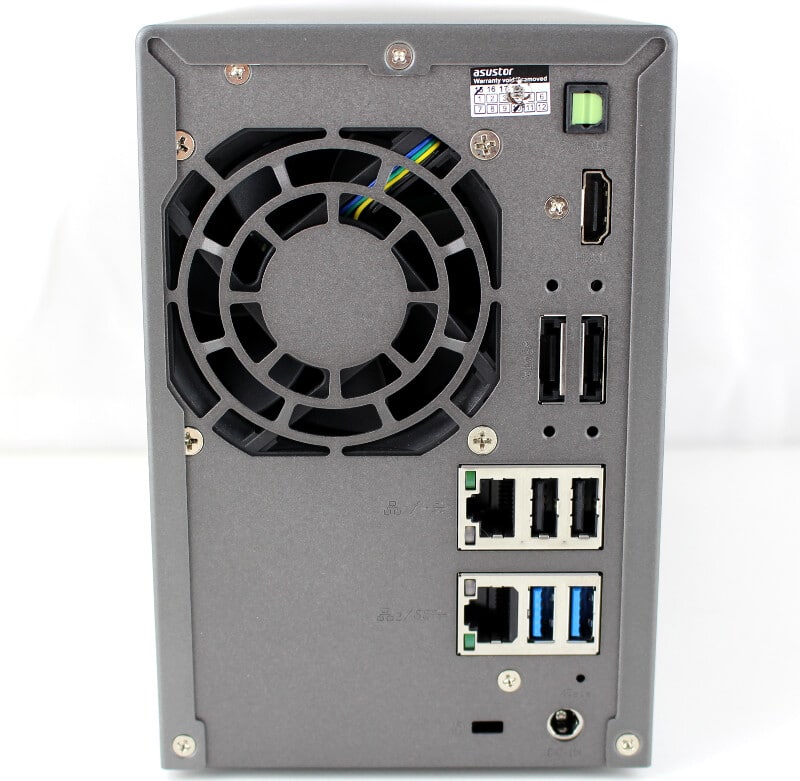 A lot of NAS system are upgradeable with memory these days, especially in this category, but not all of them make it as easy as ASUSTOR made it. While the NAS already comes with 4GB RAM, which should be sufficient for most people, some might need or want more. You can upgrade to a total of 8GB with this system and it is as easy as sliding the top cover off. The two memory slots will be accessible and the overall upgrade shouldn't take more than a minute or two. We'll take a close look at that on the next page.
The dual-channel memory in this NAS is one of the things that will make this NAS run very smoothly when handling 4K playback because it can do that too. The picture build-up will be much quicker and you'll enjoy brilliant ultra high-definition 4K videos with a performance that is unmatched in its class.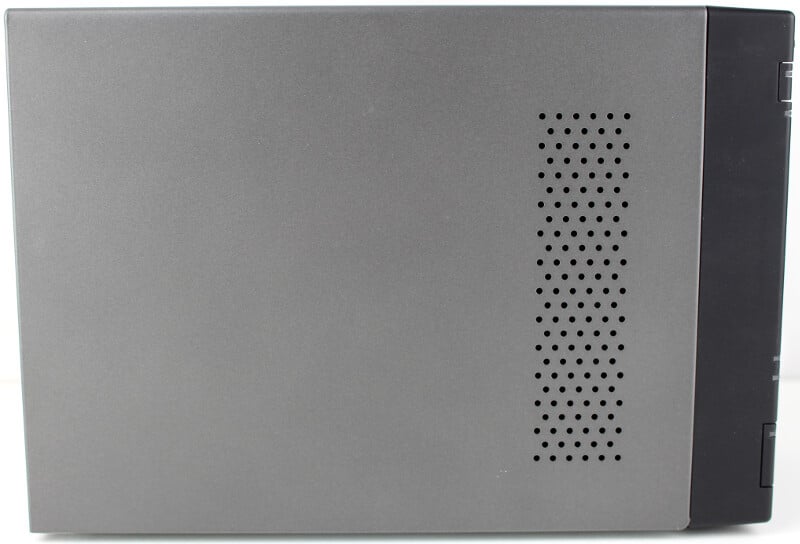 Besides all the built-in features such as cross-platform file sharing, you can expand the features further by the use of apps. You could for example use SoundsGood or iTunes Server to play high-quality digital music from your NAS everywhere or install additional multimedia server Apps such as the UPnP Media Server and give your NAS the ability to stream multimedia content to your computers, TVs, and mobile devices. That is on top of the direct usage features that I already mention. An overall real multimedia machine.
There are so many features, it's hard to mention them all and you'll find a full list on the next page. A few are still worth highlighting such as the MyArchieve function that allows you to use internal drives as external. Gain the speed, power, and capacity of an internal drive, but add the convenience of an external drive. The network recycle bin is another useful feature and it is highly customizable as its based on each shared folder individually.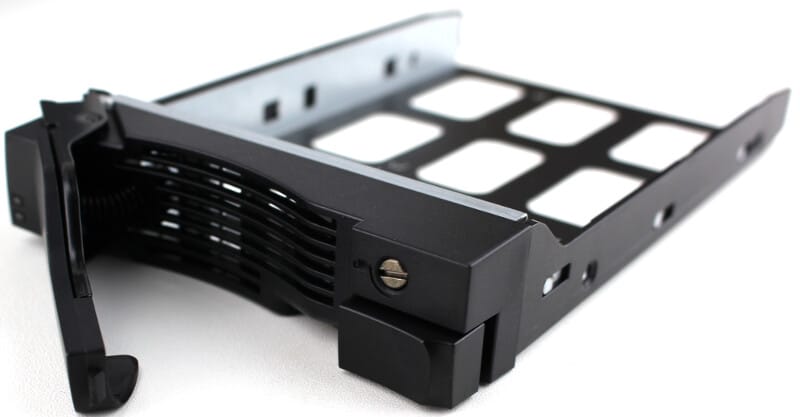 The USB ports can naturally be used for external storage devices and so can the eSATA ports. The USB ports can also be used to add WiFi support. Bluetooth dongle and speakers are also supported and so are USB printers and digital TV dongles. You can even connect a USB DAC, keyboard, mice, and optical disk drives and use them right away as were they part of the original hardware.
There are plenty of backup option ranging from traditional Rsync over DataSync for Microsoft OneDrive, DropBox support, Google Drive support, and HiDrive support. It doesn't really matter which service you use, ASUSTOR has it covered. Backup is one part of a safe setup and another is a good software defense against malicious attacks. The AS6202T comes with Antivirus functionality with scheduled scans, automatic definition updates, and a quarantine area for infected files.
Especially if you use the built-in download features in this NAS, the antivirus function is a good feature to run. The NAS features an HTTP, FTP, and Torrent download center as well as the Takeasy app to rip content from media sites such as YouTube, YouKu, Tudou, and more.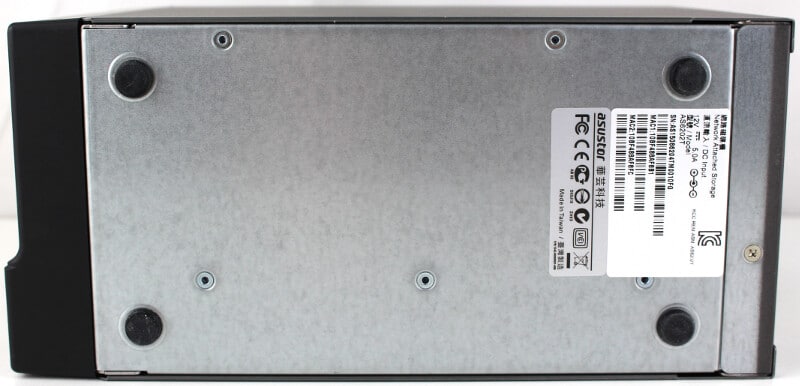 You can even run virtual machines (VM) with Windows, Linux, Solaris, Mac OS X. The VM system supports both import and export of OVF formatted machines, you can take snapshots and they support HDMI audio out. A physical NAS Network port can be designated for use by specific Virtual Machines.
A lot of people, but home users and enterprises alike, are using VPNs these days. The AS6202T can both run VPN Server and Client, making it easy to integrate into your existing setup. Other security features include the Syslog server and the Surveillance Center that can turn your NAS into a 24 channel surveillance center. The built-in email server is another thing that enterprises will find very useful and a web-based email client is available too. The whole thing is backed by a 3-year warranty.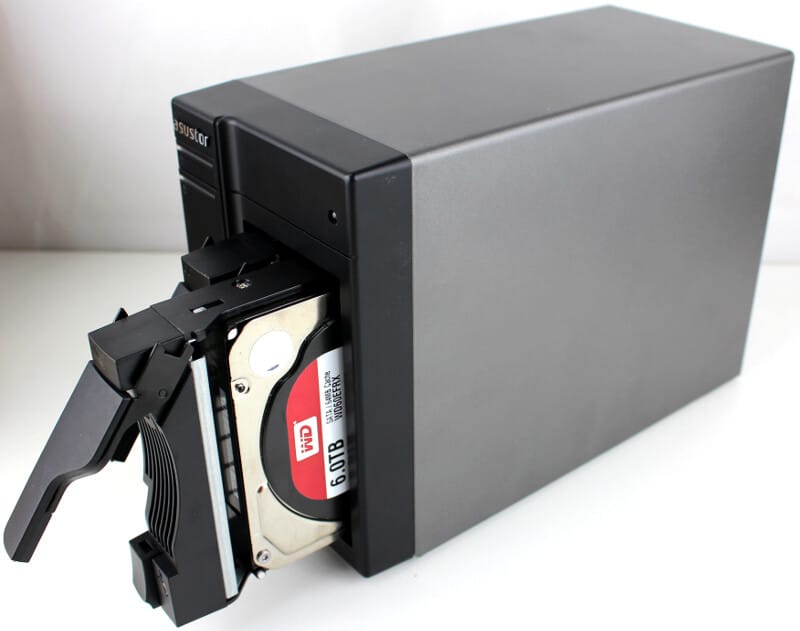 Feature Highlights
Embedded with Intel Celeron N3050 Dual Core CPU
Local HDMI multimedia output (4K, 1080p and high definition multi-channel audio)
Windows + Mac + Linux cross-platform file sharing
A multimedia hub for your photos, music and movies
Equipped with dedicated hardware encryption engine
Packaging and Accessories
The AS6202T comes in a simple package that displays the unit itself and the model number on the front.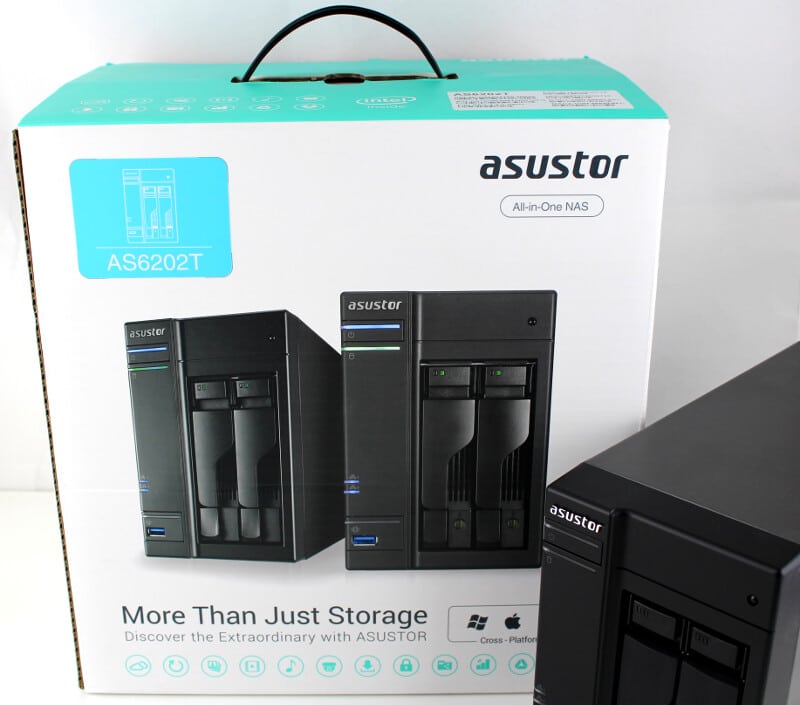 On one of the sides, you'll find a product comparison with other ASUSTOR NAS, allowing you to quickly see if you picked the right device for the tasks you have.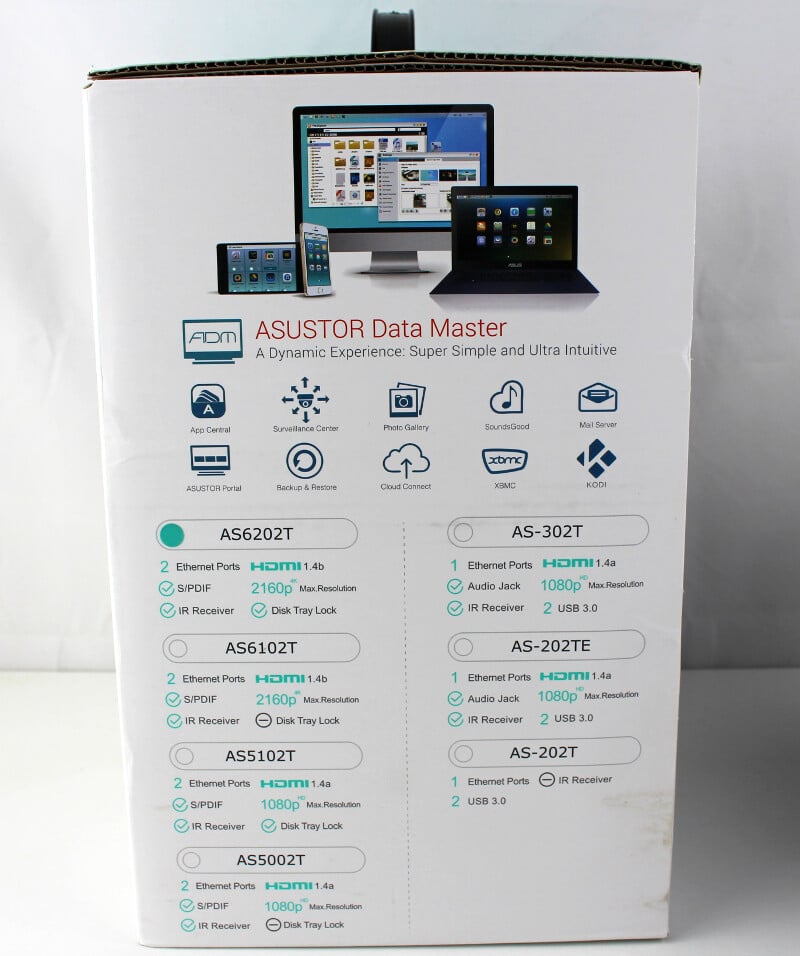 The other side features all the hardware specifications and lists the package contents.
Inside the box, we find a power supply with cable fitting to the region where you bought it, screws for the drives, two LAN cables, a product disk and quick setup guide. Everything you need to get going with your brand new ASUSTOR NAS.