ASUSTOR NAS Add Support for 22TB WD Red Pro Hard Drives
---
---
---
Peter Donnell / 7 months ago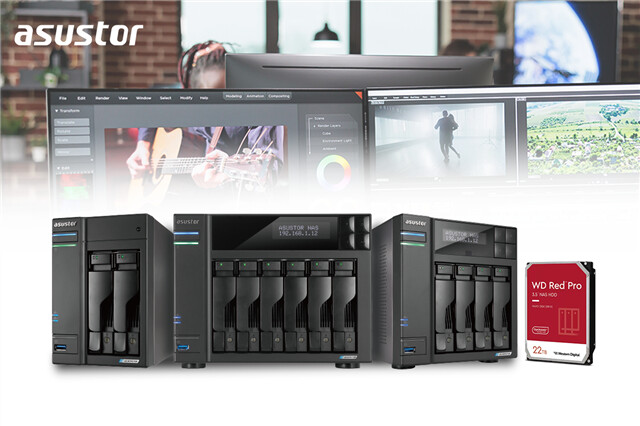 Storage needs are always growing, and it looks like the latest NAS devices from ASUSTOR will grow with your needs! ASUSTOR Inc. today updated its hard drive compatibility list. The good news is, that they've added the Western Digital WD Red Pro 22 TB NAS drive, also known as WD221KFGX to all the cool kids. Previously, the largest capacity drives supported were a meagre 20TB, so this is a big upgrade.
Of course, these new drives do not come cheap, but when storage density and bays are limited, these new drives can easily pack in a lot more data. Even in a 5-Bay NAS, you're looking at up to 10TB of additional space using the newly supported drives, scale that up to something bigger, and it stacks up very fast indeed.
ASUSTOR NAS
WD Red hard drives are specifically designed for use in NAS devices and improve the performance and reliability of NAS devices. Designed for all types of storage, including home and business data, it can be safely stored on an ASUSTOR NAS using WD Red Pro drives to ensure the best stability and performance. Or so reads the official blurb from ASUSTOR. Basically, they're plug-and-play ready, although you may need to ensure your firmware are up to date on some NAS models.
ASUSTOR's Lockerstor Gen2 NAS devices provide an excellent high-speed storage device for professionals. In response to the storage needs of small and medium-sized enterprises and professional creators, the dual advantage of capacity and speed coming from the built-in dual 2.5-Gigabit network ports, support for PCIe 3.0 SSDs and dual USB 3.2 Gen 2×1 ports greatly improve the transmission speed without sacrificing quality.
"Use the Lockerstor Gen2 series to efficiently back up and transfer data easily no matter if it is for content creation or enterprise data storage. The Lockerstor Gen2 series combined with WD Red Pro ensure a quality and efficient experience for studios and enterprises." – ASUSTOR
You'll need a Lockerstor 2, 4, and 6 Gen2 at least to operate the new drives. However, ASUSTOR promise that more models are to come. I assume they mean both new models coming to market, and current models being verified as compatible with the drives. For more information, visit this page.