ASUSTOR Upgrades AS3102T and AS3204T and Calls Them V2
---
---
---
Bohs Hansen / 3 years ago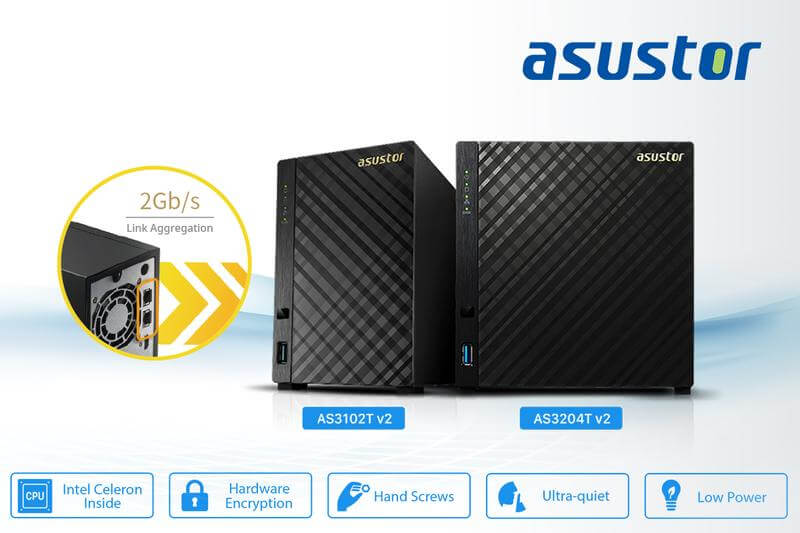 ASUSTOR Makes the AS3102T and AS3204T Even Better
It has been three years since ASUSTOR released the first generation of the AS3102T NAS, and it's still a great device today. Still, there is room for improvement everywhere. So ASUSTOR went back to the drawing board and came up with some improvements. The new device is called the AS31o2T v2 and along comes the AS3204T v2 with similar upgrades.
Double-Up on the Network
The most obvious upgrade is the doubling of the network capabilities. The new AS3102T and AS3204T come with dual Gigabit Ethernet connections. With failover and link aggregation, you can gain better throughput or redundancy.
The devices are easily capable of delivering more performance than a single Gigabit Ethernet connection, making it an obvious upgrade choice. A single modern HDD will saturate a Gigabit without any efforts.
Adding new hardware such as extra LAN ports will increase the power consumption slightly. Operational consumption rises from 13.7 to 14.6W while hibernation goes up to 8.1W from 7.47W. So, it isn't a lot!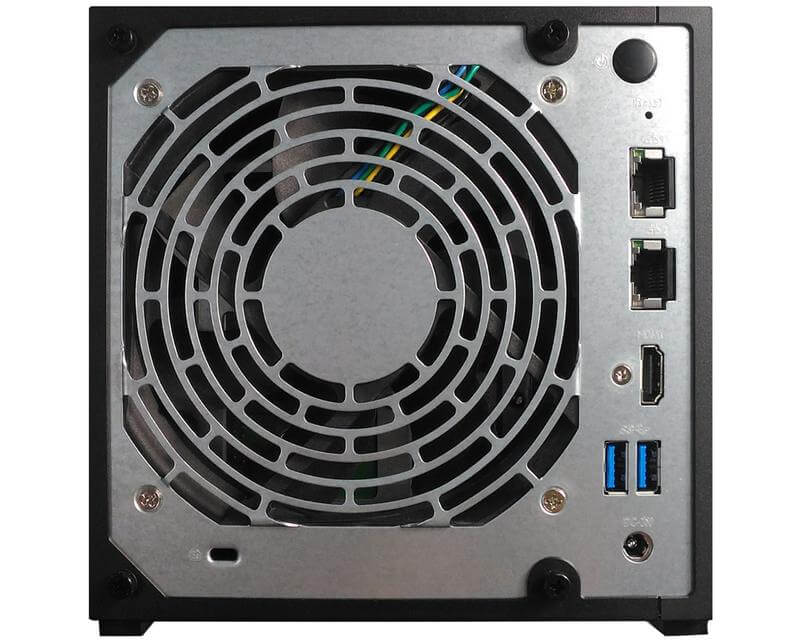 What Else Did ASUSTOR Upgrade?
Well, there is better support for modern high-capacity hard drives. This is another hardware-based upgrade to the drive-bays themselves. Some higher capacity drives contain only four screw holes, and those drives are fully supported now.
A new feature that I don't understand is the new support for the Intel AES-NI instructions set. I do get the function, but according to the specifications, the old versions supported it too. I can only assume that they improved upon the integration and thereby made it more efficient. It should help increases encryption and decryption performance by using the CPU. Large amounts of data can now be encrypted far more quickly, eliminating the choice between data security and efficiency.
What Does ASUSTOR Have to Say About the Upgrade?
ASUSTOR product manager Johnny Chen said: "The AS3102T v2 and AS3204T v2 integrate business-quality hardware into an affordable NAS to help increase performance and reliability. Since some higher capacity drives contained only four screw holes, we have redesigned the hard drive bays to be compatible with drives that feature four or six screw holes, greatly increasing the flexibility of an ASUSTOR NAS. Therefore, those who need high performance and high storage capacity, the AS3102T v2 and AS3204T v2 are the best choices."
Powered by the latest version of ADM
The all-new AS3102T v2 and AS3204T v2 ships with the latest version of ADM. With ADM, you can choose from more than 200 apps on App Central and make it your own.
ASUSTOR NAS devices are also compatible with a wide variety of USB DAC, thereby making them easily integrated into an existing HiFi setup. AiMusic can easily play music remotely so that music can be listened to anywhere.
ASUSTOR has also improved remote connection features in the up and coming ADM 3.2. Ezconnect.to, ASUSTOR's new remote web login service does not need configuration of the router. Now it only requires an ASUSTOR Cloud ID. Just type in the designated URL with your Cloud ID and login to enjoy the convenience of accessing your NAS from anywhere.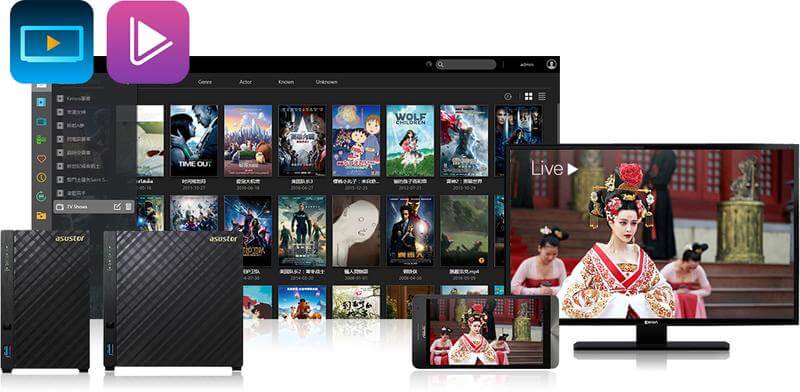 AS3102T v2 and AS3204T v2 Specifications
AS3102T v2: Intel Celeron 1.6GHz Dual Core CPU with a 2.16Ghz turbo
AS3204T v2: Intel Celeron 1.6GHz Quad Core CPU with a 2.24Ghz turbo
RAID 1 aggregated read/write speeds of up to 225.98MB/s and 140.09MB/s
RAID 5 aggregated read/write speeds of up to 226.20MB/s and 220.34MB/s
2GB of DDR3L RAM
2x Gigabit Ethernet ports
USB 3.0: 1x front, 2x rear
HDMI 1.4B
IR receiver
Supports Single drives, JBOD, RAID levels 0, 1, for two drives and 5, 6, 10 require four drives.
Supports AES-NI hardware encryption
Seamless system migration
Energy saving design puts the system to sleep (S3)
Supports up to 12TB on a single drive