ATP Electronics Debuts Industrial M.2 NVMe SSD
---
---
---
Bohs Hansen / 6 years ago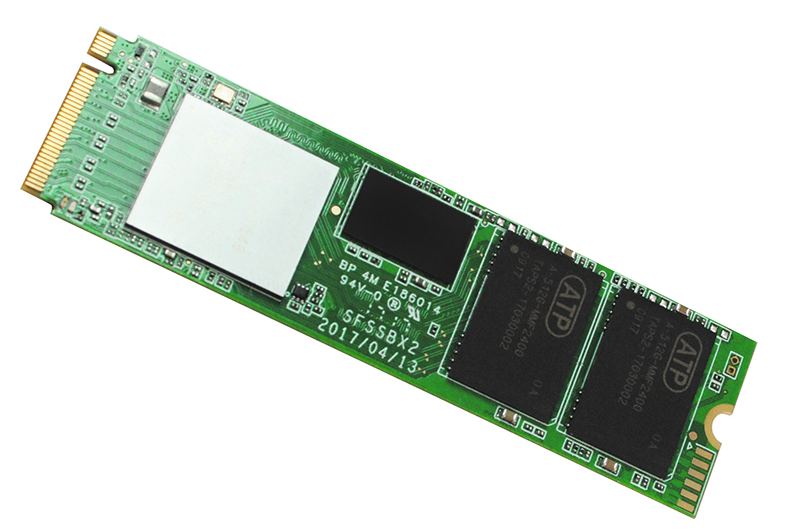 ATP Electronics is a big manufacturer of rugged SSDs and DRAM and now the company debuts its first NVMe-based M.2 2280 SSD. This M.2 NVMe SSD isn't designed for the consumer market, so if that's what you're looking for, then you might as well move on now. This isn't a drive with record breaking speeds, it is a drive built for durability.
ATP's NVMe based M.2 2280 SSD provides performance specifically tailored for an array of applications such as server/networking, Surveillance, IoT, Medical Imaging, and other mission critical applications.
Controller, Memory and Cache
ATP Electronics didn't reveal the controller they used on the drive and it isn't visible in the press images either, so we currently don't know which it is. We do know that the drive meets the NVMe 1.2 specifications and uses a PCI-Express Gen.3 x4 interface for up to 8Gbps throughput. That isn't the drive's speed though.
What we do know, is that the drive is built with the latest generation of 3D NAND MLC technology. The use of stacked 3D technology over planar allows for higher capacity options without raising the price. At the same time, MLC is more durable than TLC NAND, and as such, a far better choice for critical applications.
The ATP M.2 NVMe SSD also features DRAM for caching, but there's no mention of the size of this.
Performance and Capacity
There will be various size options in this M.2 NVMe SSD series, ranging from 128GB and up to 1TB. All drives are built with an M.2 2280 form factor for the best compatibility with everything from thin clients to servers.
The sequential read performance is rated to 1260 MB/s and the sequential write performance is rated up to 980 MB/s. That's about double the performance of a SATA3/AHCI based drive. The random performance comes in at 100K read IOPS and 128K write IOPS.
Features
Most storage manufacturers try to get the maximum performance out of their drives, but that comes at a price. The result: higher temperatures, thermal throttling, and a shorter lifetime. ATP Technology took another approach and created a very durable drive.
his includes careful selection of BOM planning with key suppliers and adding wide temperature and extreme power cycling testing. ATP's M.2 NVMe SSD avoids drastic performance drops thanks to its adaptive thermal throttling mechanisms. The end result, a more stable and reliable drive that always performs the same.
Other features include Low-Density Parity Check (LDPC) and RAID Data Recovery for advanced error correction.
The TBW is rated at 1181TB while the MTBF is set to more than 2 million hours. The data retention is rated to 5 years with 10% P/E cycles. ATP even considered the M.2 connector and made sure that it will last a minimum of 10000 insertions.
Pricing and Availability
ATP Technology didn't reveal an availability or a price of the M.2 NVMe SSD at this time.